Have you ever stumbled upon something you didn't even realize that you needed? This just happened for me with Erin Condren Petite Planners and On the Go Folio Planning System!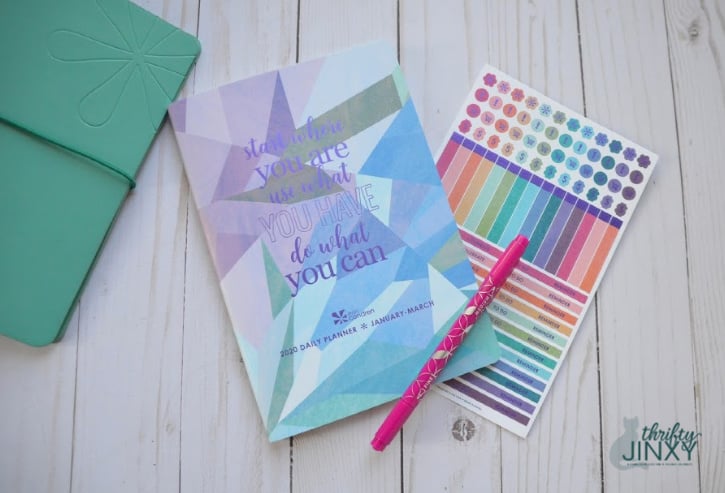 When it comes to organization, thinking about tackling everything in our lives that we would like to be in order can be overwhelming!
There are finances, meal planning, health and fitness goals and just the basic day-to-day pieces of life. Like with any big task, breaking down life planning and organization can also be a whole lot easier if you break it down into focused, manageable pieces.
Breaking things down into manageable pieces is exactly what the Erin Condren PetitePlanners do. There is a separate PetitePlanner available for each section of our lives – everything from budgeting, to meal planning, to travel to baby tracking and more.
There is also a Daily Planner with daily calendar views and monthly spreads that can let you do a general plan, including regular day-to-day tasks.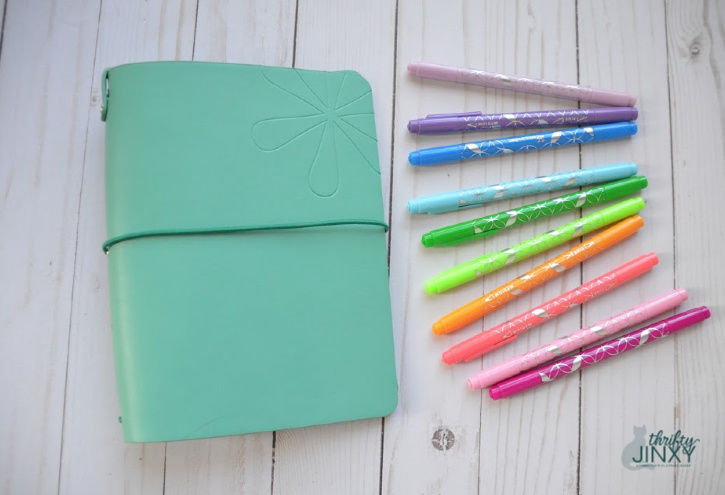 Each of these Petite Planners can go with you and be tucked into a purse, backpack or diaper bag individually, or you can carry up to four of your PetitePlanners in the awesome On the Go Folio and just interchange them depending on what you have going on that day.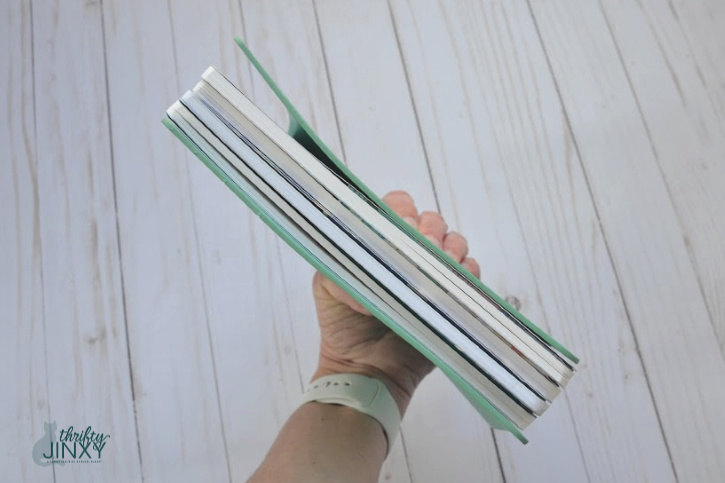 My friend Ashley, who used to write for us here at Thrifty Jinxy, is a long-term Erin Condren fanatic. (She has been using Erin Condren Life Planners for years!) Despite her enthusiasm, I never did jump on the Erin Condren fan train, but seeing the PetitePlanners looks like the thing to get me on board!
Let's take a look at all the Erin Condren Petite Planners that are available, starting with the PetitePlanners I chose for myself: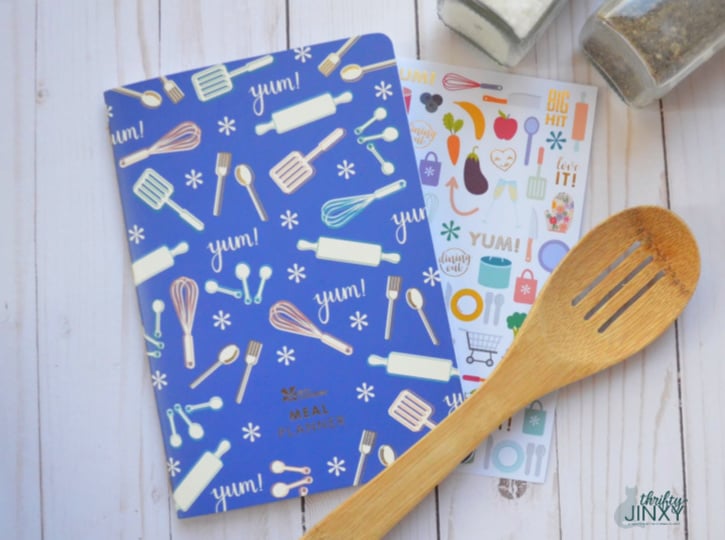 PetitePlanner Meal Planner
I don't currently meal plan, but my goal is to start with the help of the PetitePlanner Meal Planner! It has space to plan breakfast, lunch and dinner 7 days a week. For each week you have space to plan you meals, create a shopping list for the needed ingredients and even set up a prep strategy. We can also plan for larger dinner parties with everything from creating a guest list, planning the menu and setting up a cooking schedule.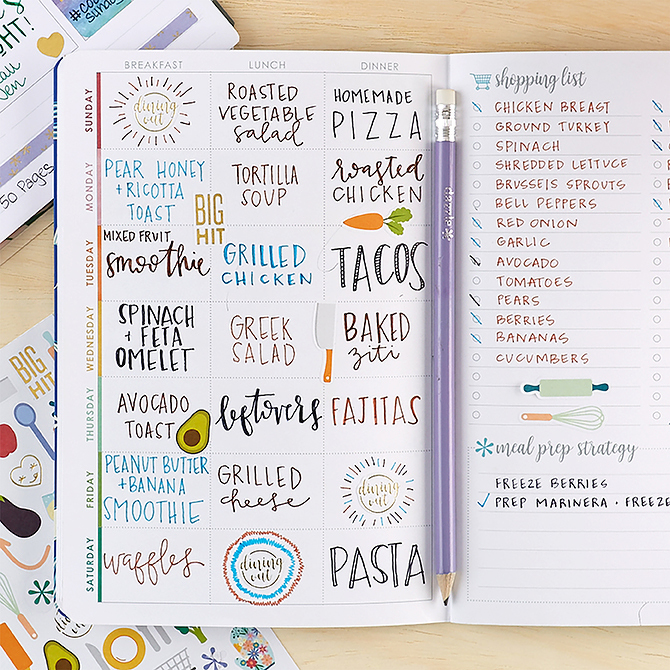 Other sections include a price tracker to keep track of prices paid at the grocery store so you know when a "sale" is a good deal and time to stock up. A recipe log lets you jot down a few of your favorite recipes for easy reference.
A conversion chart helps you convert between tablespoons and cups, pints and quarts, etc. To keep things colorful, there is a festive sticker sheet, featuring a mixture of gold metallic quotes and illustrations, to decorate your pages. You can order additional meal planner stickers here.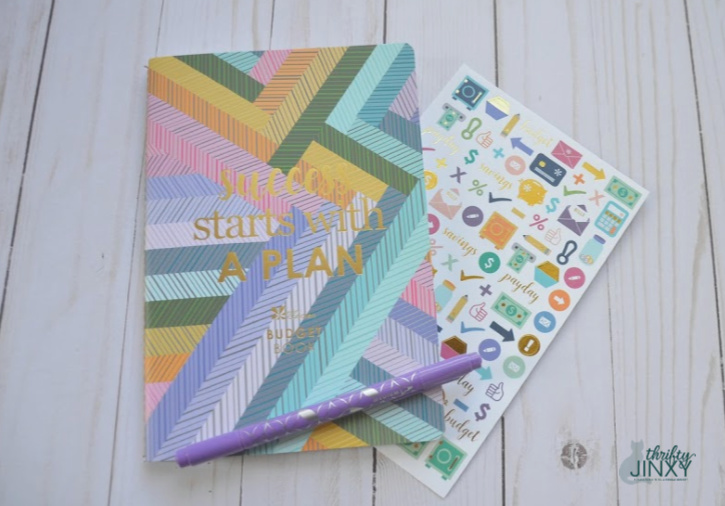 PetitePlanner Budget Book
The Erin Condren PetitePlanner Budget Planner can help you both set and plan the steps to reach your financial goals. The planner covers a full year of financial planning. Each month features a "month at a glance" section where you can note upcoming purchases, bills and savings goals. A budget page lets you fill in amounts for standard expenses like mortgage/rent, groceries, and utilities with additional blank spaces to customize for your expenses.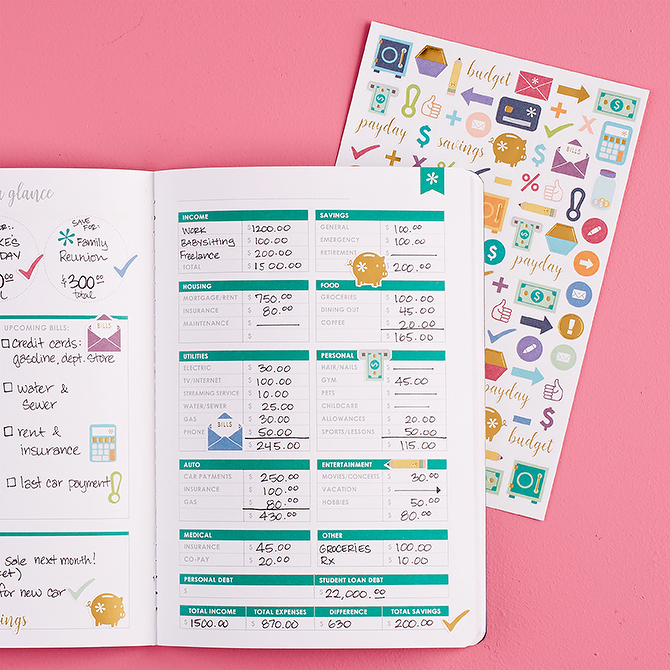 The month Spending Summary pages let you track your expenses throughout the month and compare to your budgeted amounts to help keep you on track. A Savings Tracker at the front of the book helps you track your monthly savings toward specific goals. The back of the book features a debt tracker where you can record your starting balances and then your progress made toward paying off those debts.
Like the other PetitePlanners, pretty stickers with metallic gold embellishments let you add some fun to budgeting. Being able to see your step-by-step progress toward financial success can be so encouraging!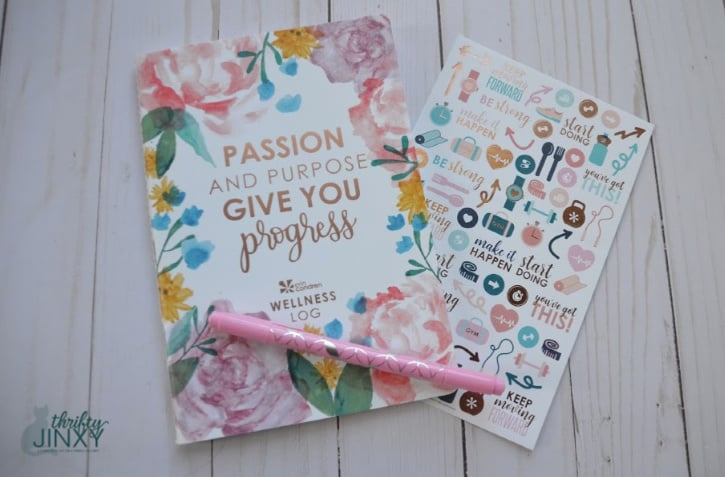 PetitePlanner Wellness Log
Just like with budgeting and financial improvement, tracking and planning your health wellness is a terrific way to stay on track! With this PetitePlanner dedicated to wellness you can set goals and track your progress toward meeting them.
The Wellness Log is broken down into both monthly and weekly sections. Each month you can set wellness goals. Then in the weekly logs, you can track your activity, water intake, step and sleep each day. A food section lets you plan your meals for each day broken down by breakfast, lunch, dinner and snacks and/or you can food journal in the same section.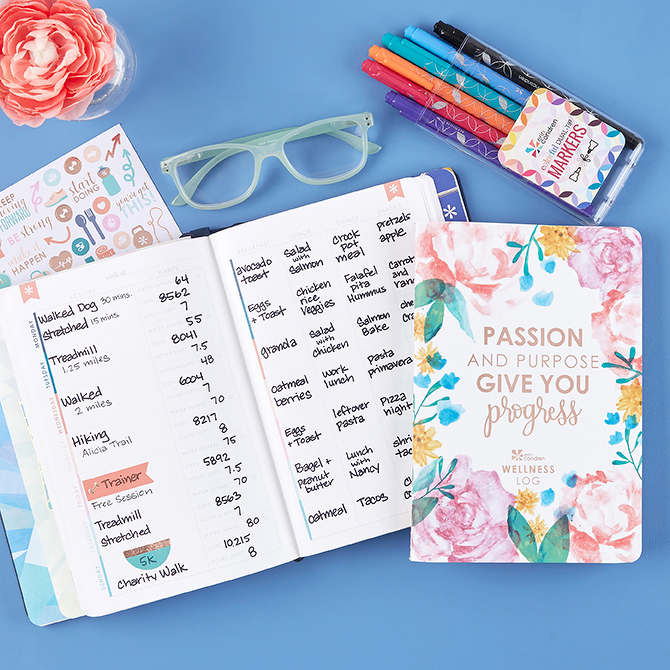 At the end of the month it's time to track your monthly progress (measurements, eight, clothing size, etc.), note your accomplishments and progress toward your goals and then move on to setting plans for the next month. And we can't forget about the stickers! For the Wellness Log it's a beautiful rose gold sticker sheet!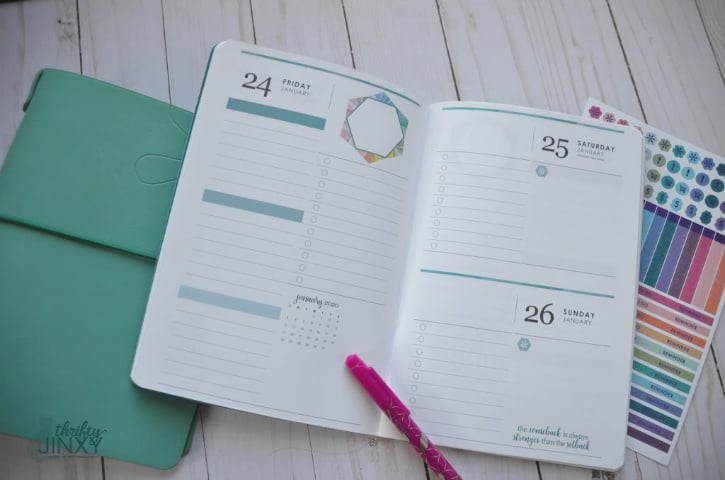 PetitePlanner Daily Planner
Each of the PetitePlanner Daily Planners cover a 3 month period with daily and monthly spreads to maximize your organization. Each includes:
Colorful, Vertical Layout
3 Months of Daily Planning
3 Monthly Spreads
Daily Mini Months and Check Lists
Notes Pages
Inspirational Quotes
Functional Metallic Sticker Sheet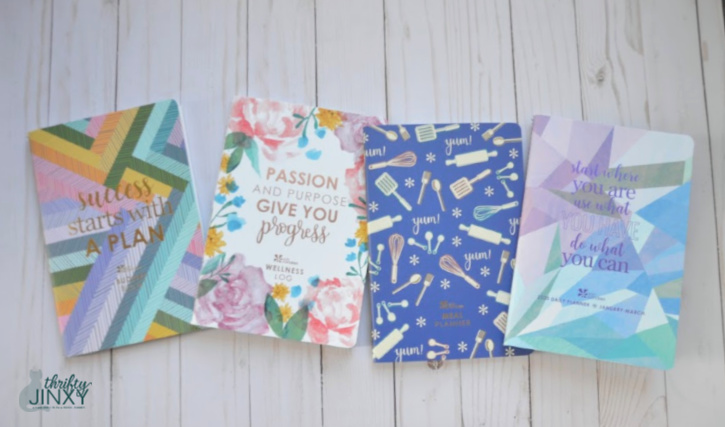 Other Erin Condren Petite Planner Options:
Besides the planners I ordered, these PetitePlanners are also available:
Wedding PetitePlanner Bundle – Four wedding-focused PetitePlanners are included in this bundle with a Daily Customizable Agenda, Monthly Customizable Calendar, Wedding Checklists & To-Dos and Moments to Remember all bundled in a Champagne On-the-Go Folio.
PetitePlanner Pregnancy Journal – Commemorate the special time before your baby is born by recording special moments like the first kick, listening to your child's heartbeat or learning baby's gender. Makes a wonderful memory book.
PetitePlanner Baby Tracker – Track baby's needs and changes with logs for feeding, changing and sleeping times, built-in lists to write questions for the doctor at appointments and more. It's also helpful to share this baby planner with a babysitter or nanny.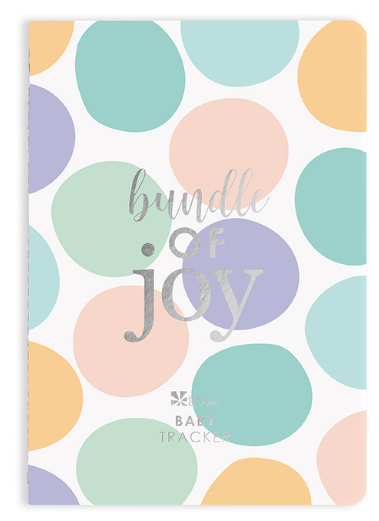 PetitePlanner Self Care Journal – Prioritize self care while using this journal to reflect on your mental health, support system and stress levels. With weekly logs you can track moods, sleep, self-care practices and more. Log positive affirmations, reflect on the week ahead and give yourself permission to unwind.
Medical Treatment Log PetitePlanner – This helpful tool can help you organize & plan your recovery. With color-coded charts & checklists, planning spreads & note pages to log, organize & track doctors, medications, treatments, appointments, expenses, your support network and more it can help those battling both short- and long-term illnesses.
Breast Cancer Journal PetitePlanner – Designed with insight from cancer survivors, this journal is designed to inspire and support those battling breast cancer with six weeks of trackers for drain levels, chemo, meds, symptoms, moods, meals & more.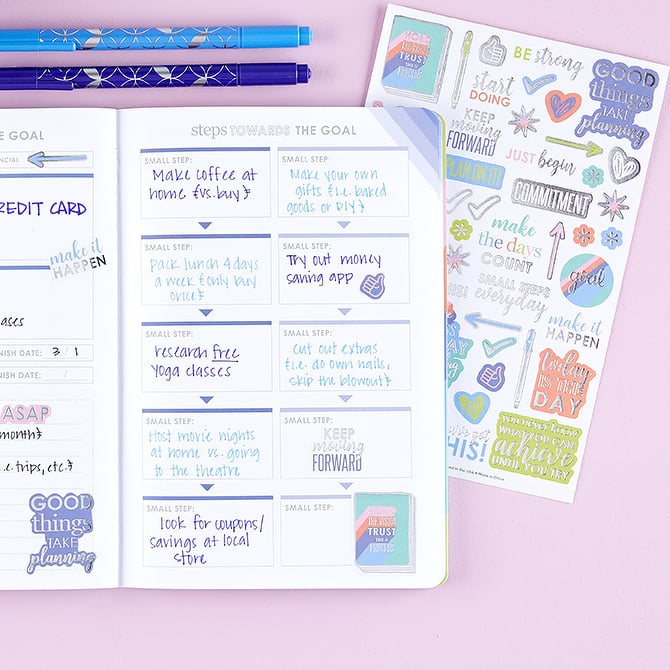 PetitePlanner Goal Setting Journal – Both set goals and track your progress toward reaching them. This PetitePlanner helps break down your goal with the necessary tasks and to-dos to reach them.
Checklist Petite Journal – Keep a log of just about anything in your life with these customizable checklists that help you track habits, stay on top of tasks and achieve your goals.
PetitePlanner Travel Journal – You can both plan your trip and then record it to remember your special adventures with this PetitePlanner designed to track up to four weeks of travel with 28 daily spreads to log activities, meals, memories, spending and more!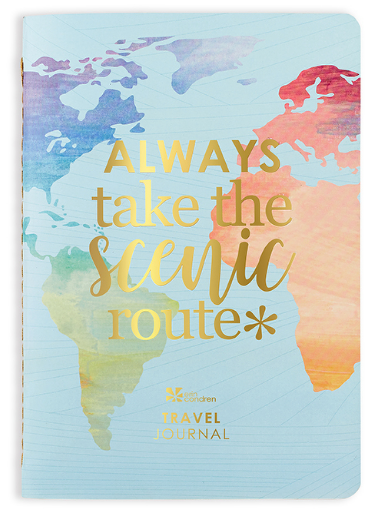 PetitePlanner Gratitude Journal – Record your daily reflections and develop an attitude of gratitude as you jot down a motivational quote, thankful thought or memory from your day as a way to hold close and appreciate what's most important.
PetitePlanner Share the Love Journal – Share all the things you love about your partner, friend or family member in this unforgettable gift book.
PetitePlanner Moments To Remember – Commemorate special occasions from weddings to graduations to anniversaries as you capture precious memories in this PetitePlanner destined to become a beautiful keepsake you'll treasure forever!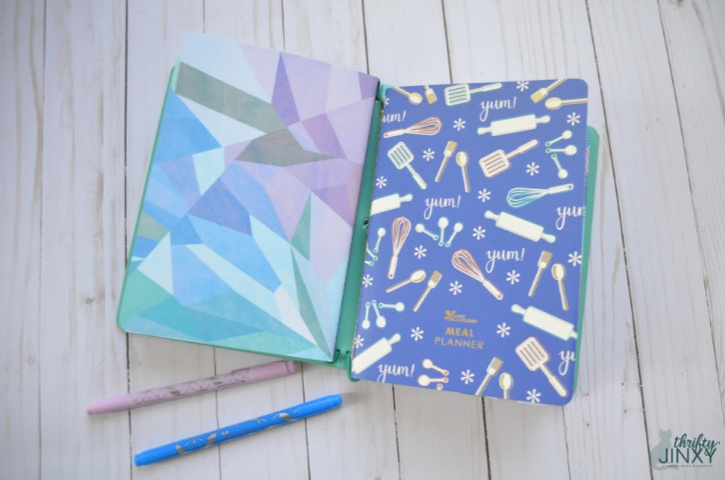 Erin Condren PetitePlanner Discount!
Are you excited to choose your own PetitePlanners?? Right now Erin Condren is letting you save 20% when you purchase four or more PetitePlanners! Find all the Erin Condren PetitePlanners HERE and start mixing and matching! (If you're like me, you won't be able to stop at just 4!
Looking for other EC products? Get ready to shop the Erin Condren Black Friday and Cyber Monday sales!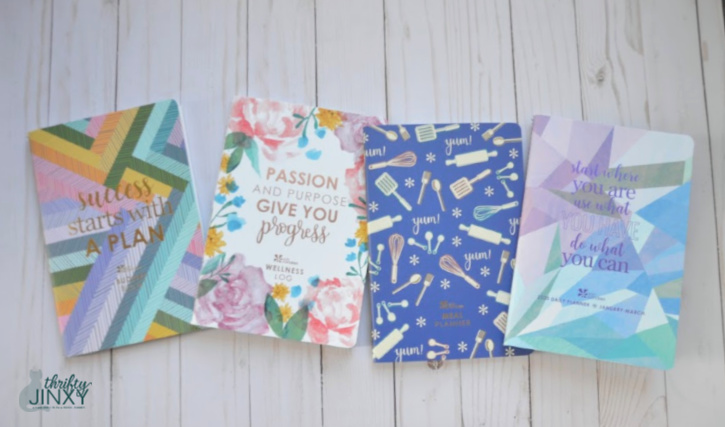 Reader Giveaway: One lucky Thrifty Jinxy reader will receive a set of 4 Erin Condren PetitePlanners pictured above PLUS an On the Go Folio Planning System. To enter, first check out the Erin Condren PetitePlanners and On the Go Folio Planning System and then come back and answer the question in the entry form below by 11:59pm ET on December 2, 2019. Good luck!
Erin Condren PetitePlanners Giveaway