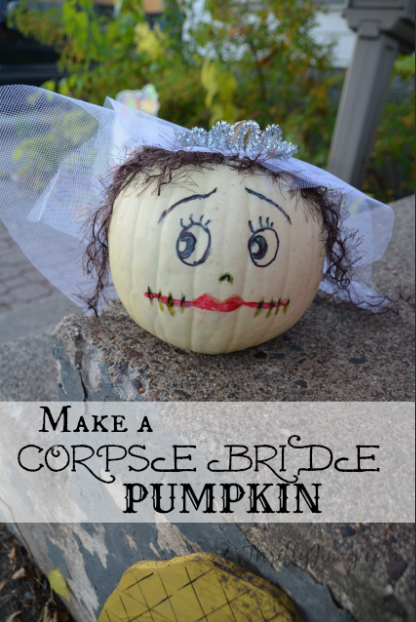 When it comes to decorating pumpkins there are often two different camps. There are those who like to carve a pumpkin and those who like to keep the pumpkin intact when decorating. I personally like both options. A carved pumpkin lit from the inside looks awesome on an October evening, but by leaving a pumpkin whole you can get really creative when it comes to decorating – like this Corpse Bride Pumpkin made by my Mom.
This pumpkin design uses a white pumpkin or gourd to give the bride her ghostly palor. Grab a few extra supplies from the craft store and you're all set to make your own!
How to Make a Corpse Bride Pumpkin
Supplies:
White pumpkin or gourd
2 silver pipe cleaners
White netting
Hair-like yarn (such as Astrakhan) or spanish moss
Hot glue gun or craft glue
Permanent markers or tempera paints
Directions:
Cut strips of yarn approximately the length of your pumpkin and glue around top for hair.
Cut three jagged squares from the white netting – each about 1 1/2 times the size of your pumpkin. Glue on top of hair.
Bend your pipe cleaners into a zig-zag shape to create a tiara. Glue on top of netting.
Use markers or pain to create the face.
That's it! Your "beautiful" bride is complete. For some tips to make her last through Halloween, read our tips on how to make your pumpkins last until Halloween.
Find more Halloween fun with Thrifty Jinxy HERE!