Create an awesome Halloween costume without spending a lot of time or money with these fun and frugal DIY Halloween costume ideas!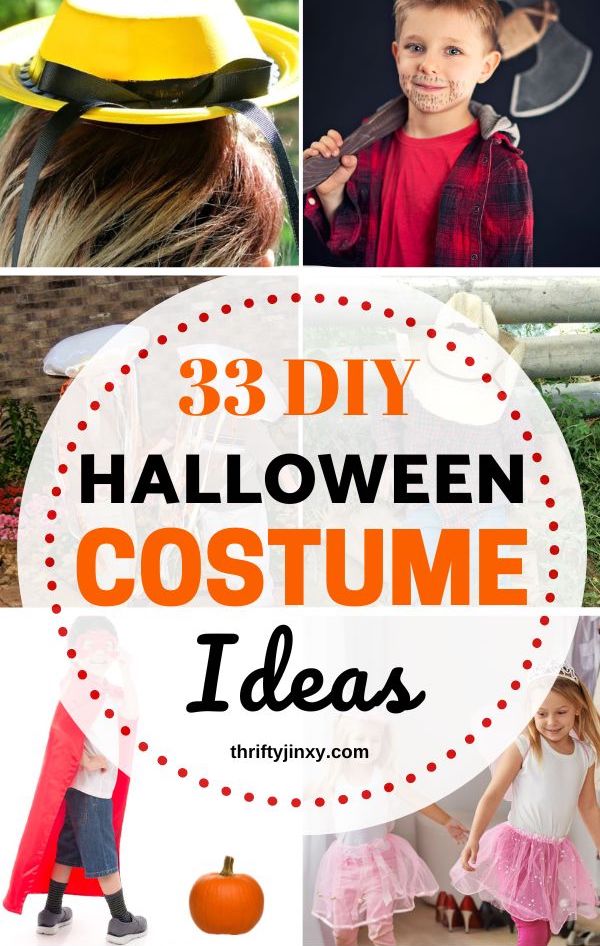 Halloween costumes aren't getting any cheaper. While it's hard to justify spending a fortune on a costume the kids may wear once, you also don't want them dressed like every other kid that walked through the local big box store.
On the other hand, maybe you've procrastinated and now the costume aisles at the store are totally picked over. Well, this is your lucky day!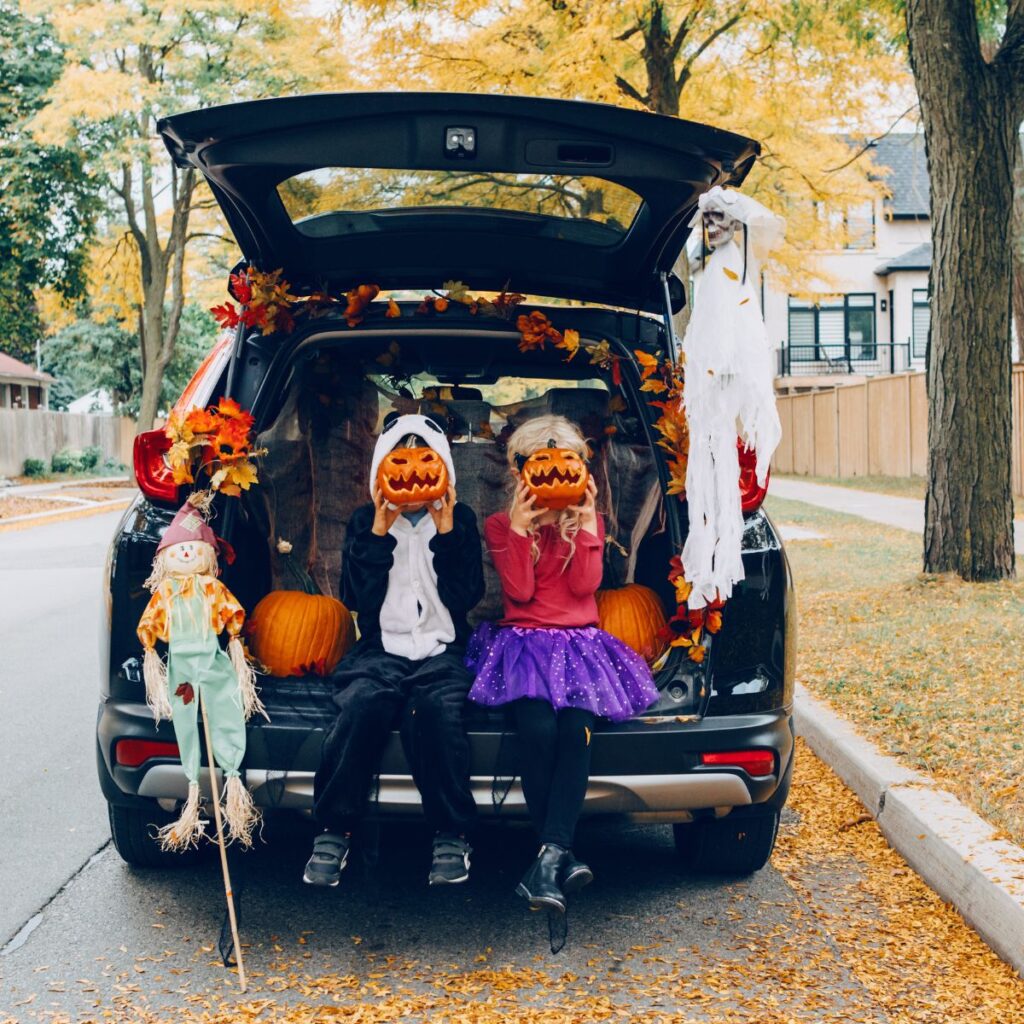 Here are 33 DIY Halloween Costume Ideas for Kids, many of which work perfectly for adults too!
There are countless, inexpensive ways to make your own kids Halloween costumes with stuff you probably already have on hand or things that are easy to find.
The awesome thing about these cheap diy costume ideas is that you can keep it simple or add your own extra touches.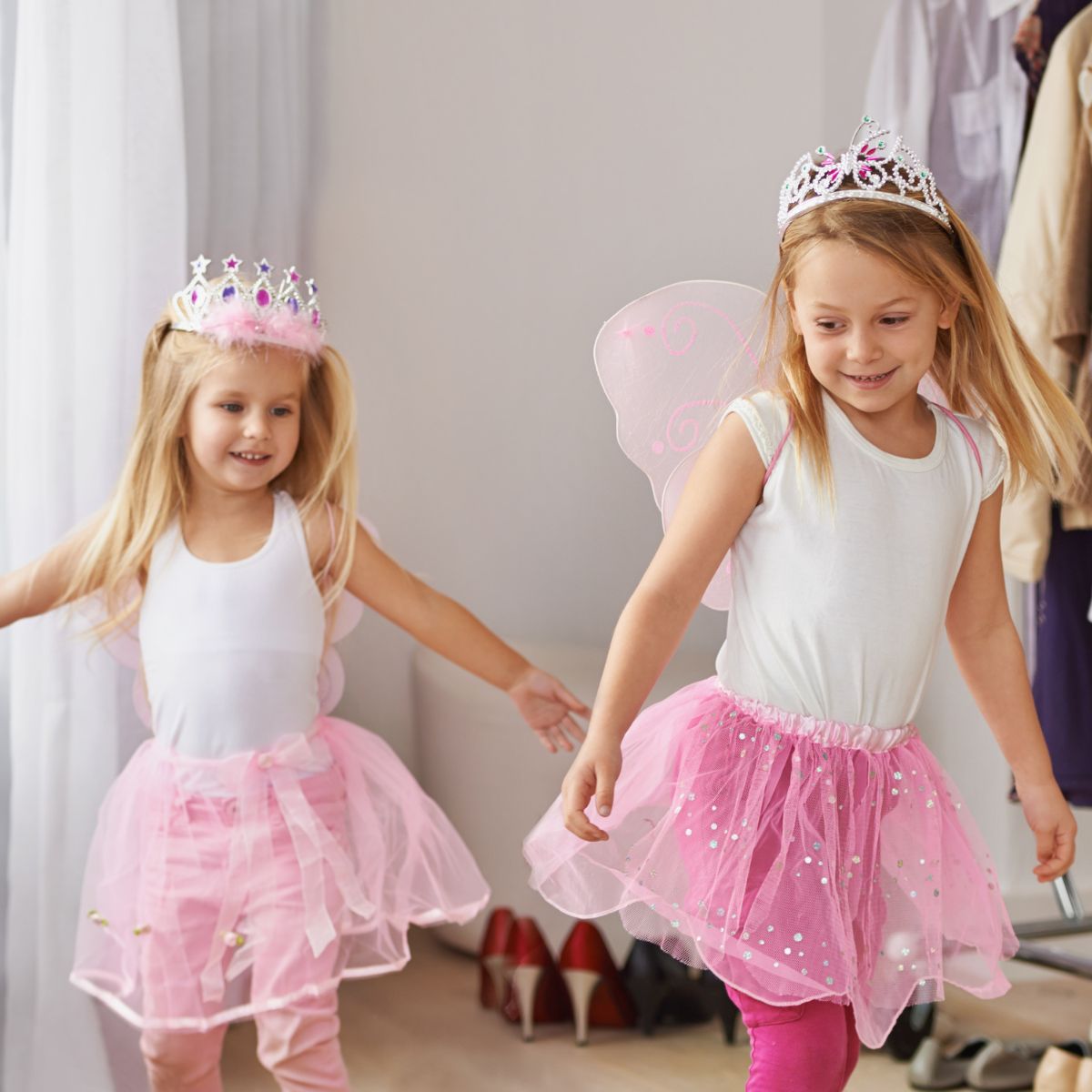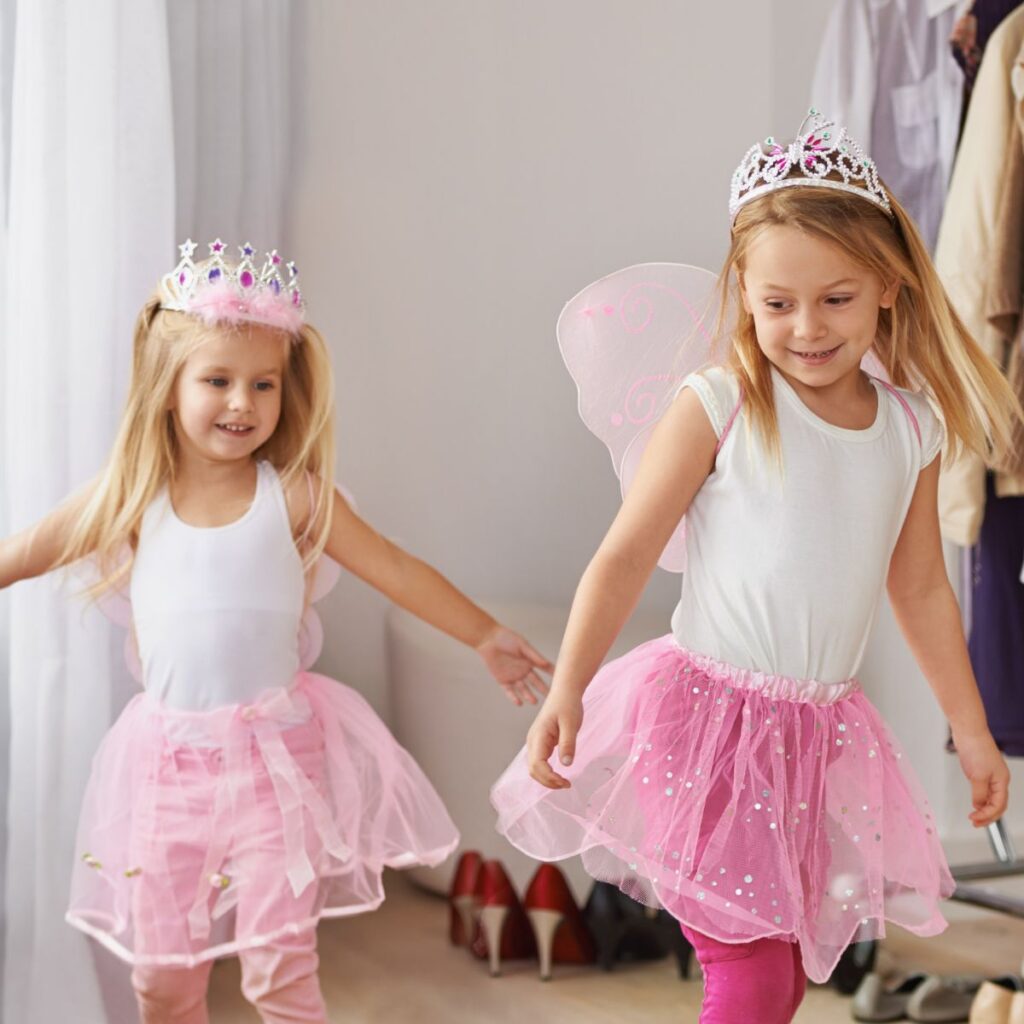 33 DIY Halloween Costume Ideas for Kids
Princess – Let your little one wear their fanciest dress or pretty dance costume. Hit the dollar store for a tiara.
Kitty Cat – Use eyeliner to create the cat whiskers and hit up the dollar store for ears. Or make your own by attaching fabric scraps or construction paper to a headband.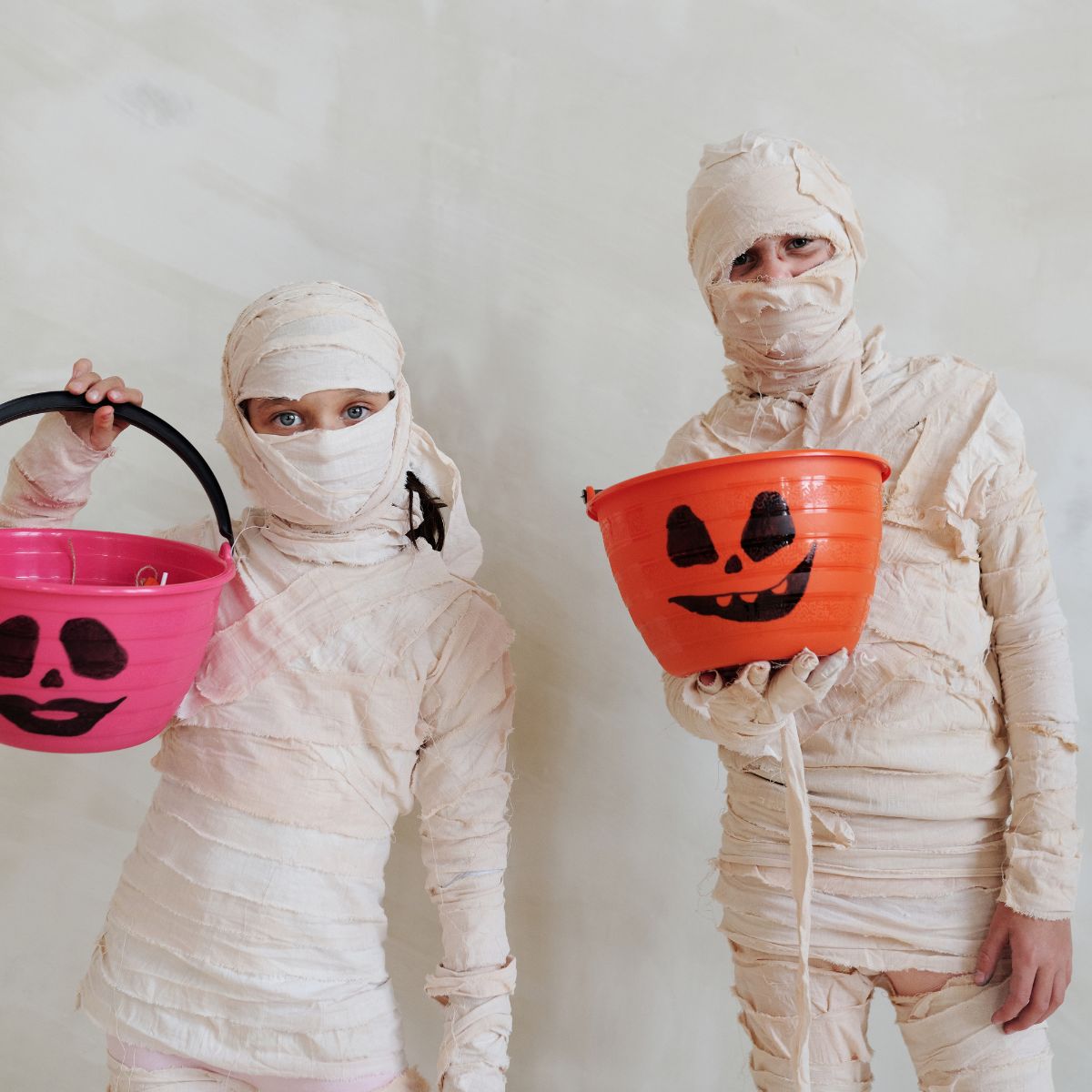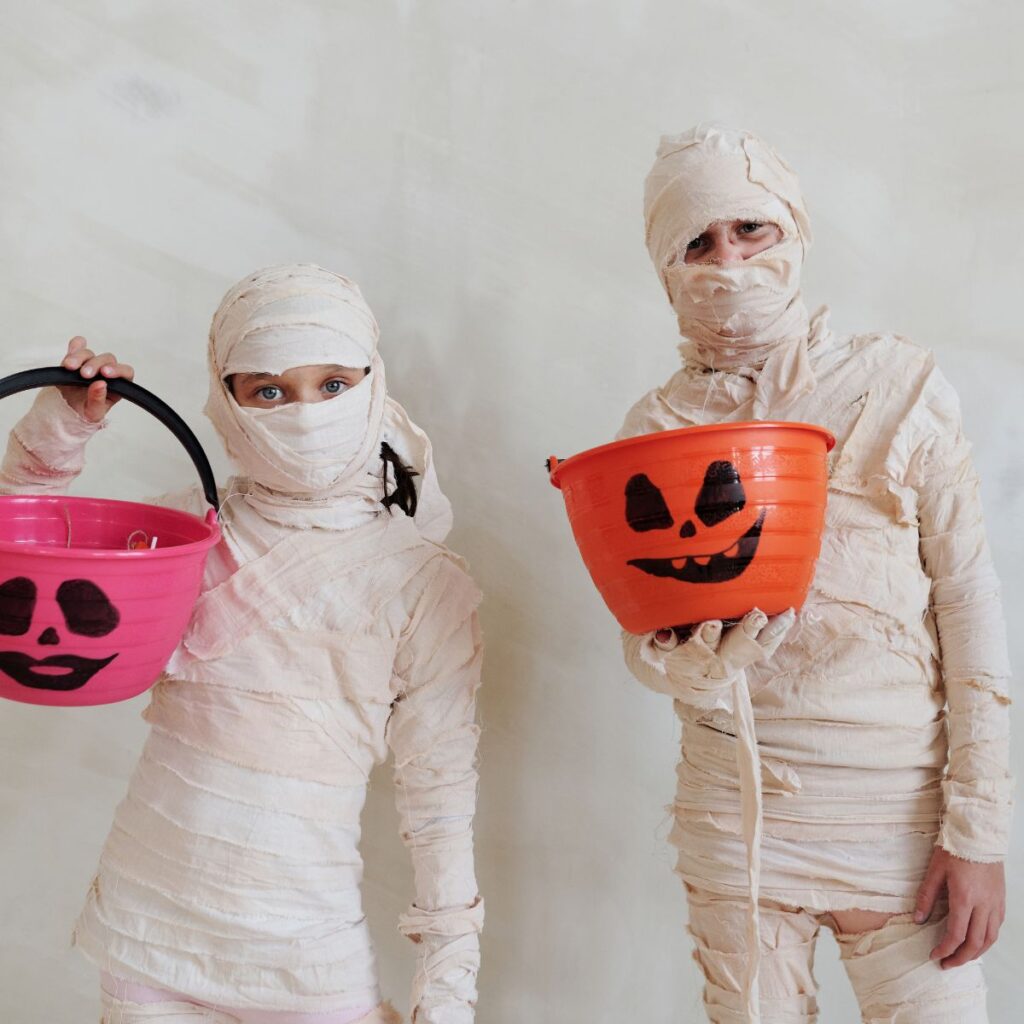 Mummy – Cut an old white sheet into strips and soak them in a sink with tea bags. The tea will give it the centuries-old coloring look. Wrap up from head to toe!
Rain and clouds – Dress your child in a grey shirt and leggings. Paint blue raindrops onto the outfit.
Jellyfish– Cover a cheap wide brimmed straw hat with iridescent fabric and attach ribbon streamers.
Man with the Yellow Hat – Do you have a stuffed monkey? Dress your child up in yellow, carrying the monkey and they will be this favorite Curious George book character.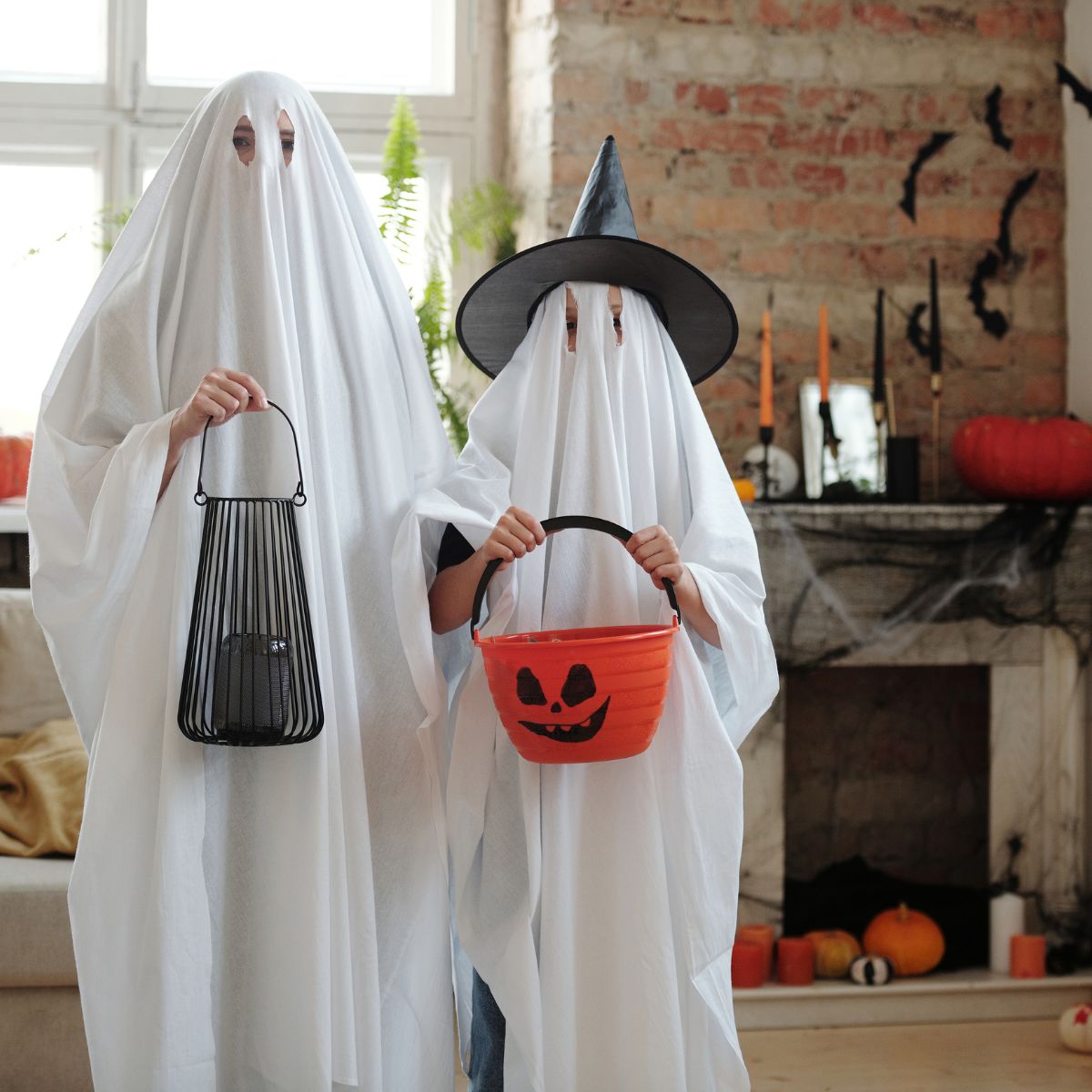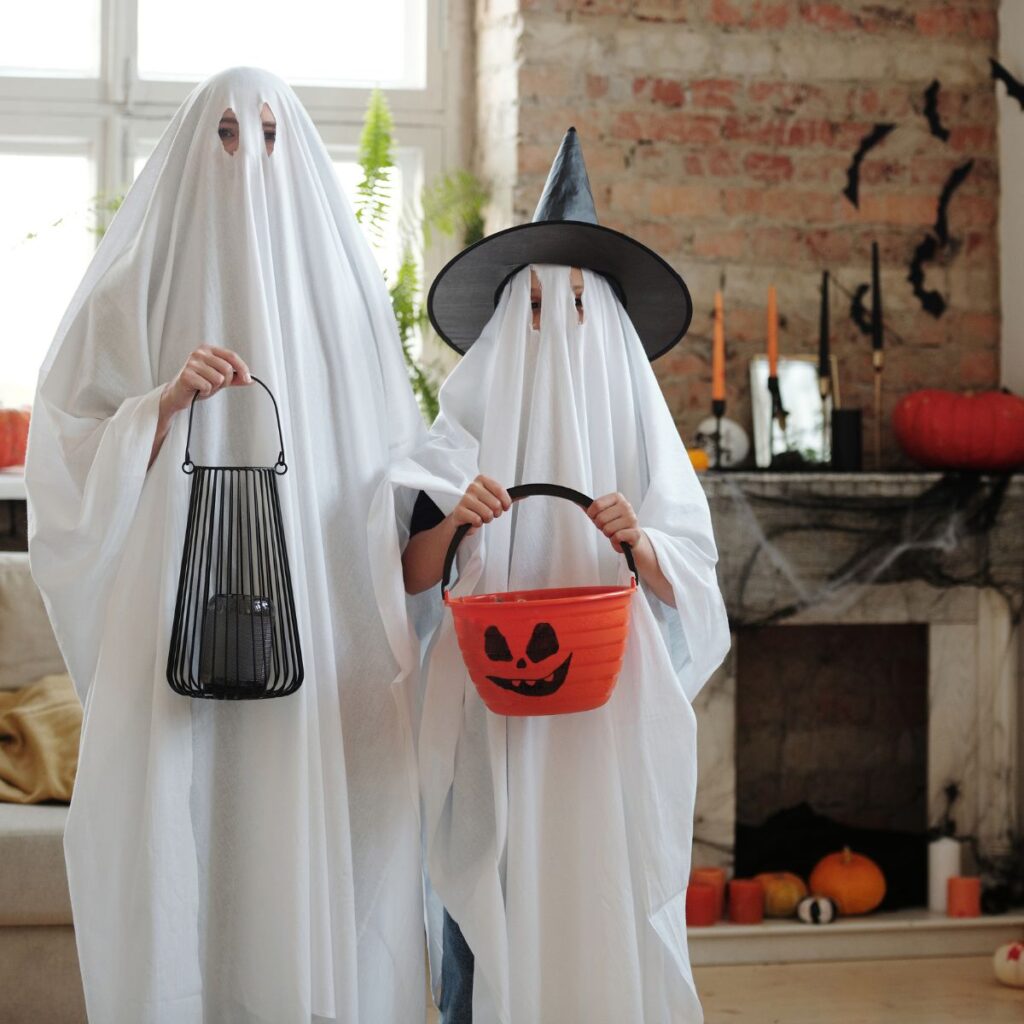 Ghost – Another Halloween classic that requires a white sheet and nothing more. If you like you can add a witch hat or other hat to make it even more fun.
Pumpkin – Get a Halloween themed trash bag and cut a hole out for your head. Use leaves or newspaper to fill it up creating a plumped effect.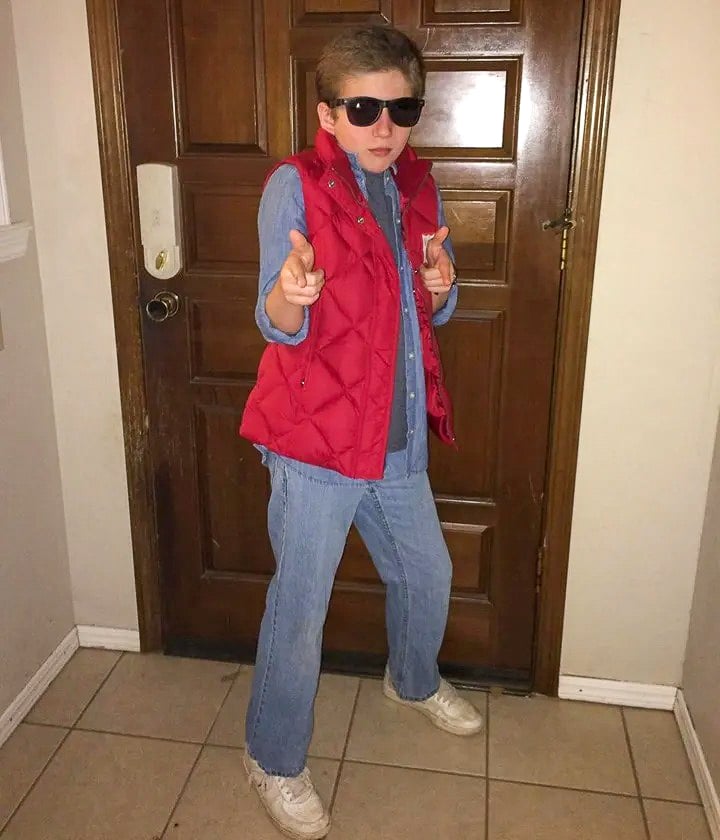 Back to the Future – All you need for this one is faded jeans, white athletic shoes, chambray shirt, puffer vest and dark shades.
Scuba Diver – Dress your child in black leggings, long sleeve shirt and stocking cap. Attach two brightly painted 2 liter bottles fashioned into dive tanks.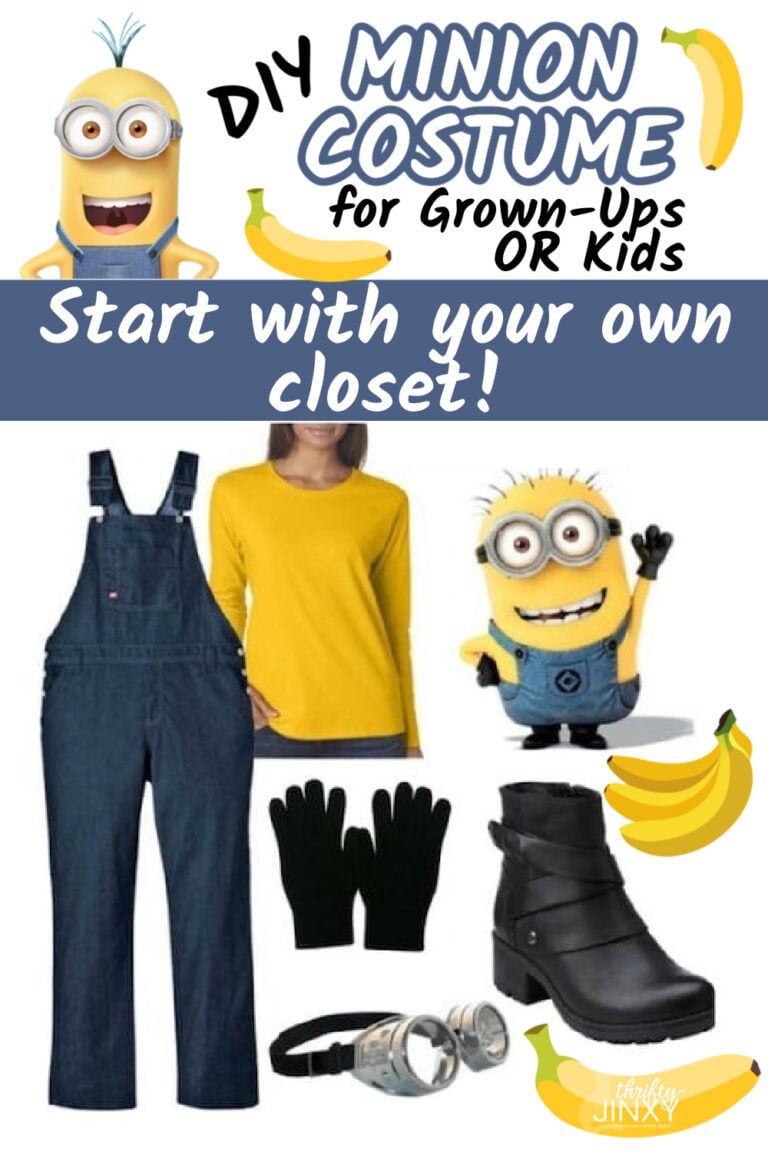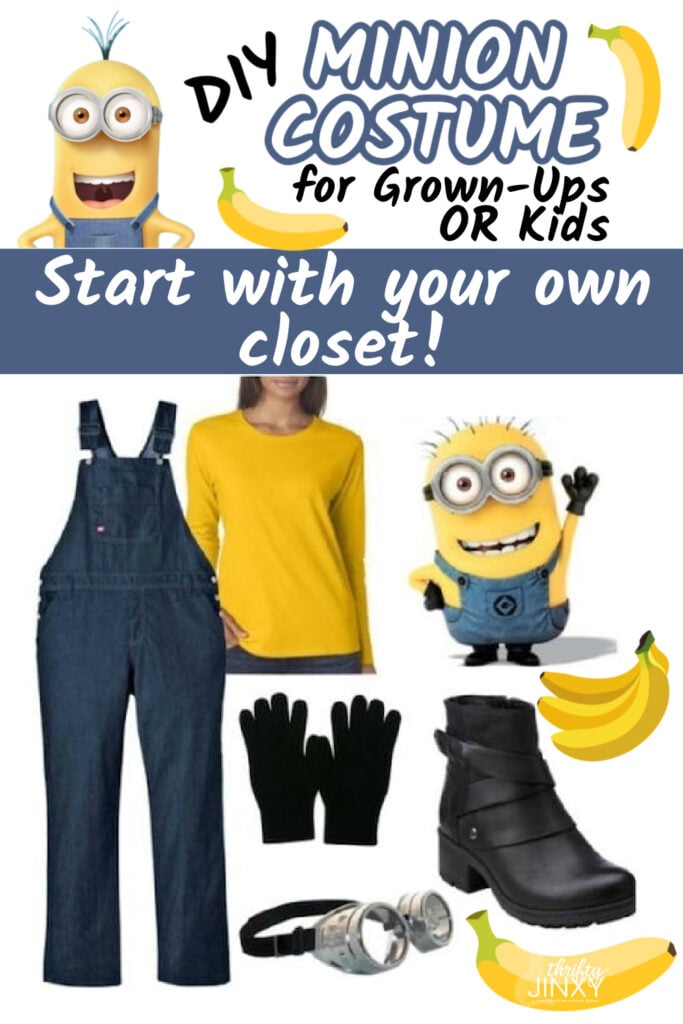 Minions – Top a yellow shirt with overalls and add a yellow stocking cap. Buy or make a pair of Minion goggles. See the complete post on how to make a Minion costume.
Mr. Rogers – Break out the button up cardigan sweater and take your little one around the neighborhood. Styling their hair a la Mr. Rogers is an added touch.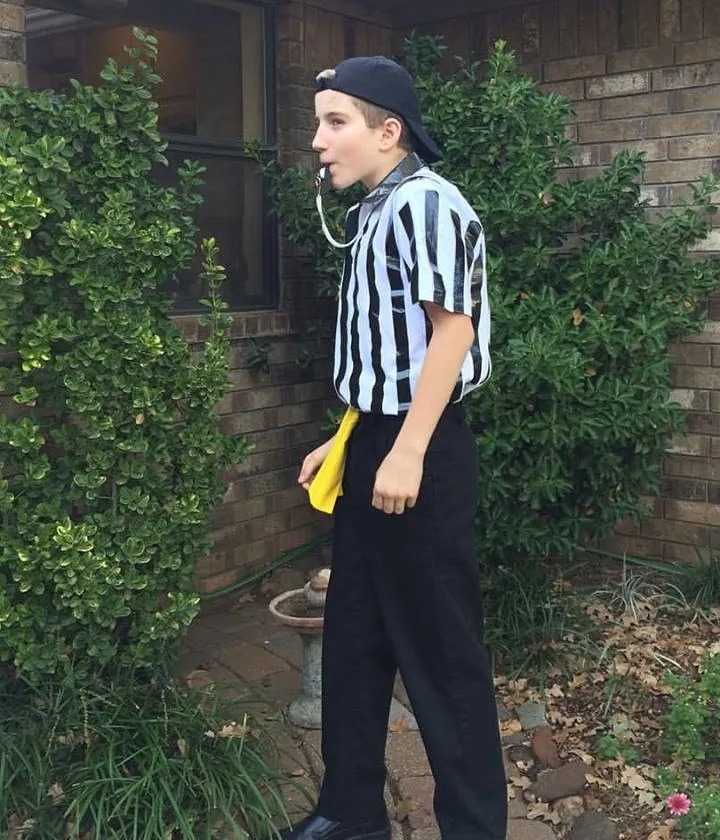 Referee – Just put together a white polo shirt lined out with black duct tape, some black pants, yellow towel and a whistle and your referee is good to go~
80's Kid – Be the ultimate 80s girl with a sideways ponytail or BIG hair, neon colored clothes and some blue eyeshadow .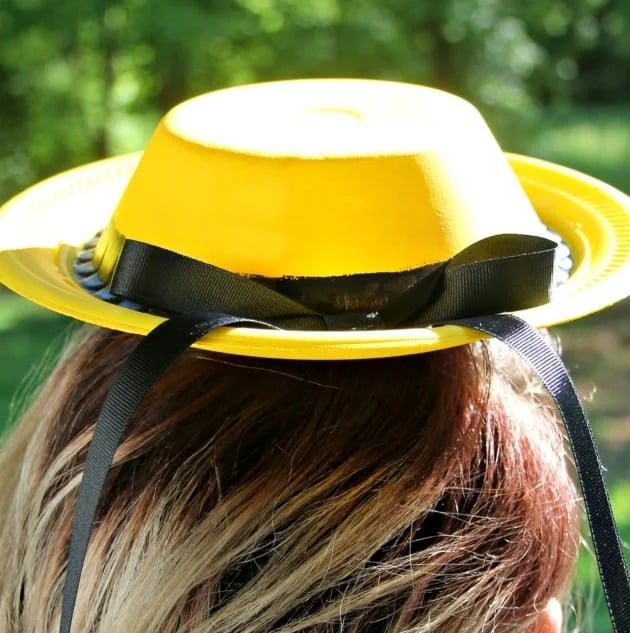 Madeline – Your little one can look like her favorite book character by wearing a blue shirt and skirt (or dress). Use a red ribbon to make a bow at the neck. Then use a plastic plate and bowl to make your own Madeline hat.
HULK – Buy some green skin paint and rip up a flannel shirt. You can also take a pair of pants and cut a jagged hem about shorts height and fray the edges.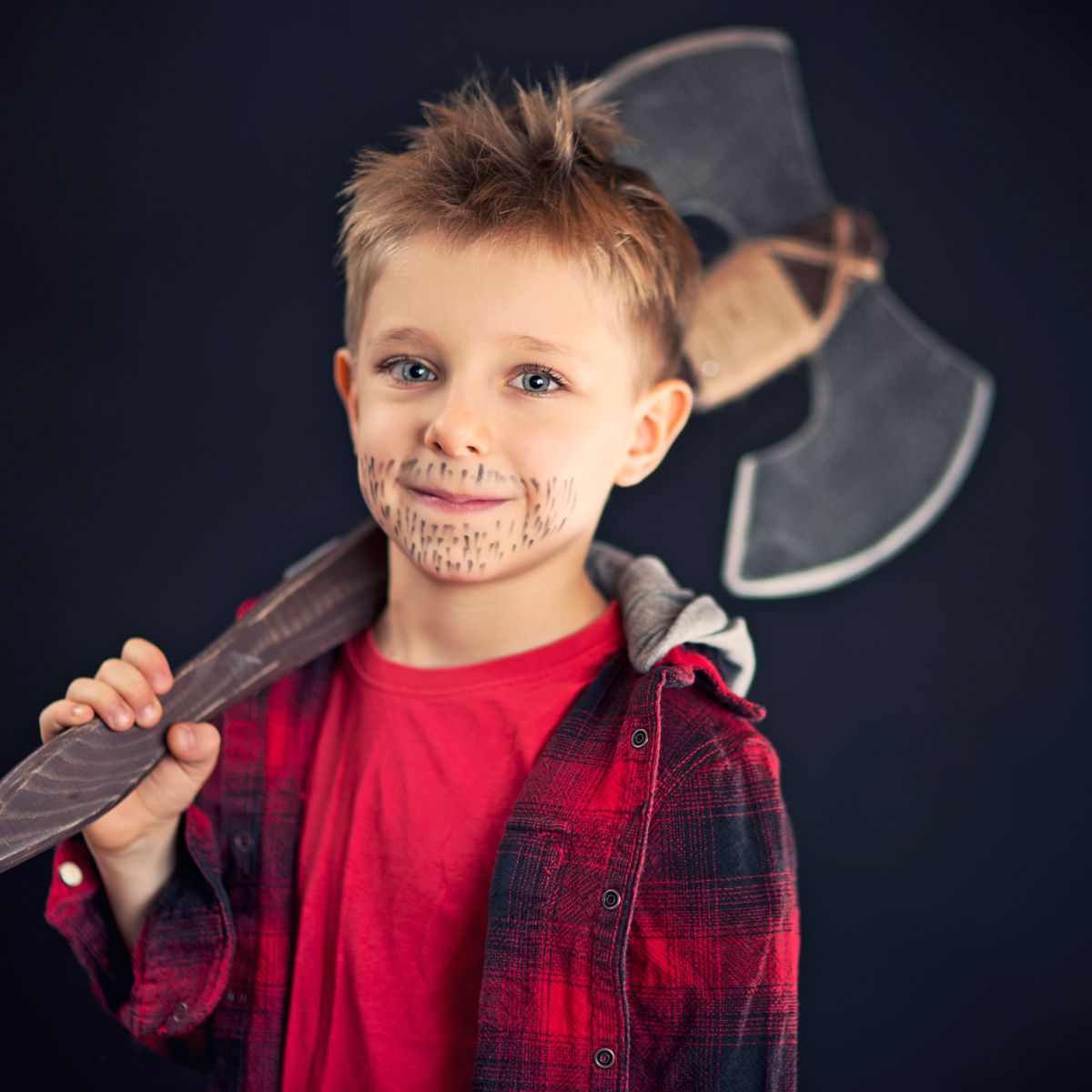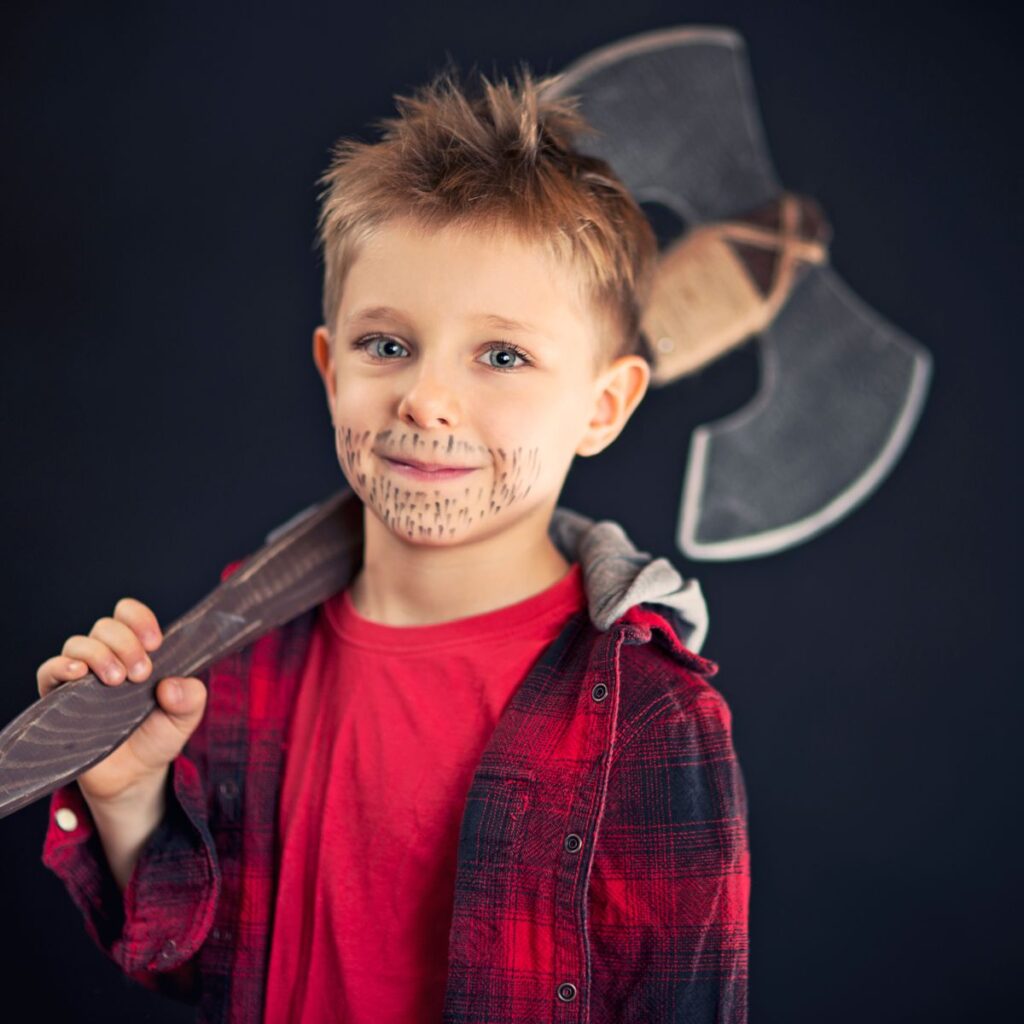 Lumberjack – Red flannel shirt, jeans and boots. Top with a plain black beanie and suspenders if you have them. Finish the effect by adding a 5 o'clock shadow with eyeshadow. They can carry a toy axe or make one out of cardboard, using kitchen foil to cover the head to look like metal.
Fitness Instructor – Have your kid wear exercise gear and carry a towel and a water bottle. Even better, if you have an over the ear wireless headset, have them wear that too.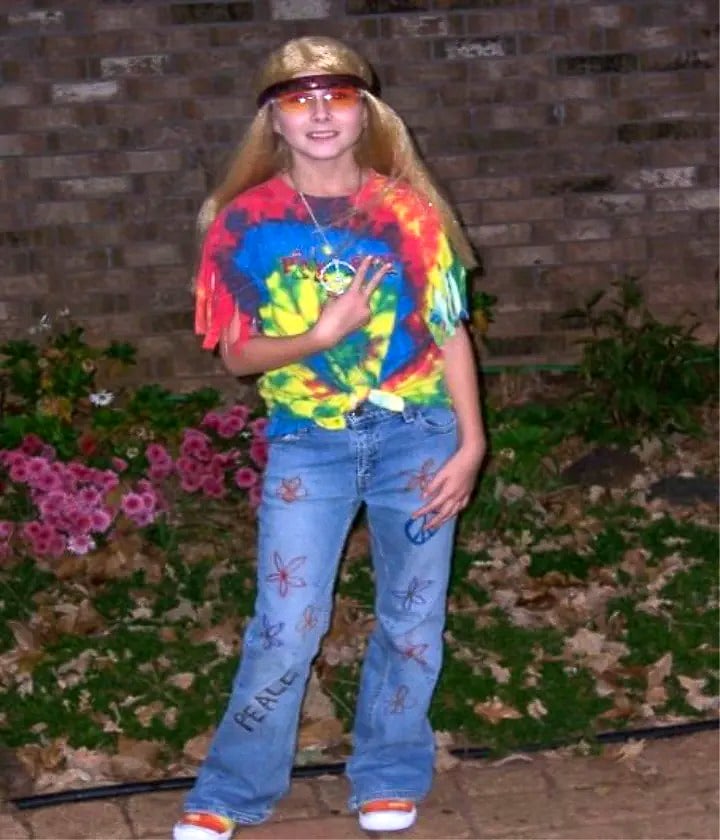 Hippie – Draw flowers and peace signs on a pair of old jeans, pair with a tie dye shirt, headband and big sunglasses.
Self Portrait – Grab an 11×20 picture frame and have your child hold it in front of their face for trick or treating.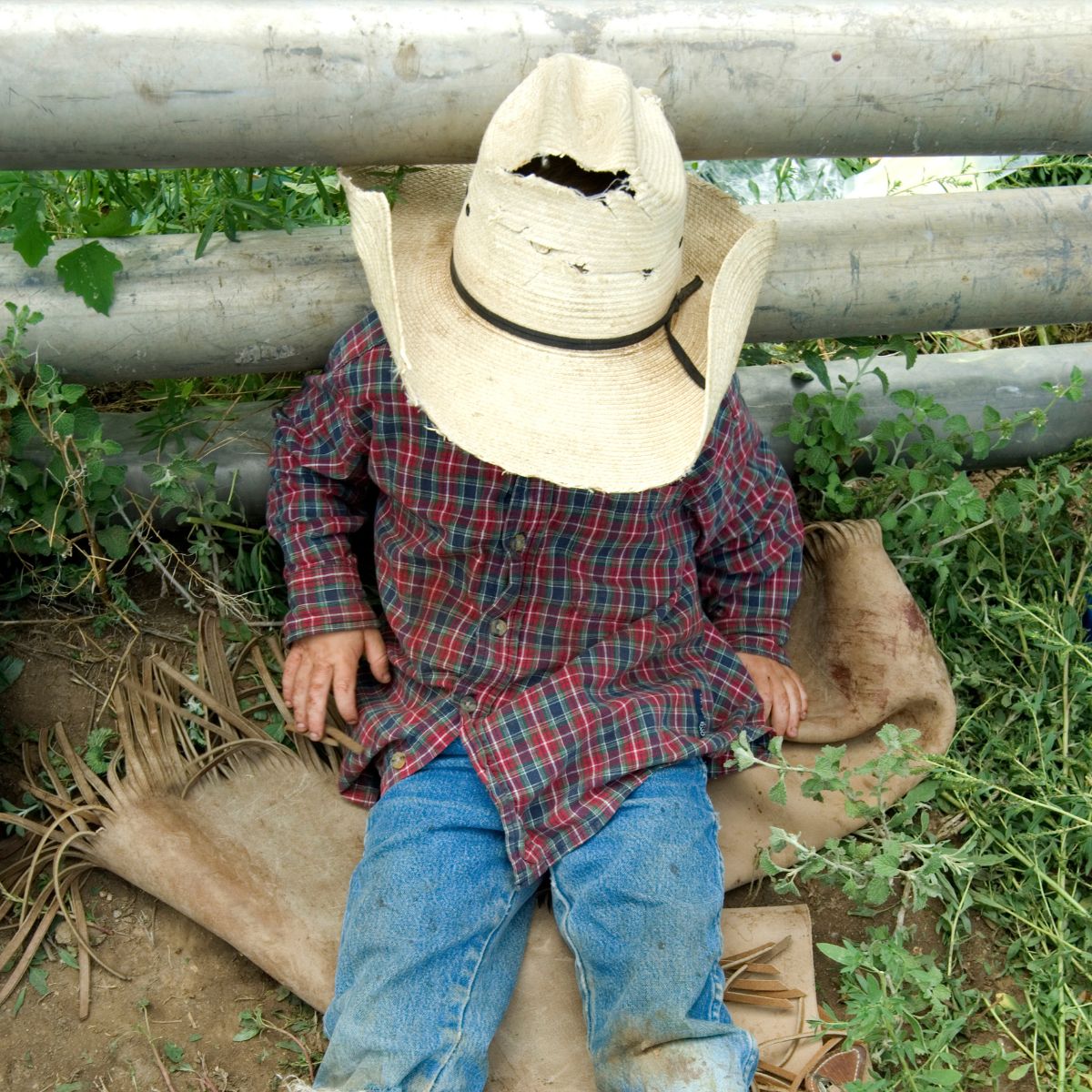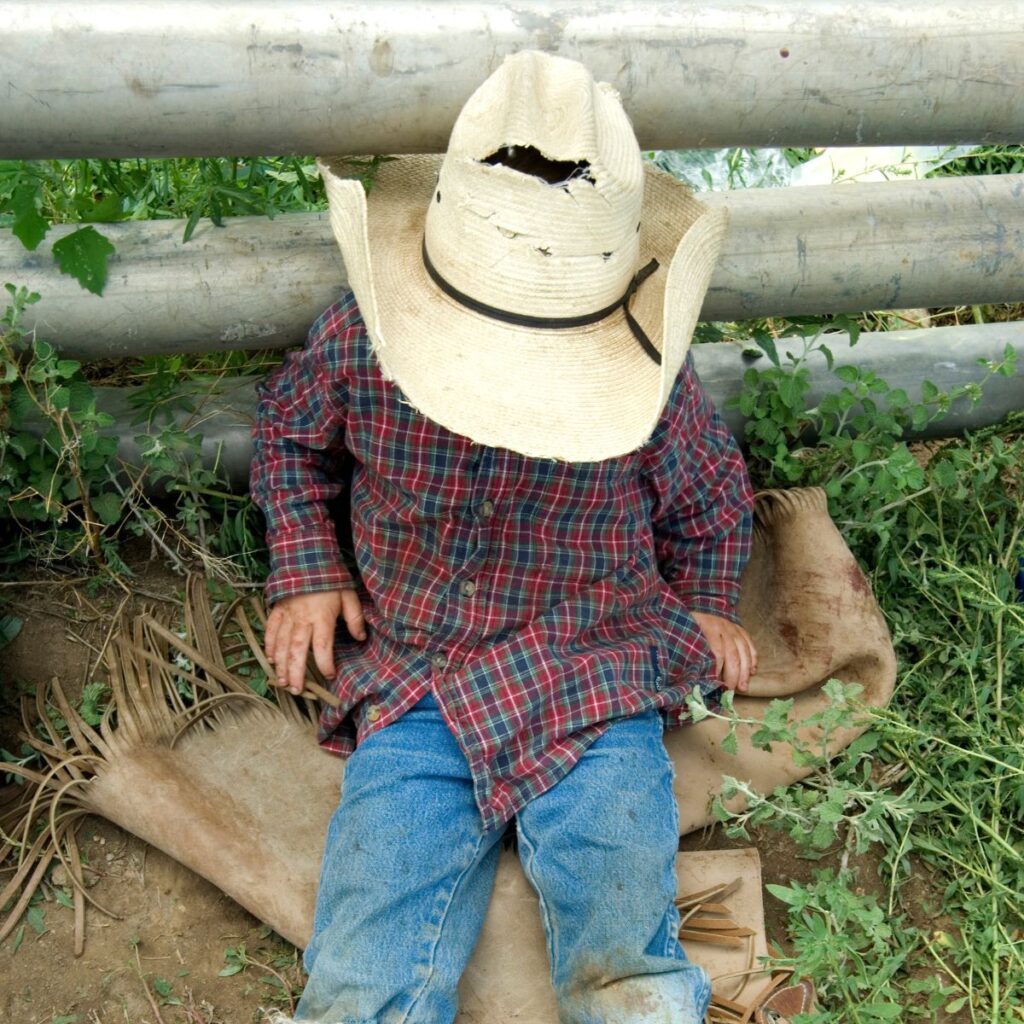 Cowboy – Do you have an extra western hat laying around? Pair the hat with a button up shirt and some jeans to complete the look.
Static Cling – Use safety pins to attach random socks to their outfit.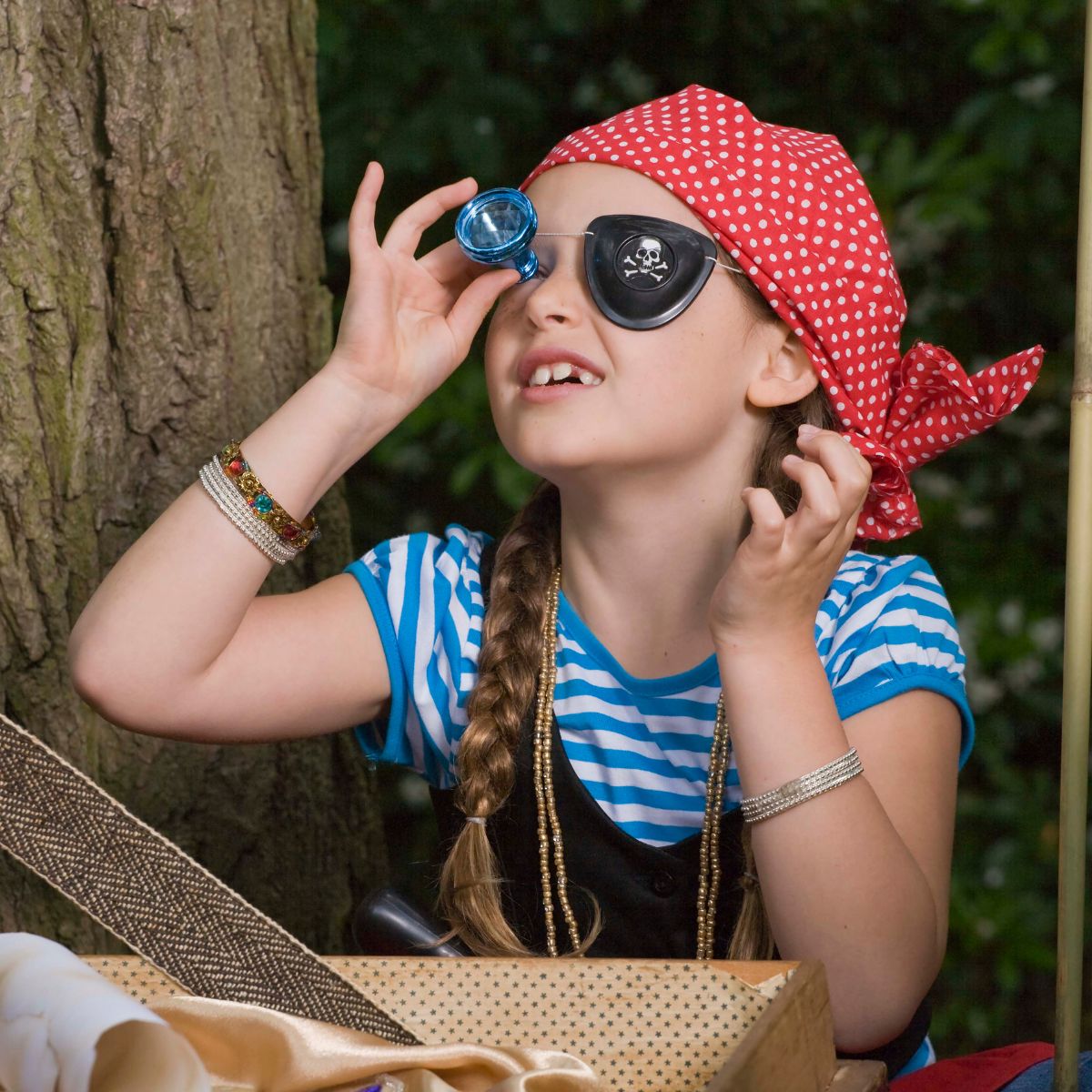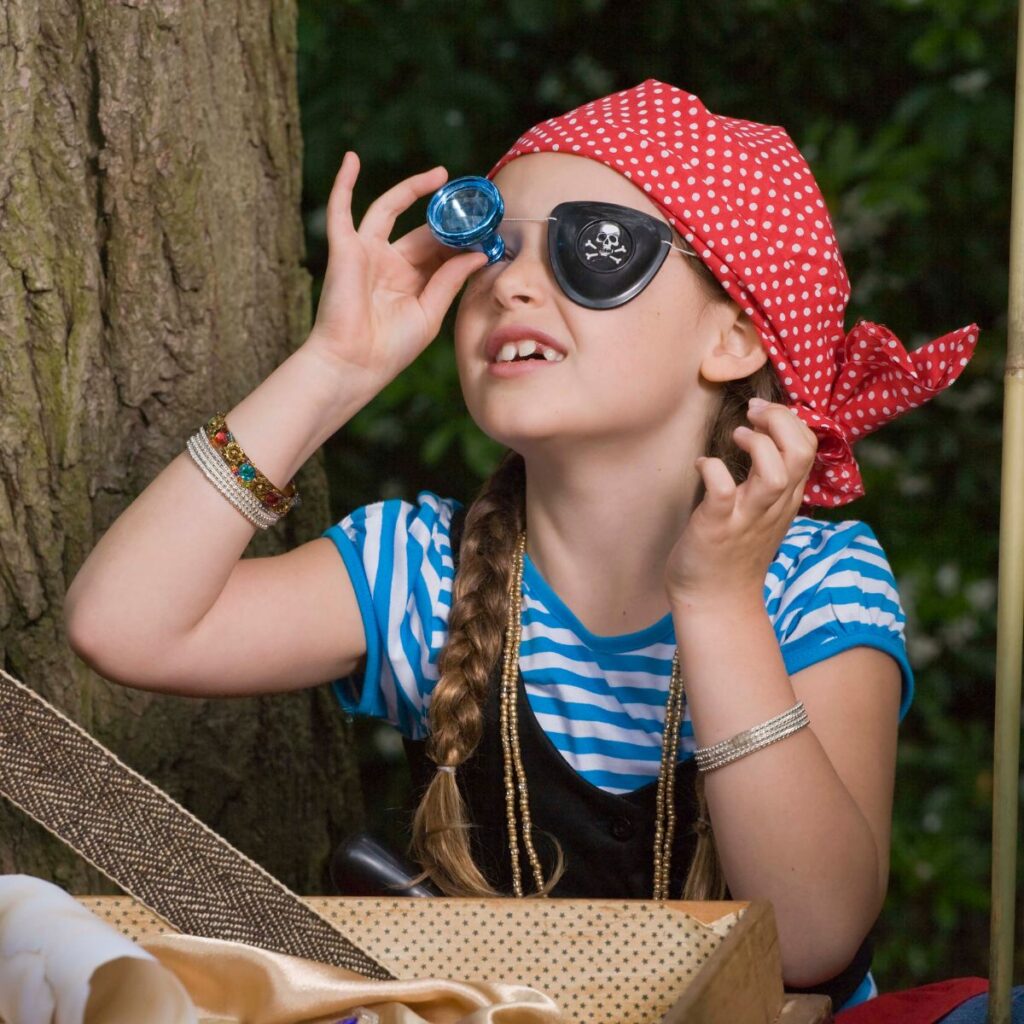 Pirate – Wear a striped t-shirt (or else a white one) and add a red bandana tied on the head. Make an eye patch from black felt and string. You can also make a pirate hook using a paper cup and aluminum foil.
Librarian – Glasses, long skirt, a cardigan and a name tag is all it takes for this costume.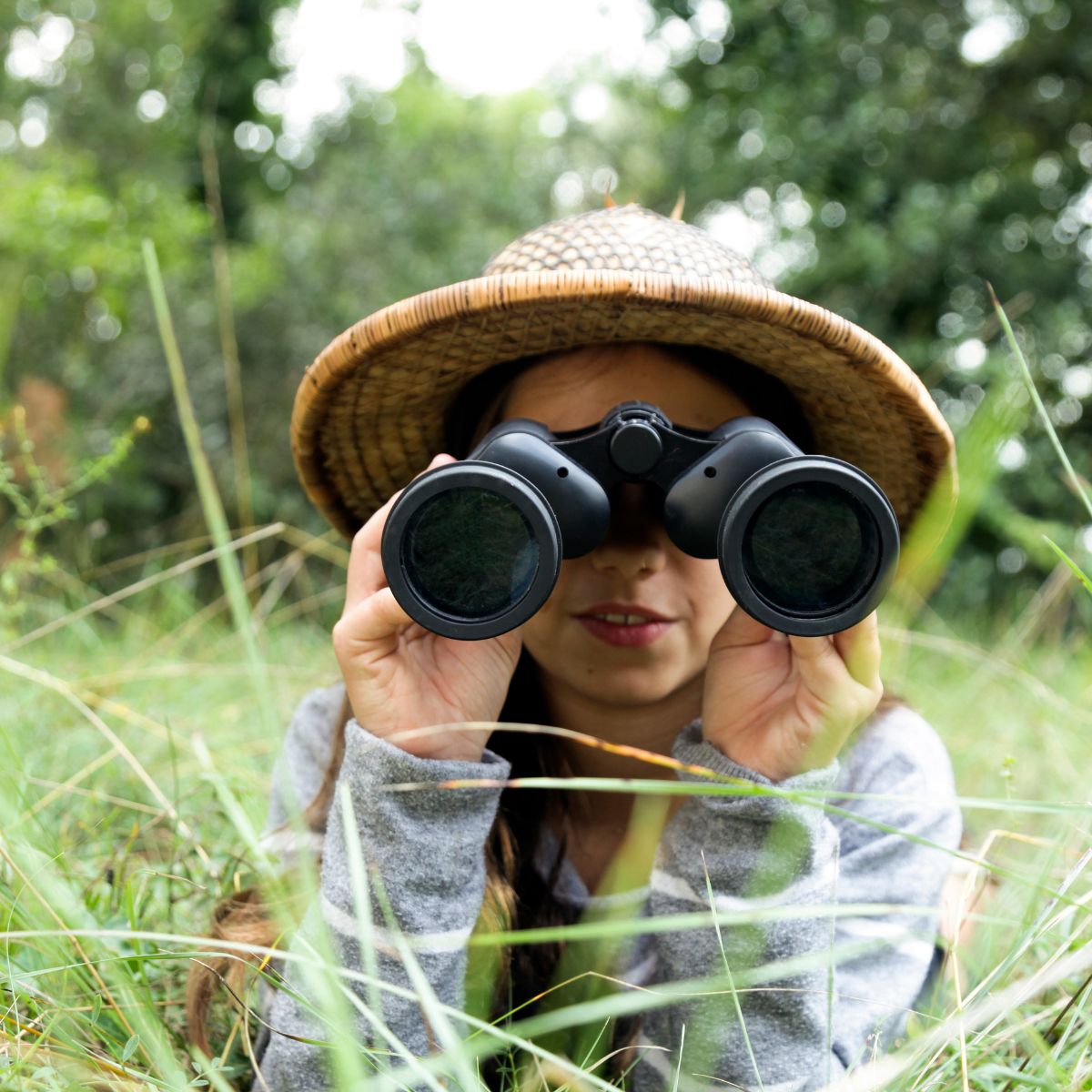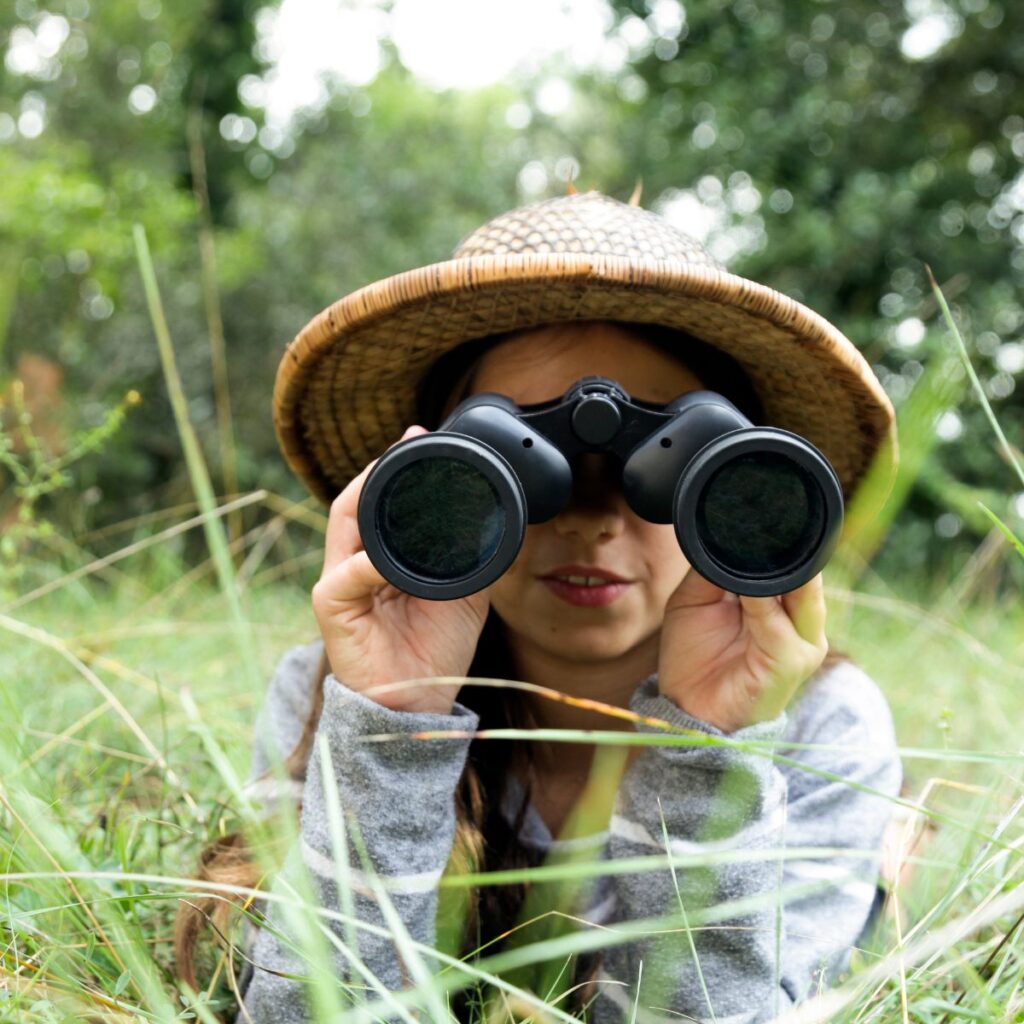 Birdwatcher – If you have some binoculars and a khaki colored jacket or a wide brimmed hat, you are all set.
Nurse or Doctor – Find a pair of scrubs at your nearby thrift shop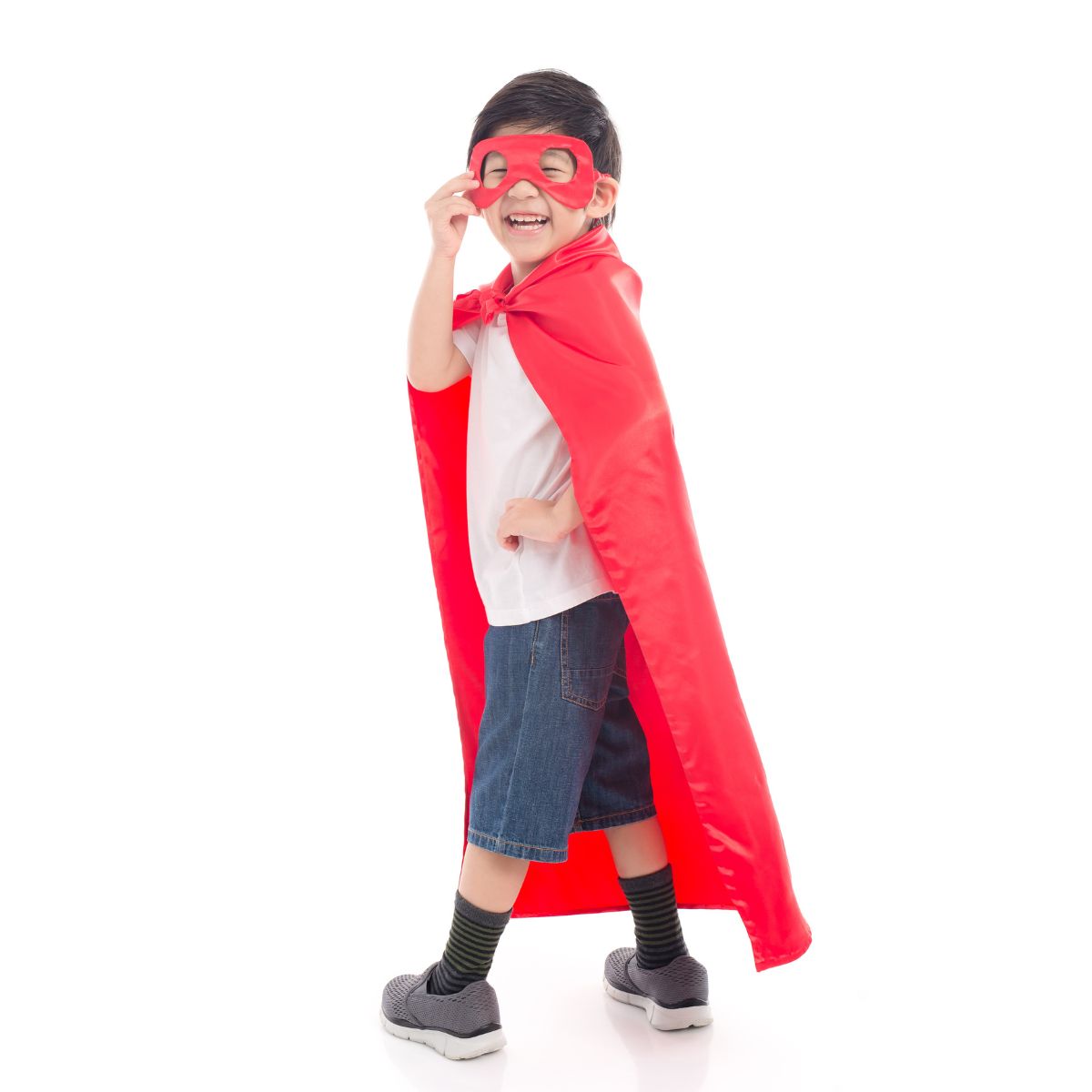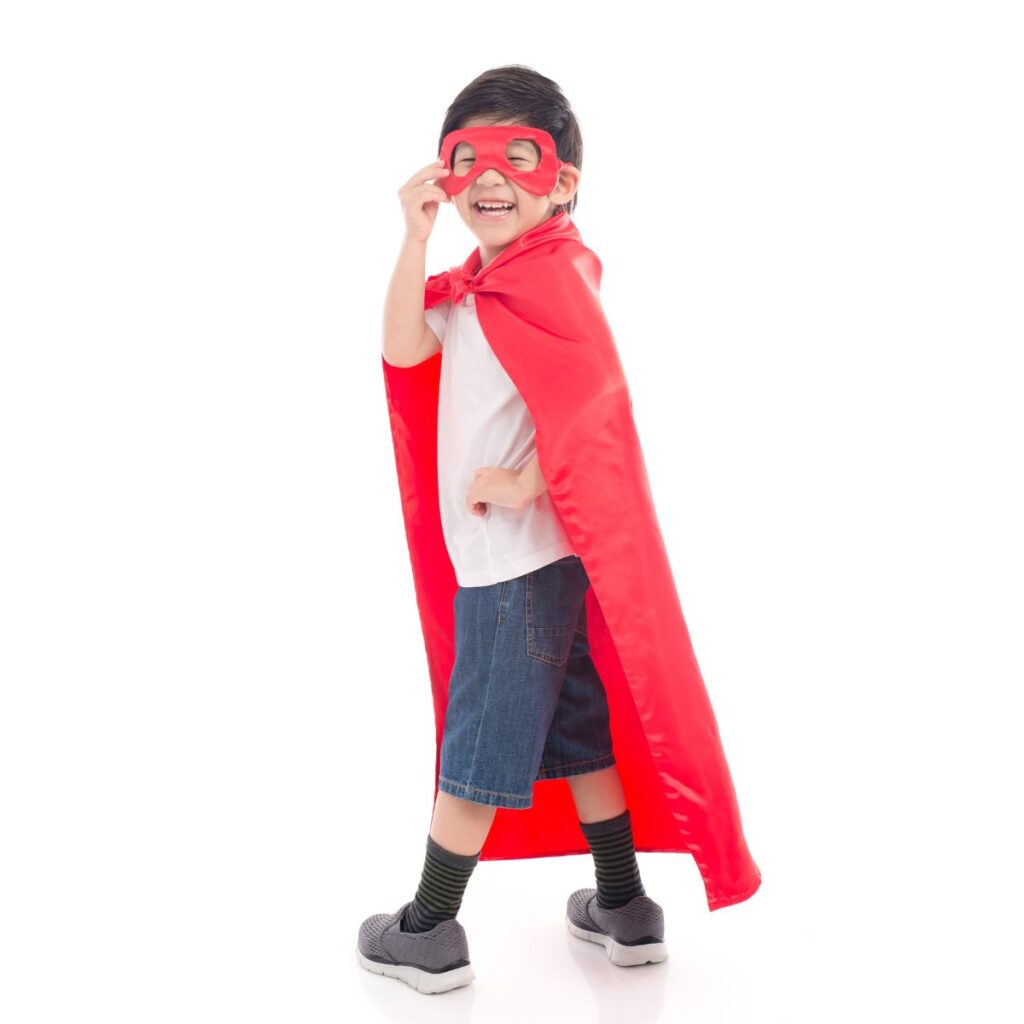 Superhero: Use a solid colored curtain or towel and fasten at neck to make a cape. Use this DIY Superhero Mask Template to cut a mask out of felt and attach with ribbon, string or elastic. For the best results, cut out two identical pieces of felt and glue together with each end of the elastic sandwiched in between.
Two faced – Use face paint or makeup to decorate just one side of their face.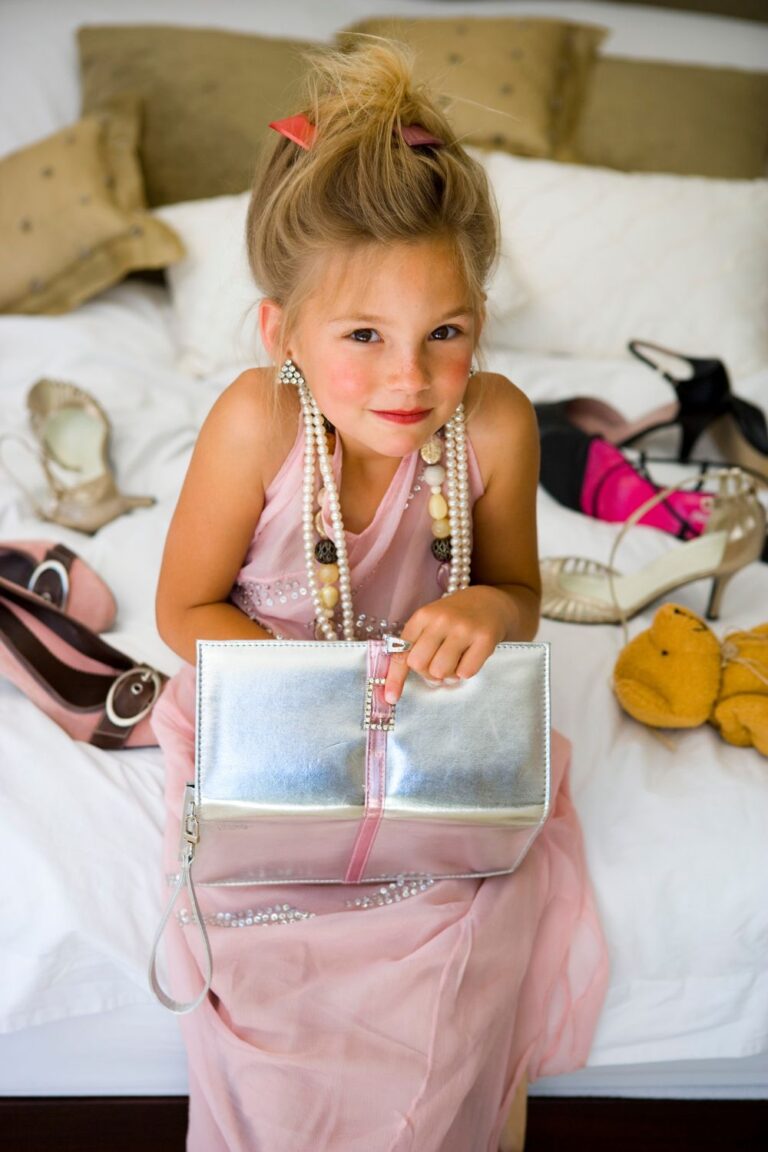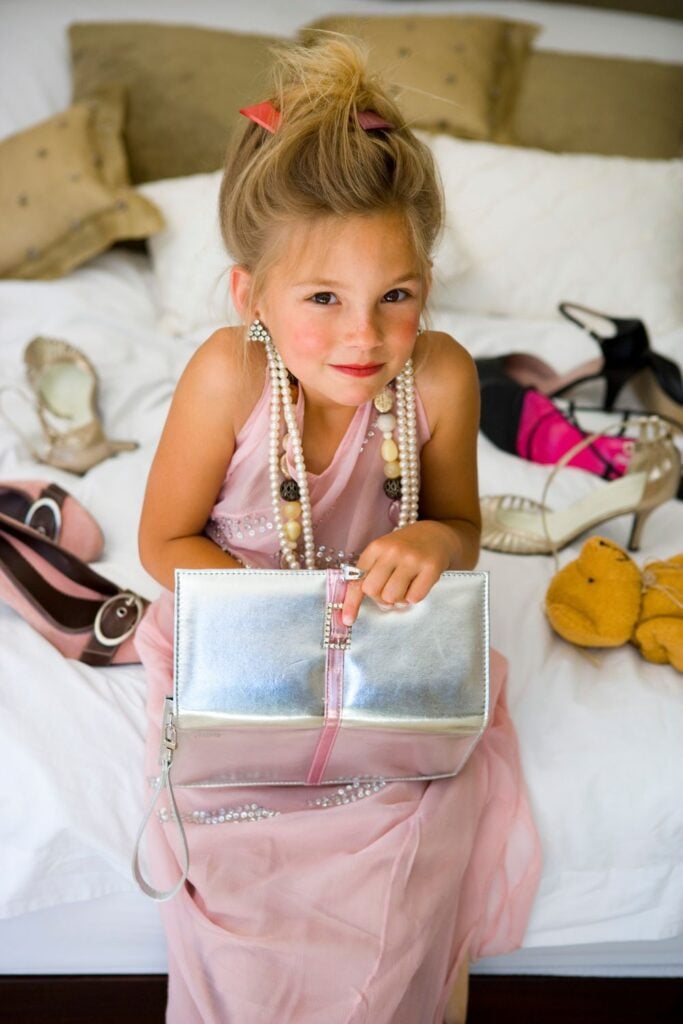 Fashion Designer – Let your little one look through your dressiest and glitziest clothes, jewelry and accessories to put together a "high fashion" look.
Clark Kent/Superman – All this takes is a Superman tee and a white button up shirt worn over a Superman tee (or pajama top) with a pair of dollar store reading glasses with the lenses popped out.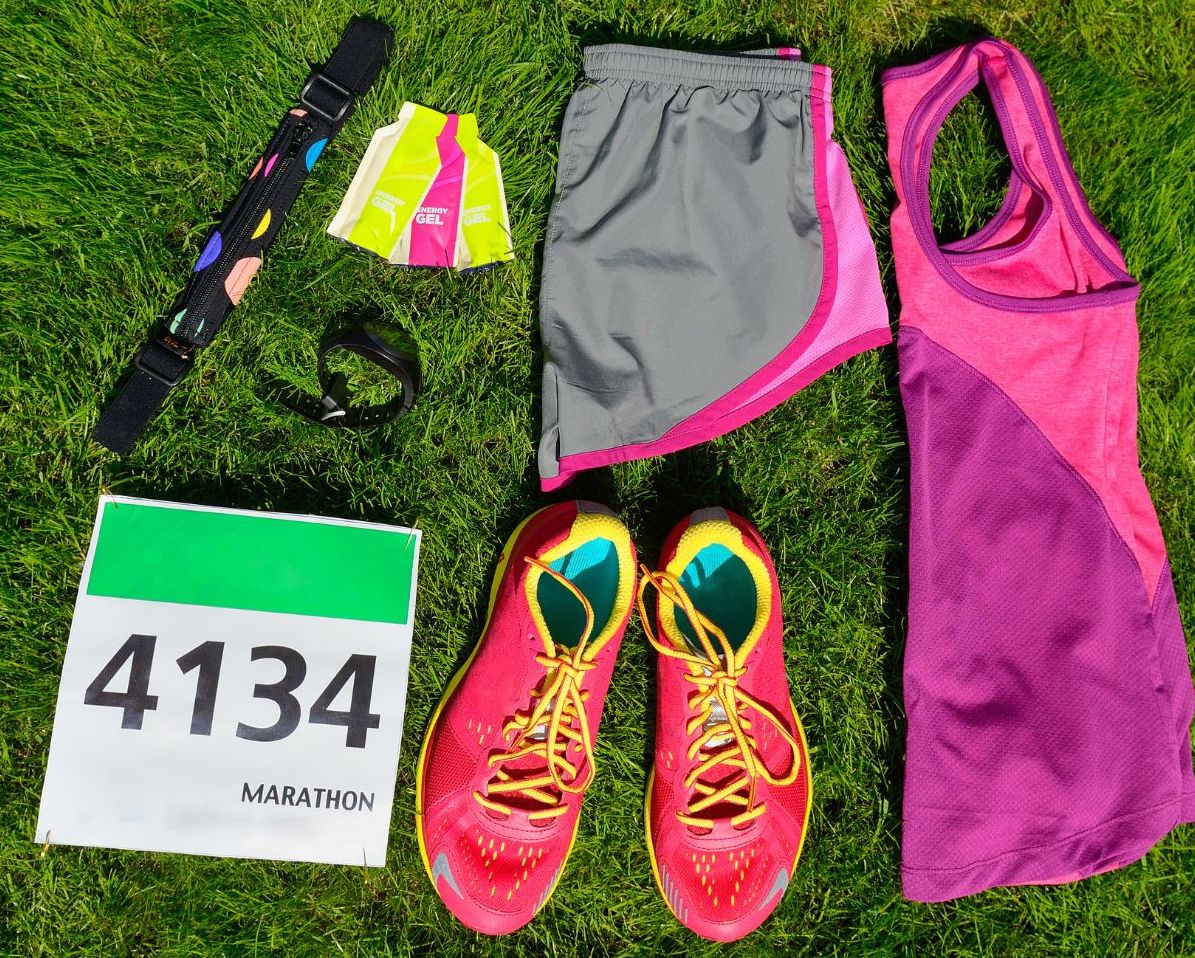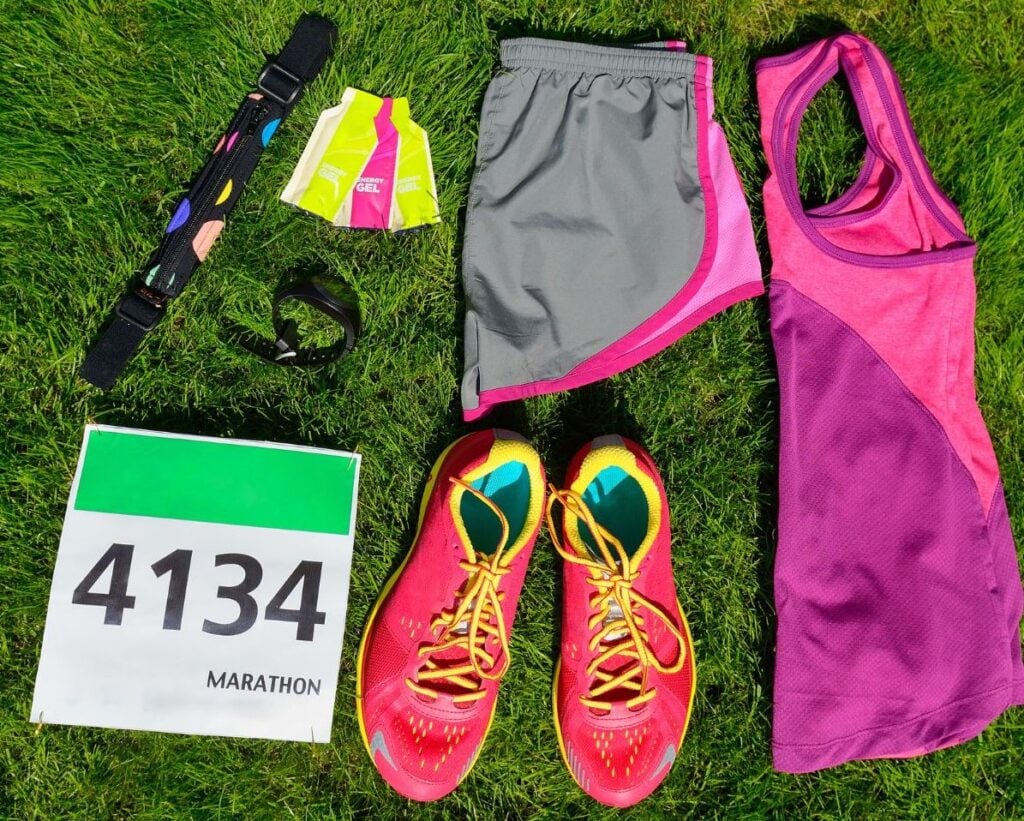 Marathon Runner – Dress your kid in shorts and a t-shirt. Then just write large numbers on a rectangular piece of paper and pin it to their shirt as their race bib.
Clark Kent/Superman – All this takes is a Superman tee and a white button up shirt worn over a Superman tee (or pajama top) with a pair of dollar store reading glasses with the lenses popped out.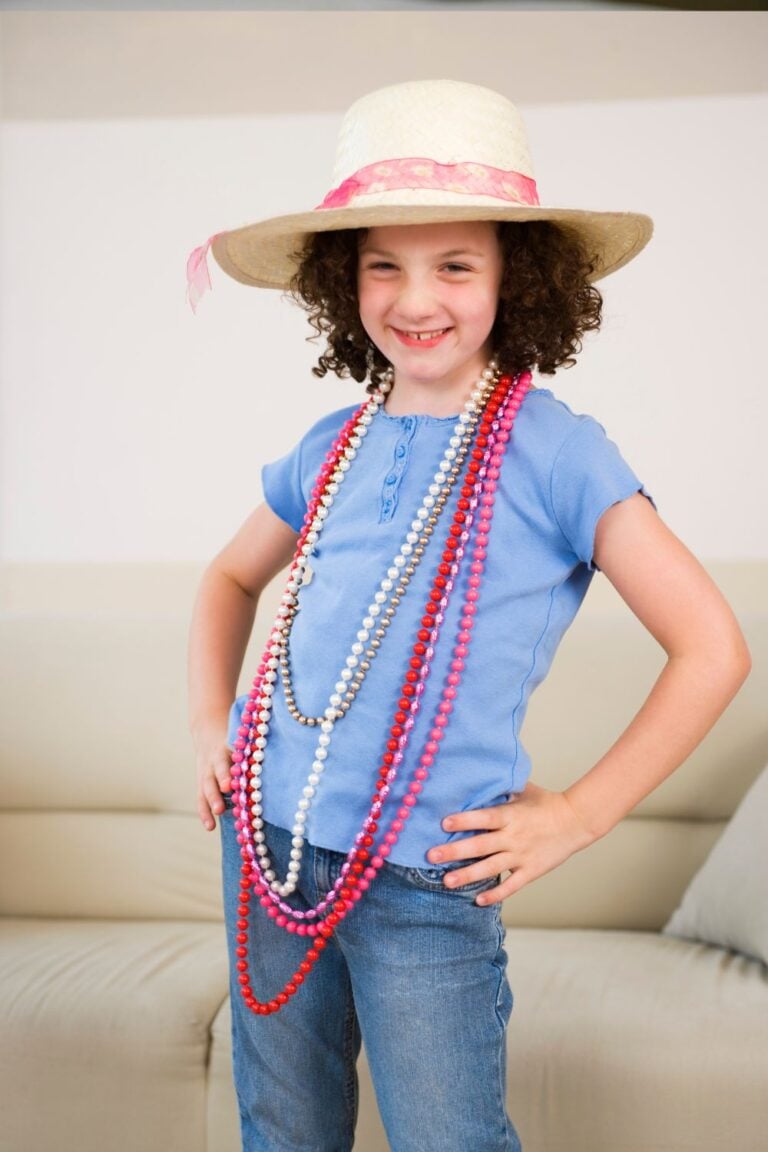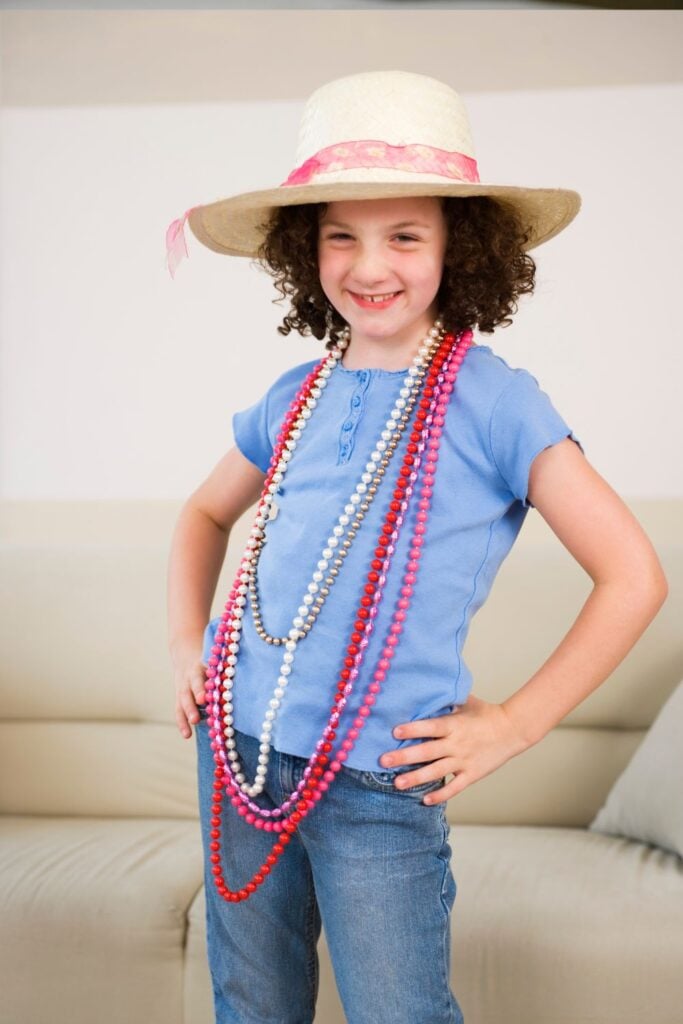 Grandma (or Grandpa) – Let the kids ask their grandparents for some of their accessories or jewelry (or even clothing) that is the essential Grandparent. It could be a hat, necklaces, a sweater – you name it.
The thing I love about DIY Halloween Costume Ideas for Kids is that you can choose to go as elaborate or as simple as your budget and time availability allow. And sometimes the simplest costumes are the best!