You cannot put value on a homemade gift like this DIY Holiday S'mores Gift in a Jar with Free Printable Labels. Any gift that is assembled by hand and given with love is one of the sweetest gifts you can give or receive.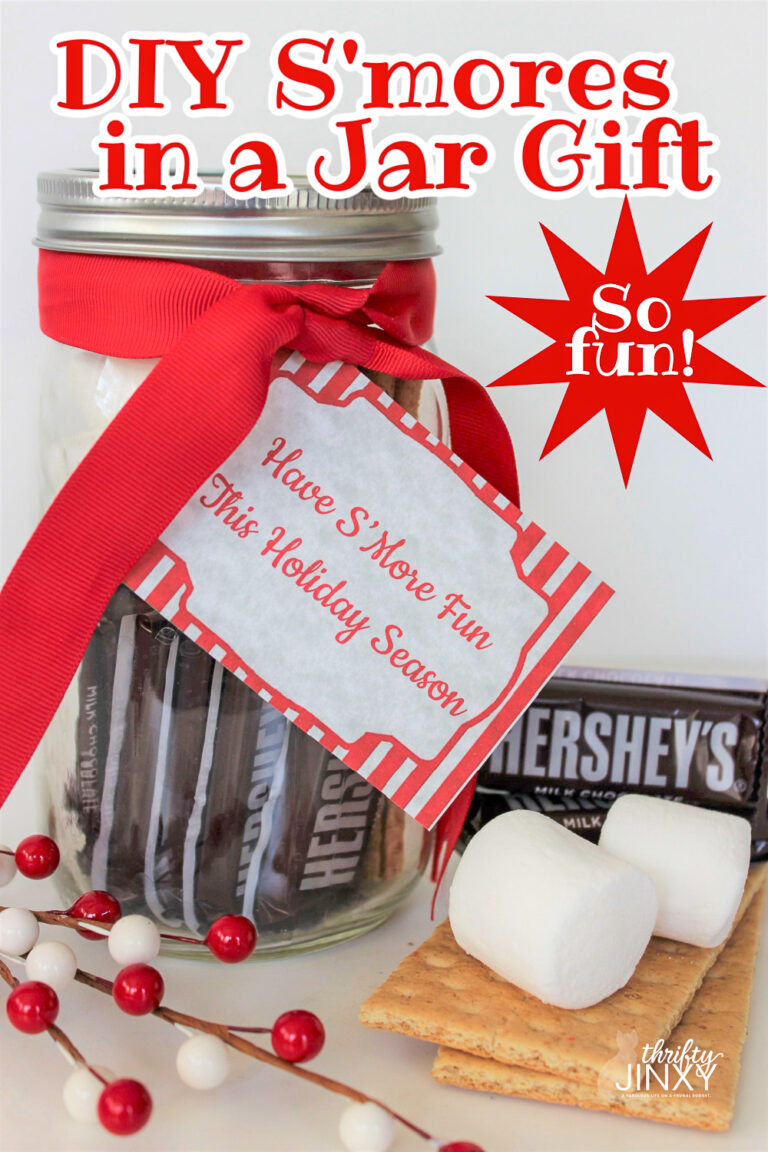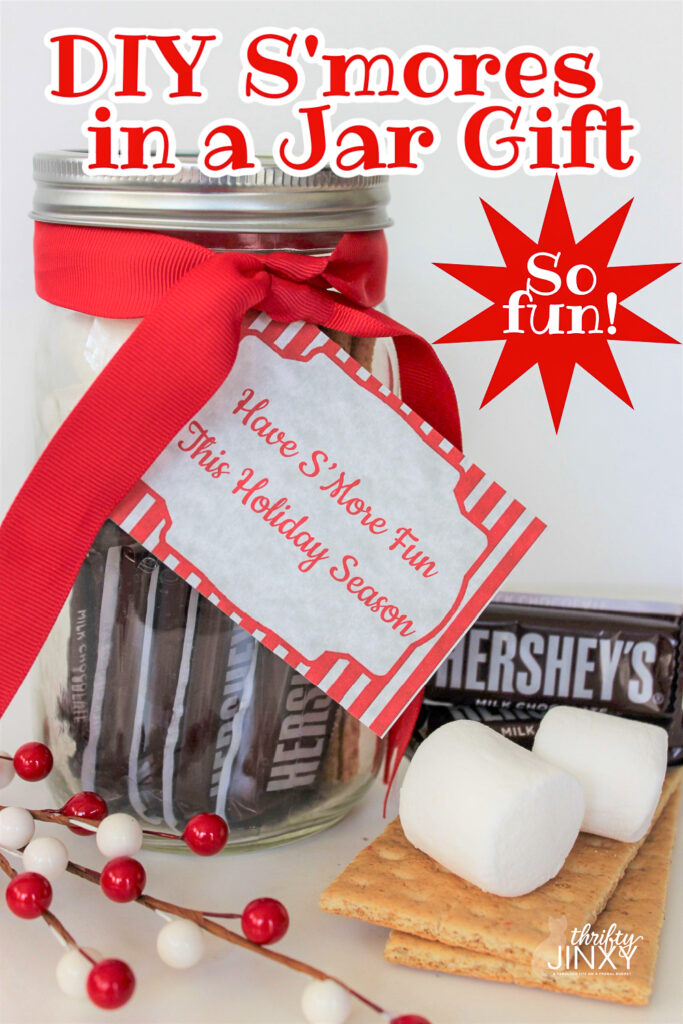 An Affordable And Thoughtful Christmas Gift
This DIY Holiday S'mores Gift in a Jar with Free Printable Labels makes the cutest gift for just about anyone! You can find all the supplies you need at your local grocery or retail store (or order them online) and you can put the jar together in just minutes!
This is an activity even the younger kids can help put together. They can practice counting when you tell them how many of each item to put in the jar.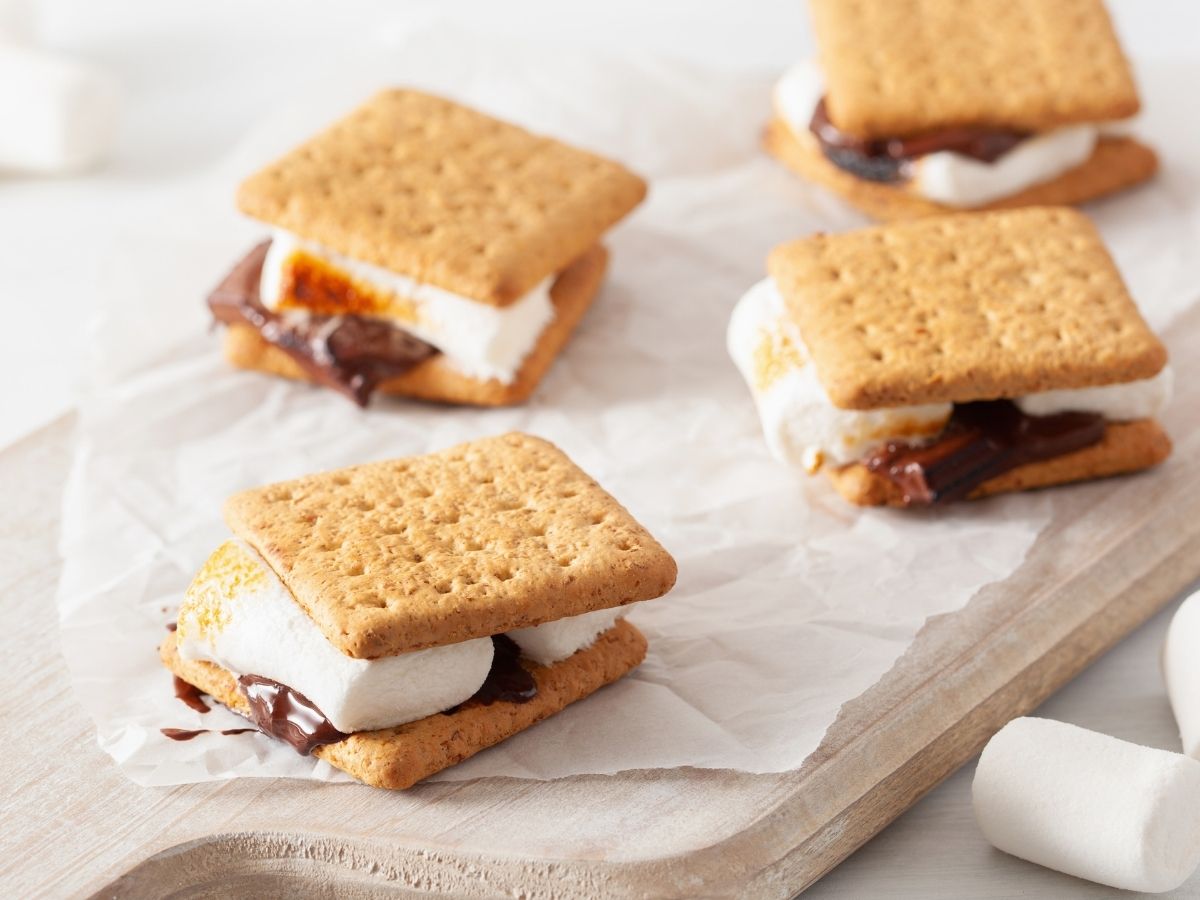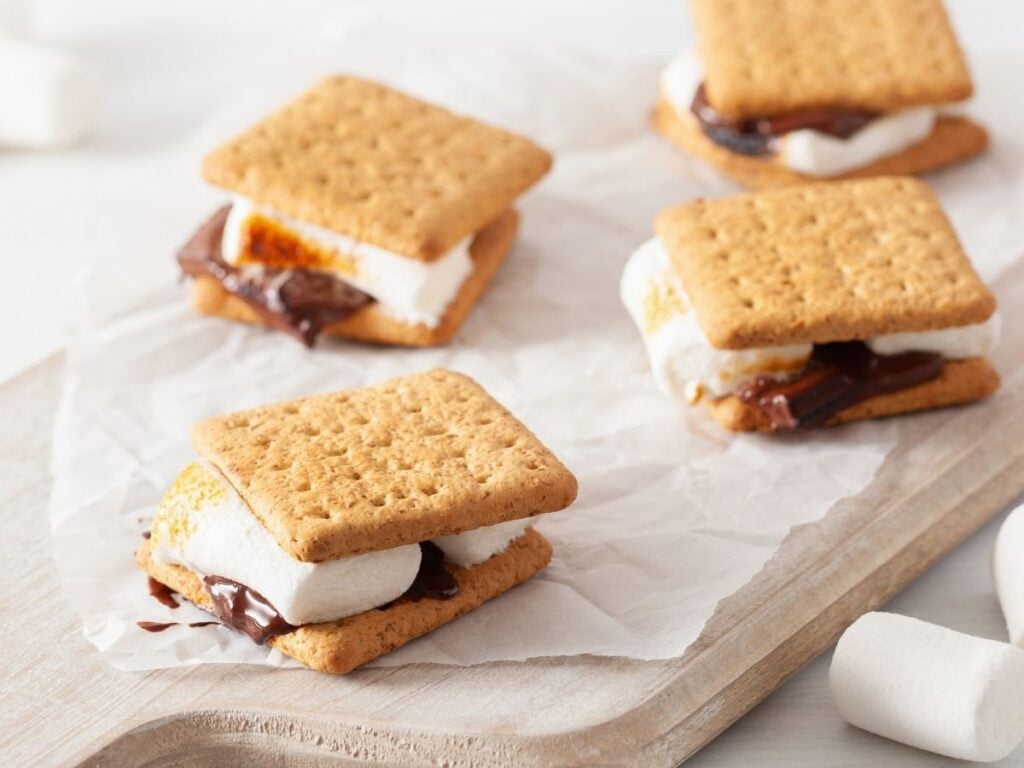 S'more's: An American Classic
If you or your kids were a girl or boy scout, chances are they sat around a campfire making and eating S'mores. Originally called a Graham Cracker Sandwich, this gooey treat has become a favorite snack for kids and adults alike.
When chocolate bars and marshmallows became so affordable, S'mores gained popularity. Although they make long forks you can use cook your marshmallows over the fire, nothing beats making your own fork from a wire coat hanger.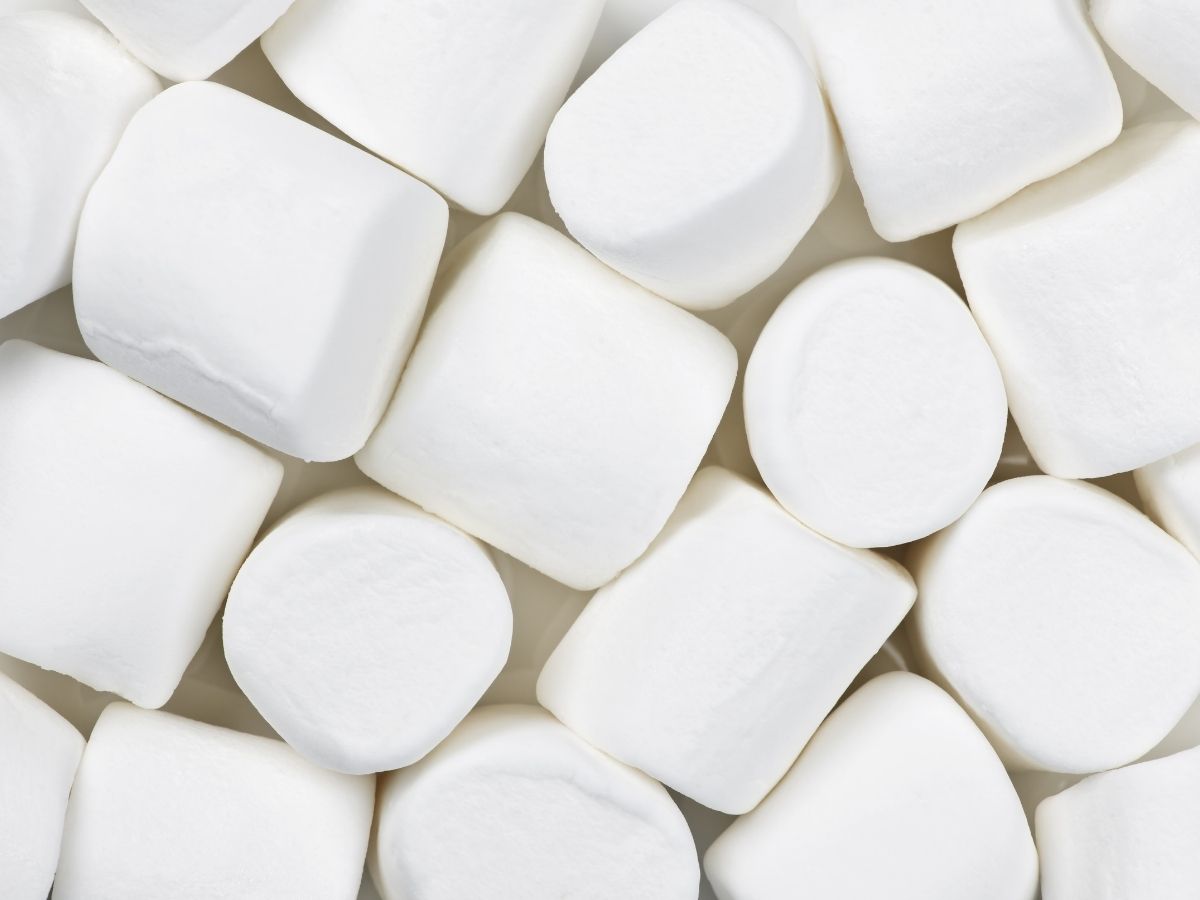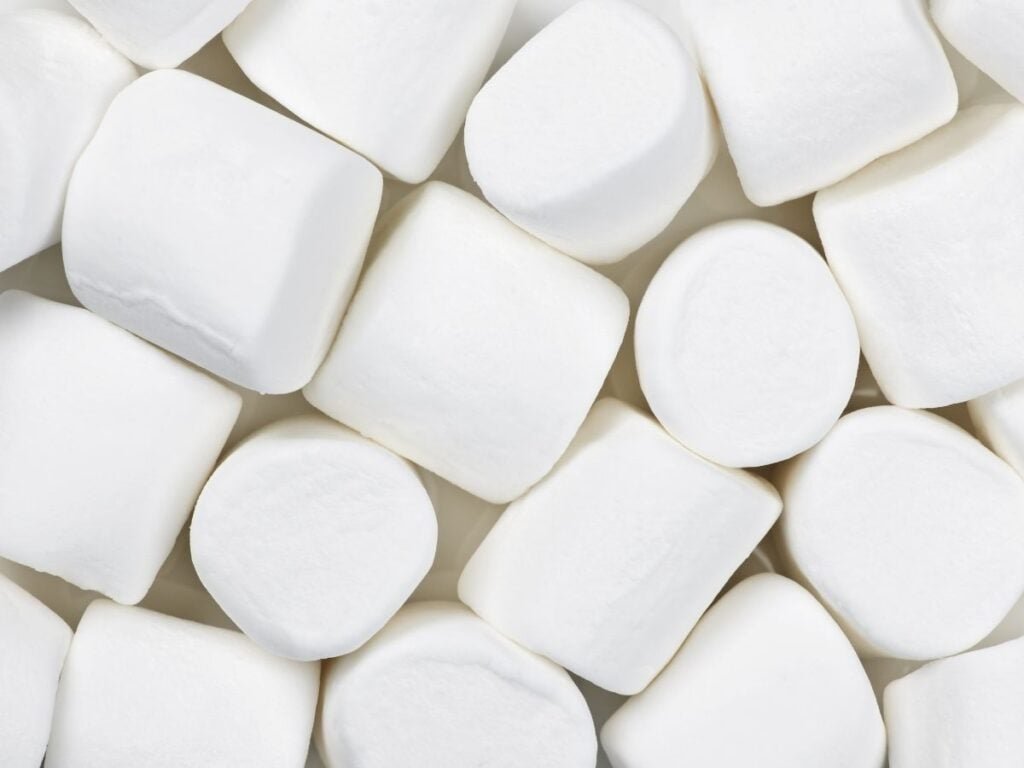 Making S'mores in the Microwave
And even if you don't have an open fire, you can STILL MAKE S'MORES! I most often make S'mores right in the microwave.
I put one half of a graham cracker on a plate, topped with the chocolate and marshmallow. I microwave for a few seconds until the marshmallow starts to puff up. Then I take it out and quickly squish down the other half of the graham cracker. It's so good!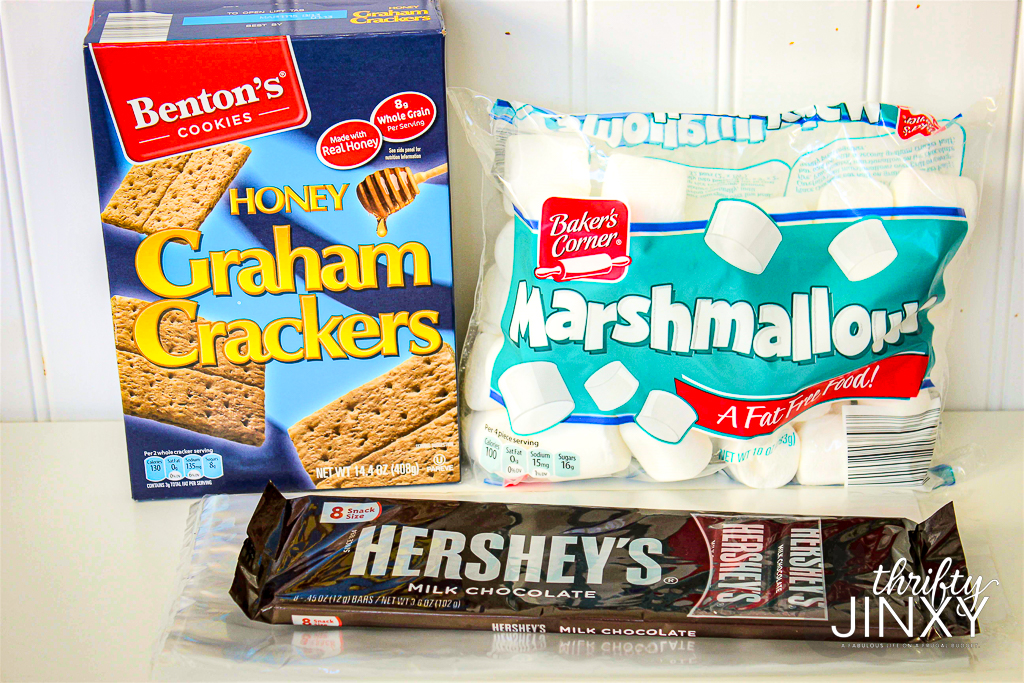 S'mores Variations:
These fun s'mores gift jars contain the CLASSIC s'mores flavors of regular marshmallows, graham crackers and Hershey chocolate. BUT, you can get creative and sub out some of the items in your jars for others.
My personal FAVORITE type of s'mores is to use a Ghirardelli Dark Chocolate & Sea Salt Caramel Chocolate Square. They are SO GOOD!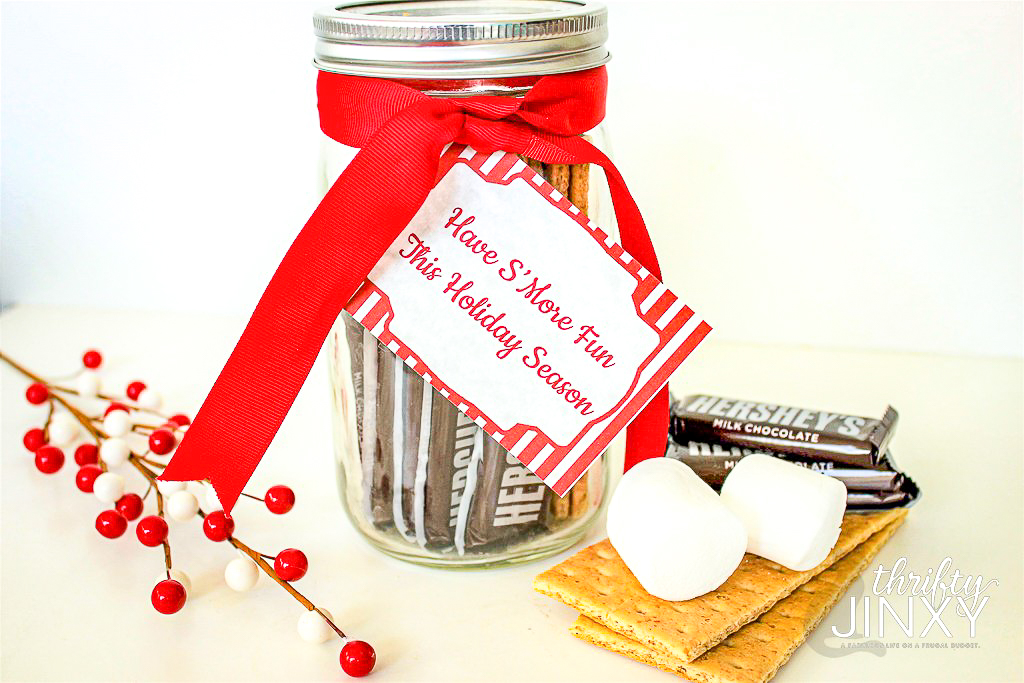 Her are some other options for S'mores:
Instead of Hershey Chocolate:
Reese's Peanut Butter Cups
Hershey Kisses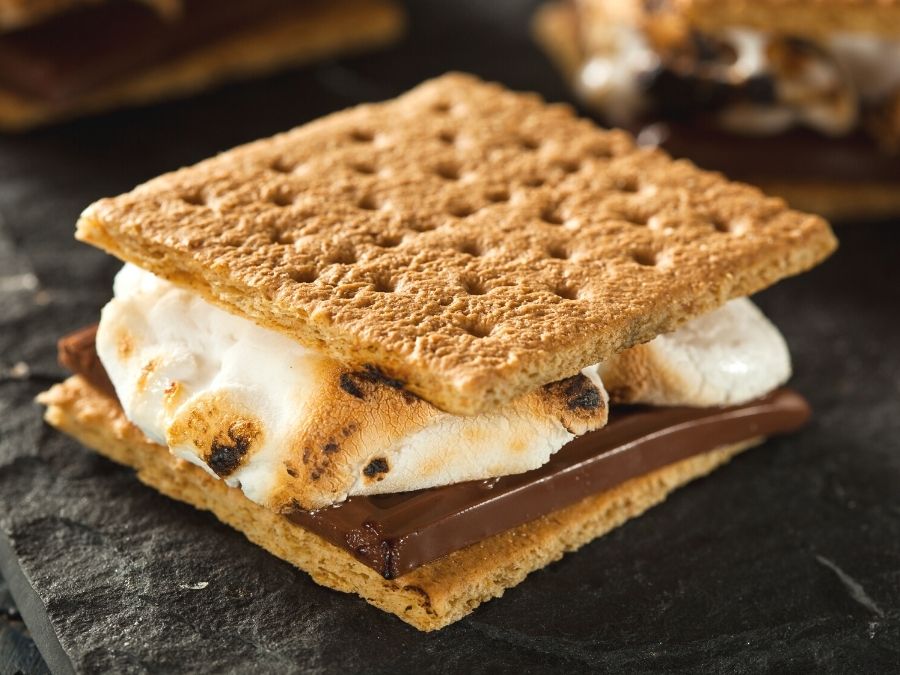 Instead of Regular Graham Crackers:
Cinnamon Graham Crackers
Chocolate Graham Crackers
Chocolate Chip Cookies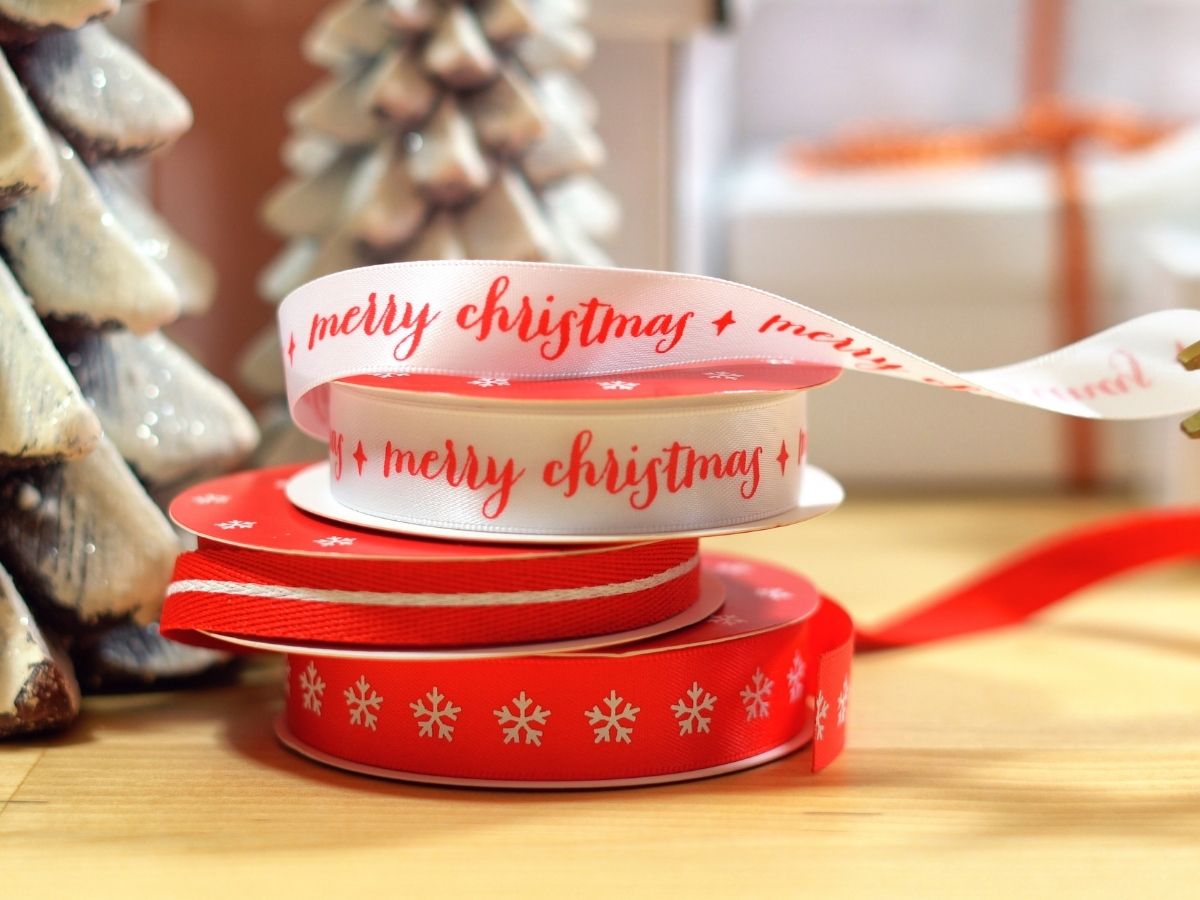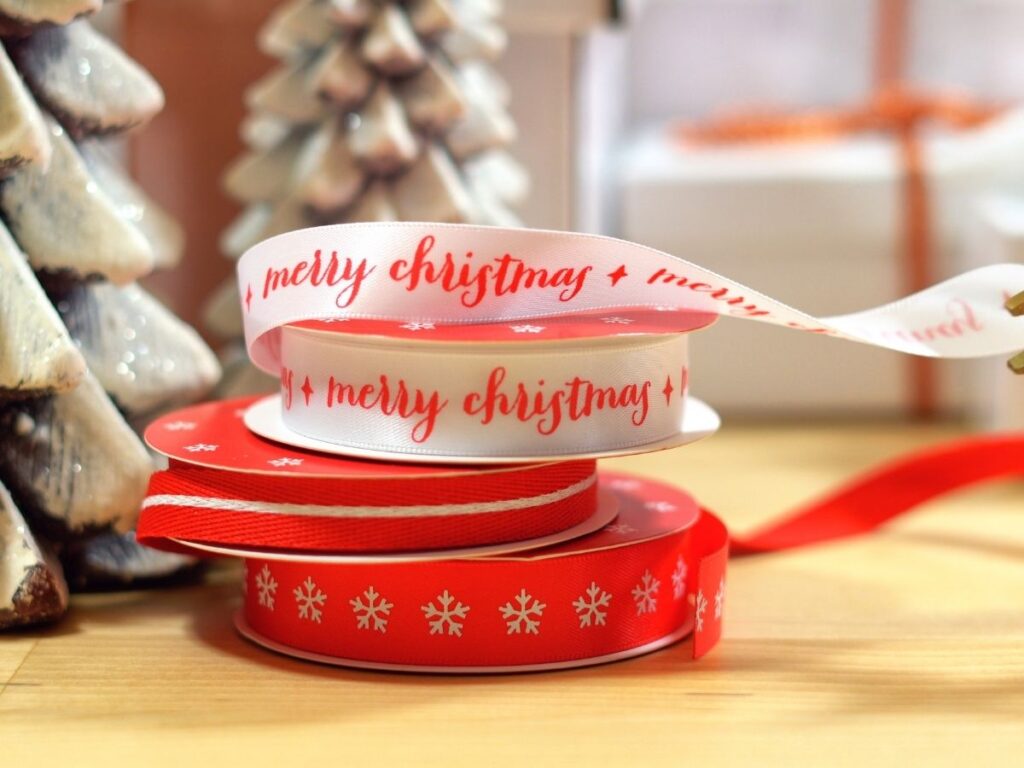 You can download and print your free labels here —-> DIY Holiday S'mores Gift in a Jar Free Printable Labels You can print the labels on card stock and tie them onto your jar or you can print them on peel and stick labels and stick them onto the jar itself.
You can also print a sheet of the labels and include it with the jar so the recipient can pass on the tradition! Wouldn't it be great to see several of this DIY Holiday S'mores Gift in a Jar show up at school, at your neighbor's house or your office party? So fun, don't you think?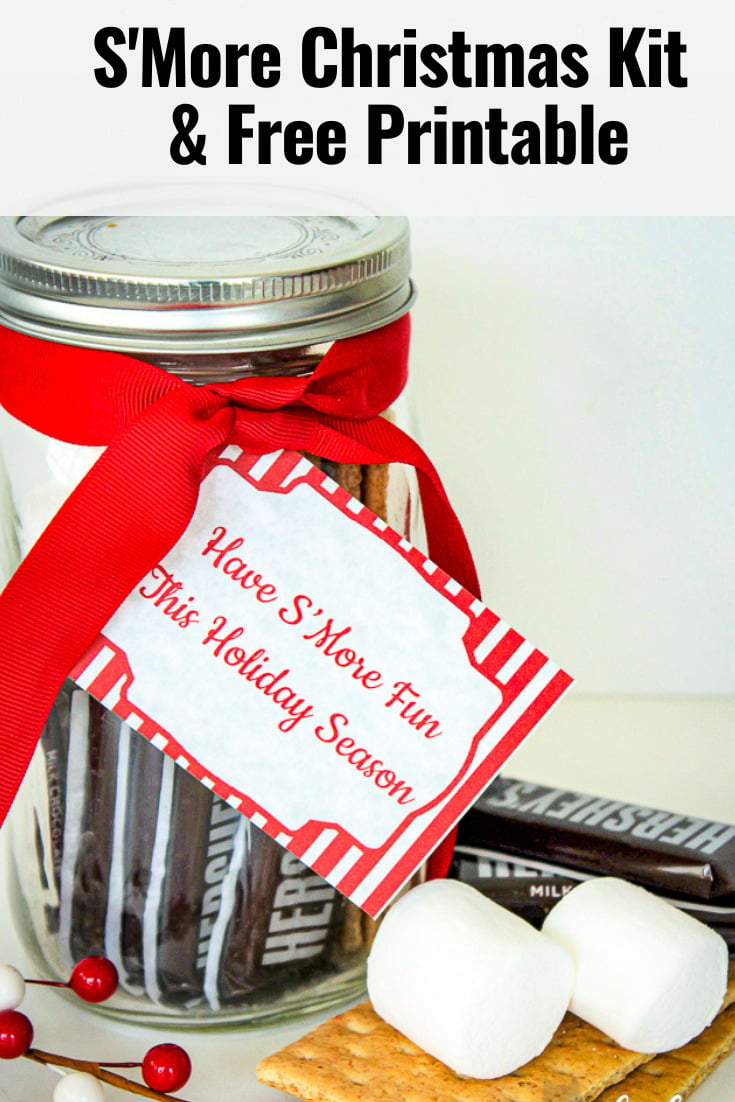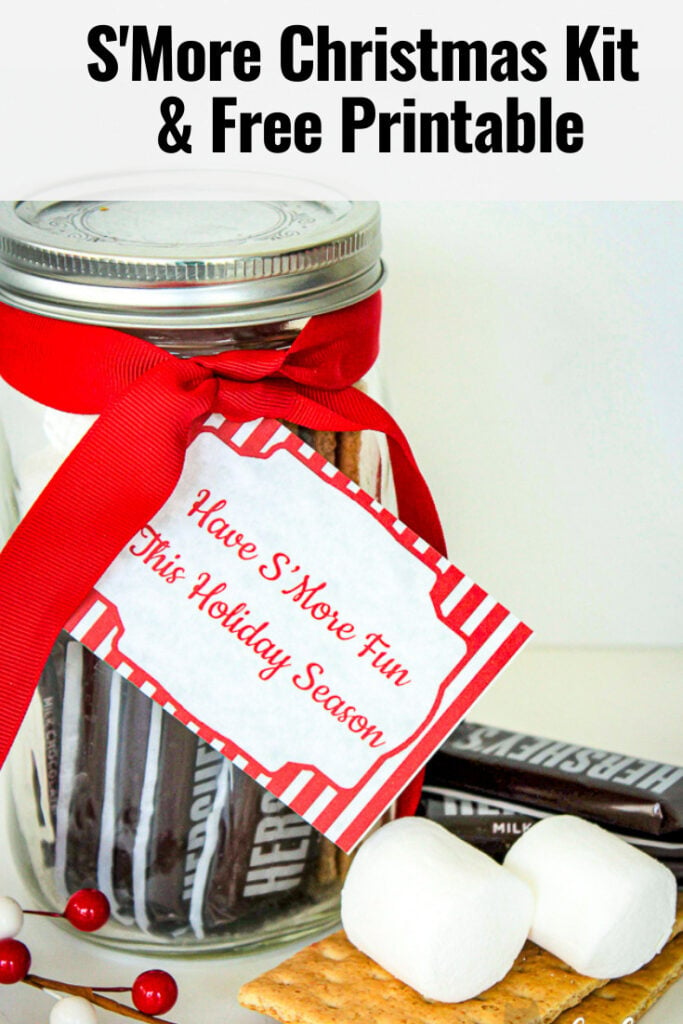 Enjoy these other easy DIY printable gift ideas from Thrifty Jinxy!
DIY Christmas Potpourri with Printable Gift Labels
Snowman Candy Bar Wrappers
Printable Christmas Coupons Books
Where Did The Idea For Mason Jars Come From?
At the beginning of the era of canning, wax or corks were used to seal the jars. In the later 1860s, a man named John Landis Mason from New Jersey was looking for a better way to keep the canned foods secure.
Soon Mason designed and patented a threaded screw-top jar, which became wildly popular. Sadly, Mason didn't patent the rubber ring that allows that water and air-tight seal. Years later, the Ball brothers continued with the design. Until tin cans took their place, Mason (Ball) Jars were common in homes across the world.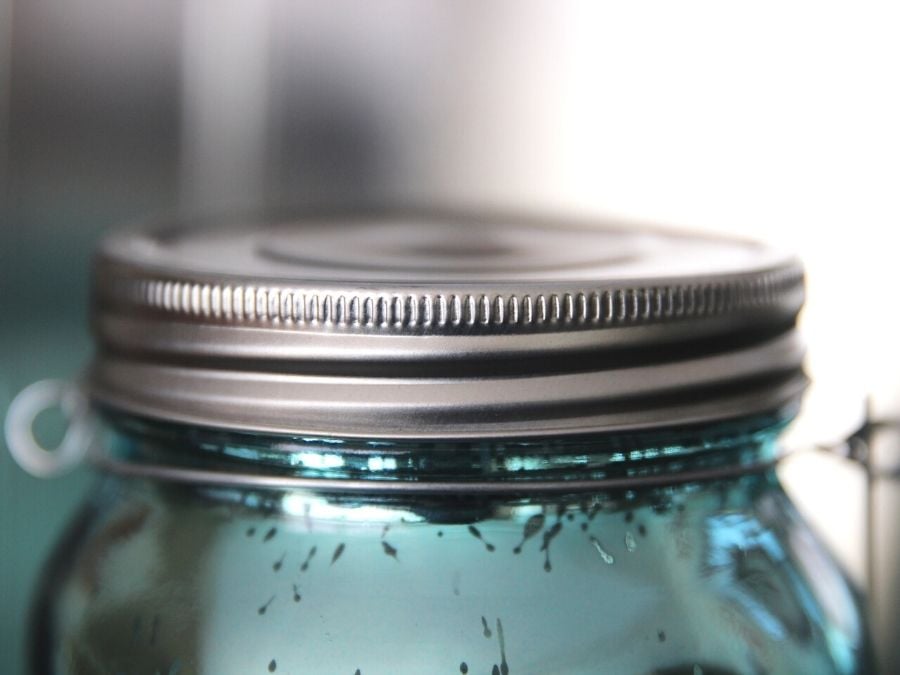 Mason Jars Aren't Just For Canning Anymore
Most people connect Mason jars with canning food like homegrown fruits and vegetables. For many years, this was a common practice in households everywhere. Not only was this a very inexpensive option for many families, but it afforded the availability of fresh foods all year round. This enabled people to eat a healthier diet.
Fast forward about 50 years and Mason Jars are being used for a plethora of recipes and crafts! We have given recipes in a Mason jar for soups, brownies, and cookies. We have decorated Mason Jars to give as a teacher gift, to put pencils, pens, markers, or flowers in, and even for my daughter's paint and make-up brushes.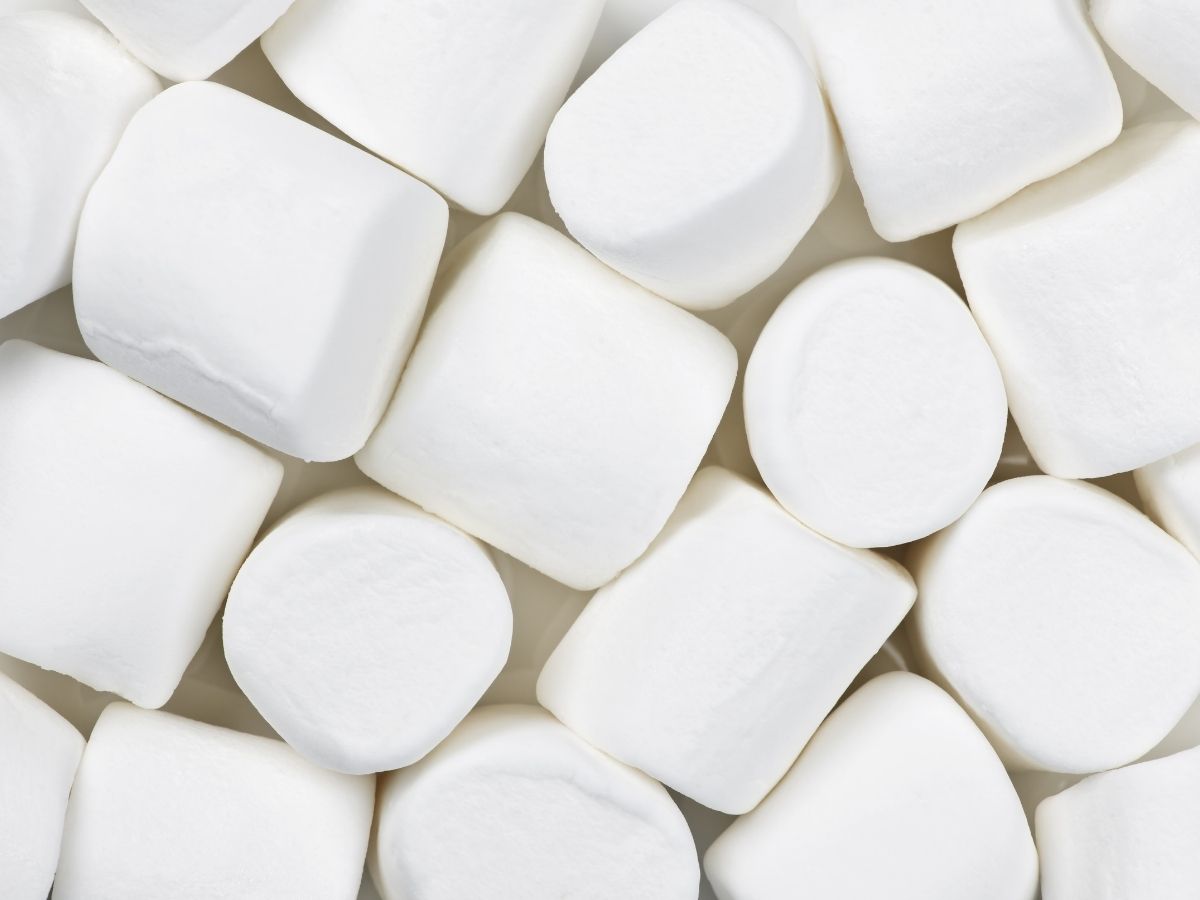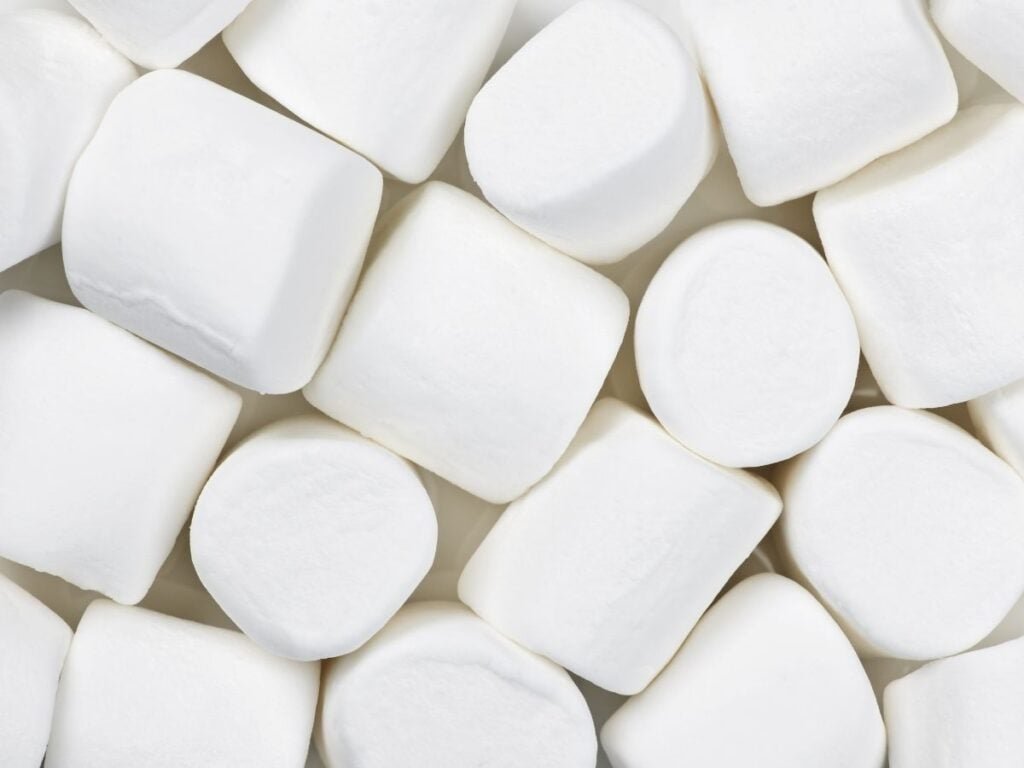 What Do You Know About Marshmallows?
One of the star ingredients in a S'more originally was made from the Marsh mallow plant. Also called Althea officinalis, the plant can be found in Eurasia and Northern Africa. For years, the people in these regions would boil, strain, and sweeten the root sap.
In more modern times, because each marshmallow was poured and individually molded, only the wealthy could afford it. with the dawn of the Industrial Revolution, machines were created to mass produce the sweet treat. The marshmallows you find in stores today are made with corn syrup, cornstarch, flavoring, and gelatin instead of the root sap of the marsh mallow plant.