So, it might be a little sexist to call this a "Girls Guide to Understanding Football". I actually know a LOT of women who love the sport and watch it avidly. I am not one of those women. I love to throw a football-watching party, cook up football-themed foods, etc. – But when it comes to actually watching the game, I usually keep my smartphone close by to stave off the boredom.
I'm sure I'm not the only one. If you're a non-football fanatic you might have some questions about the game too. If you don't know the difference between a tight-end and a quarterback, then listen up (read up?!?!) to learn a few things! Next thing you know you might be cheering along and screaming at the refs as much as anyone else in the room. Thanks to my friend Deana for writing up this handy guide!
A Girls Guide to Football
Starting the game- Football is a game that is played on a field that is 120 yards in length, divided into 10-yard increments. Out of those 120 yards, 100 are for playing and 10 yards for each end zone. The team that is on the field trying to score is the offense.
Playing the game- When the offense has the ball, they have four chances (known as downs) to get at least a 10-yard gain towards their end zone. If it says something like first and 10, this means that they have 10 yards to get to the next first down. If you hear second and eight, it means they are starting their second down and they need eight yards to get to the next down.
The team starts off with a huddle to figure out their strategy. Then, they line up at the line of scrimmage where the quarterback makes a play. He will either throw it to a running back, wide receiver or tight-end. If the team doesn't think they are able to make a touchdown, they can try and kick a field goal if they are close enough. A field goal is made when the ball is kicked in between the goal posts.
The defense is comprised of the defensive line, the linebackers and the defensive backs. The defensive line tries to block plays, the linebackers can either help the defense with plays, rush the passer or cover receivers.
There are 4 quarters in the game, with the clock set to 15 minutes at the start of each quarter. The clock will run throughout the quarter and will stop only when a player runs out of bounds, a penalty is called or an incomplete pass is thrown. The clock will also be stopped when either team calls a timeout, when a coach's challenge occurs or when a referee calls a timeout. The only other time it will stop is at the two-minute warning at the end of each quarter.
As far as scoring, a touchdown is worth six points and an extra point is given for kicking a field goal called a place kick. Field goals are worth three points.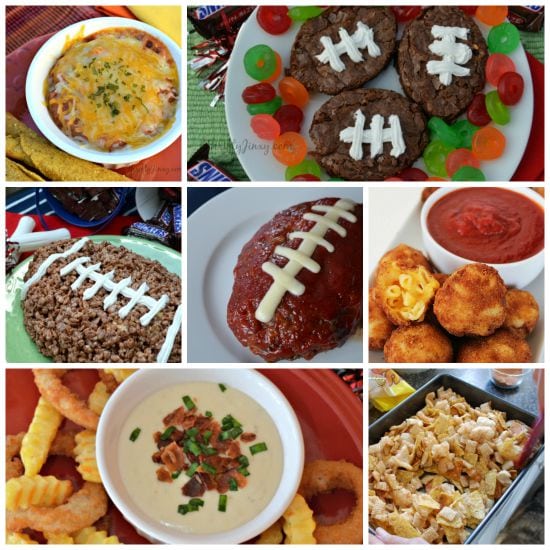 Now for what I'M good at – check out all my football themed recipes!