The Kansas City Chiefs and the Tampa Bay Buccaneers are headed to the Super Bowl and once again, due to popular demand, we are back this year with the 2021 Super Bowl Bingo Cards!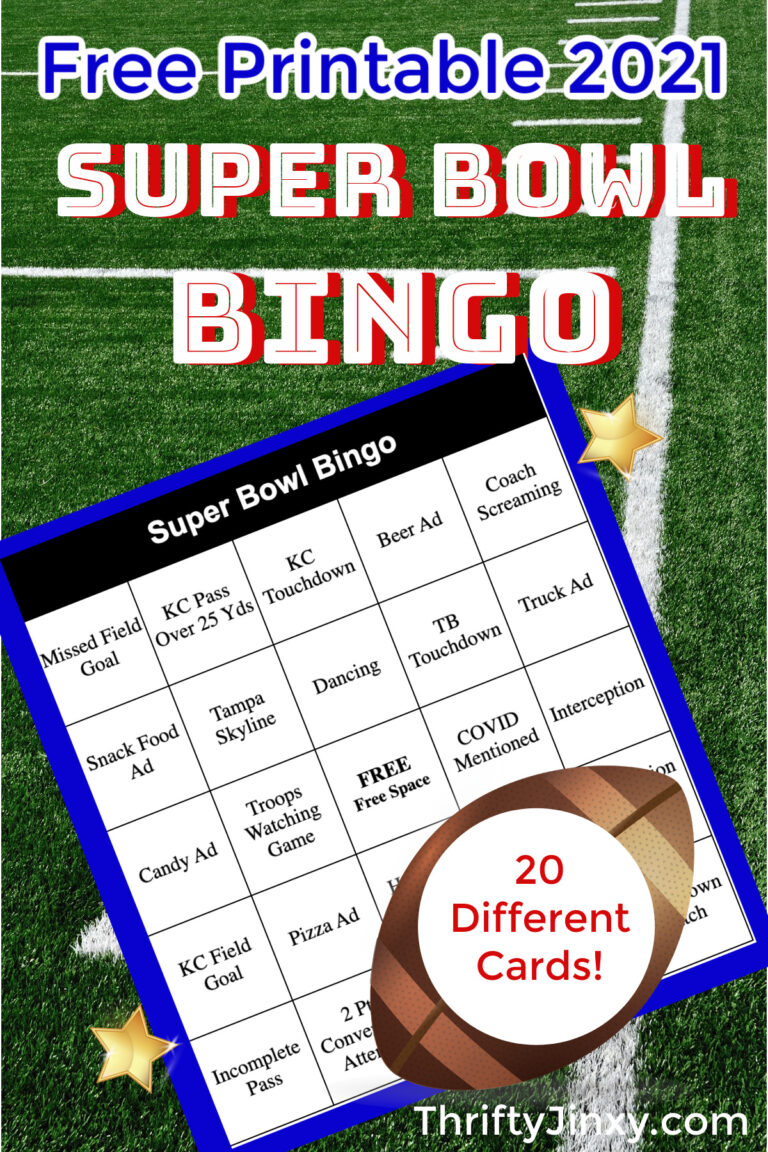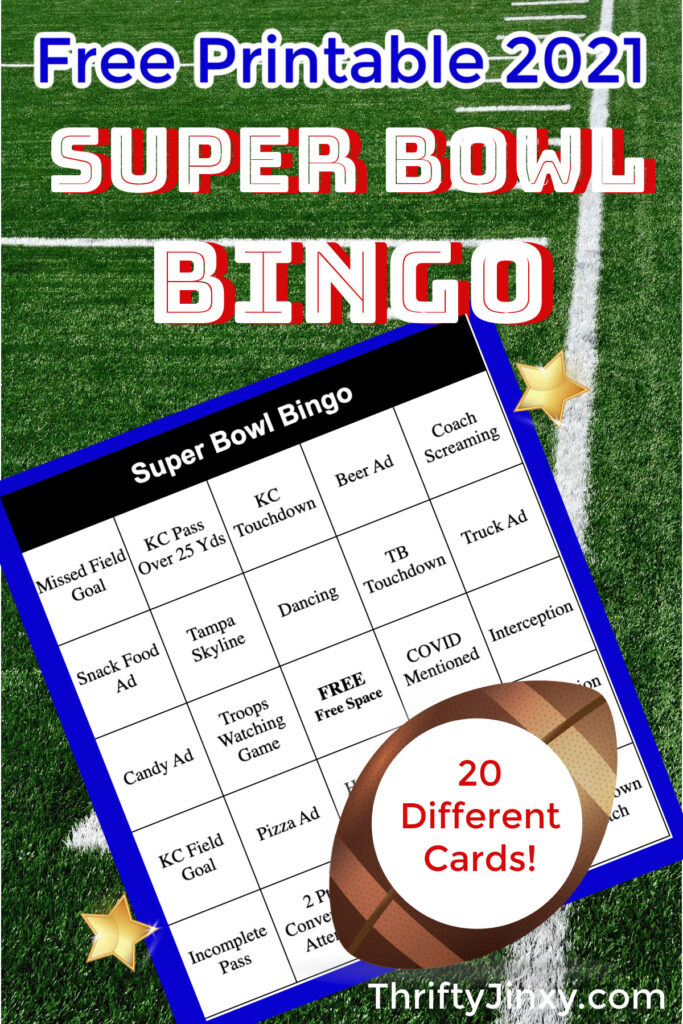 2021 Super Bowl Bingo Cards
You and your family and friends can have a little extra fun during the big game this year – whether you're having a big game party via Zoom or if you're just watching the game with a few of your family members or close friends at home on the couch.
This set of printable 2021 Super Bowl Bingo Cards is sure to add a little extra excitement to the evening.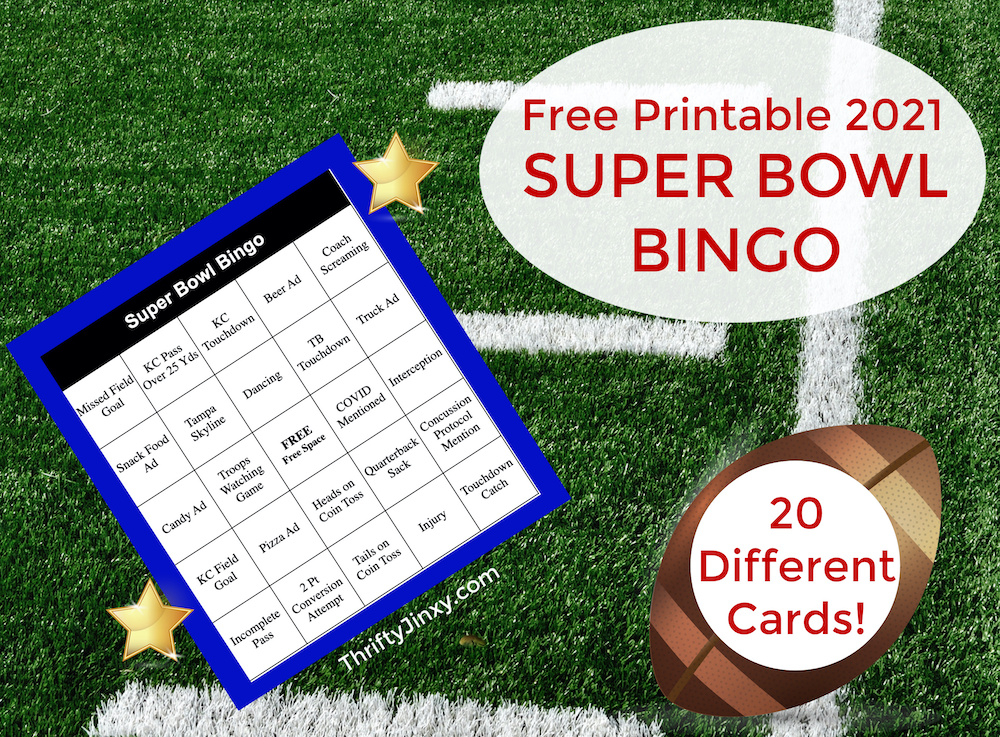 As always, we tried to make them fun with plenty of squares available for both the die-hard football fans, as well as those who are at the superbowl party just to watch the commercials and eat some good food!
It's a fun way to make everyone feel included and part of the action at your event. You can decide if you just want to play for fun and bragging rights or if you want to offer prizes to the winners.
Keep reading to get your Super Bowl Bingo Cards!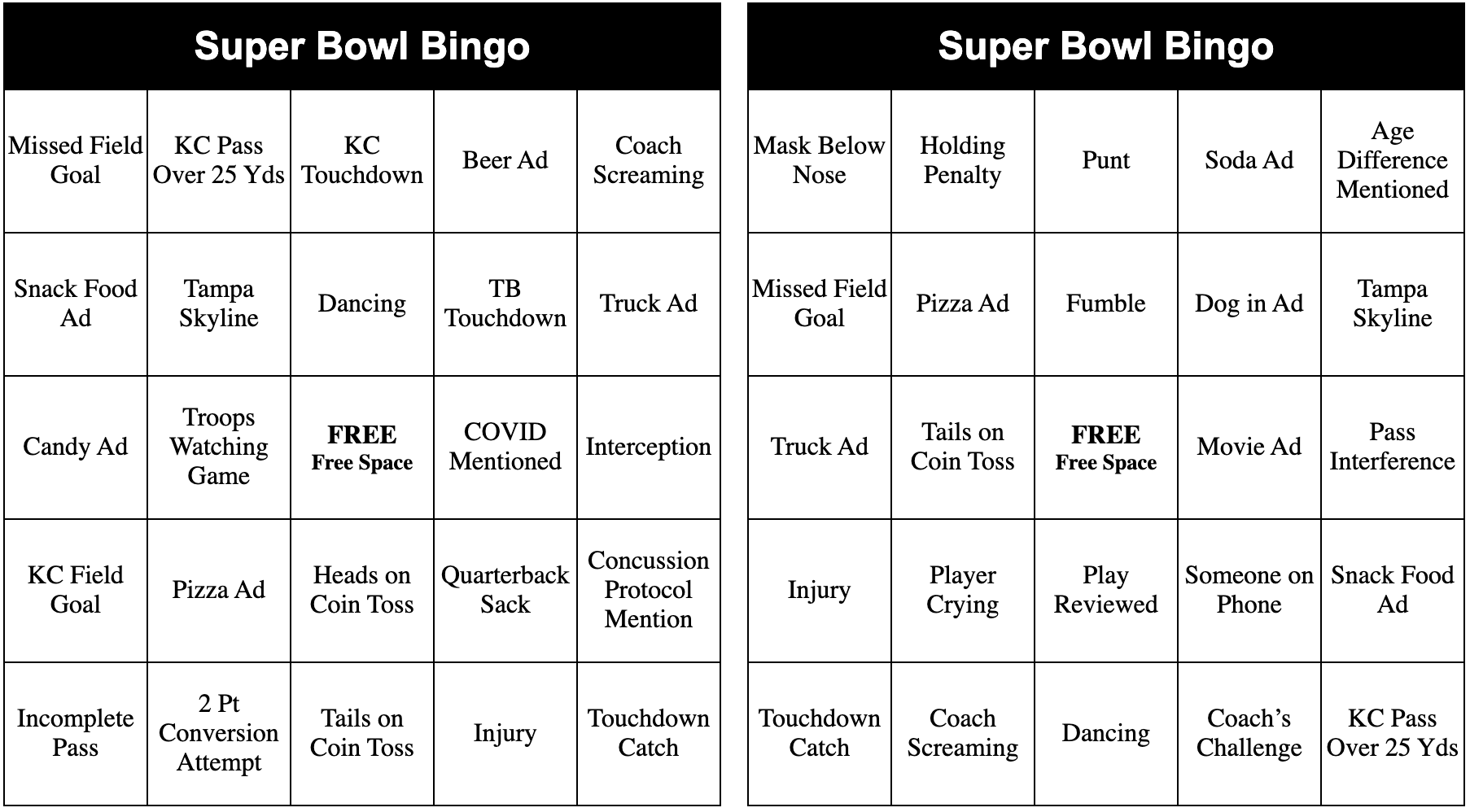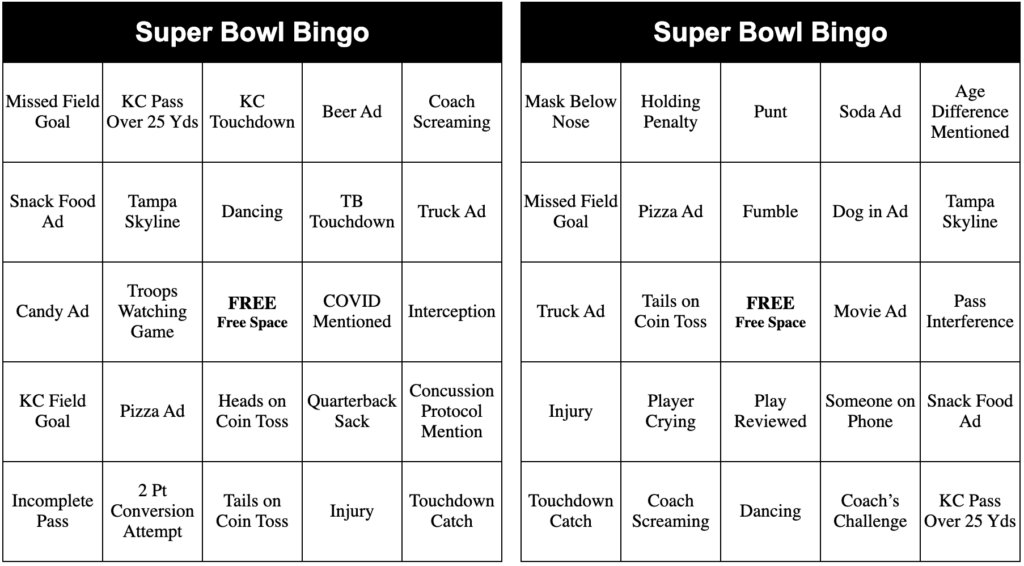 For prizes, I like to fill a tote bag with a variety of items like cool swag I received at conferences or fun items I found on sale at Target. Then when the first person wins and yells "Bingo!" they get to choose a prize out of the bag. We keep the game going and as each person gets Bingo on their card they get to choose a prize from what's left in the bag.
Some other ideas for prizes are restaurant gift cards, mini footballs, candy bars, dollar store items, you name it! A Groupon for dinner from a local restaurant or a fun experience like a brewery visit or go-kart racing is also a fun prize. Click HERE for more prize options! Most people like the thrill of winning a prize no matter what it is.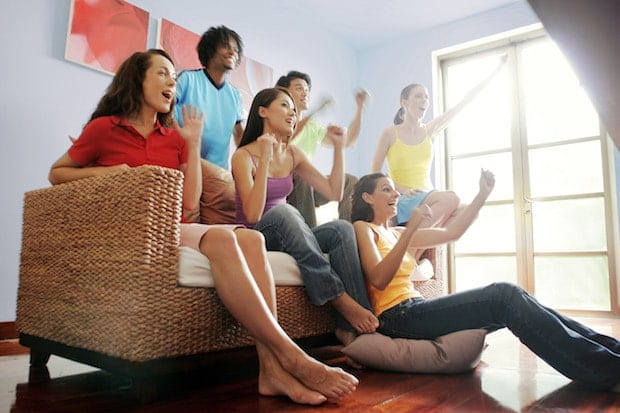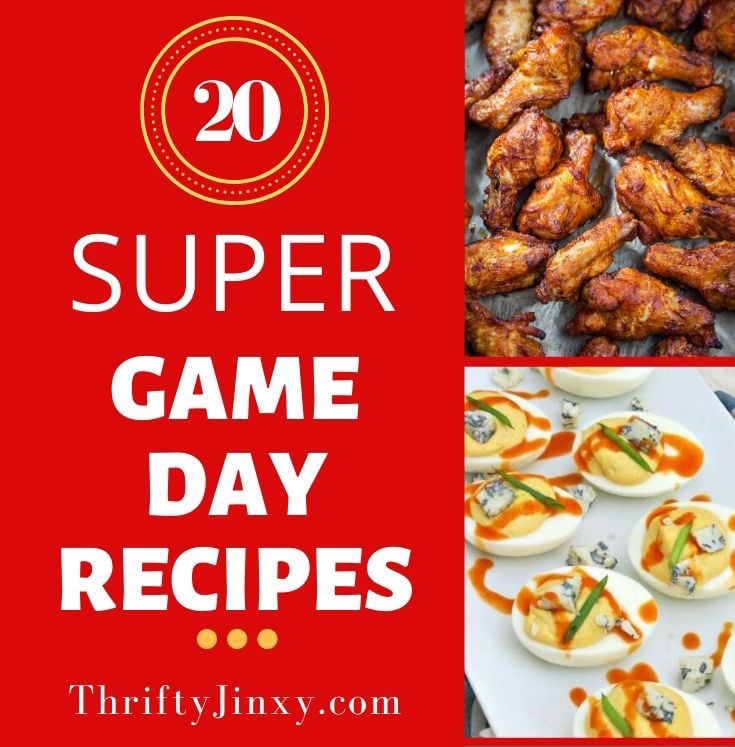 If you're the party host, we have found a lot of FUN party supplies to plan the best Super Bowl LIV party! Check out all of these ideas and then keep reading about how we make our Super Bowl Bingo game extra fun! If you already have or sign up for an Amazon Prime subscription, shipping will be free and get to you in just 2 days, leaving you plenty of time to get ready for your party!
Football CupCake Wrappers and Topper

24 Superbowl Super Bowl LV Football Cupcake Rings Topper Decorations

Super Bowl Superbowl LV Football Cake Topper Decoration Layon

Ziggos Party Football Championship 55 LV 12′ Pennant Banner

UNIQOOO 6Pcs Football Super Bowl LV 2021 Sports Lantern Set, Large 12 Inch, Hanging Japanese Paper Lantern Lamps

Super Bowl Superbowl LV Edible Cake Image Topper Decoration

Football Green Gridiron Reusable Washable Face Mask

Super Bowl LV Plastic Tablecloths, 3 ct

Super Bowl LV Deluxe Party Supplies Kit, Serves 24

Super Bowl 55 LV 2021 NFL Party Supplies Pack for 24 Guests Including Dinner Plates, Appetizer/Dessert Plates, Napkins

NFL Super Bowl 55 LV Football Party Supplies Dinner Plate Multi-Pack and A Football Squares Betting Pool Game with Award Ribbons (2021)

NFL Super Bowl 55 LV Football Party Supplies Deluxe Pack for 16 Guests: Dinner Plates, Napkins, 1 Pennant Banner and Hanging Swirls (2021)

Super Bowl Party Supplies LV 55 Big Game Banner Hanging Swirls Balloons Football Year 2021 Tampa Bay Room Decoration Bundle

Print Your Super Bowl Bingo Cards:
There are 20 different 2021 Super Bowl Bingo cards that you can print for FREE right HERE. You can print them on regular copy paper with 2 cards per sheet. Just cut down the middle and you're ready to play! If you want to get "fancy" you can mount your cards are larger sheets of construction paper or card stock.
How Do You Play Super Bowl Bingo?
Playing Super Bowl Bingo is fun and easy! Starting during the pre-game (or whenever you decide your bingo game will begin) start watching for the items on your card. Some of the spaces feature game plays, some feature things you'll see in commercials and there are a few random items thrown in.
As you see one of the items from your card on TV, cross it out with an X. (The center space is a FREE square, so cross that one out at the beginning of the game.
Once you get 5 items in a row, either vertical, horizontal or diagonal, shout out BINGO! The other plays will check over your Xs to make sure everything is in order (get ready for some possible debates) and if all is good, you win!!
For more game day fun, check out these awesome NFL Ugly Sweaters!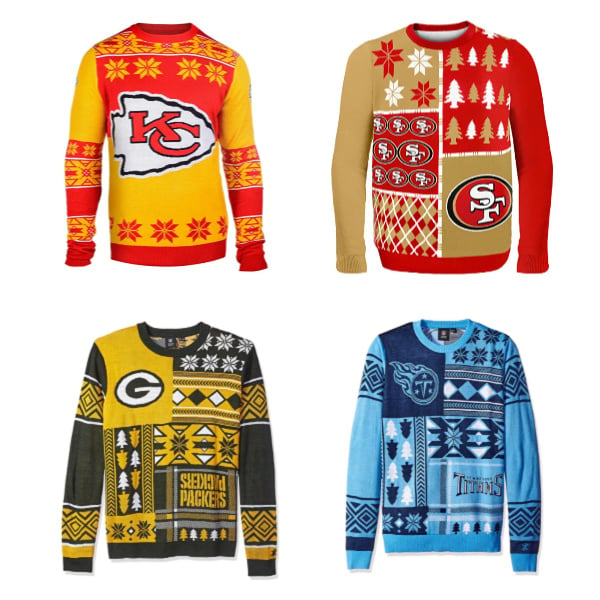 For more game day fun, check out these awesome NFL Ugly Sweaters!