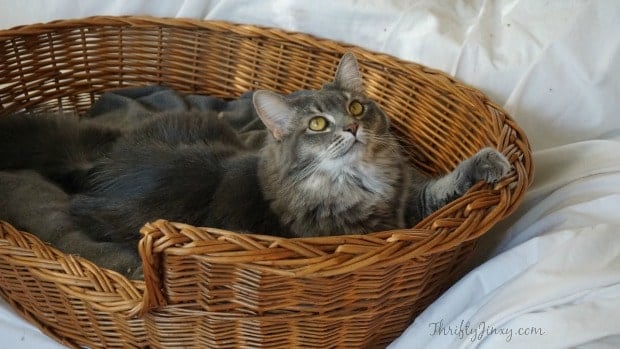 This is a sponsored conversation written by me of behalf of the J.M. Smucker Company. The opinions and text are all mine.
Each of the 6 cats I have had in my adult life have been rescues. Surprisingly, none of them have come from a shelter but from more round-about means – both strays and kittens from friends and neighbors who found their cats "in a family way." (Please get your cats spayed and neutered!) Each of our cats have brought us so much joy, love and laughter.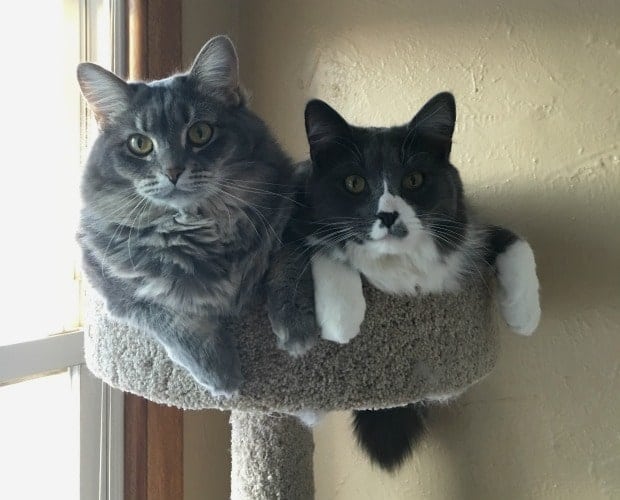 Do you have rescue cats? Adding a new cat to the family is a cause for celebration and commemorating that adoption day with an Adoption Anniversary calls for a celebration as well! Next week marks 3 years that brother and sister Sammy and Cleo have been with us, so it got me thinking of a few great ways to celebrate their adoption anniversary.

5 Ways to Celebrate Your Cat's Adoption Anniversary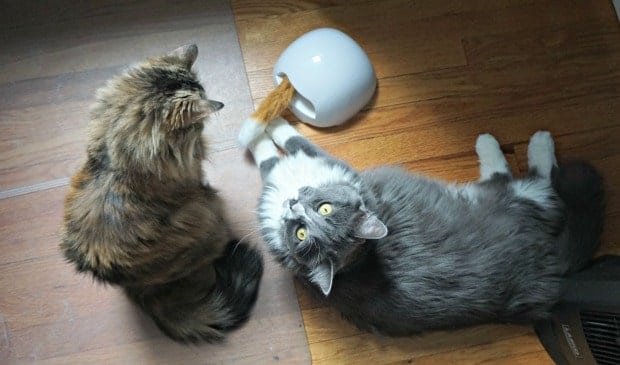 New Toys – Keep them Busy!
What is a celebration without gifts for the guest(s) of honor? All of my cats like to play, but each to different extents and with different types of toys. Sammy and Lucky (who is hard to please with toys) both love this toy that looks like a fox tail going in and out of its hideaway. Basically any type of toy that lets them "go on the hunt" is a hit.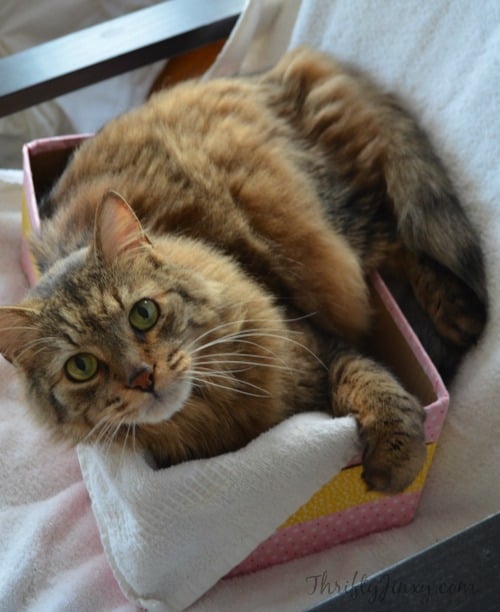 Homemade Gifts – A DIY Cozy Kitty Nap Box
Even more than playing, cats like to SLEEP! You can make that even better by giving them the gift of a warm, soft, cozy place to snuggle in. My cats love their soft, circular cat beds, baskets with a pillow and blanket thrown inside or just an ordinary cardboard box. If you want to make them something special (and don't like the look of a plain old brown cardboard box in your living room), you can decorate a cardboard box for your cat with colorful tape to make a cozy kitty nap box. My cats are also more than happy with a gift of my old hair scrunchies or anything else they can bat around the room.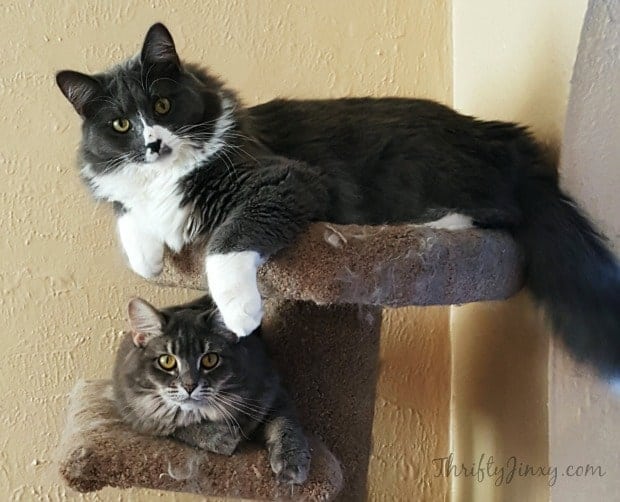 The Ultimate Gift – A Cat Tree
If you want to go big with your adoption anniversary gift, get a cat tree! I have to admit that I am not a fan of a big cat tree taking up the corner of my living room, but my cats love it SO MUCH that we won't go without. They love to perch on the very top of the tree to curl up and take a nap or to spend time peaking out the front window and watching the birds. With multiple cats a tree also offers enough space that everyone can get a place to claim as their own, although mine sometimes like to snuggle together.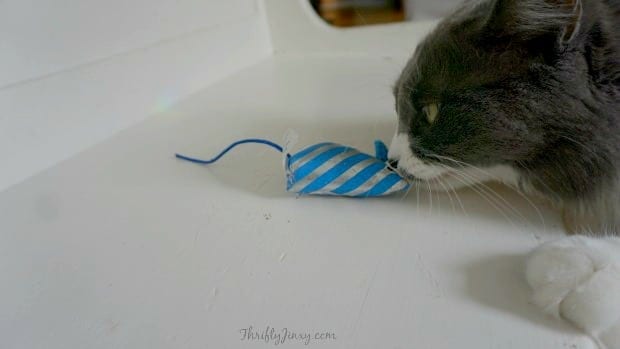 Party Favors – Let Everyone Celebrate
Any good party has party favors! You can't leave out the pets who aren't the guest of honor! Small cat toys like balls with bells inside or feathers attached are perfect for this. It's no wonder they sell these little toys in packages of 6 or more – they're always getting lost! Actually, I think it's more that the cats are finding good hiding places for them. Sammy especially likes to hide his toys in our shoes.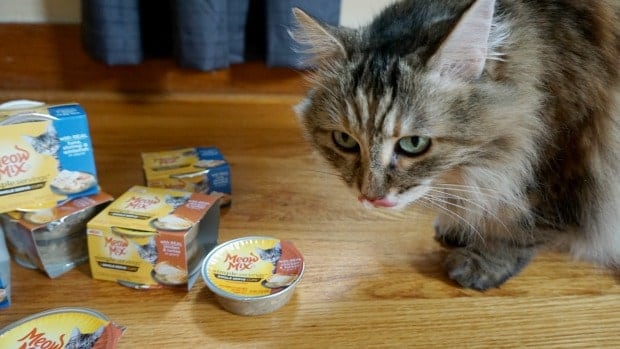 Food – Meow Mix Simple Servings
The one MUST for any party is food. My cats LOVE wet food and are NOT good about sharing it with each other, so individual servings are a must. I went to Walmart to buy the new Meow Mix Simple Servings. I bought both the Meow Mix Simple Servings with Real Tuna, Shrimp & Whitefish in Sauce and the Simple Servings with Real Chicken and Turkey in Gravy flavors.
Meow Mix Simple Servings is perfect for an adoption anniversary party and EVERY day. My cats LOVE this delicious, pre-portioned wet food with real seafood or poultry. I love that it offers a single serving in every cup, so each cat gets his or her own dish. It also means that there is no mess and no leftovers. It's super simple and convenient!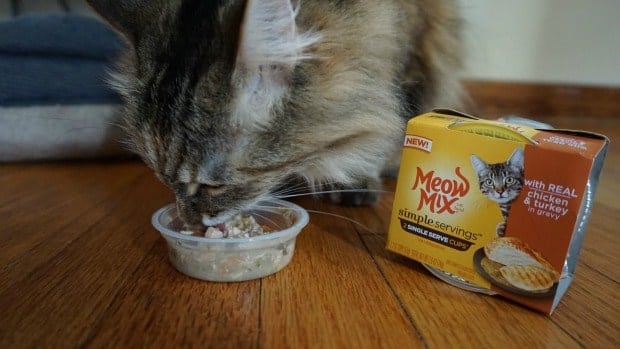 Tell us about YOUR rescue cats! How did they come to be a part of your family? How do you show them they're special?