Nobody likes to do laundry, but it can be a bit more enjoyable if you use these 5 handy suggestions.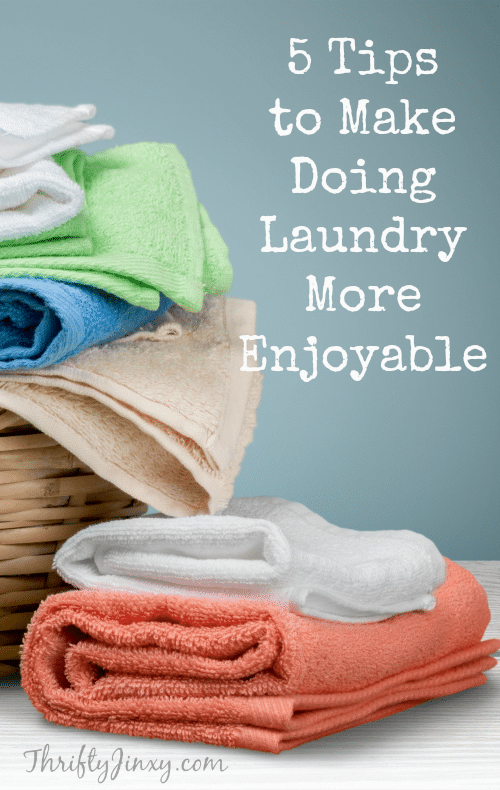 I will be perfectly honest and say that laundry is not on my list of chores that I like to do. I know some people who find doing laundry to be relaxing and therapeutic. My brain just does not compute that situation.
What I DO like is that feeling once all the laundry is finished and put away and the job is complete!
Since laundry is not a favorite chore around here, I have come up with a few ways to make it more bearable. If you are one of those people who already enjoys doing laundry then maybe you already use these tips. For the rest of you they might make the process a bit more enjoyable.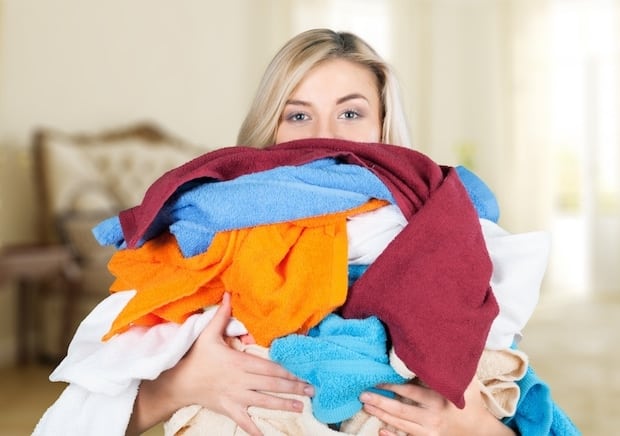 Jump to:

Sort Up Front
It's a bit overwhelming to end up in the laundry room with baskets full of a jumble of dirty clothes. To make this easier, have laundry sorted before it makes its way to the laundry room! An easy way to do this is with hampers that have separate sections for darks, lights etc.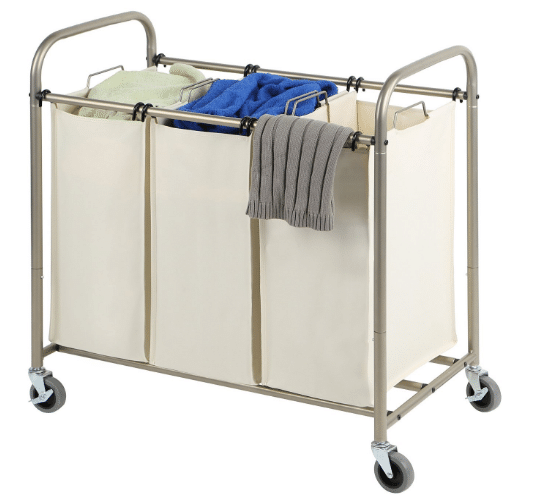 Enlist Help
The easiest way to enlist help from your family is by getting them to sort the laundry themselves as I mentioned in the previous paragraph. If you don't trust your family members to do a good job of sorting, you can get them involved in other ways.
Older kids can help fold or even learn to do laundry themselves. Even young kids can do laundry related tasks like putting away their own folded clothes. When folding laundry, place each person's folded laundry into a separate basket so it can be easily brought to their room.
Enjoy the Scents
Experts say that our sense of smell is actual one of our strongest senses, so why not make it happy?!? Choosing laundry products with scents you love or even adding scent crystals to your wash load can put you in a better mood while tackling your laundry chores. Change out your scents each time you replenish your stock of laundry supplies to keep things interesting.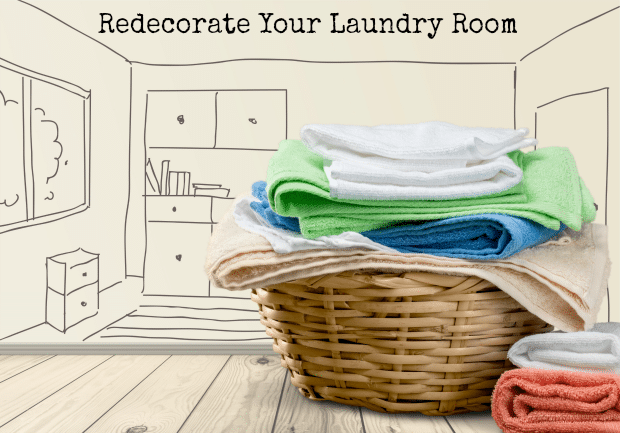 Redecorate Your Laundry Room
No one wants to spend time in a dreary corner of the basement. Fortunately it doesn't take a lot to make the area a little more pleasant. In our last house we gave our laundry room a makeover by painting the walls and and floor with a coat of basement paint.
My husband then took a length of kitchen countertop we got for a steal from the "remainder" bin at the home store to make a handy folding area. Helpful items like cabinets for storing supplies and a rack for hanging clothes on hanger also spruce up the area. Redoing our laundry area is on my MUST list right now, especially to make a nice home for our new "tools".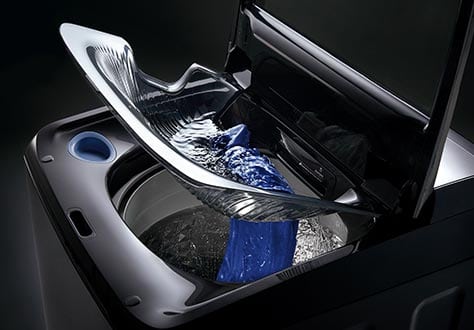 Use a Detergent You Love
I have tried a lot of different detergents and my current favorite is Dropps Laundry Detergent. They are handy little zero waste pods that smell great and use better-for-the environment ingredients.
Use the Right Tools
Doing the laundry is a WHOLE LOT easier and more enjoyable when you have a great washer and dryer. I can attest to the fact after using my new Samsung ActiveWash Washer and Top-Load Electric Dryer from Best Buy.
There are lots of reasons for me to love this new set. The first of which is the innovative built-in sink. I personally hate the laundry tub in our laundry room because it is old and icky. I will probably never turn it on again because I can now use the sink of my Samsung washer to pre-wash stained items and hand wash delicates. So convenient!
I also love how BIG this set is! The Samsung ActiveWash Washer has 5.0 cu. ft. capacity and the Dryer has 7.4 cu. ft! I already thought my old front-loading set was big, but it now seems tiny compared to the Samsung pair. This means that I can cut down our laundry to just a couple of loads per week.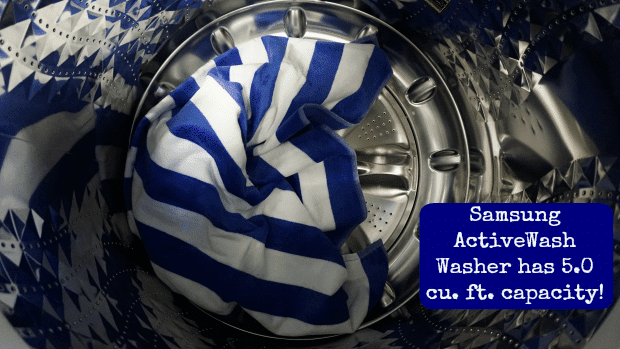 And did I mention how nice the Samsung washer and dryer look? They are sleek and smooth looking thanks to the integrated touch controls built right into the lid. And there are a LOT of control options because there are a LOT of features! I especially like that the dryer has multi-steam technology that lets you steam wrinkles away (no need for an iron or the dry cleaner) or even steam sanitize.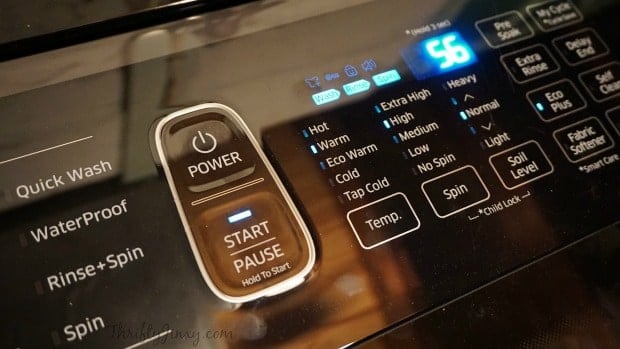 I also dig the Samsung Super Speed technology that offers a faster and more thorough wash cycle. The Super Speed cycle gives you up to a 40% faster wash cycle — without sacrificing cleaning performance. You can quickly wash a full load in as little as 36 minutes. Last, but not least, there are also many small touches like the lint screen that really captures ALL the lint on the screen thanks to the handy lid that traps it inside.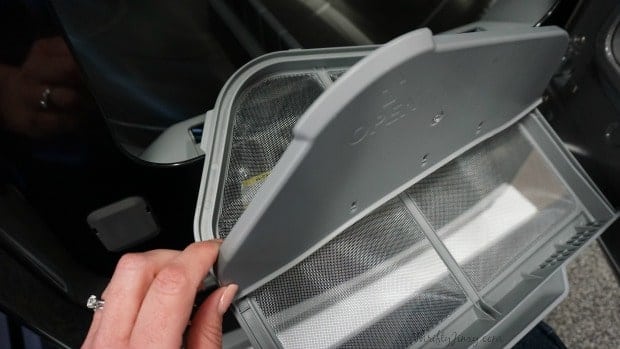 I have only mentioned a few of my favorite features because, quite frankly, with the big size of the machines and being able to do all our laundry in just a couple of loads I haven't had that many loads to experiment with yet! I'm looking forward to putting all the rest of the features to the test in the coming months. You can see more details about the Samsung ActiveWash Washer and Top-Load Electric Dryer from Best Buy on their web site – and even order your own if you're ready to make YOUR laundry routine more enjoyable!
What other tips do you have to make doing laundry more enjoyable?