These travel organization tips will make your trip more organized, less stressful and keep you ready to go!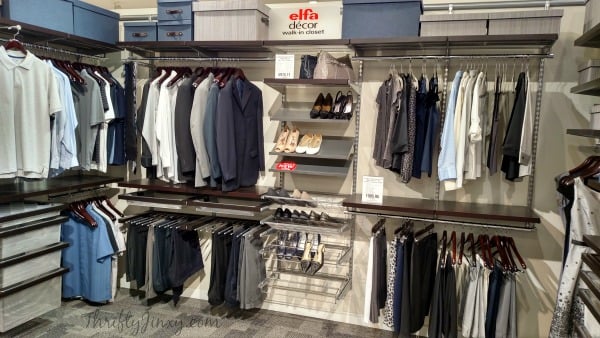 One of my favorite parts of my job as a blogger is that I get to travel a lot. The downside is that many of those trips are for only a few days at a time. So, when I travel for personal trips, I like to go for an extended period of time to one place.
There are big differences from quick 1-2 day trips and extended stays and one of the most important things to consider is where you want to stay for a longer period of time. I personally start to feel cooped up in a regular hotel room after a couple of days and that's why I prefer the option of a suite.
TownePlace Suites by Marriott® specifically cater to travelers who are staying a bit longer. They have spacious studios, one- and two-bedroom suites with fully-equipped full size kitchens. They also offer all the other amenities I would want in a stay like free Wi-Fi, free breakfast and more.
Now TownePlace Suites® are becoming even more accommodating for extended-stay travelers by partnering with The Container Store® to outfit their suites with the amazing elfa closet system.
I recently checked out the elfa closet systems at The Container Store and realize that closet in my next stay at one of the 11 TownePlace Suites® hotels featuring the elfa® closet will be waaaaay nicer than my closet at home!
These closets have awesome features like multiple closet rods, hanging drawers and ventilated shelves. When I'm stayting at a hotel for an extended time I don't want to be living straight out of my suitcase. I can't wait to store my stuff in one of these closets!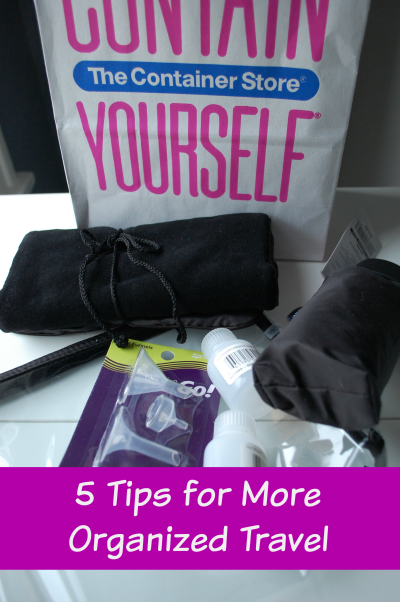 While at The Container Store® to check out that closet, I also picked up some travel essentials for my next trip. They are all things to keep me more organized and will help with these:
5 Tips for More Organized Travel
1. Pack Light
Even if you are staying for an extended period of time, I encourage you to pack light! Choose pieces of clothing that can be mixed into multiple outfits and go from day to evening. Layers are perfect for changes in temperature throughout the day and evening. By packing light you can fit everything into a carry-on bag and skip the hassles of dealing with the baggage claim when flying. (I have packed for up to 10 days in a carry-on and many people have gone much longer!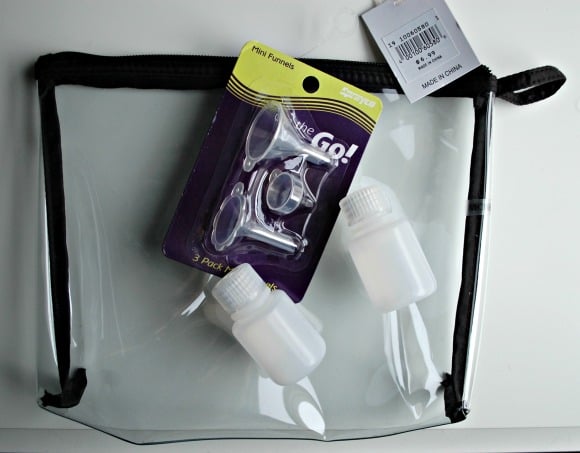 2. Plan According to the Rules
f you're not a frequent traveler and are flying to your destination, you'll want to be up-to-date on the current TSA regulations. If you're following my advice above and packing light, that means you'll need to follow the 3-1-1 Liquids Rule for items in your carry-on bag.
To make things easy, The Container Store® has a clear pouch that fits the quart-sized, clear, plastic, zip-top bag regulation, but is much sturdier than a disposable bag. They also have small containers so that you can bring your own favorite shampoo and other liquids in a smaller amount.
3. Scope Out Your Destination
While you will want to know about your destination for planning your trip in general, also take a look to see if there are conveniently located drugstores or grocery stores in the area.
If so, you can skip packing easily replaceable items like toothpaste, feminine products, snacks, etc and just stock up at your destination. There's no sense taking up valuable luggage space with those.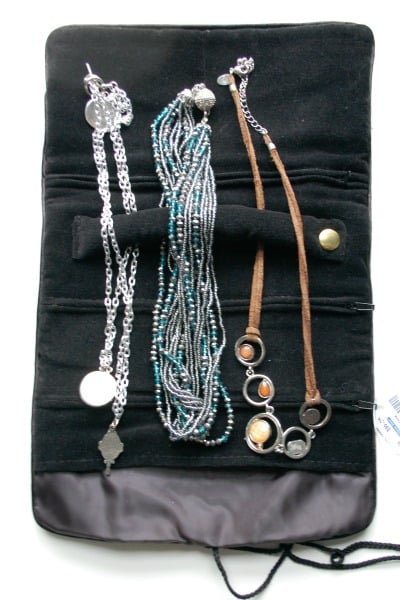 4. Protect your Possessions
I hate getting ready for my first night out at my destination to find out that my necklaces are all tangled together or that I accidentally packed my shoes next to my clothing and caused a smudge. To avoid these and other mishaps, look for tools to protect your things.
The Container Store has multiple solutions like bags for your shoes and this handy jewelry roll to keep your necklaces, bracelets and earrings protected.
5. Make a List
Staying organized on your trip starts with being organized before you pack. Start a list several days (or better yet several weeks) before you leave and as you think of additional items you want to take on your trip or things you should address before you leave (stopping the mail or newspaper delivery, giving a copy of your itinerary to family, etc.) keep adding to your list. It's much easier than trying to think of everything at the last minute.