My husband and I love to take road trips. Taking a drive is one of the very best ways to see the country. You get to see everything as it passes outside your window and when something catches your eye, you can stop and take a closer look.
Last week we were roadtripping in California and the highlight of that trip was a drive from Carmel-by-the-Sea down to Big Sur. Oh, my – what beautiful country that is!! We made the trip in the Mitsubishi Outlander Sport, which turned out to be the perfect car for the trip and, we thought a perfect everyday driving car.
Panoramic Glass Roof
When it came to taking a road trip, our favorite feature of the Outlander Sport was the panoramic glass roof. It was awesome to be able to see the towering trees and massive cliff faces above our heads. It also let in a lot of light to give us that "being outside" feel without having to deal with wind whipping through the car!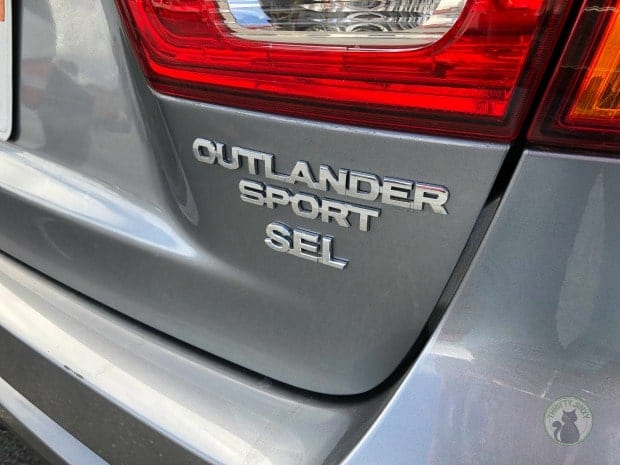 Comfortable Seating – Heated Seats
The seating in the Outlander Sport is comfortable and I did appreciate the heated seats. We had some chilly days that dropped into the 30s during our California adventure. While we only had a passenger for a short time, the rear seat was plenty roomy, even with the driver's seat pushed quite far back, which means comfortable seating for up to five.
Big Cargo Area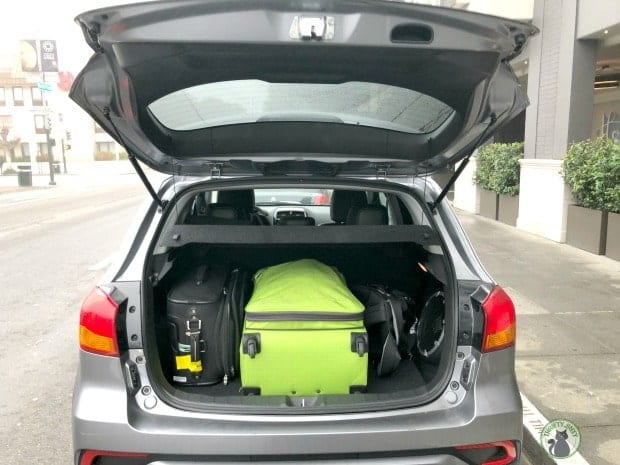 Besides plenty of room for passengers, there is plenty of room for luggage, groceries, or anything else you want to transport with 49.5 cubic feet of space in the cargo area with the seats down or 21.7 cubic feet with the seats in place. We were able to easily fit 2 suitcases, 3 backpacks and several bags of groceries with the seats still up – lots of room!
FAST-key Passive Entry System
The FAST-key passive entry system is super convenient. As long as the keys are with you – either in your hand, your pocket, or your purse, you can unlock the car with just one push on the driver's door handle. Two pushes will unlock all the doors. Then to start the vehicle, it is just one more push of a button (while your foot is on the brake) and you're ready to go. That is such a great convenience!
Power Folding Side Mirrors
Believe it or not, my husband's favorite feature of the 2018 Mitsubishi Outlander Sport is the side mirrors. Why? Because they are power folding side mirrors, which means when you park the car, the mirrors automatically fold in. Having lived in busy cities where his car mirrors have been clipped by passing vehicles more than once, it's a feature he really appreciates.
It's also a helpful feature in tight parking spots. The side mirrors are also heated, which is helpful on frosty days, and they also have signal indicators in them.
7″ Touchscreen Display Audio System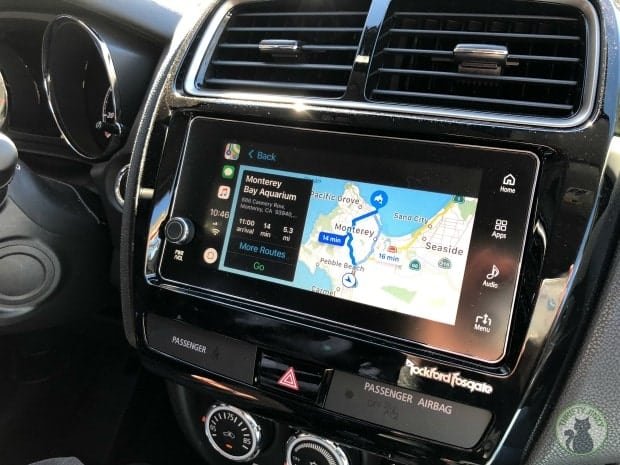 We also enjoyed the 7″ touchscreen display audio system, which is now standard on the Outlander Sport. We used it for both radio channels and our own phone playlists, but it got the biggest workout for navigation. With Apple CarPlay it connected to show us our map and where we needed to go. It also let us take Bluetooth calls that were super clear.
And while the audio system sounds great, one of the best "sound features" of the Mitsubishi Outlander Sport is that it stays quiet inside the car while you're driving. Check it out:
Safety Features
The safety features on the Mitsubishi Outlander Sport are also impressive – and also just pretty darn cool. The rain-sensing windshield wipers surprised us the first time they engaged. They activate as soon as it starts raining and even regulate themselves to match the amount of rain that is falling.
The rearview camera system gives a wide-angle view of what's behind you as soon as you shift into reverse. Indicators on the screen help you steer yourself into place. Even my husband, who is a master parker, liked using it.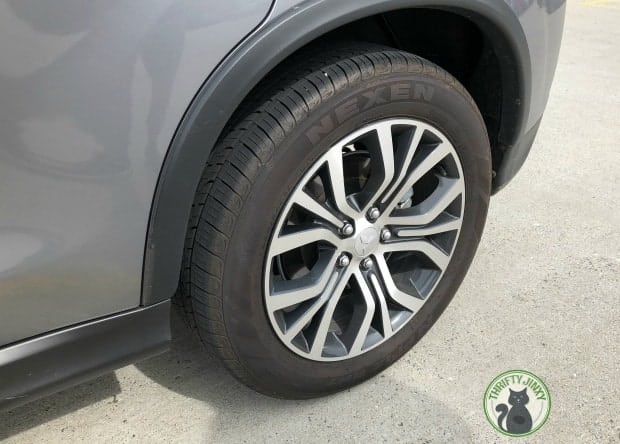 Another feature that surprised us the first time it employed is the lane departure warning. If you start to unintentionally cross out of your lane, an alarm sounds. (If you're wondering how it does that, it uses an onboard camera.) My family has a history of falling asleep driving (luckily it wasn't passed on to me) so I can see how this feature could help to prevent a lot of accidents.
Another automatic safety feature on the 2018 Mitsubishi Outlander Sport is auto high beam headlights. It has always been a bit confusing to me knowing when to use my high beams, but the Outlander Sport makes it easy by automatically adjusting between the brightness levels depending on the surrounding light.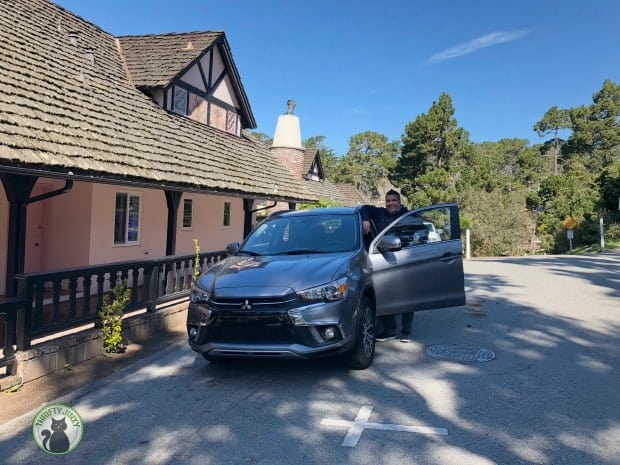 Other safety features include a 7-airbag safety system. Besides the six standard airbags, the Outlander Sport has an additional seventh airbag underneath the driver's dashboard. Additionally, active stability control uses sensors to constantly monitor each tire's grip and communicates with the anti-lock braking system when one begins to slip, giving you the ability to maintain control of the vehicle in tricky situations.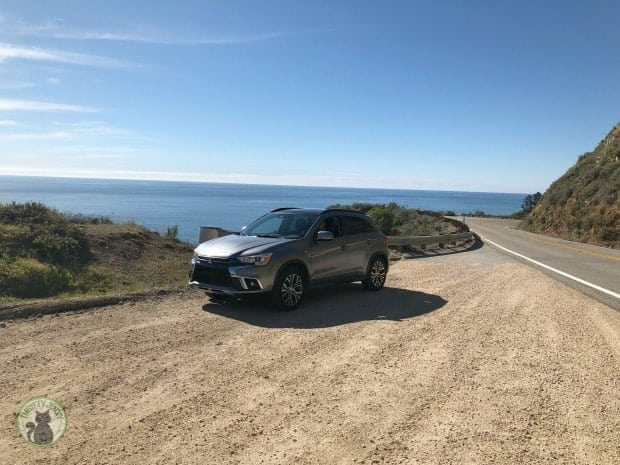 And did I mention that the 2018 Mitsubishi Outlander Sport looks great? It has a stylish look that made us happy to call it "ours" for the week.