If there is one thing I have to say about Disney's Zootopia it's that it is a MUST SEE. Whether you are young or old, have kids, have no kids, love animated movies, hate animated movies – it doesn't matter. It is really good! I personally love animated movies, especially Disney movies, but Zootopia is my favorite in a long time. (And hey – if you don't want to go on just MY opinion, my husband says the same thing!) I will tell you why, but first, in case you haven't yet heard the premise of the movie yet, here it is: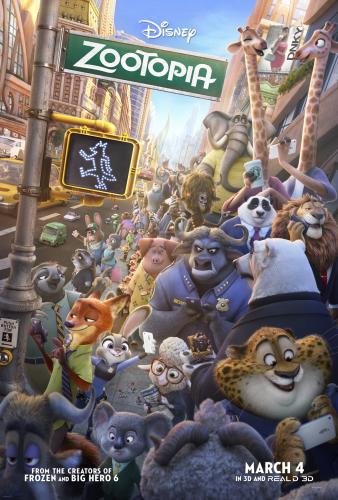 The modern mammal metropolis of Zootopia is a city like no other. Comprised of habitat neighborhoods like ritzy Sahara Square and frigid Tundratown, it's a melting pot where animals from every environment live together—a place where no matter what you are, from the biggest elephant to the smallest shrew, you can be anything. But when rookie Officer Judy Hopps (voice of Ginnifer Goodwin) arrives, she discovers that being the first bunny on a police force of big, tough animals isn't so easy. Determined to prove herself, she jumps at the opportunity to crack a case, even if it means partnering with a fast-talking, scam-artist fox, Nick Wilde (voice of Jason Bateman), to solve the mystery.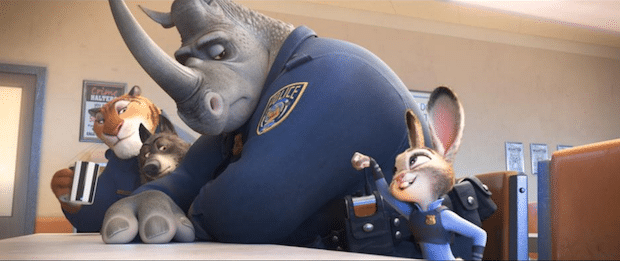 Why do I love Zootopia? There are a lot of reasons. The first is simply the amazing city of Zootopia filled with all kinds of animals, both predators and prey, who have evolved to live together in harmony. From the first moment Judy Hopps, the heroine of the story, takes the train into the city, we see this imaginative place with special accommodations for all shapes and sizes of animals like vertical tubes to send smoothies from the juice bar up to the level of giraffes, to air-drying stations for hippos in business suits to dry themselves after leaving their waterways and before heading to the office, to Habitrail-type tubes for hamsters to make their daily commute.
And then there is the humor!! There are jokes and funny punchlines to make everyone laugh. I love clever writing and Zootopia is filled with it. Sloths manning the DMV?? – that is just hilarious!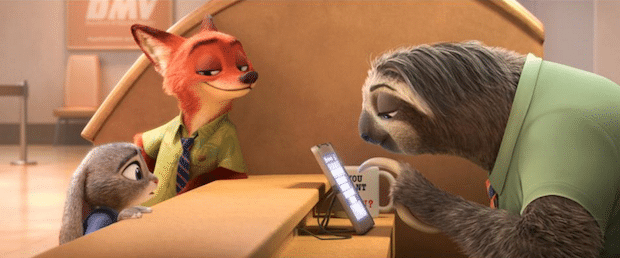 And last, but certainly not least, amidst all this fun Zootopia manages to deliver a powerful message. While the movie starts out stressing the always-popular theme of being able to achieve great things if you work hard and put your mind to it, it moves on to an even more important and socially relevant and timely message – we need to move past stereotypes and not pre-judge others. I was actually quite surprised (pleasantly surprised) that this message is presented so strongly and I'm impressed that Disney did so. It's a difficult topic, especially to discuss with children, and using animals to portray a very real problem in today's society is a way to create a starting point to approach the subject. I can only hope that it stirs conversations among families and helps contribute to change.
We left the theater on a high after seeing Zootpia. It was funny, exciting (I jumped out of my seat at one point), moving and an all-around GREAT movie. As a good friend said, "It's just smart!" I couldn't agree more and I can't wait to see it again – and it's not often I say that about a movie!
Like ZOOTOPIA on Facebook: https://www.facebook.com/DisneyZootopia
Follow ZOOTOPIA on Twitter: https://twitter.com/DisneyZootopia
Follow Disney Animation on Instagram: https://instagram.com/disneyanimation/
Visit Disney Animation on Tumblr: https://disneyanimation.tumblr.com/
Visit the official ZOOTOPIA website here: https://movies.disney.com/zootopia
ZOOTOPIA opens in theatres everywhere on March 4th!