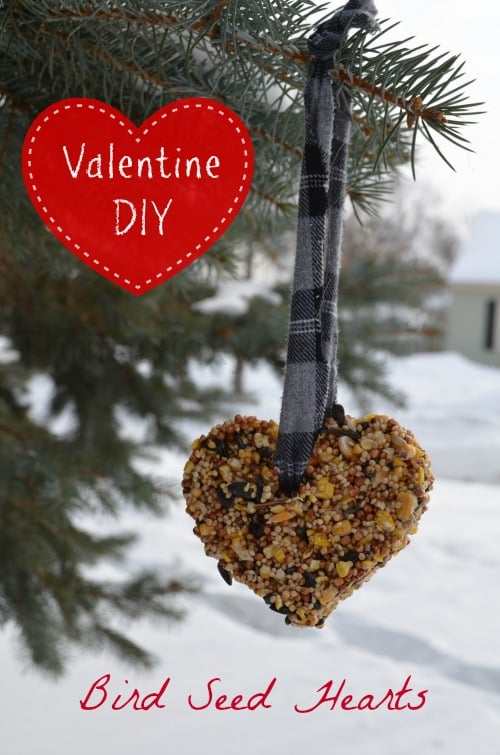 Valentine's Day falls in the cold snowy winter, so share some of  that holiday love with the feathered friends in your heard by making this  Valentine Bird Feeder Hearts DIY Craft.  They are fun to make and use only a few simple supplies.
The only special equipment you'll need is a heart-shaped cookie cutter.  I used this Wilton From the Heart Nesting Metal Cutter Set that I found at Target.  The recipe below was enough to fill both of the silver cookie cutters in the set.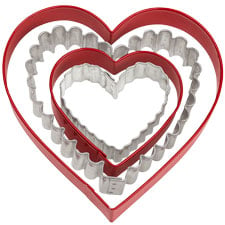 Valentine Bird Feeder Hearts
Supplies:
3/4 cup + 2 Tbsp Bird Seed
1 envelope unflavored gelatin
1/3 cup water
Heart Cookie Cutter
Drinking straw, cut into a length of 1″
Cord or string for hanging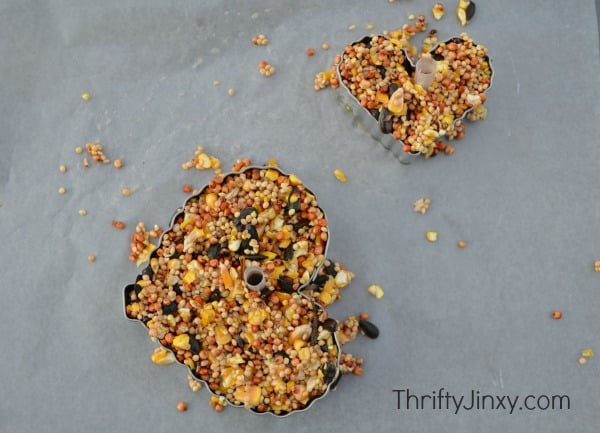 Boil the water. Add in the gelatin and stir until dissolved. Mix in the bird seed.
Lay the cookie cutter on a baking sheet. (I covered it with wax paper, but I don't think it's necessary.) Start filling with the bird seed mixture. Place the drinking straw where you would like the hanger to go and pack seed mixture around it. Finish filling cookie cutter and press down with your fingers.
Set outside or in the refrigerator to cool. Once it is set, remove from cookie cutter. Remove straw. Allow to dry overnight.
Thread cord through hole to hang from tree. To hang ours, I used a thin piece of flannel cut from old pajamas.
Disclosure: This post may contain affiliate links that help support our site with no additional cost to you. See our complete disclosure policy here.