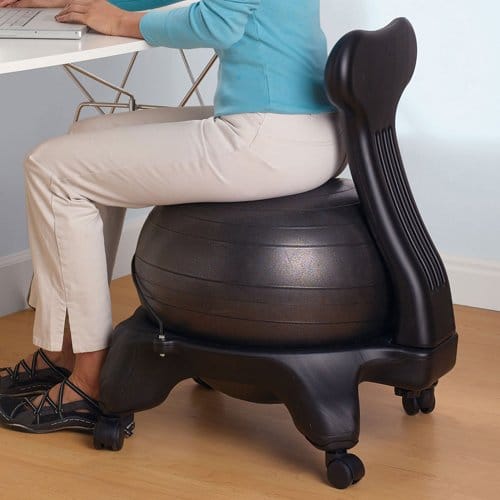 Using Balance Ball Chairs at Your Desk

If you spend most of your day working at a desk, you know that all of that sitting can do not-so-nice-things to your body. You can develop an aching back and you can see the pounds creep on due to immobility. Not to mention the fact that we often slouch in a chair, which can actually lead to a decrease in your core strength from your slacking abs in that position. Using balance ball chairs at your desk, for at least PART of your day, can help change that.
It's still possible to slouch when you're using balance ball chairs, but you're usually likely to straighten up a bit to make it easier to stay on the ball. It also involves contracting the core, hip and leg muscles to maintain balance, which helps contribute to muscle tone.
But, you don't have to be using balance ball chairs ALL of the time. If there is room in your workspace for both a balance ball AND a standard office chair, you can alternate between the two throughout the day. Getting up and moving every 30 minutes is a good idea anyway. Plus, no matter WHAT you are sitting on, too much sitting is never good for us. Try to set a timer to remind yourself to get up and move periodically throughout the day – even if it is just a quick 5 minute walk around the building or, if you work at home, a trip around the block or even around your own house doing a quick clean-up so you don't have to do it at night.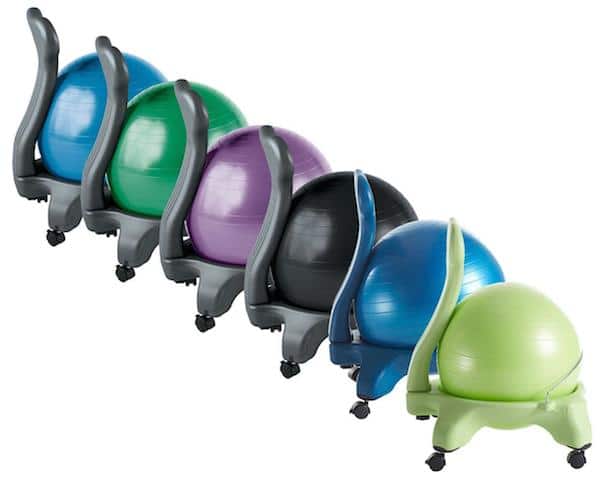 Of course you can use a standard exercise ball for a chair, but you can also consider the Gaiam Balance Ball Chair. This unique chair uses the same balance ball used in workout routines, but includes an adjustable support bar, easy-glide casters, and an air pump. (Keep in mind that balance balls do lose air, so you will have to refill them a bit every week or so.)