When I was a kid I had almost NO interest in the STEM (Science, Technology, Engineering and Math) fields. I took the minimum amount of science and math classes required in high school. The only thing I enjoyed was computer programming. But, as you can see by the date on my commendation below, that was in the olden days. We only had TWO computer classes available in our school and once I finished those I was out of luck and basically forgot about computers. Once I got to college I think I squeaked by with taking only one short winter semester science course and that was it. It wasn't until I was an adult and in the working world that I realized how helpful furthering my knowledge could be and what I was missing.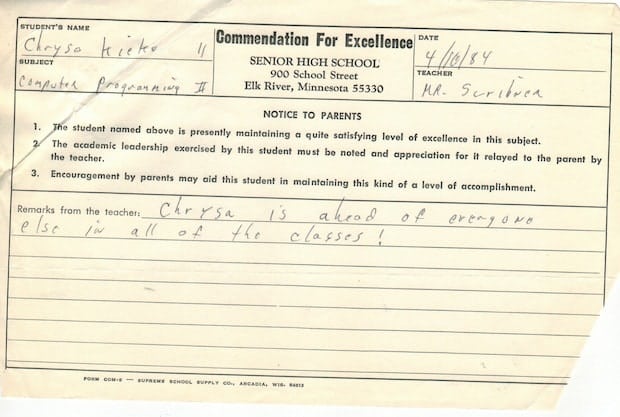 In a management role in the Consumer Affairs division for an electronics company, I had to deal with the programming guys in IT (yes they were ALL guys) who were developing a new software program for our department. I told them what our needs were and gave feedback on the design as it progressed. Since I was clueless about the coding aspect I was often confused and the dismissive attitude of the guys was beyond frustrating. I got so fed up with the situation that I went back to school and got a Masters of Science degree in Management Information Systems. I vowed to never be the clueless one again!!
I love that "Miles from Tomorrowland" on DISNEY CHANNEL encourages an interest in science and technology for all kids. What is extra special is that they are making an effort to encourage girls to get interested and involved. Giving an extra push to that effort is this Friday's episode featuring Miles' sister Loretta as an expert coder.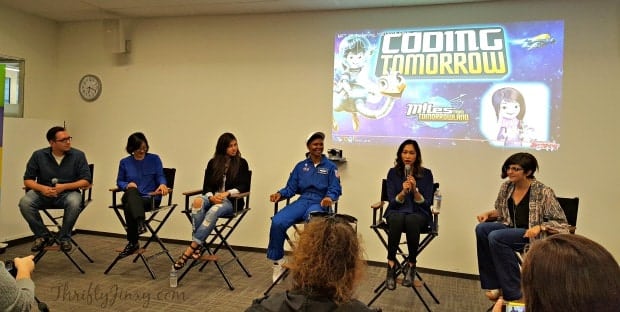 While we still have a long way to go, I find it inspiring to see more and more young girls becoming interested in STEM (Science, Technology, Engineering and Math) fields. This is an important theme woven throughout the Miles from Tomorrowland series. This fall, when visiting Google Headquarters in California, I had a chance to take part in a Q&A with some pretty awesome women in science including Isis Anchalee (#ILookLikeAnEngineer), Dr. Cagle (NASA Astronaut), Angela Navarro (Google Engineer), Di Ikemiyashiro (Disney Junior Director of Original Programming) and Sascha Paladino (Miles from Tomorrowland's creator and executive producer).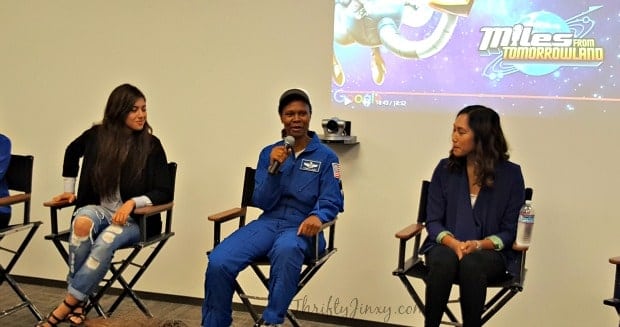 These impressive women shared how they themselves became involved in STEM fields. While some loved science from the get-go, others, like Isis Anchalee, creator of the #ILookLikeAnEngineer movement, came to it a bit later in their education. What these women all have in common is that they are smart, successful and believe that it is important to encourage young girls to get interested and involved in STEM fields.
Be sure to catch (and especially have your daughters watch) this Friday's Miles from Tomorrowland episode "The Discovery Expedition at 10:30 AM ET/PT on DISNEY CHANNEL. In this episode Loretta uses her coding skills to discover a hidden planet. Check out the featurette above with clips from the episode and input from some women in science sharing their thoughts on why getting girls interested in STEM is so important.