Did you know your slow cooker can be used for more than a weeknight meal? You can use your slow cooker to make a delicious slow cooker dessert like this Slow Cooker Butter Pecan Pear Cake!
You'll wind up with a moist and light cake with the butter pecan flavor bursting in each bite paired with tender pears throughout. Best of all this recipe requires only a few simple ingredients. It's a very affordable and satisfying treat you can make for your family or guests any time of year.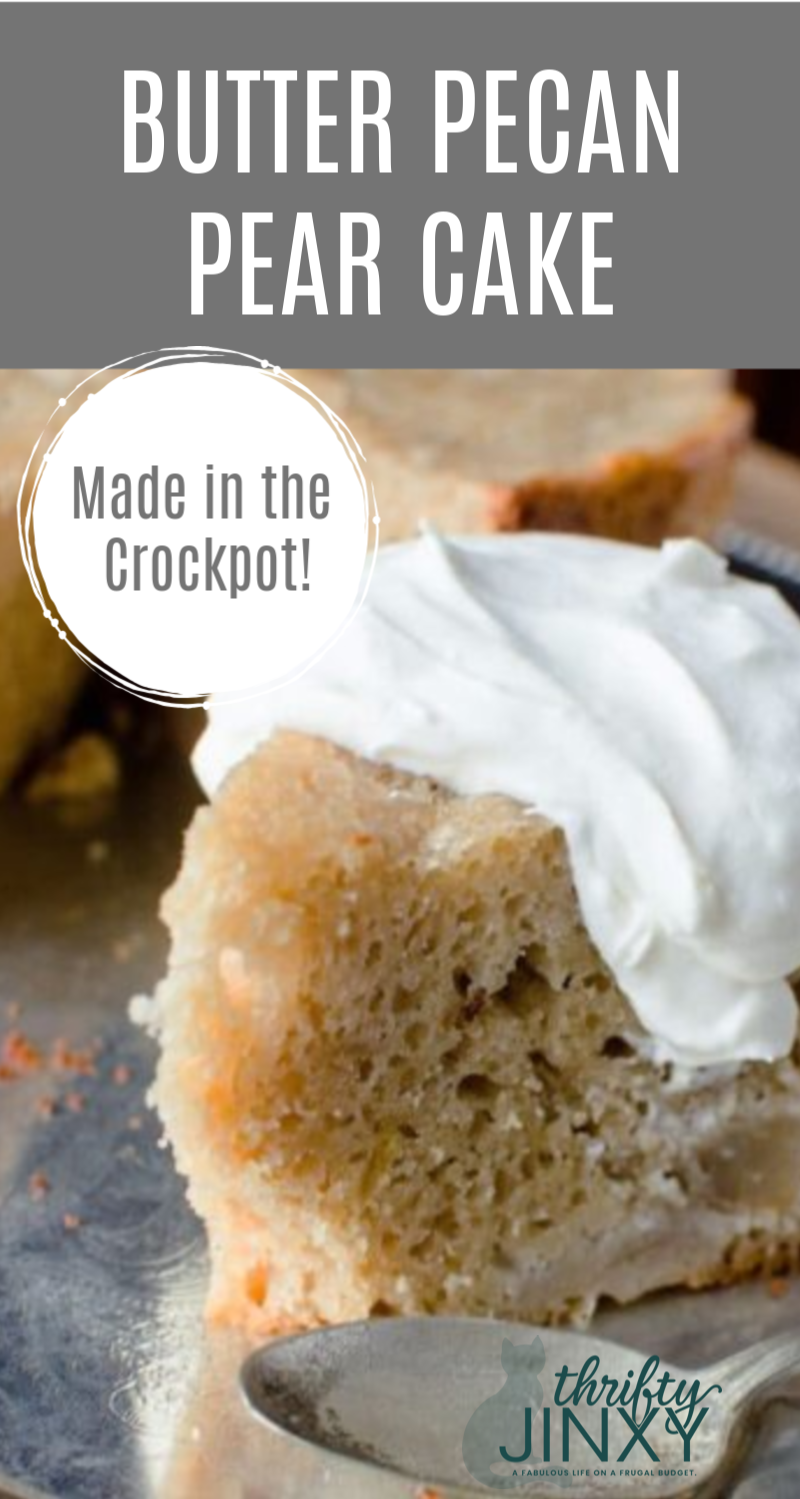 We love this cake year round. During the summer it's a great way to bake a cake without having to turn on the oven and heat up the whole house.
Magic truly happens in the slow cooker when this cake begins to cook. The flavors blend so well and you'll enjoy serving the very rich and flavorful cake for a special event or for a "just because" dessert.
Even if making desserts isn't your specialty, you will find this cake is foolproof to make.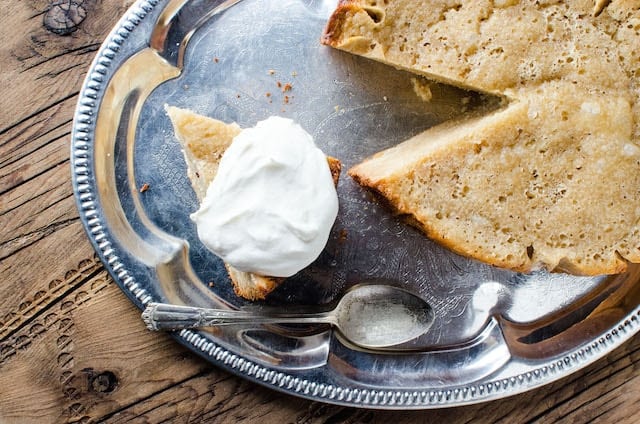 Parchment paper comes in handy to line the slow cooker to prevent sticking and makes it easy to get your cake out when it is done cooking. Also if your local store doesn't carry Butter Pecan cake mix, you can buy it online, which is super convenient!
Slow Cooker Butter Pecan Pear Cake
Reynolds Kitchens Parchment Paper

Betty Crocker Supermoist Cake, Butter Pecan

Del Monte Sliced Pears, 15.25 oz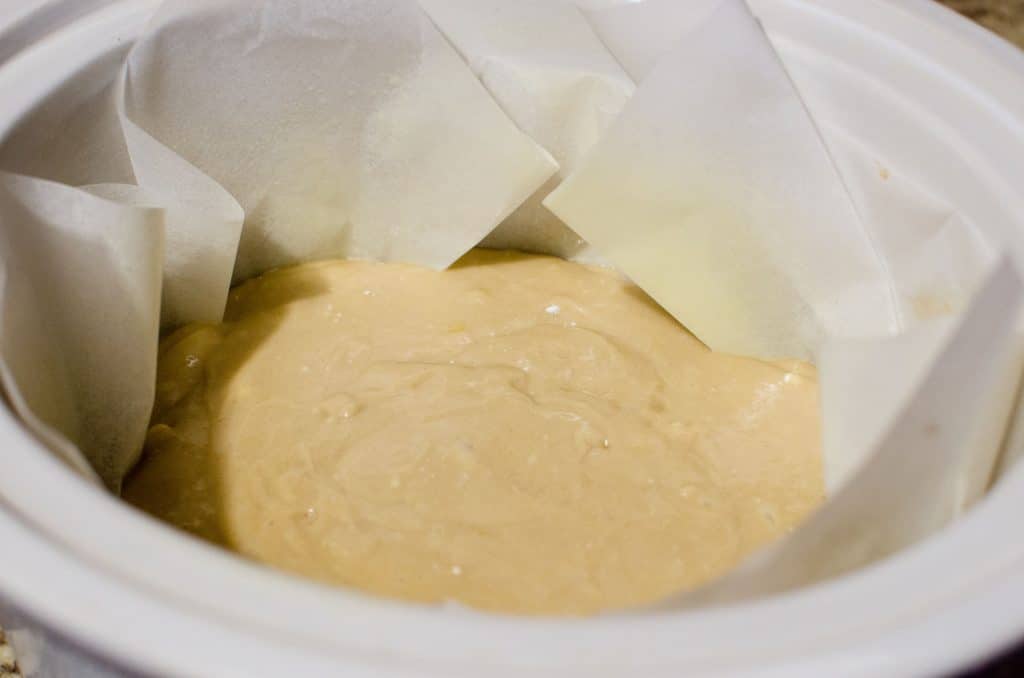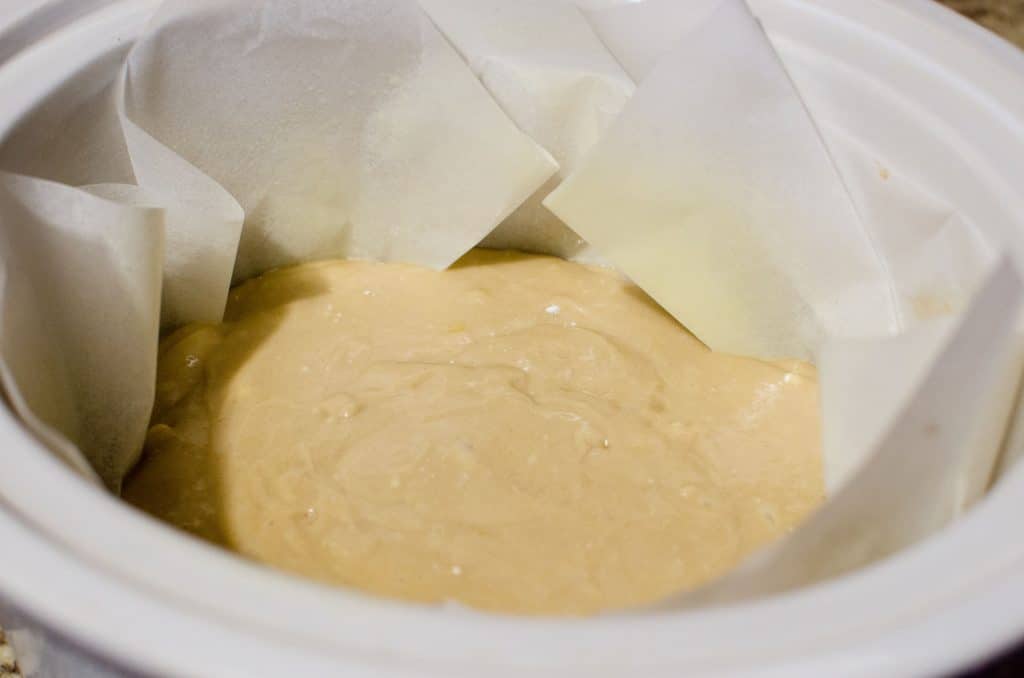 First off you want to start by lining your slow cooker with parchment paper. Then grab a bowl and make the cake as directed on the back of the box and pour into the slow cooker.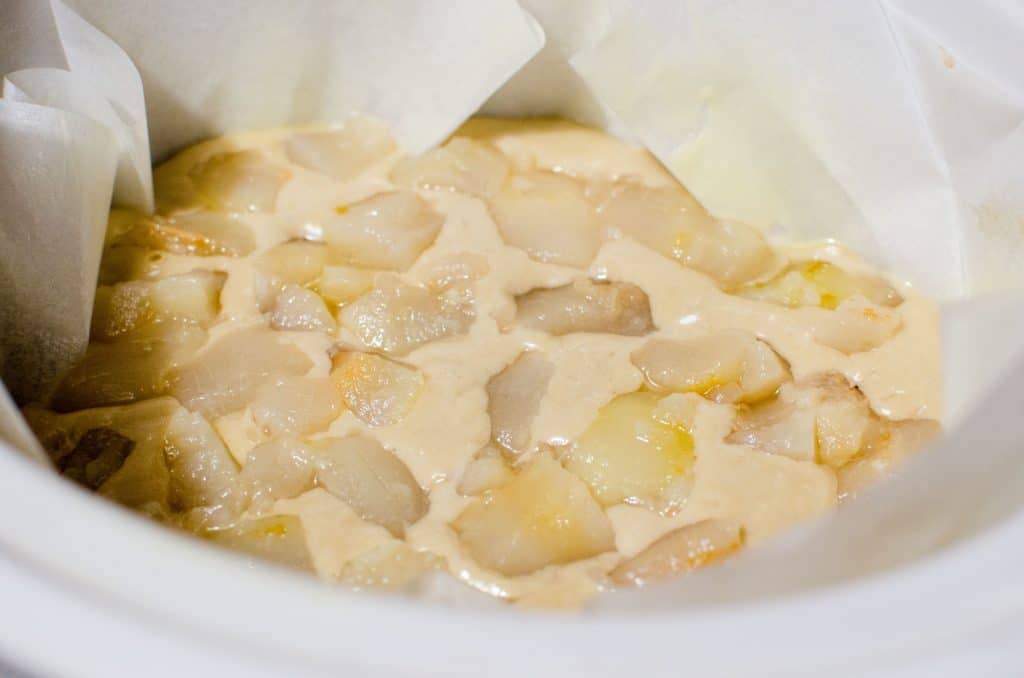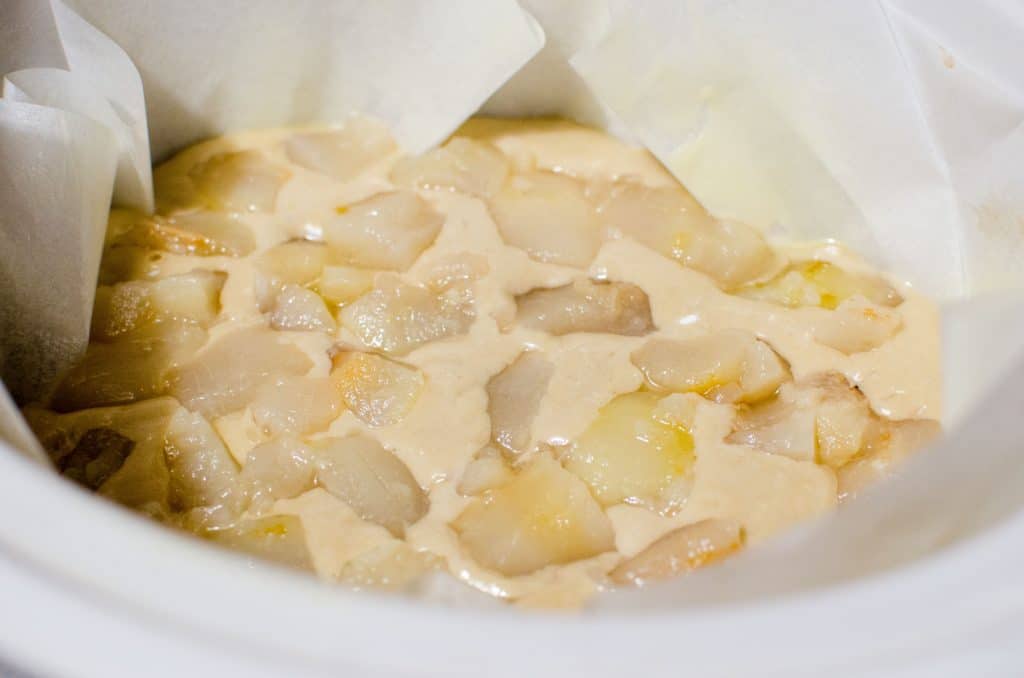 Drain and dice up your pairs and put them all over the top of the cake. Turn the slow cooker on high and cook for two hours.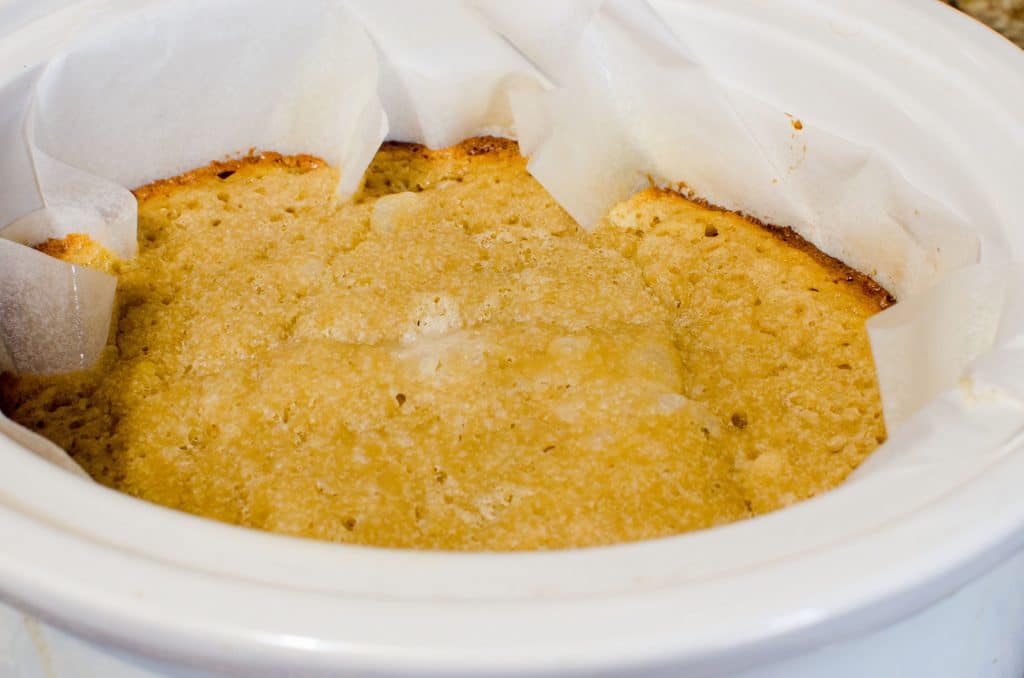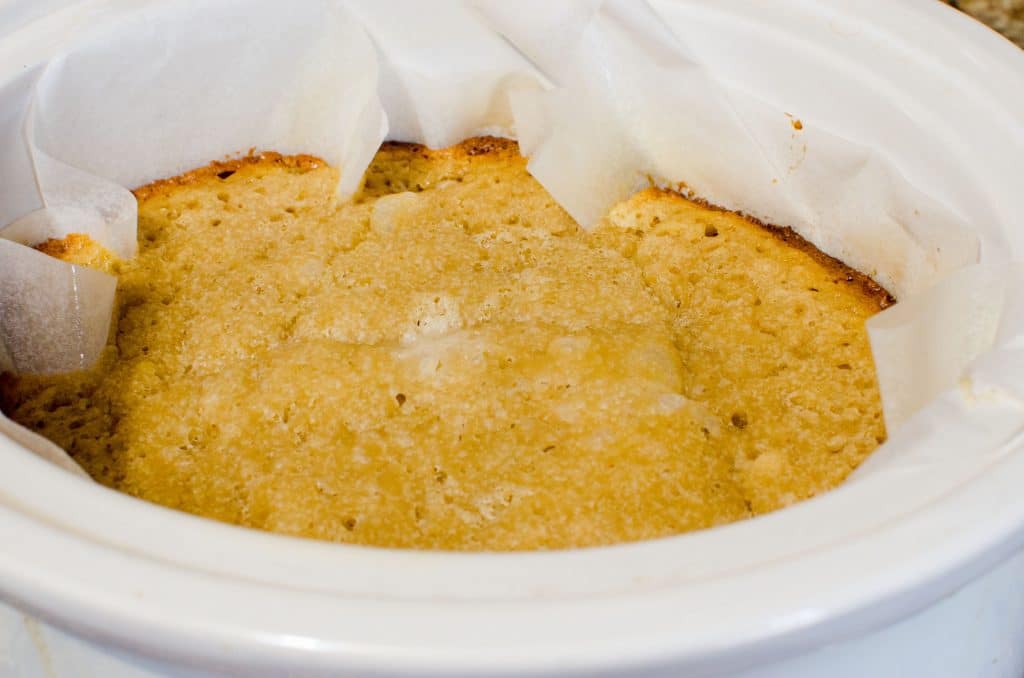 Let your cake cool in the slow cooker in the OFF position for 5 minutes before you take out. Then place on a cooling rack and allow to cool completely. Once cooled, remove the parchment. Top with a dollop of whipped topping and serve.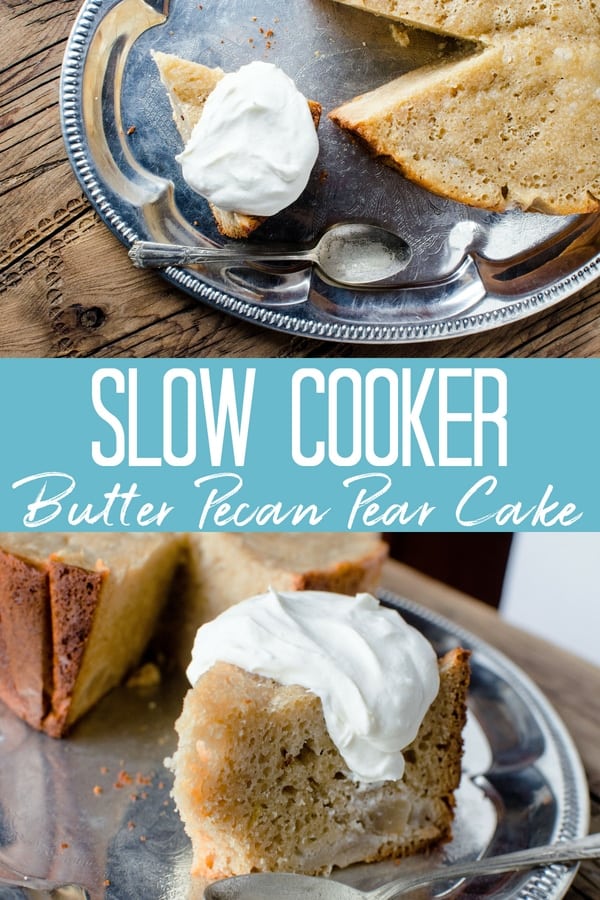 Yield: 12 Servings
Slow Cooker Butter Pecan Pear Cake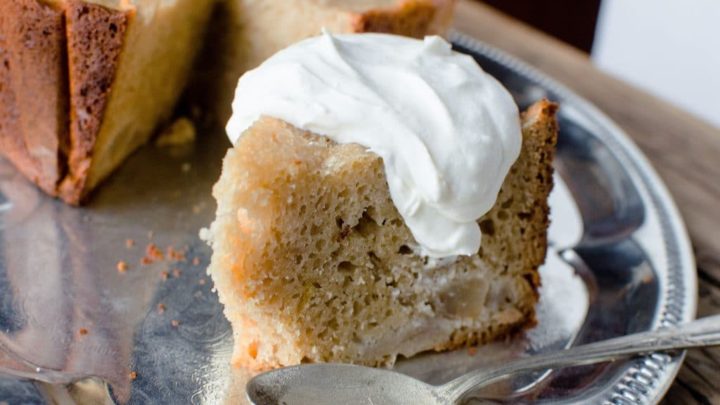 Just three simple ingredients to a moist and flavorful cake made right in your slow cooker.
Total Time
2 hours
10 minutes
Ingredients
Whipped Topping , (optional)
Instructions
Spray the inside of the slow cooker bowl. Line the bowl with parchment paper.
Prepare the cake mix according to the box instructions. Pour into the bowl of the slow cooker.
Drain and cut the pears into bite-size chunks. Drop the pears into the batter in random spots.
Cover and cook for 2 hours on high. Uncover and turn the cooker off and let the cake sit for 5 minutes in the slow cooker.
Then lift it out of the cooker bowl by the parchment paper. Let it sit with the paper around it until completely cool.
Remove the paper, cut and enjoy with a dollop of whipped topping!
Recommended Products
As an Amazon Associate and member of other affiliate programs, I earn from qualifying purchases.