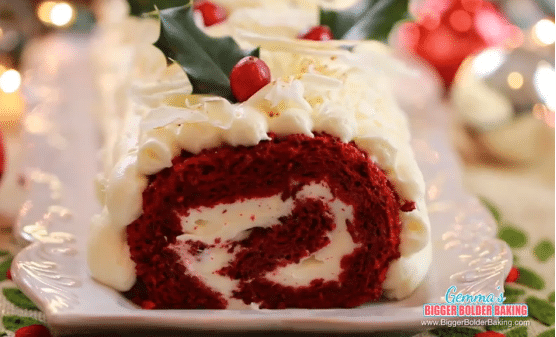 Christmas Day is almost here, but we still have a little bit of time left to make some awesome baked goods for the big day. For something extremely special, we have this Red Velvet Roulade Cake Recipe Courtesy of LG. You might know a roulade by the name of a swiss roll. It's a light fluffy cake rolled around a delicious filling. While it looks amazingly intricate, it's actually quite easy to make. Another interesting tidbit about this recipe is that it is made with cornstarch instead of flour, which means it can be gluten free! Learn everything you need to know in the video below:


Recipe by Gemma's Bigger Bolder Baking Courtesy of LG
Red Velvet Roulade Cake Recipe
Ingredients
6 large eggs, room temperature
¾ cup (4 ½ oz/125g) sugar
2 tsp vanilla extract
2 tablespoons red food coloring (gel color preferably)
1 teaspoon cinnamon
⅓ cup (25g/1 oz) cocoa powder
¼ cup (25g/1oz) cornflour (cornstarch)
cream cheese frosting
2½ cups (1 lb 4 oz/ 540g) powdered sugar, sifted
1 lb (16 oz/454g) cream cheese, at room temperature
½ cup (4oz/112g) butter, at room temperature
1 tablespoon vanilla extract
Instructions
Preheat the oven to 350oF (180oC)
To prepare the roulade, place the eggs and sugar into an electric mixer and whisk on HIGH until very light, fluffy and thickened. ( around 5-8 minutes) It is really important to get them thick.
Add the vanilla and red food coloring and whisk until well combined
Sift the cocoa powder, corn flour and cinnamon over the mixture and fold in very carefully. Use a thin edged spoon to fold in. Take care not to knock out the air in the bubble your made by whisking.
Pour mixture into a tin (11 X13″) lined with parchment paper.
Smooth with a spatula until evenly spread out. Bake the roulade for JUST 10 minutes. It bakes very fast.
When done, and still warm from the oven use the edges of the parchment paper and gently roll the cake a little on all edges. This mimicks the actual rolling so when it's cold and you fill it the sides shouldn't crack because it has already been rolled.
When cold, carefully run a pallette knife between the cake and parchment just to make sure its not stuck.
Prepare the frosting: In a large bowl, using an electric mixer on medium-high speed cream cheese, then add the butter and vanilla and continue beat.
Slowly scoop in the powdered sugar until it is smooth and creamy. Chill until needed.
To fill the roulade: Spread on the frosting, reserving some to pipe on the outside. Use the paper as a guide to roll the cake. As you roll, gently pull the roll to keep it tight and even. Don't be afraid of this part, you will be fine.
When finished rolling, make sure the seam of the roll is underneath. It helps sealing the roll.
Have your cake platter close. Using the paper or your hands, lift the finished roll onto your cake platter or stand. Enjoy, it is great for afternoon tea.
Notes
The roulade can be made a day in advance before filling. It will keep for 3-4 days filling with frosting.
You can replace the cornflour with (2oz/50g) regular all purpose flour.
Make the frosting up to 3 days in advance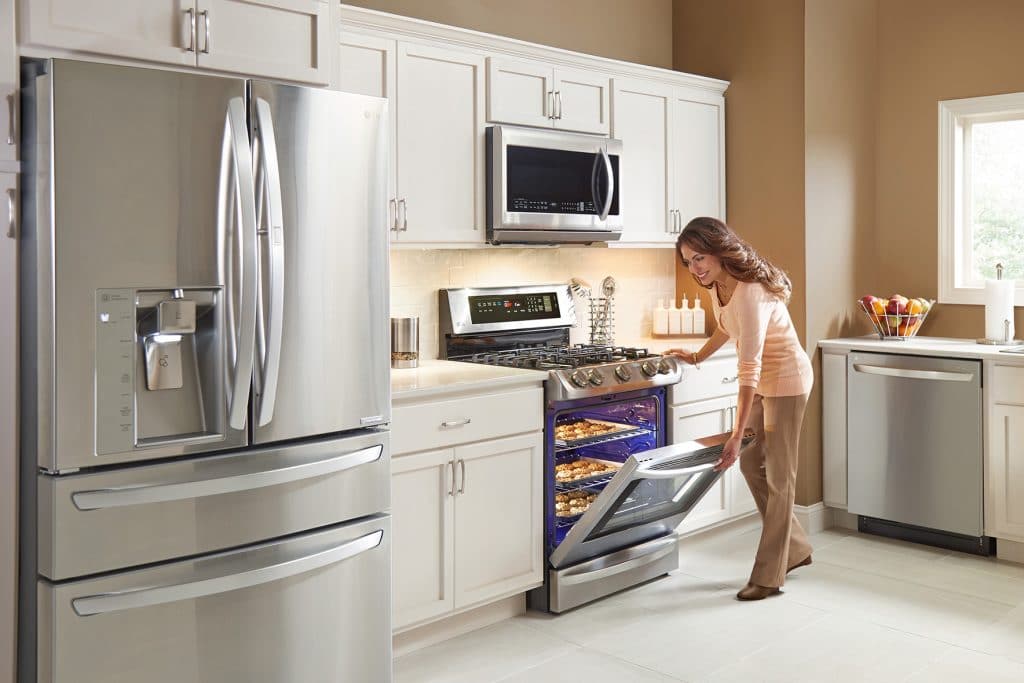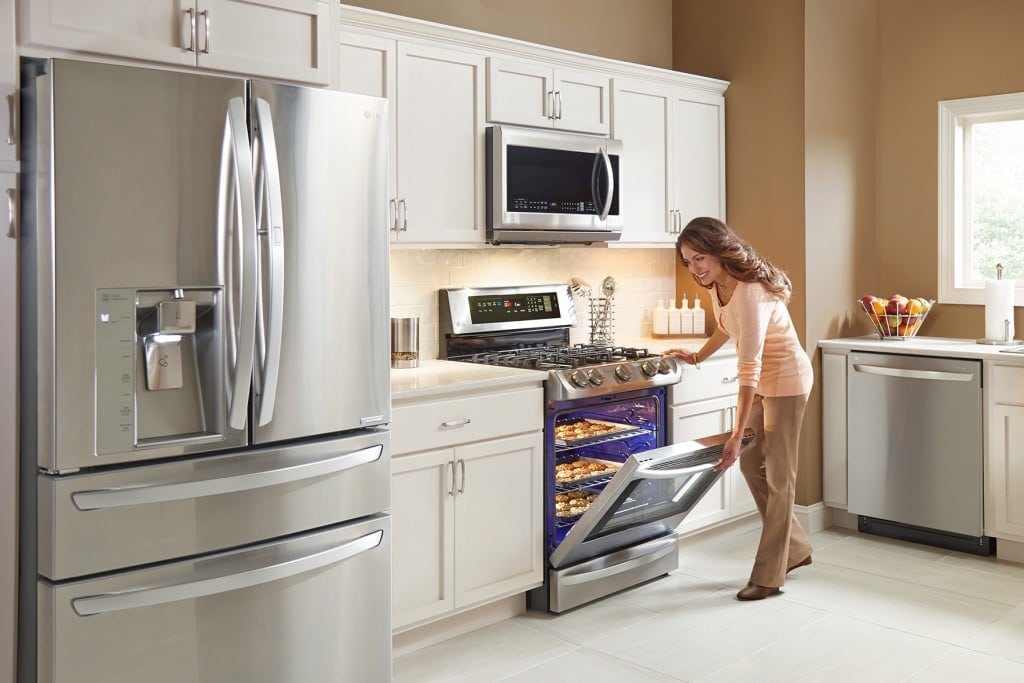 After seeing so many of my recipes here at ThriftyJinxy.com I'm sure you have figured out that I love to bake!! One thing that is key to successful baking is to have a good, reliable oven. Baking can be a delicate science and an oven that lacks in any key areas, i.e. does not heat to a proper temperature, disperse heat evenly, etc. – can seriously undermine your baking efforts!! At one of my family member's houses (who will remain nameless!) the oven is an older oven and not reliable! It's always a guessing game when baking and I can make the exact same recipe I make at my house and it won't turn out well at all. Dependability is a must when it comes to baking!
For quality and dependability, LG is a brand I have long admired. Right now they are showcasing their new line of advanced kitchen appliances, including their improved freestanding ranges designed. This new lineup includes three products with the largest capacities in their respective classes: a 7.3 cu. ft. Electric Double Oven, a 6.9 cu. ft. Gas Double Oven Range, and a 6.3 cu. ft. Gas Single Oven Range. (That's big!) They have also introduced the advanced 6.3 cu. ft. Electric Single Oven. These freestanding ranges all incorporate LG's outstanding ProBake ConvectionTM technology, which is normally found in commercial ovens, and distributes heat more evenly, offering perfectly uniform results. Now that's what I'm talking about when I reference dependability!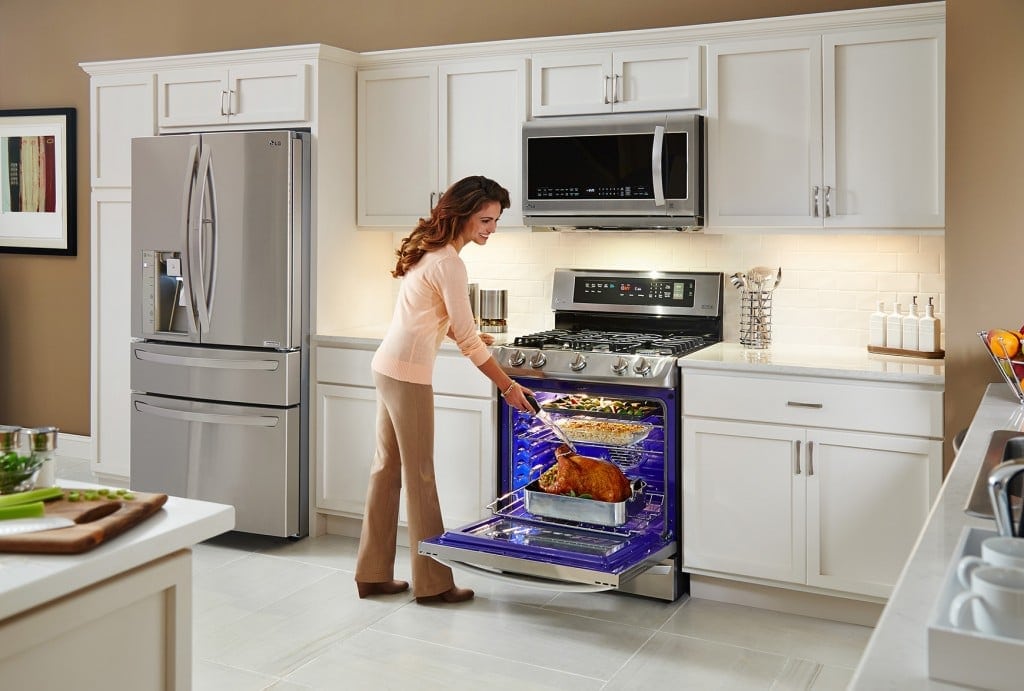 Here is more in-depth info straight from LG:
ProBake ConvectionTM
LG's incredible ProBake ConvectionTM technology ensures completely even heat distribution so that dishes receive a consistent and well-rounded taste no matter where they are placed in the oven. While conventional ovens emit heat from the bottom causing items placed on the lower racks to burn, ovens equipped with LG's ProBake ConvectionTM radiate heat from the back wall of the oven in order to distribute heat more evenly and deliver dishes that receive thorough, uniform and professional-style cooking. LG's ProBake ConvectionTM utilizes true gas convection which is seven times more powerful than conventional ovens. Furthermore, the presence of the Dual Fan Speed Convection system not only allows dishes to be cooked considerably faster but also gives users the ability to customize heat output on a dish-by-dish basis to create optimal culinary results. For example, precise baking is optimized on a low fan speed and speed roasting is enabled through the high speed setting. Helping save even more time, the addition of the Speed Roast Cooking1 function means that tedious oven pre- heating is no longer necessary to achieve quick, delicious results.
EasyClean®
LG's new freestanding ranges are also equipped with EasyClean® allowing consumers to clean their ovens in only 10 minutes, the fastest cleaning program on the market and at only 83 degrees Fahrenheit. Most self-cleaning ovens take between two to four hours at 450 degrees to run a cleaning routine. Not only does EasyClean® offer easier and quicker cleaning, but by utilizing hydrophilic enamel technology, it can achieve these results without relying on chemical cleaning agents. By dispersing heat from the oven's rear wall, LG's freestanding ranges eliminate the need for grooves and indentations at the bottom of most ovens, a common place for food and grime to amass and congeal over time. The oven interior's flat enamel surface is incredibly grime-resistant. EasyClean® takes only three simple steps: first, spray the oven interior with water. Next, press the EasyClean® button. Finally, wipe away the mess.
UltraHeatTM
The advanced freestanding ranges make full use of LG's unique UltraHeatTM burner technology. These compact burners optimize the flame angle inside the oven, allowing heating power to be concentrated on the target area more effectively. This advanced UltraHeatTM technology cuts stovetop cooking time by 20 to 30 percent and also boasts the fastest boiling times on the market.
Ergonomic Design
LG's new freestanding ranges are equipped with a user-friendly Glass Touch Control panel and a tilted pro-style cooktop controller. The ergonomic panel's angled control interface makes it easier for consumers to access all of the oven's unique features.