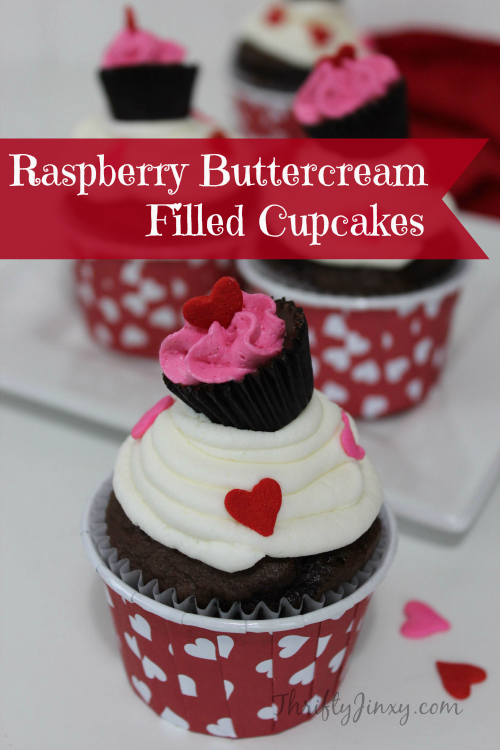 While this Raspberry Buttercream Filled Cupcakes Recipe is especially fitting for Valentine's Day because of the bright red filling, it's actually yummy all year round. The cake part is quick and easy to make with a boxed cake mix – OR use our own favorite devil's food recipe. Then, the homemade icing is also surprisingly easy to make. The fun part is the decoration, which gives your final cupcake a topsy-turvy look with the Reese's Miniature balanced on top with a bit more of the icing filling. You can make the decoration extra cute by using heart sprinkles.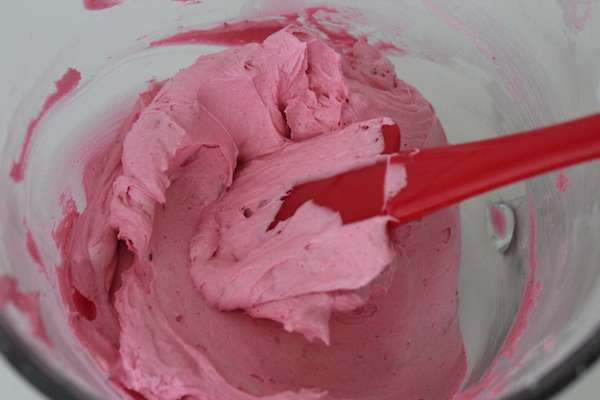 Raspberry Buttercream Filled Cupcakes

(yield 24 cupcakes)
INGREDIENTS
CUPCAKES:
1 box Devils Food Cake Mix
1/2 cup Vegetable Oil
3 Eggs
24 Reese's Miniatures unwrapped
Candy Decorations
RASPBERRY ICING:
1/2 cup softened Butter
1 tbsp Milk
2 tbsp Raspberry Preserves
2 cup Powdered Sugar
Pink Food Coloring
WHITE ICING:
1 cup softened Butter
2 tbsp Milk
4 cup Powdered Sugar
DIRECTIONS
Bake cupcakes in muffin tins lined with cupcake liners according to box directions.
Allow to cool.
Make Raspberry icing by creaming butter and raspberry preserves in a bowl.
Slowly add in the powdered sugar, and milk as needed, until everything is incorporated and frosting is right consistency.
Add food color and beat to reach desired shade.
Beat for 5 minutes to make sure it is fluffy.
Transfer to piping bag.
Use a plunger or knife to cut a hole in the top of the cupcake. Remove inner cake just leaving a cap.
Pipe in icing and place cap back in cupcake.
Make White icing by creaming butter and slowly add powder sugar and milk until you reach righ consistency.
Beat for 5 minutes to make sure it is fluffy.
Transfer to piping bag.
Ice cupcakes then decorate tops with Reese's miniature.
Ice Reese's cup with raspberry icing.
Decorate with candy decorations like heart sprinkles.