There is a new star shining brightly in TOMORROWLAND and that star is Raffey Cassidy. Raffey plays Athena, one of the most surprising and intriguing characters in the film. It was such a joy to interview Raffey during the Tomorrowland press junket. She is a bright, energetic and articulate young woman and a little cutie too!

12-year-old Raffey, one of five siblings, said she got her start in acting when she tagged along on her brother's audition. To nab the role of Tomorrowland's Athena, the process started with a self-tape she did at home. That was followed by a screen test in London and ultimately another in the U.S.
Being young, straightforward and quick-thinking, Raffey was able to give us the answers to a LOT of questions in our interview. Quite unlike many interviews where the actors like to elaborate on their answers – sometimes to the point where we all forgot what the question was in the first place. Raffey's short and sweet answers were a refreshing change. I have included just a few of the many below.
What was your favorite scene to shoot?
My favorite scene to shoot was probably the blast from the past sequence. I really liked that because it had a lot of action in it.
What is one think you would like everyone to take away from the movie?
That everybody should be very optimistic and feel that there's a way around situations if they're in a bad situation. There's always a bright side.
What do you like most about the character of Athena?
I love how wise she is. She's like an old soul inside of a young body.
What was the most challenging part of filming the movie for you?
I kind of had to create a background for Athena because she didn't really have one, which was fun because that was something that I created for Athena.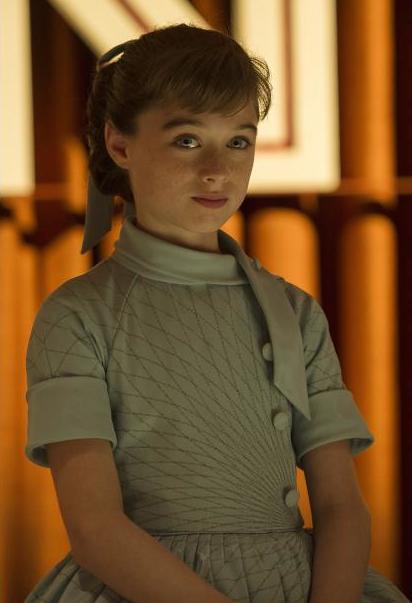 How did you feel about your costumes in the movie?
I loved them. If you look closely at the blue dress, that was actually algorithms in it. If you look closely you can just see them.
You had a lot of action scenes where you had to do martial arts. Did you have to train for that?
Yeah, I trained for two months in gymnastics and martial arts, and then I went to Canada and did another month of martial arts and a bit of gymnastics. And then I did more throughout the six months of filming – a couple of days everyweek or so.
George Clooney was talking about your scene where you drive the truck. What were your feelings on driving the truck?
I really enjoyed it. It was so fun because they actually taught me how to drive. There was a scene where I had to go down a ramp and then stop. I think I started to get a little too confined because I got too close. Britt just yelled "STOP" because it got so close.
How was it working with George? Did you know of him before?
I had seen The Descendants and I really, really liked it. George is so, just so fun and I learned so much from him. He's so professional but really fun at the same time.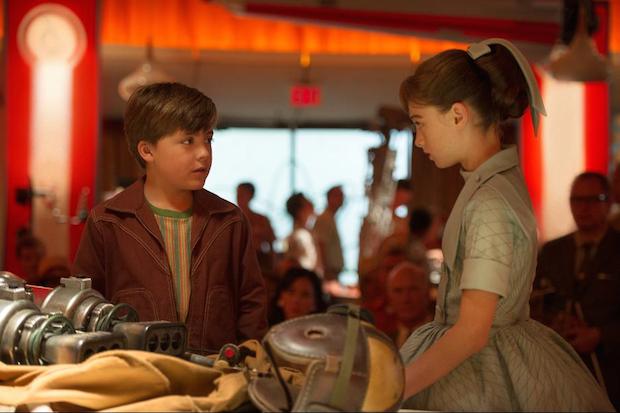 Did you get to spend a lot of time with young George, or young Frank?
Yes I did. It was more towards the start of filming, but his scenes were separated out. He was there during the whole filming process, so I got to see quite a lot of him, because most of my scenes were with young Frank or Frank.
What was it like for you the first time seeing the whole film all put together?
I was just so shocked. It was like "wow", and they put it so well together because there was never a scene when I was thinking "wow, this was dragging on a bit". And by the end of the film, it was like "oh, my God. It can't be over yet."
What traits of Athena do you see in yourself?
If I had to choose something, it would probably be optimism, because I think that I feel that I'm quite optimistic and always look on the bright side of a bad situation.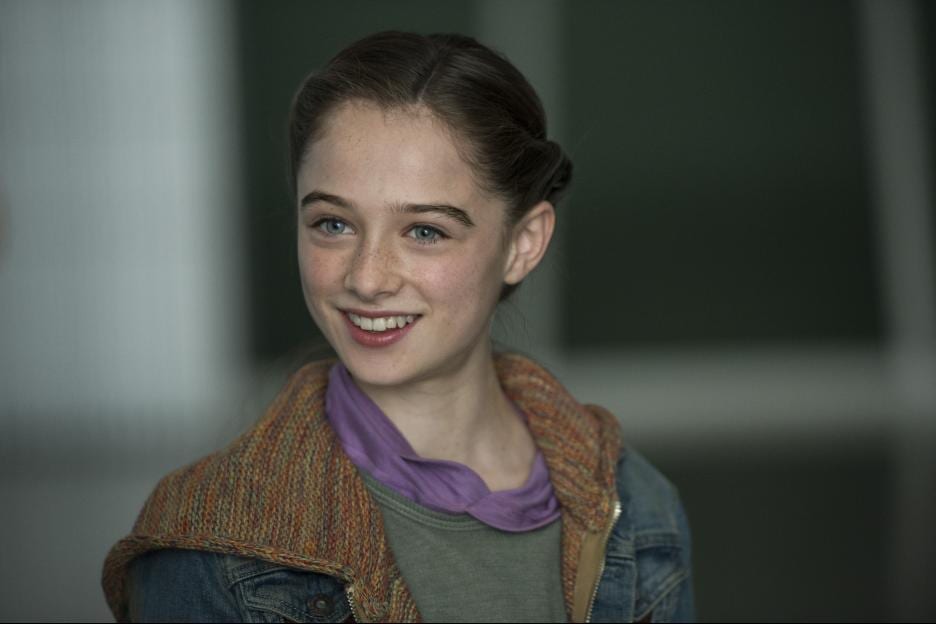 If there were something from the future or Tomorrowland that you could use now, what would it be?
The jet packs.
What was your hardest scene to film in the movie?
My hardest scene would probably be my end scene. It was a lot of lines, but once I'd learned them, it just flowed and George had a lot of eye contact with me, so it was so easy to perform. It would have been hard if George wasn't so good. It was easy because he was just so professional and kept eye contact the whole time.
You filmed in a few different locations. Did you have a favorite?
Probably the Eiffel Tower because that was an actual thing that Tomorrowland had recreated and it was just so real and very cool.
What is the message that you would tell girls your age about the future?
I would say the future isn't a place we're going – it's something we're making – so it can be anything that they want it to be.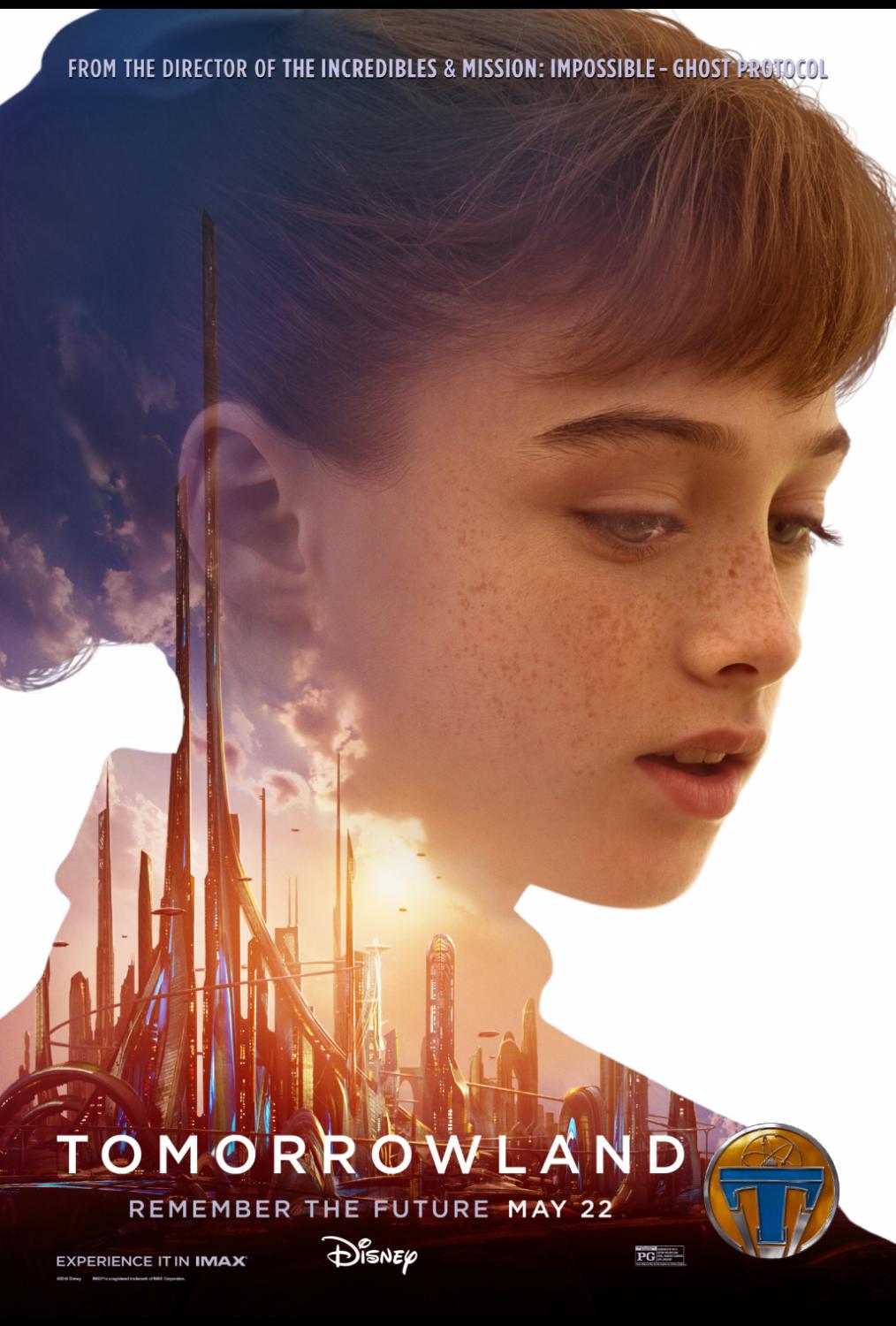 TOMORROWLAND is rated PG and in theaters everywhere NOW!
Like TOMORROWLAND on Facebook: https://www.facebook.com/DisneyTomorrowland
Follow Disney Pictures on Twitter: https://twitter.com/DisneyPictures
Visit the official TOMORROWLAND website: www.Disney.com/Tomorrowland