Use these Pusheen Gift Ideas to find cute presents and Pusheen fan or cat lover will adore! There are Ts, plush toys, cups, coloring books and more!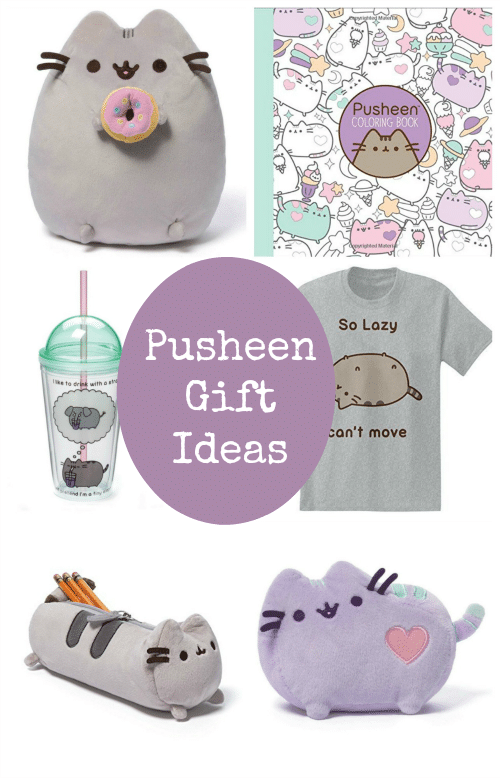 Quickly gaining fame as the star of Facebook sticker sets, it's hard not to love Pusheen! Just likes some other famous cats, Pusheen is known for being lazy and loving yummy treats, particularly those that are sweet.
As I cat lover I totally understand Pusheen's popularity. The cuteness factor is 100%! If you have a Pusheen lover on your holiday gift list any one of these Pusheen Gift Ideas is sure to be a big hit!
With our search we came across lots of cute Pusheen plush toys (select any one below and you'll also find lots of related items listed) and shirts sporting Pusheen on the front.
One of my personal favorites is the Pusheen slippers – they look so cozy!! Team them up with the Pusheen Coloring Book and hot chocolate served up in the Pusheen mug and I would be all set to spend a cozy winter afternoon curled up in the house with my "real" cats!
Tuck any one of these fun Pusheen presents under the Christmas tree and you'll receive a big cat-friendly thank you!
Pusheen Gift Ideas
GUND Pusheen 12 oz Mug

GUND Pusheen Plush Slippers

Pusheen Coloring Book

Pusheen The Cat Rainbows Unicorns and Mermaids Juniors Sweatshirt S

Pusheen Cat – So Lazy Can't Move – Women's T-Shirt

GUND Pusheen Accessory Case

Pusheen The Cat Rainbow Unicorn Juniors Tee-Black (Medium)

GUND Pusheen Plush Sleep Mask 7

GUND Pusheen Snackables Pizza Plush Stuffed Animal Cat

Pusheen 2022 Wall Calendar

I Am Pusheen the Cat Book

Loungefly Pusheen Rainbow Unicorn Zip Around Wallet Black-Rainbow

GUND Pusheen Comic Collector I Love Kitties Set of 6 Plush Stuffed Animal Cats, 2

Let's Bake!: A Pusheen Cookbook (A Pusheen Book)

Pusheen® 3 Mini Notebook Set

Pusheen Beanie Hat with Ears

Pusheen: A Cross-Stitch Kit

GUND Pusheen Stocking Full Bodied Plush Stuffed Animal Holiday Ornament

Check out the rest of our Holiday Gift Guides HERE!