Make a fun and easy Halloween treat with these Pumpkin Patch Pudding Cups. They're perfect for a party or family dessert. Yum!
It's Halloween season! We love spending the entire month of October decorating, planning costumes and making yummy Halloween treats.
This weekend, we spent a day at a local corn maze and pumpkin patch. We had an abnormally warm day for a Minnesota October (the temperature was over 80 degrees!), and we had lots of fall fun wearing summer clothes instead of the jackets we would usually have to wear for those activities.
To cap off the day of Halloween fun, we created these Pumpkin Patch Snack Pack® Pudding Treats!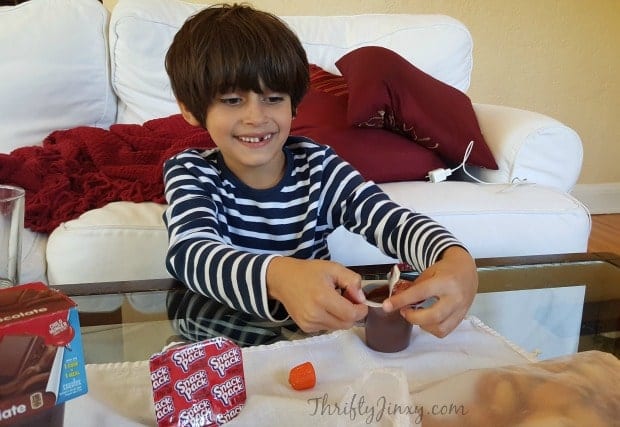 We seriously had a blast making these treats! We love treats that are both fun to make AND fun to eat.
To start them off we used chocolate Snack Pack® Pudding.
We chose chocolate to set the background for a night scene with the dark earth at the bottom of the pumpkin patch. (That's not too scary, but maybe a little bit spooky!)
We then used vanilla wafers to make a big, full moon, and added pumpkins and pumpkin vines to finish the scene.
To make your own Pumpkin Patch Snack Pack® Pudding Treats, you need only a few easy-to-find ingredients. They include:
Snack Pack® chocolate pudding
Vanilla wafers
Pumpkin candies
Green decorator icing
We made it super easy by buying a pouch with built-in decorator tip, but you can make your own and use a pastry bag or zip-top bag for decorating.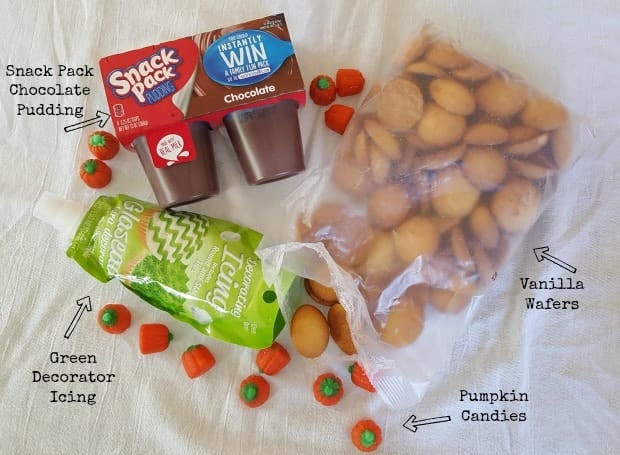 Then comes the fun part: assembling the pumpkin patch! To make each patch, open the Snack Pack® pudding. Place one vanilla wafer at the back of the cup for the moon. Then place a pumpkin (Little R preferred two pumpkins) in your patch.
To finish it off, use the green decorator icing to create squiggly pumpkin vines.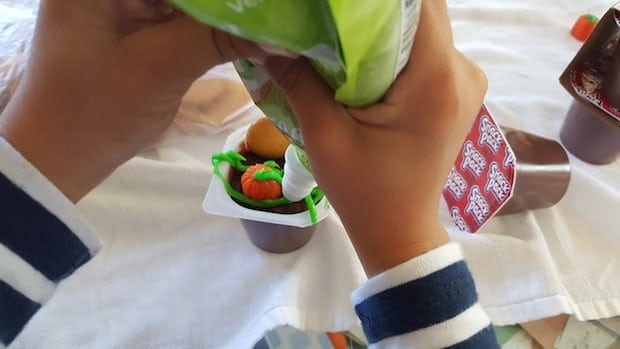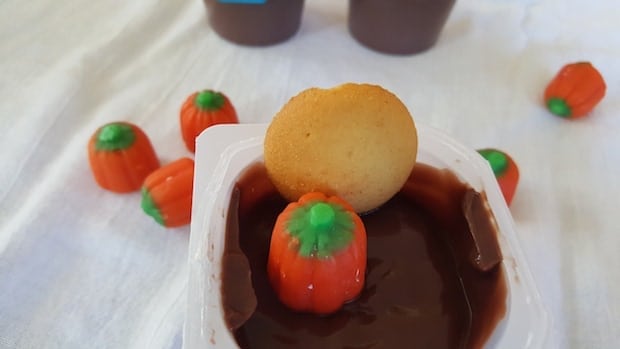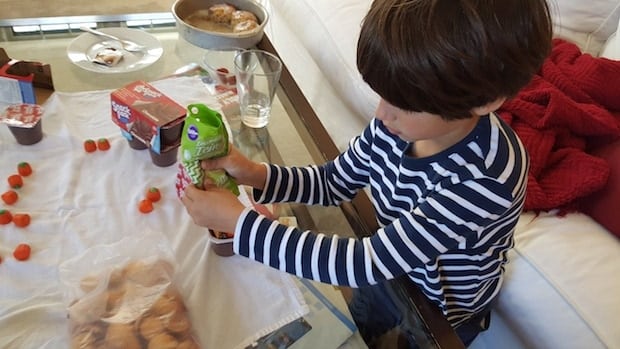 This Halloween season, take a moment to slow down and enjoy a tasty and fun treat with the kids. Snack Pack® comes in a variety of flavors and offers endless mix-in opportunities the kids can help prepare. Each serving of Snack Pack® is fortified with as much calcium as an 8-oz glass of milk,* so you can feel good about serving your kids Snack Pack®. For mix-in inspiration, visit Snack Pack® on Pinterest and Facebook.
*All Snack Pack® products contain 30% DV calcium, with the exception of Bakery Shop Lemon Meringue Pie, Lemon Pudding, and Snack Pack® Gels.