While Valentine's Day is all about celebrating the people we love, it can also be about celebrating the movies and characters we love with some fun Star Wars Valentine Printables! Make treat bags and tag gifts for all of your favorite Star Wars fans with these free printable Star Wars Valentine Treat Bags and Gift Tags!

Printable Star Wars Valentine Treat Bags and Gift Tags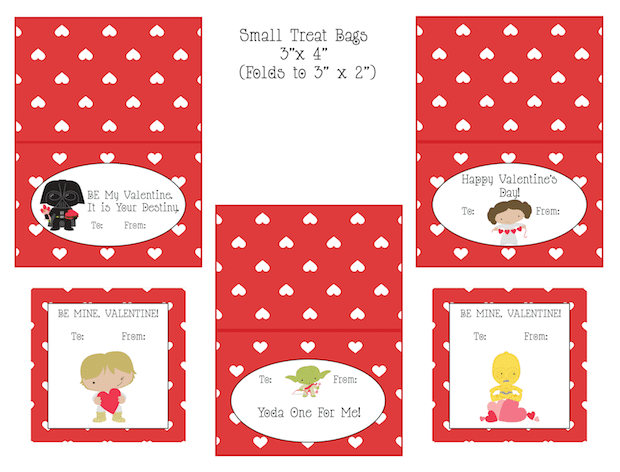 You can print out both here. To use the Star Wars treat bag toppers, just fill cello treat bags (available online, at a craft store, or party store) with any treats you like. Did you know that they make actual Star Wars Candy?? We have some other suggestions for filling your bags below). Then print out the Star Wars Valentine Treat Bag Toppers, fold them over the top of the bag and attach with two staples, or to be a little more cute and staple-free you can use a hole punch to punch two holes and thread a red or black ribbon through and tie to fasten.
Star Wars Galactic Candy Mi
Disney's Star Wars Light Up Lightsaber Candy Suckers
Sweetworks Shimmer Gold Stars
Sparko Sweets Galaxy Lollipops
Assorted POP ROCKS Candy Packs
Jelly Belly Star Wars
Star Wars PEZ Candy Dispensers
Star Wars Helmet Shaped Plastic Valentines with Hard Candy
Classic Star Wars Popping Candy with Lollipops
Disney's Star Wars Fruit Flavored Character Shaped Galactic Candy Mix
&
Don't forget, we also have the printable Star Wars Valentine Gift tags! Use these to attach to any gifts you're planning to give for Valentine's Day.
For even more Star Wars-themed Valentine fun, be sure to grab our Star Wars Valentine Printable Valentines! These SUPER CUTE Star Wars-themed Valentine cards feature the classic couple of Princess Leia and her special guy Han Solo, as well as Darth Vader and a Stormtrooper.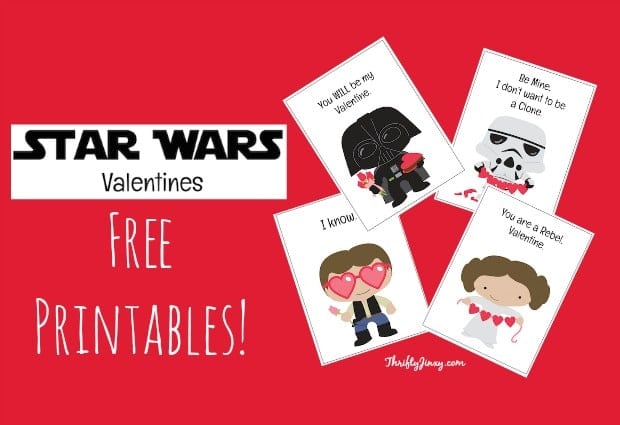 Star Wars: A Very Vader Valentine's Day (Star Wars (Scholastic))
Valentine Star Wars Darth Vader Be Mine Graphic Boxer Briefs – Small
Star Wars Episode VII Stormtrooper Gummy Candy in Heart Box, Assorted Fruit, Pack of 2
Star Wars Valentines with Pencils ~ 16 count ~ 1 box
Star Wars 32 Valentines with Teacher Card and Sticker Sheet.
Star Wars The Force Awakens Valentine's Exchange Mailbox Kit
Star Wars Darth Vader and Stormtrooper Helmet Candy for Classroom Exchange, Box of 22
Star Wars Lightsaber Mug, The Force Awakens With Heat (20 oz)
Star Wars Darth Vader Lured Junior/Women's Valentine's Day Socks Shoe Size 4-10
Star Wars Valentine Cards (Box of 34 Cards with Tattoos) and Yoda Mailbox Bundle
Valentine's Day Star Wars Greeter Robot Character
Disney's Star Wars Jedi Yoda Hollow Milk Chocolate Heart, 2.47 oz
Star Wars Darth Vader and BB-8 Character Milk Chocolate Heart Candy, 2.47 oz (Case of 6)
Star Wars Valentines T-shirt – You're the Obi-Wan for Me (large, black)
Star Wars The Force Awakens Be Mine Valentine BB8 Plush Toy, 7 Inch
&