These long months of January, February and into March are what we usually like to call the "dreary" part of winter. The fun of the holidays is over and now it's time for just cold weather and, unfortunately, a lot of time stuck in the house when the temperatures linger below freezing (Or the below-zero temperatures we're having here in Minnesota this week!)
For all those "inside days" it's a good idea to have some fun projects to work on and treats to eat. That's why we are having so much fun with thesePolar Bear Paw Snack Pack® Pudding Treats! Not only are they delicious to eat, but they are also lots of fun to make. We have been on a bit of a polar bear kick lately. If they can enjoy winter so much, maybe we can too!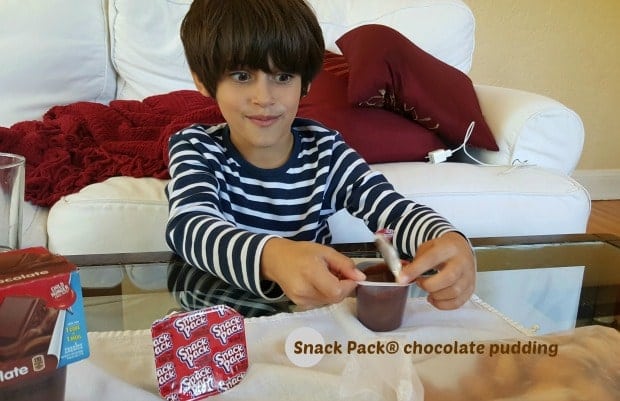 Polar Bear Paw Snack Pack Pudding Treats:
To make your own Polar Bear Paw Snack Pack® Pudding Treats, you need only a few easy-to-find ingredients. They include:
Putting together the polar bear paw treats is super fun and the best part is that the kids can help. A grown-up needs to do the first step of slicing the jumbo marshmallows into two circle-shaped segments. By using a serrated knife, you can give the marshmallows a rough edge that looks a bit like polar bear fur. It also makes the surface sticky so that your chocolate will stick.
To assemble each paw, place a chocolate drop in the middle of the sticky side of the marshmallow for the pad of the foot. Then use four chocolate chips to form the toes around the top of the foot pad. Place each polar bear paw on top of a Snack Pack® chocolate pudding cup.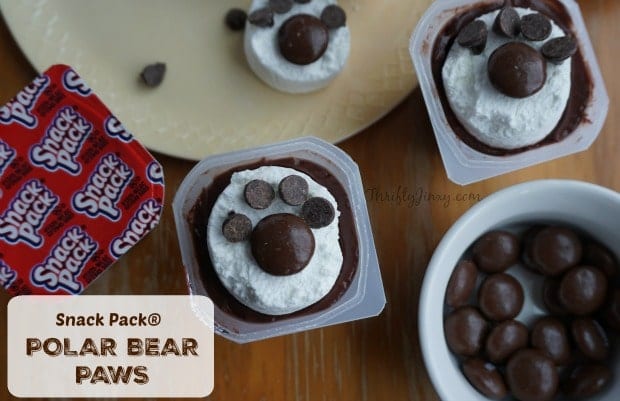 This winter season, take a moment to slow down and enjoy a tasty and fun treat with the kids. Snack Pack® comes in a variety of flavors and offers endless mix-in opportunities the kids can help prepare. Each serving of Snack Pack® is fortified with as much calcium as an 8-oz glass of milk,* so you can feel good about serving your kids Snack Pack®. For mix-in inspiration, visit Snack Pack® on Pinterest and Facebook.
*All Snack Pack® products contain 30% DV calcium, with the exception of Bakery Shop Lemon Meringue Pie, Lemon Pudding, and Snack Pack® Gels.