We loved Hotel Transylvania 3 in the theater and are excited we can now see it at home with the Hotel Transylvania 3 Blu-ray™ Combo Pack and DVD available on October 9th!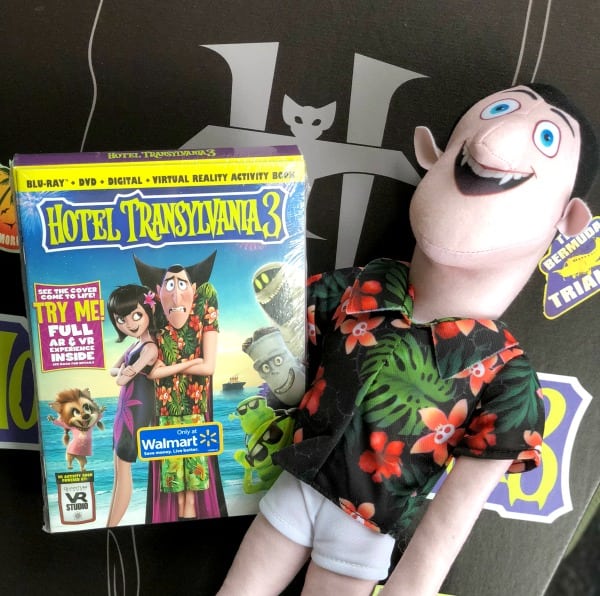 We love Hotel Transylvania 3 because all of our favorite characters from the previous movies are back, but the movie makes a big change of location – to a cruise ship! Drac, Mavis and the rest of the monsters are all headed on vacation. There are also a few new additions and a few new voices including Joe Jonas as the Kraken – a SINGING Kraken that is, and Kathryn Hahn as Captain Ericka.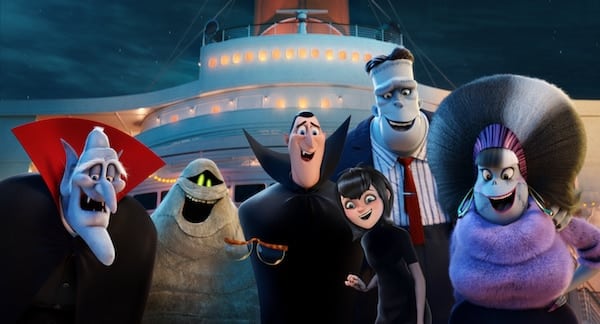 If you're as excited about Hotel Transylvania 3 as we are, you'll probably want to plan a Hotel T3 movie night. It's perfect timing with Halloween right around the corner. Check out our fun ideas for food, drink and crafts, plus some really fun new toys from Jazwares your kids will love.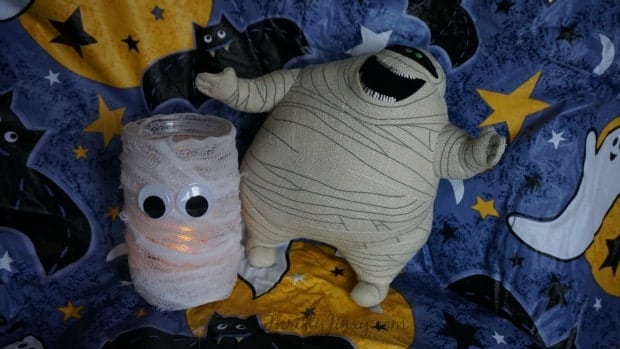 For a fun activity to add to your movie night, how about making Murray the Mummy Jar Candles? You can make these before watching the movie and set them around the room to give it a nice, eerie glow while you enjoy the movie!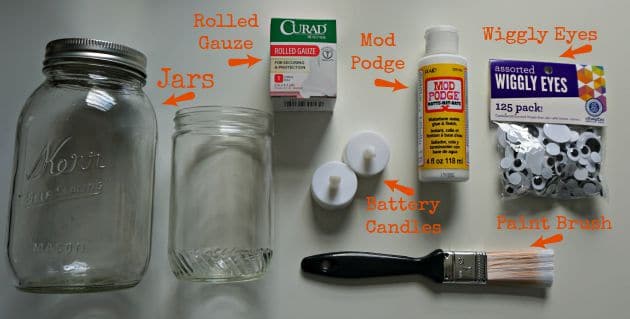 Murray the Mummy Jar Candle DIY

Supplies:
Glass jar
Rolled gauze
Mod Podge
Paintbrush
Wiggly eyes
Craft glue
Battery-operated candle

How to make a mummy jar candle:

Unroll the gauze and cut into strips about 20 inches long. Pull and stretch the gauze to give it a distressed look.
Using the paintbrush, coat the jar with a layer of Mod Podge.
Wrap the jar with strips of gauze, reapplying Mod Podge as needed to make it stick.
Once wrapped, you can coat with another layer of Mod Podge for "staying power", but I left mine as-is.
Attach wiggly eyes to jar using craft glue. (I think it looks cutest with the biggest eyes possible.)
Place a battery-operated candle in your jar.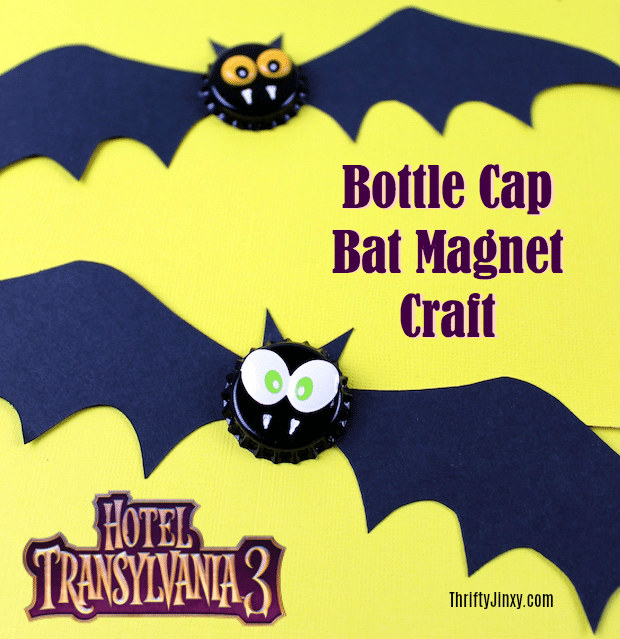 For more crafty fun you can also make this Hotel Transylvania 3 Bottle Cap Bat Magnet craft. It only uses a few supplies and it ends up looking way more cute than creepy!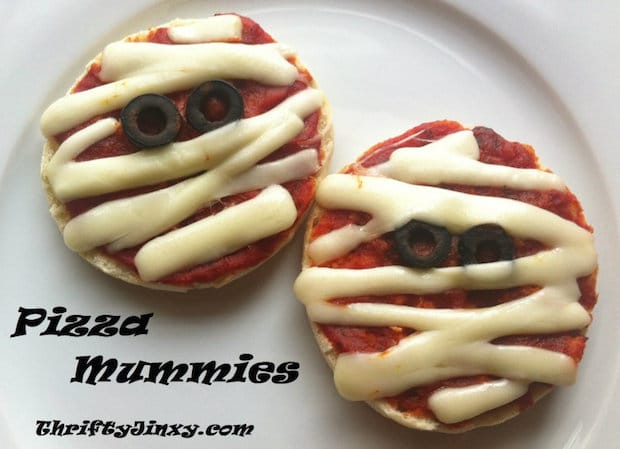 To continue the mummy theme, we have a yummy mummy snack too! These Pizza Mummies are fun to make, and they look super fun too! The kids can assemble them by themselves – that's how easy they are!

Pizza Mummies Recipe

Ingredients:
English muffins
Pizza sauce
Sliced black olives
Mozzarella string cheese
How to make mummy pizzas:
Heat oven to 350 degrees. Lightly toast the English muffins. Spread 1 tbsp (more or less, depending on the size of your muffins) of pizza sauce on each muffin. Place two sliced black olives for eyes. Lay strips of the string cheese across the faces to resemble bandages. Bake for 5 to 10 minutes until the cheese is melted, but not brown.

DRAC's Favorite Punch

Ingredients:
1/2 gallon Hawaiian Punch Fruit Juicy Red
3-oz package of cherry-flavored gelatin powder
1 cup water
1/2 liter 7 Up
Directions:
Put Hawaiian Punch in a large freezer-safe container. Bring water to a boil. Mix in gelatin and stir for 2 minutes or until dissolved. Add gelatin mixture to Hawaiian Punch and stir. Divide into four smaller containers. Freeze overnight. When ready to serve, place frozen mixture in a punch bowl, add 7 Up and stir until slushy.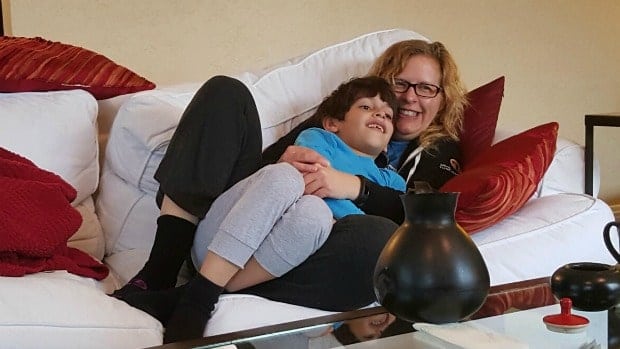 Whether you have already seen the movie and are ready to see it again OR if you haven't seen it yet, the home release is extra fun with lots of fun bonus materials, like fun "Oh These Wolf Pups" Scary-Oke Sing Along:
Other Hotel Transylvania 3 Bonus Materials Include:
Three All New Scary-Oke Sing Alongs: Sing along to three Hotel Transylvania 3 inspired songs with your favorite characters!

"Dennis Had a Giant Dog" – Sung by Dennis & Winnie
"Monsters Like to Party Down" – Sung by Johnny
"Oh These Wolf Pups" – Sung by Wanda Werewolf

Plan Your Own Spook-tacular Sleepover: This feature will give you all details on how to make your own sleepover spook-tacular! From snacks to crafts to games and more, follow these steps to create a Hotel T sleep-over with your friends and family, the perfect setting to binge watch all 3 Hotel Transylvania movies.
Vampire Make Over: Mavis and Drac Tutorial: Learn how to turn yourself into your favorite Hotel Transylvania 3 characters.
Behind the Screams – The Voices of Hotel Transylvania 3: Step behind the "screams" with the returning stars and hilarious new cast to see how these characters are brought to life in the recording booth.
Johnny's Home Movies (Franchise Recap): Johnny brings viewers up to speed on what's happened in the Hotel Transylvania franchise so far.
"I See Love" Monster Dance Party Dance Along: Get up and get moving to this haunting monster mash.
Drac's Zing-tastic Read Along: It's storytime with your favorite characters have a silly tale about Drac's search for a Zing! Read along or sit back and enjoy!
Two Mini Movies (rated G): Two mini-features that will have you howling.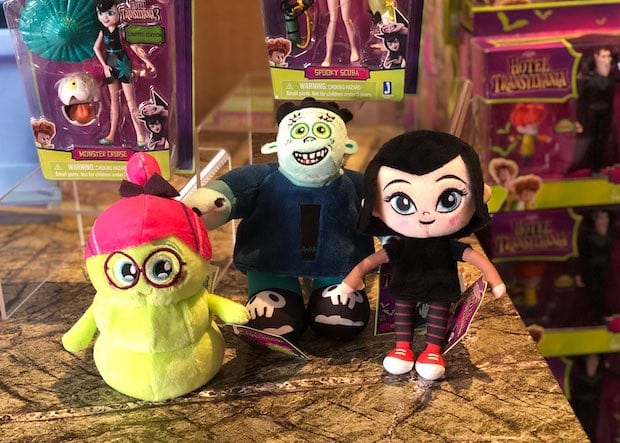 And we can't forget about all the fun Hotel Transylvania 3 toys from Jazwares! There are so many cute plush toys like those above (that Mavis is adorable!) and so many other things to play with.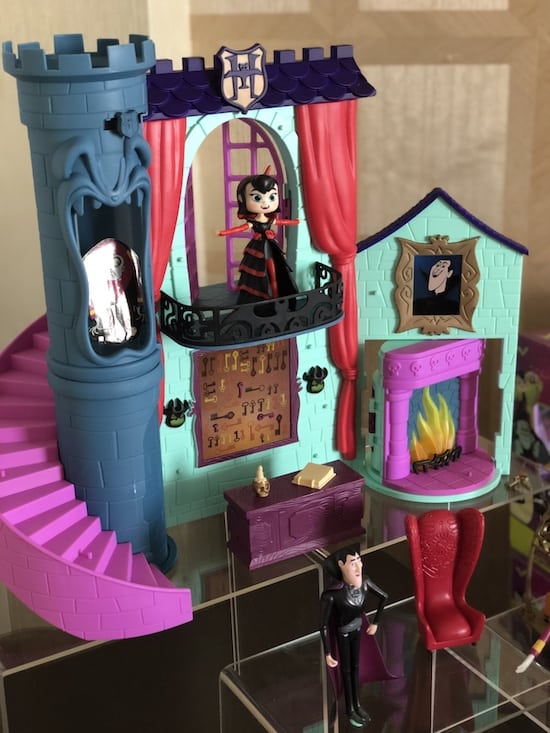 I think the Hotel Transylvania Grand Lobby Playset is extra fun. It even includes a poseable Mavis figure in party gown outfit, a poseable Bellhop Zombie, and other accessories.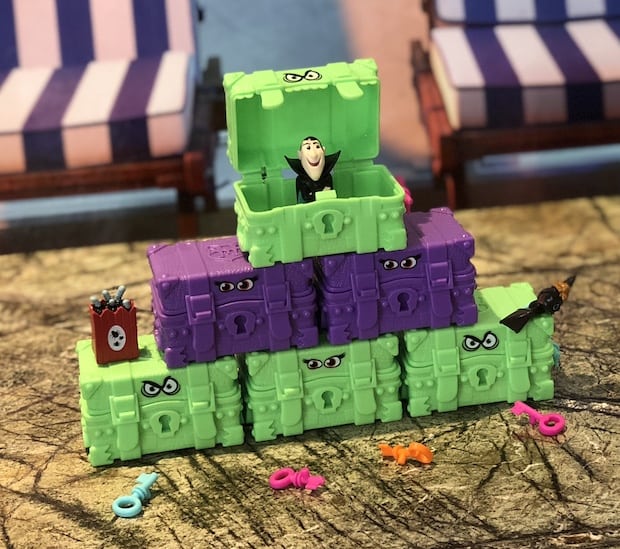 For anyone who likes a mystery, these Hotel Transylvania Monster Mayhem Blind Collectible Figures are super fun! Each monster trunk comes with a skeleton key to use to unlock the trunk and uncover a mystery mini monster! If you get a lucky trunk, you will also uncover a piece of Hank. Keep collecting to find all the pieces and put Hank back together!
Enjoy your Hotel Transylvania 3 movie night!!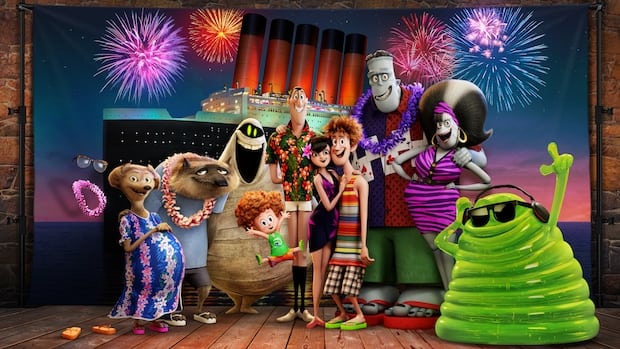 Reader Giveaway: TWO lucky Thrifty Jinxy readers will each win their own copy of Hotel Transylvania 3 on Blu-ray + DVD + Digital, along with a Hotel T3 Pillow Case. To enter, just complete the entry form below by 11:59pmET on 10/22/18. Good luck!
Hotel Transylvania 3 Giveaway