This shop has been compensated by Collective Bias, Inc. and its advertiser. Product was provided by the client for review; however, all opinions are mine alone. #WorldsSmartestToothbrush #CollectiveBias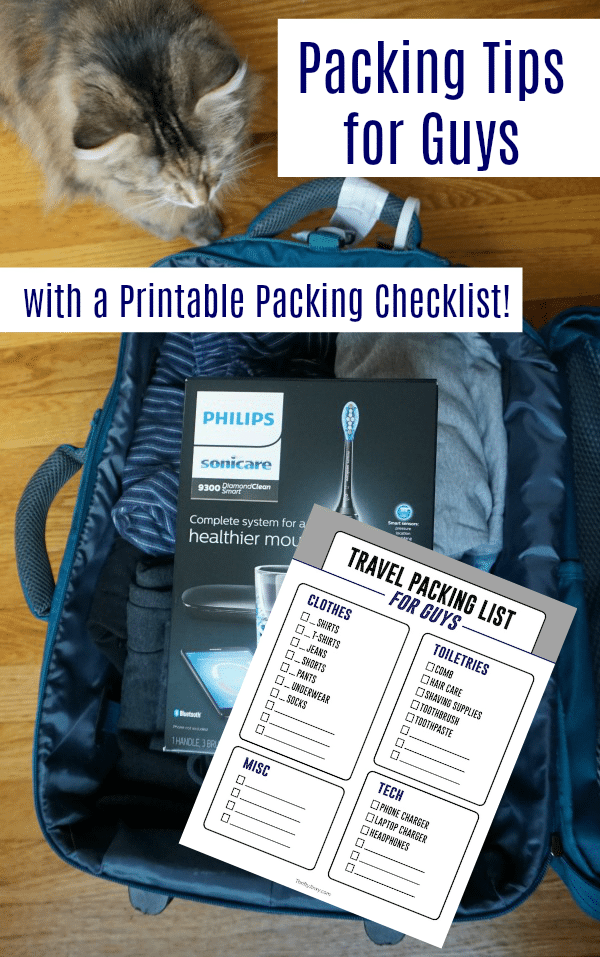 While traveling can be a LOT of fun, planning and getting ready to travel isn't usually very enjoyable! That is especially the case when you're planning for an unexpected trip, whether it be for work, a last-minute gold weekend, or a family emergency. To make packing easy at any time, it helps to plan ahead so you're able to fill your suitcase or duffel in a matter of minutes.
The easiest way to make packing a breeze is to be prepared ahead of time with a list of the essentials you want to guarantee make it to your travel destination with you. Check out our handy packing tips for men and then print a copy of our customizable packing list below.

Travel Packing Checklist for Men
Clothing
The most obvious thing you need to put in your suitcase is something to wear! The climate at your destination and the activities you will be doing there are the biggest factors in determining what to pack. Be sure to choose enough clothing to last each day of your trip or, if you'll have access to laundry facilities, you can pack enough for half the trip and do laundry in the middle.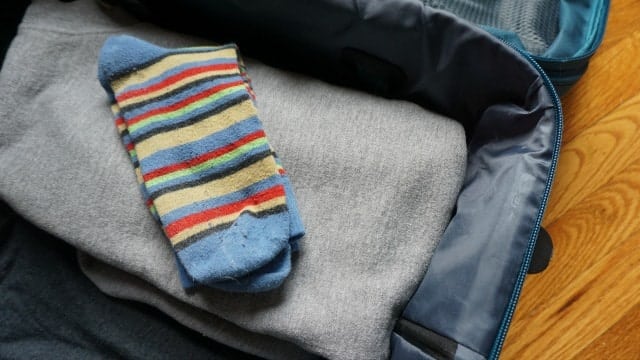 Shoes
Shoes take up a LOT of space in a suitcase, so plan wisely. Be sure the pair of shoes you were on your journey is a pair you will want to use at your destination and they try to select just one other pair to take along. If your trip is to a beach destination or you'll be hitting the pool, don't forget to include a pair of flip flops.

Toiletries
The next thing you need to think about is keeping yourself clean and groomed. Remember you shower products, shaving kit and oral care. you can add some high tech to your toiletries bag with a new Philips Sonicare DiamondClean Smart Electric Toothbrush from Bed, Bath & Beyond. The premium travel case makes for easy packing. (We'll share more about that below!)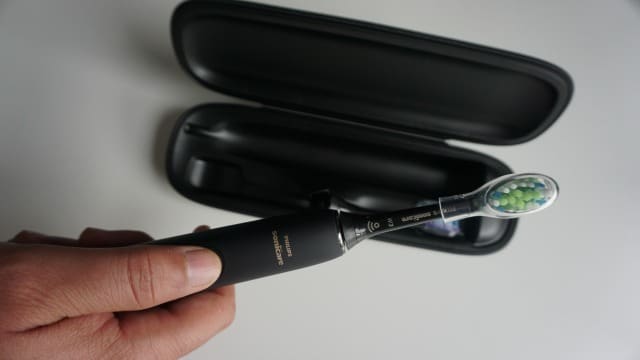 Tech
Tech-loving guys know you can't take a trip without packing all the important tech and it's equipment, but it can be easy to forget something if you're packing in a hurry. It's not fun to get to your destination and realize you forgot your laptop cord! While many forgotten items can be easily replaced, that's an expensive one! Plus, you want to spend time at your destination doing other things than replacing forgotten accessories. Be sure to plan to pack charging cables for your other devices and a portable battery is a good backup to have on hand.

Misc
Before you close your suitcase, take a few minutes to think of any other items you might need that are specific to your trip. Do you need to bring a gift for your host? Will you be outdoors where you'll need bug spray? Will you need any sports gear? Toss those items into your suitcase, or if you're on the fence about whether you'll need them consider if you're better off buying, renting or borrowing at your destination.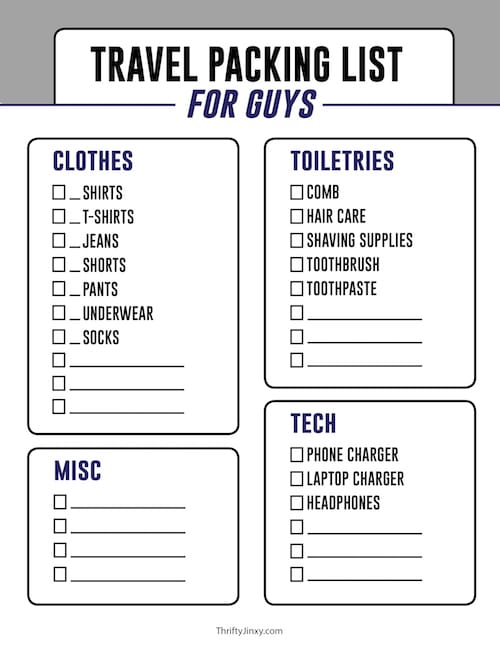 Printable Packing Checklist

To make your planning and packing a bit easier, grab this printable packing checklist for men. It gets you started with all of the essentials with room to fill in how many of each type of clothing you'll need for your trip, along with some blank spaces to add in other items you might need. Keep a copy in your suitcase so you won't have to go searching for it the next time you need to pack!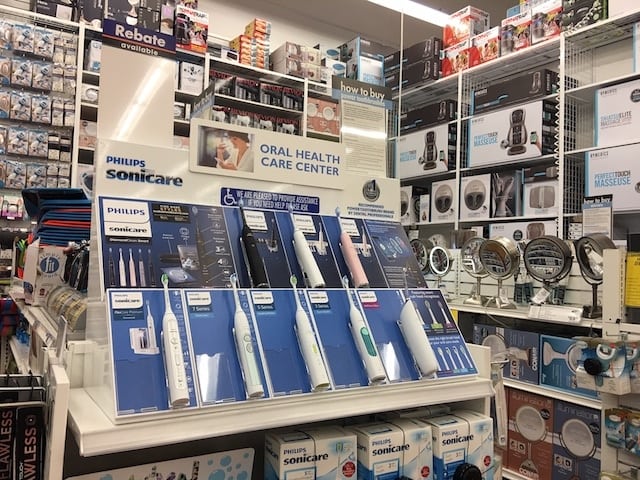 About the Philips Sonicare DiamondClean Smart Electric Toothbrush

Remember that awesome Philips Sonicare DiamondClean Smart Electric toothbrush we mentioned earlier? It is brand new and Philips best ever toothbrush for complete oral care! It helps you to care for your entire mouth including your teeth, gums and tongue. It does this with four high-performance brush heads and included Smart Sensor technology that gives you personalized feedback and coaching. That all adds up to better brushing and healthier gums in 2 weeks* (*vs a manual toothbrush)!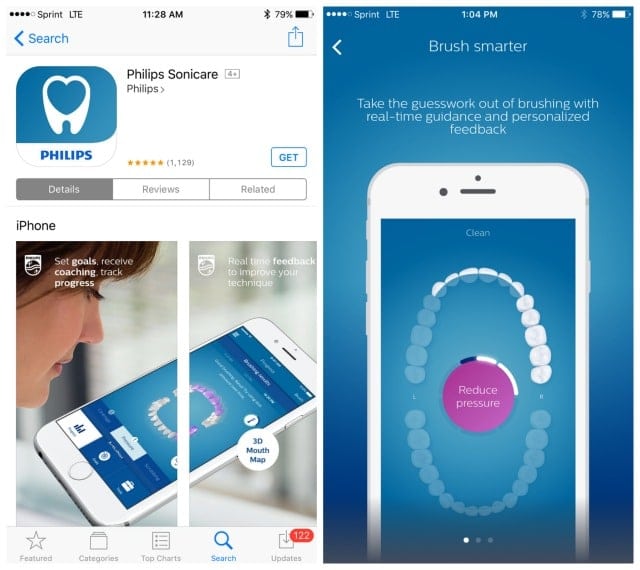 Ready to buy your own Philips Sonicare DiamondClean Smart Electric toothbrush? Click on the image below to buy it. And then keep reading for the most "high tech" feature of this awesome brush – a MUST for tech-loving guys!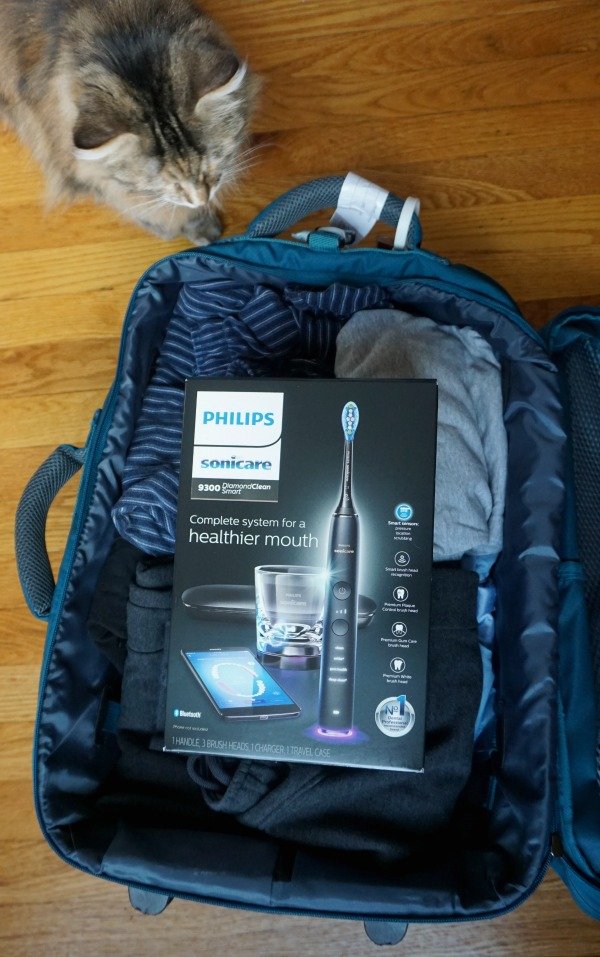 Perhaps the most awesome tech feature of the Philips Sonicare DiamondClean Smart Electric Toothbrush is how it helps you take the guesswork out of brushing thanks to the feedback and coaching you can get through the Philips Sonicare app. The Smart Sensors in your brush send your brushing data to the app via Bluetooth technology. You get instant feedback on coverage, pressure and scrubbing. The app then shows you a "map" of your mouth to let you know spots you may have missed while brushing and highlighting trouble areas in your mouth. Pretty cool, right?
With all these features, the Philips Sonicare DiamondClean Smart Electric toothbrush makes a great holiday gift idea too! Not only will it help the lucky guy's oral health, but he can have fun checking out the great tech features and learning how to use the Sonicare app. It's also gives him a handy excuse for being on his smartphone and ignoring the boring family stories at the Christmas gathering. He's not being anti-social – he appreciates his gift so much he wants to learn how to use it right away! (Do you think Grandma will buy that reasoning?)
What packing tips do YOU have? Is there someone on your holiday list who would love the Philips Sonicare DiamondClean Smart Electric toothbrush?