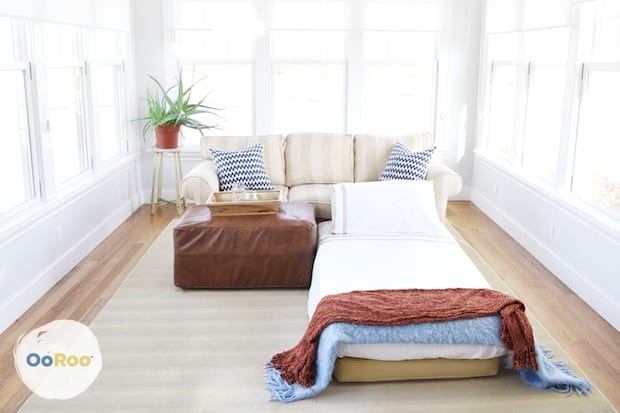 Three years ago when we decided to move from our big 4-bedroom house with finished basement to this little tiny house under 1,000 square feet, we knew there would be some things that would change. One of them is that we no longer have a guest room. With only two bedrooms in the house, one is our bedroom and the other is our office. That means no guest room and no guest bed.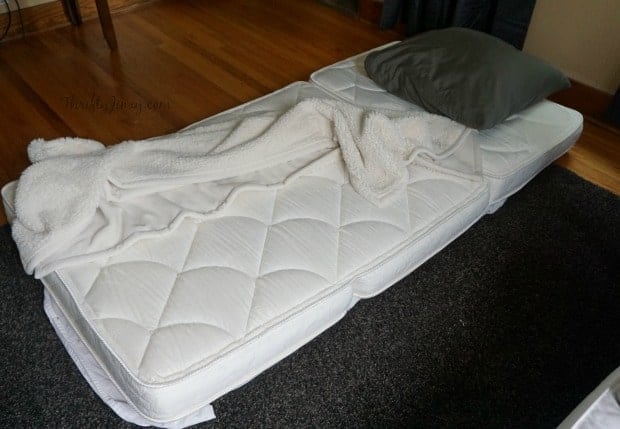 That is until now! We recently received an OoRoo space-saving ottoman bed. It is exactly what it sounds like – an ottoman that converts into a bed for guests. The OoRoo came in a long rectangular box, which confused me a bit, but I soon learned that the mattress was packed in a vacuum-sealed bag that compacted it into a small box. (It was pretty fun to break that seal and watch it fluff up into a thick, cozy mattress.)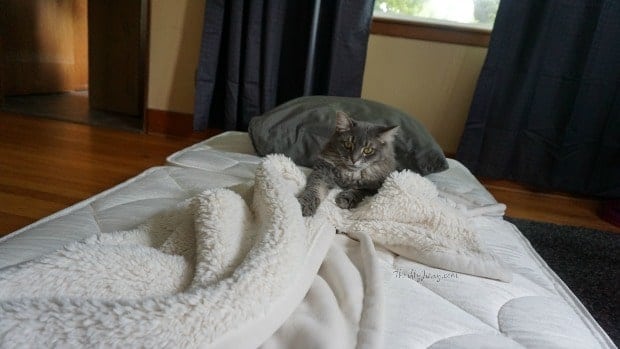 The OoRoo is customizable to coordinate with your decor with a wide range covers in many different colors and styles. We chose a black leatherette cover to fit in with the white, gray and black colors of our living room. The piece will spend most of its time as an ottoman, but when guests come over we just have to take off the cover and fold out the mattress.
The OoRoo also has a handle built into its side to make it easy to move around the room, to another room or even to another location. That makes it really easy for us to move it to our office for unfolding, giving our guest a bit of privacy. And the portability also means it can go out of the house. After feeling how comfortable the bed is, my husband declared that we are going to take it with us on our next cross-country trip to spread out in the back of the SUV to sleep during breaks in the driving!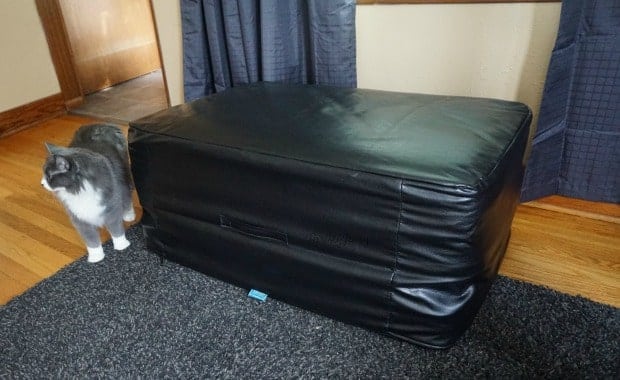 You can see from my photos that our cats were instantly curious about the OoRoo ottoman. Well, luckily for them, OoRoo also makes a great pet bed as well as a portable OoRoo beach that would be perfect for camping.
Oh, heads up: all OoRoo orders are shipped FREE right to your door for FREE (within the continental US).