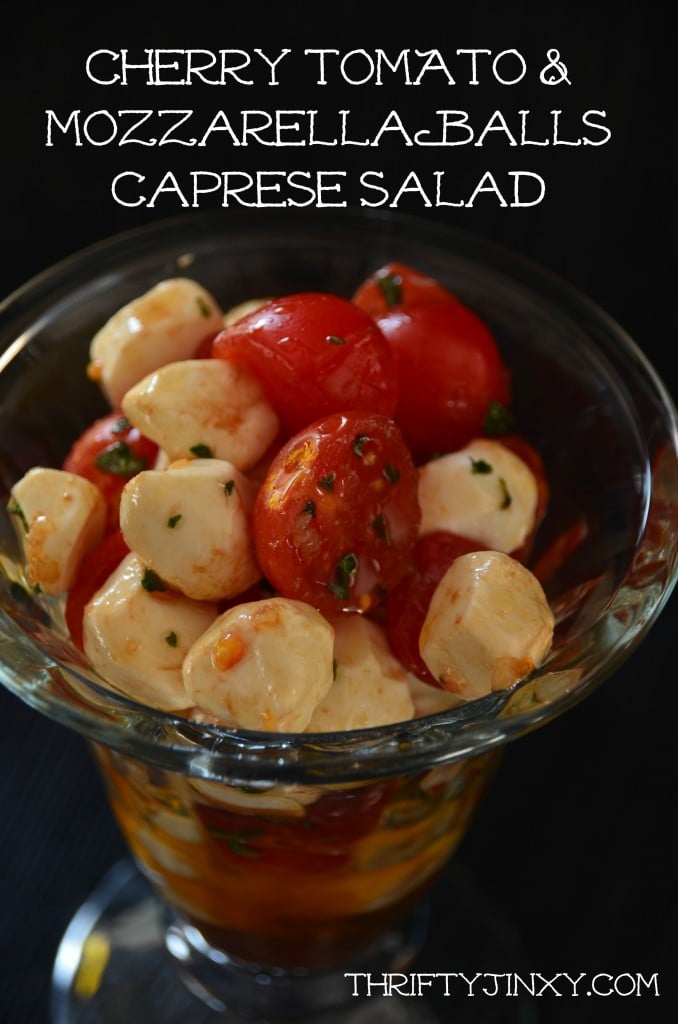 This spring my Mom bought us an awesome cherry tomato plant that has been producing tons of tomatoes! They are delicious and taste even more so in this variation on one of my favorite recipes – Cherry Tomato and Mozzarella Balls Caprese Salad. It's a perfect start to a summer dinner or makes a great lunch with just a big chunk of crusty bread.
Cherry Tomato and Mozzarella Balls Caprese Salad Recipe
Ingredients:
1 pound mozzarella balls
2 cups cherry tomatoes
1/4 cup extra virgin olive oil
2 Tbsp balsamic vinegar
1/2 clove garlic, finely minced
3 Tbsp fresh basil, chopped
salt and pepper
To make:
Making the salad is super easy. In a small bowl combine oil, vinegar, and garlic stir well. Place the mozzarella balls in a large bowl. Cut the tomatoes in half and add to the mozzarella. Pour dressing over top. Stir in basil. Sprinkle with salt and pepper. Stir well. Serve immediately, or refrigerate to let flavors meld. If refrigerated, bring salad back to room temperature before serving.