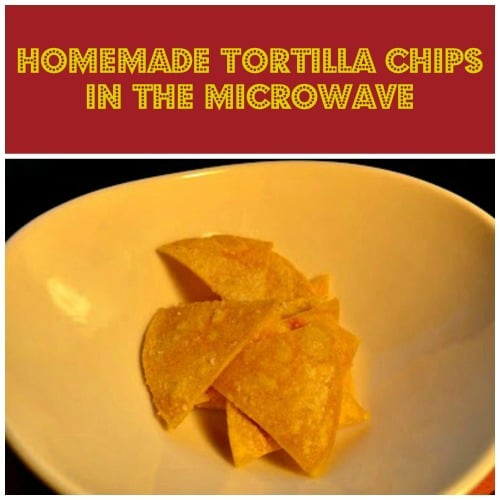 In the past I have written about how to make health, crispy potato chips in the microwave, but you can ALSO use your microwave to make tortilla chips in a hurry!
It's simple to do and they turn our yummy and crunchy. Serve them with your favorite salsa, top with cheese and other fixin's to make nachos, or dip then in this yummy avocado dip.
Microwave Tortilla Chips Recipe
Ingredients:
3 corn tortillas
cooking spray or oil mister
coarse-ground salt
How to make tortilla chips in the microwave:
Using a pizza cutter or knife, cut each tortilla into 6 pieces.
Lightly spray on both sides with cooking spray. (I like to use my olive oil mister to spray.)
Sprinkle with the salt.
Spread out on a microwave-safe dinner plate so pieces are not touching.
Microwave for 1 minute to 90 seconds (lower wattage microwaves will need the 90 seconds).
Flip chips over and microwave on other side 1 minute to 90 seconds.
If not yet crispy, flip again and cook another 30 seconds, continuing until crispy.
Serve warm.