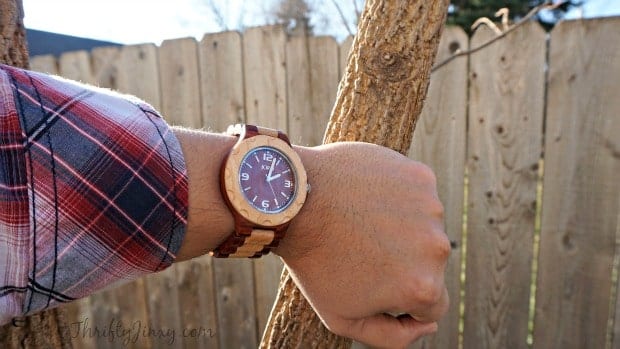 Mario has become a BIG BIG fan of JORD wood watches. And why wouldn't he be? They are stylish, unique and very light and comfortable to wear. His love started with the Sully watch in Black and Maple below. From the first day he started wearing it he was surprised by how many people noticed his watch. It's very eye-catching and definitely not something you see every day. I don't think guys are as used to getting compliments for fashion items like women are, so it really makes an impression!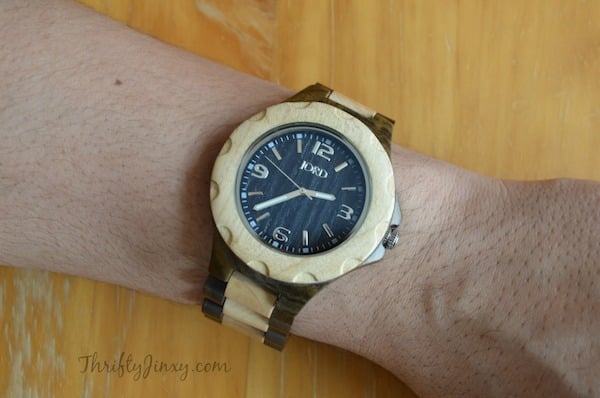 Since he already loved that first Jord watch so much, he was pretty excited to try yet another color and and style. His next choice was another Sully, but this time in Red Sandalwood & Maple. We both love this one because the red color is so striking. It really makes a statement, but not in an overbearing way. Again he loves that the watch is so light and the band is so comfortable.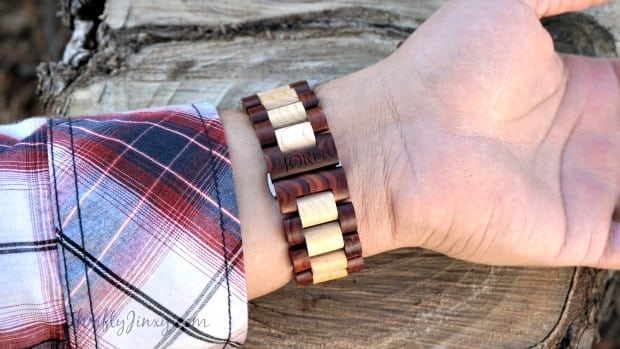 Here are a few "facts" about the Sully :
Hardened, Scratch-proof glass face: 33mm diameter
Frame / bezel: 41mm diameter
Band width: 25mm
Lug ends: 51mm
Single action locking clasp (stainless steel)
3-hand Citizen Miyota Quarts movement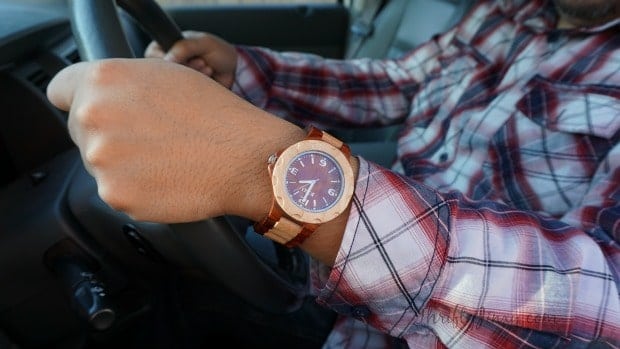 JORD wood watches are one of a kind, premium quality time pieces, hand-crafted with sustainable materials from all over the world. Because the grain of every piece of wood is unique, each watch is also unique. They have a beautiful selection of watches using different woods in varying colors. The next watch up for him to try is the beautiful Jord Blue Carbon. We love the deep color of the wood and the square face. It's going to look just as amazing as all of the other Jord watches.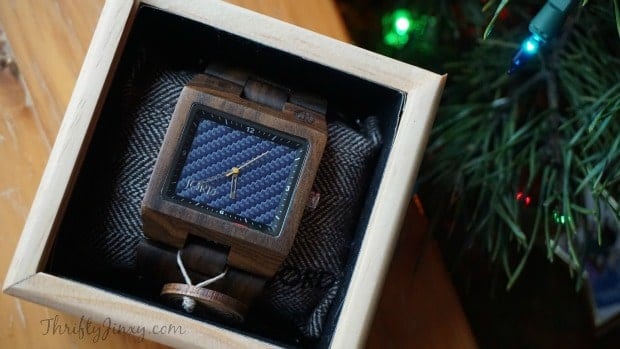 Free Gift Code for Thrifty Jinxy readers: I've partnered with JORD to giveaway a limited quantity of e-gift cards worth $25 each for the holidays! If you've had your eye on one of these lovely wood watches, be sure to enter to get in on the savings, tis the season! Entering is easy; CLICK HERE – it will ask you for your email and your favorite JORD watch (so many to choose from) once you hit enter, your code will be emailed directly to you!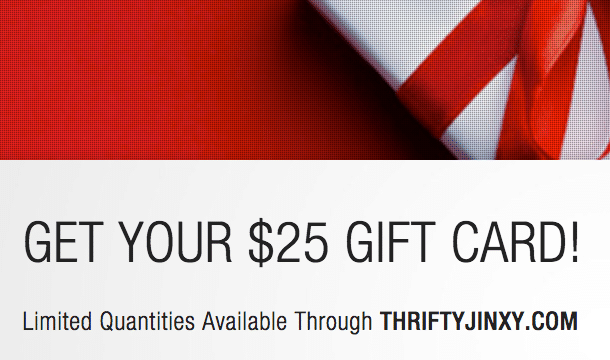 HOLIDAY RETURN & EXCHANGE POLICY
Watches purchased between November 1st and December 25th can be exchanged or returned for a full refund (minus shipping and sizing fees) until January 10th. We just ask that you cover the shipping fee back to us. Use our return request page to obtain an RMA number for your return.
HOLIDAY DELIVERY GUARANTEE
UNITED STATES CUSTOMERS
All orders received on or before December 20, 2015 are guaranteed to be delivered before December 25, 2015 for customers within the continental United States. Customers in Hawaii, Alaska, or other Non-Continental US Territories must order on or before December 13, 2015 to receive the same guarantee.