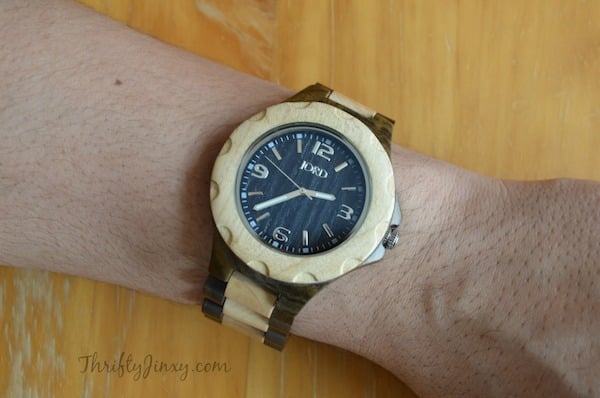 Women have many possible ways to garner compliments on their appearance. They may be noticed for their hairstyle, their necklace, their outfit, their earrings or their killer shoes. Guys – – not so much.
When is the last time you heard a guy say to another guy "Hey, Dude sweet polo shirt you're wearing." Or, "Hey man, I loooooove you're new hairstyle." Probably never.
So, when my hubby wore his new JORD wood watch to work, I think he was a bit surprised by all the compliments that he received. It's not surprising that the JORD watch would be noticed. For one, it is made of wood – not something I have ever seen in a watch – and also, it looks beautiful.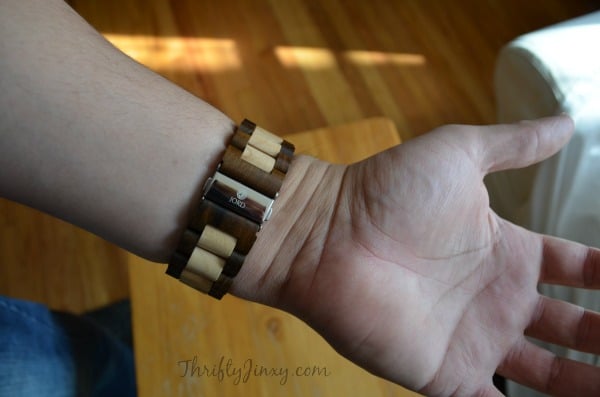 JORD wood watches are one of a kind, premium quality time pieces, hand-crafted with sustainable materials from all over the world. Because the grain of every piece of wood is unique, each watch is also unique. They have a beautiful selection of watches using different woods in varying colors.
Mario received the Sully watch in Black and Maple. The contrasting colors of the wood make it very obvious that it is a watch made of wood and I think that really catches the eye. Even the clasp on this watch is gorgeous! Here are the "facts" on this model:
Hardened, Scratch-proof glass face: 33mm diameter
Frame / bezel: 41mm diameter
Band width: 25mm
Lug ends: 51mm
Single action locking clasp (stainless steel)
3-hand Citizen Miyota Quarts movement