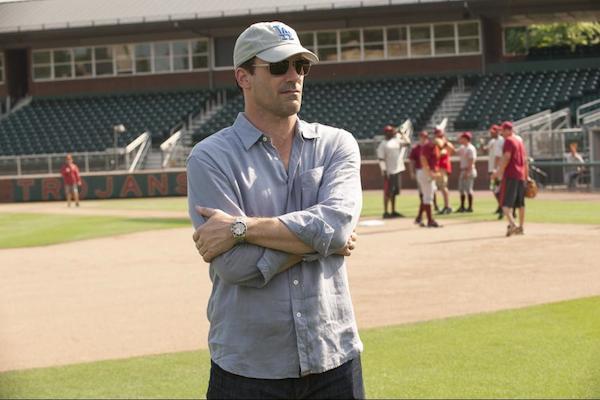 By now, most all of you know that I was in LA last week for the premiere of MILLION DOLLAR ARM.  But, did I mention that we also had the chance to interview members of the cast, including Mr. Jon Hamm himself???
Several hours before the premiere, our group of 25 bloggers (24 women and one man), were all waiting in a hotel conference room for the arrival of Jon Hamm for our interview.  During the wait, I stepped out into the hallway near the elevators to make a phone call.  Just as I finished my call and was heading back to the room, the elevator doors slid open and guess who walked out – – You got it!  Jon Hamm dressed in a beautiful suit had me a little taken aback.
To be perfectly honest, I have never been a big Jon Hamm fan.  It's not that I disliked him in any way, it's just that I never watched Mad Men and wasn't very interested in him.  BUT, seeing him step out of those doors was enough to make me rush back into the conference room and tell the rest of my group that "A whole lot of gorgeous just stepped off the elevator!"
After a few more moments, Jon Hamm joined us in the conference room for this interview: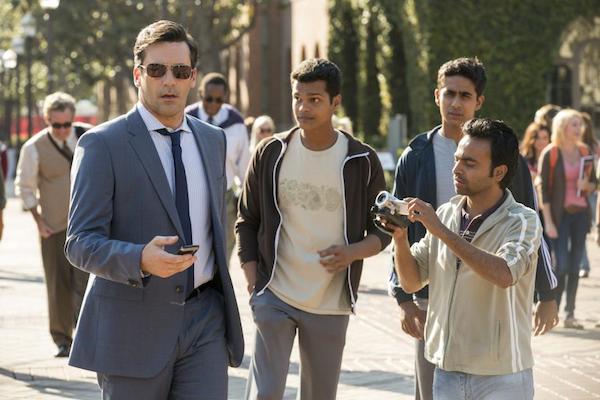 Q : The story is so inspiring. How did you get involved in the film?
JH : I met with Mark Ciardi and Gordon Gray who are the producers of the film. They produced The Rookie and Miracle, so I was familiar with their work and liked not only the kind of movies that they made, but the stuff that they've done with Disney had a kind of a sensibility that I sparked to.  Then I read the script and I know Tommy McCarthy who wrote the script.  I've been a big fan of his work as well and was really impressed with the script.
I did not know it was a true story at the time.  It somehow escaped my fairly detailed baseball radar. I am a big baseball fan, but I hadn't heard of it. So I kind of Googled around and looked up some stuff and learned about it.  I thought this could be not only a fun project to work on as an actor but just fun.  I mean we get to go to India and that could be an interesting experience too. And I'm very, very glad I did. We're tremendously proud of the film and, I made some really good friends on it.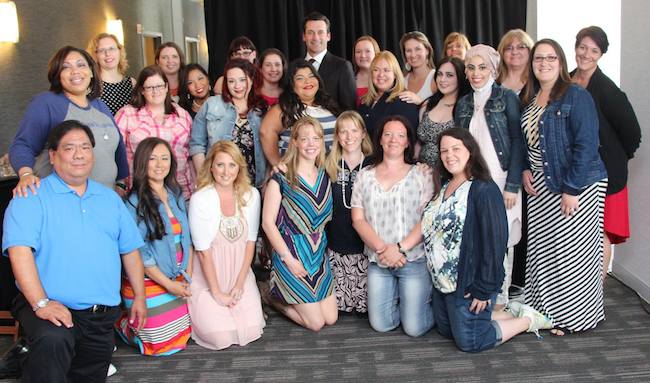 Q:    When your character gets to India, he is struggling with that heat. How was it for you to be there?
JH   :    Well, it's not just the heat.   It's literally, it's everything.  I mean, it's a completely different culture.  When you learn more about the actual J.B. Bernstein, my character, he had to go through all this and figure out how to do business in this country and figure out how to manage all this.  And there was no guarantee that it was going to work, at all.  It was a huge leap of faith.  If you speak to him now he's fairly conversant in Hindi and he's been doing it for six or seven years now so he's very comfortable in Indian culture and this was a direct result of this experience that he had.
It was a full-on, immersive experience.  It was hot.  We asked our Indian crew "What, what do you do about this stuff?"  They answered, "Well, we don't shoot in May.  You guys are idiots.  The only ones who shoot in May are Americans.  We go inside."
Q:    Who's your favorite baseball team?
JH:    Well, that's an easy one.   I was born and raised in Saint Louis ,Missouri, so the Saint Louis Cardinals are, hands down, my team.
Q:    How do you feel that this film is set apart from other sports films that have come along?
JH:    I think like most good sports films, it's not necessarily all about the sport.  If you look at something like The Natural, ostensibly that's about baseball or a baseball player.  But it's really about this guy and his life and how it was changed and how it was interrupted and then he got to come back and fall in love and all that other stuff.  That's a movie that if I watch two seconds of, I watch the whole thing and I'm a mess by the end of it.
This movie is like that.  It's a family movie, but it's set against the backdrop of sports, in particular baseball.  But it would be a disservice to it to just say it's a baseball movie because, for me at least, it means much more than that.  Back to the first question, that's one of the reasons why I wanted to do this film.  It just felt richer than just a game where "I hope they win the big game" at the end.  That was what I hope we brought through the making of it.