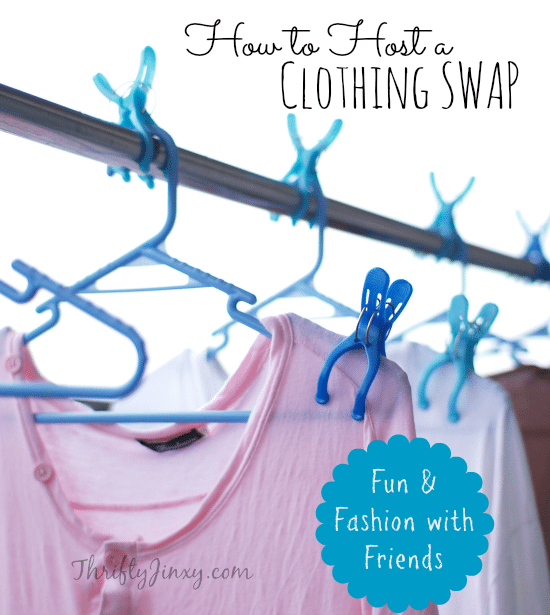 Clothing swaps are a fun and free way to update your wardrobe and get together with friends. You can end up with new (to you) clothes to refresh your wardrobe and have a blast at the same time. If you've been thinking about hosting one and aren't quite sure where to begin, here are some guidelines to help you.

How to Host a Clothing Swap

1. Timing is everything. Clothing swaps are the most beneficial for everyone at the end of a season, and then guests can "inventory" what they have and need to buy for the next season.
2. Be very specific about who you invite. Or be completely non-specific and invite everyone you know so you have a good mix of sizes and styles. If 99% of your friends are plus sized, don't invite the girl with the fast metabolism. She won't have anything to gain by coming and is likely to feel uncomfortable. The same goes for age ranges. Your grandmother probably isn't going to want to swap clothes with your daughter's teenage friends.
3. Ask guests to bring a covered dish or dessert. This way everyone gets to eat and wants to stay longer to browse, and then they take their dirty dish home with them. It also makes it easier on your budget as the host.
4. Make it clear that clothes need to be clean, ironed if necessary, and gently used. You would think you don't need to say this, but the sad truth is that it often needs to be said or you may have people showing up with button-less shirts that have been on the floor of their closet for three years.
5. Let people know that they can only swap as much as they bring. If everyone brings 2 pieces of clothing, they can bring 2 pieces home. Bringing one piece of clothing and going home with 5 is not fair. Don't forget accessories. Things like purses are favorites at clothing swaps because the good ones are pricey and they get changed out a lot.
6. Find a place to display all the clothes. This can be tough. You don't want to have clothes all over your house because they will be hard to find for your guests and a problem to clean up afterwards. If possible, use extending shower curtain rods in a hallway or doorways to hang clothes on. Once the swap is over, you can put them back in your closet or garage and not think about them until the next one. Make sure you have a big, flat surface to put non-hanging clothes on as well. A large dining room table works fine.
7. Designate a changing area. This can be your bathroom, your bedroom, or even one of your children's rooms as long as it's private and has a full length mirror.
8. Have fun! If it's not fun, your guests won't be as eager to come next season! Laugh, talk, model for each other…the best part about a clothing swap is usually the camaraderie and not the clothes!