Green Beer Bread Recipe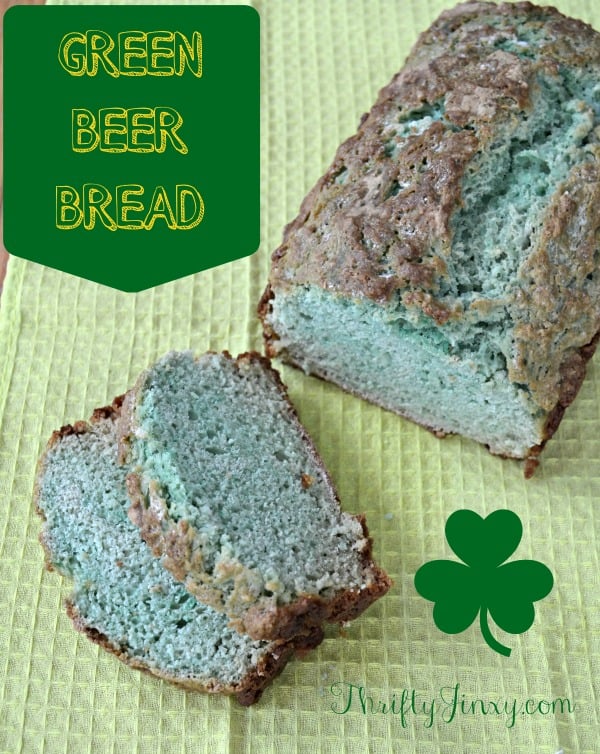 I have no idea who first started the trend of serving green beer on St. Patrick's Day, but I'm sure the food coloring industry appreciates it! Following along the lines of this tradition I have taken one of my favorite beer bread recipes to make a St. Patrick's Day version with a Green Beer Bread Recipe. It's delicious served all by itself, with your favorite spread, or cut into cubes to serve with a spinach dip.
Oh – and as far as the beer in the batter, the alcohol all burns off during baking so it's fine for kids or non-drinkers to eat. But, if you don't have beer in your fridge and don't want to buy some just for this recipe, you can substitute a can of lemon lime soda (like Sprite or 7Up) and it should still turn out just fine.
Green Beer Bread Recipe
3 cups flour
4 1/2 tsp. baking powder
1 1/2 tsp salt
1/2 c sugar
12 oz beer
12 drops green food coloring
3 tbsp butter, melted
Preheat oven to 350 degrees. Grease a loaf pan (or spray with cooking spray).
In a large bowl, whisk together flour, baking powder, salt and sugar.
Add in beer and food coloring. Stir until all ingredients are combined, but don't over mix.
Spoon batter into loaf pan.
Pour melted butter over top of loaf
Bake 45 to 55 minutes or until toothpick inserted in loaf comes out clean.