Turn ordinary boxes of mints into fun Star Wars themed treats for Halloween or a May the 4th party with these free printable Star Wars Tic Tac Labels!
My kids are BIG Star Wars fans…and they've never even seen any of the movies yet! There's something about the story of good vs. evil and all of the fun characters in the Star Wars universe that appeals to kids, I think. My son actually dressed up as Kylo Ren last year for Halloween!
The great thing about the Star Wars Universe is that there are SO MANY great characters for kids to dress up as AND we found another Halloween use for all our favorite classic Star Wars characters…
Printable Star Wars Halloween Tic Tac Labels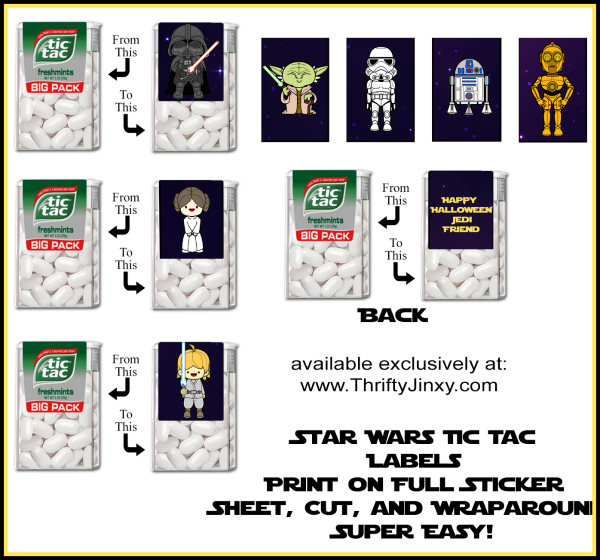 Whether you've got kids who want to give treats to their friends for Halloween or you just want to mix it up for your trick or treating this year, we've got some FREE Printable Star Wars Halloween Tic Tac Labels for you to print and enjoy!
Simply download the free printable HERE, then print on sticker sheets, cut out, and wrap around Tic Tac containers for a fun, unique treat. (And if you think Tic Tacs don't make for a fun treat, then you haven't met my kids. They LOVE them!)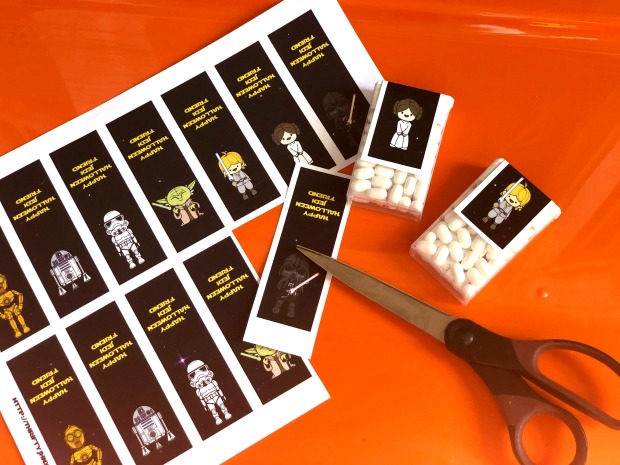 If you don't have sticker sheets available, you can also print out the labels on plain paper and affix with double sided tape. That's what we ended up doing this time.
We've also compiled some other Star Wars trinkets you can share with friends and trick-or-treaters or party guests for some extra fun this Halloween:
Disney Star Wars Self-inking Stamps

STAR WARS Bracelets – GLOW IN THE DARK

Inflatable Light Saber Sword Toys

Party Favor Play Pack – Star Wars – 24 Mini Packs

Star Wars Stickers Party Favors

Light Saber Pencils

Star Wars Party Favor Bounce Balls

Star Wars Classic Puzzle Cube