Plan a fun Finding Nemo and Dory themed Halloween with Halloween treats, party ideas and a Dory Pumpkin Stencil to make your own Dory pumpkin!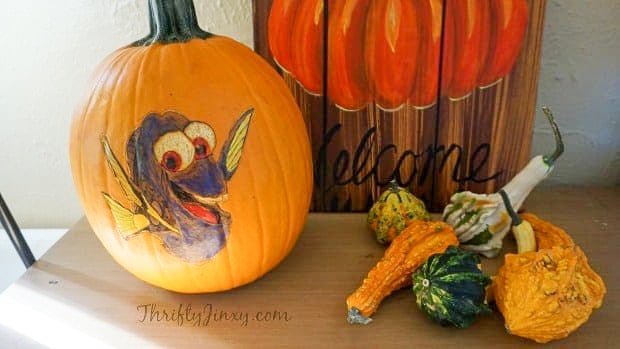 It's hard to believe that Halloween is almost here! Disney and Halloween go hand in hand and it's fun to celebrate with all our favorite Disney characters. This time we're having fun with Finding Dor!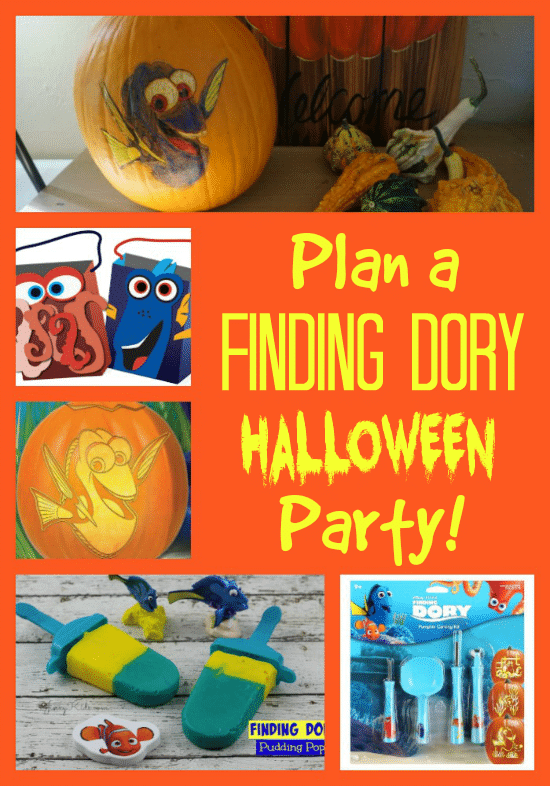 Last week, while visiting Disney Studios, I had a chance to learn how to use a Dory pumpkin stencil to carve an amazing Finding Dory pumpkin and we have the printable stencil and instructions for you to make one yourself!
It's the perfect activity to have at the center of a Dory-themed Halloween party. (Keep in mind that carving requires adult supervision, so you'll want to be sure to have enough adults on hand to supervise and help out.)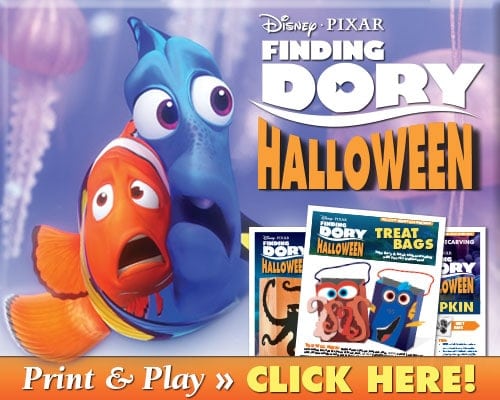 Before you get started planning your Dory Halloween party, you'll want to print out the Dory Halloween party planning items above. It includes the Dory pumpkin stencil and lots more!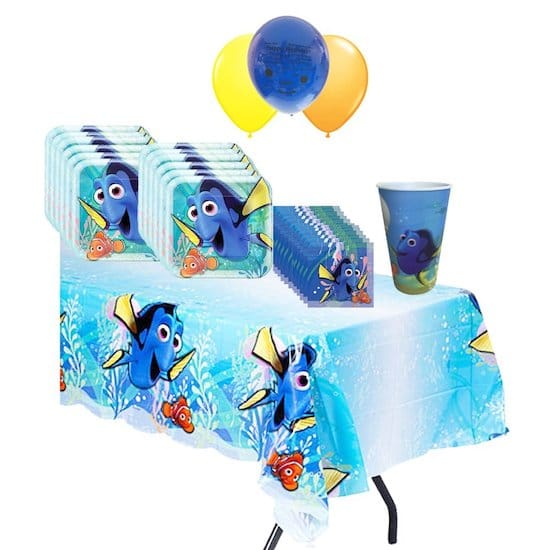 To get ready for the party, you'll first want to set the stage! We found some adorable Dory decorations above! One thing that is a MUST for pumpkin carving, especially when paint is involved, is plastic tablecloths. Beyond that, you might want to look for Dory plates, cups and napkins.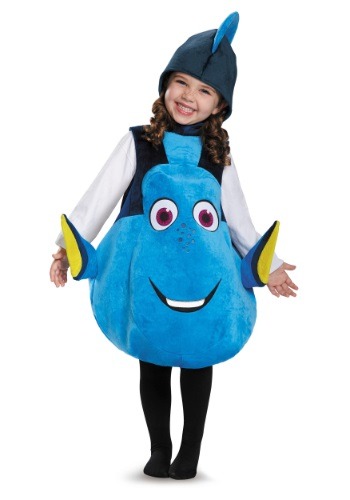 Child Deluxe Dory Costume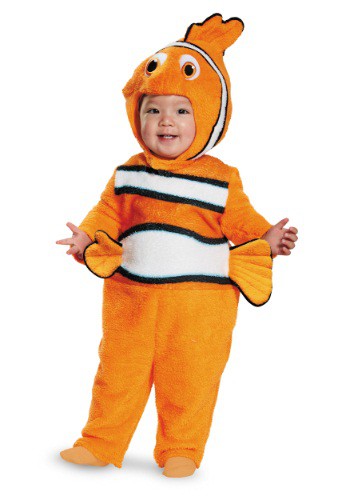 Prestige Infant Nemo Costume
Dory Disney T-shirt
Hank the Septopus Toddler Costume
&
If you're planning a costume party, then how about costumes of favorite Finding Dory characters? If costumes might get in the way of the fun, then a Dory T-shirt would be just the thing to substitute!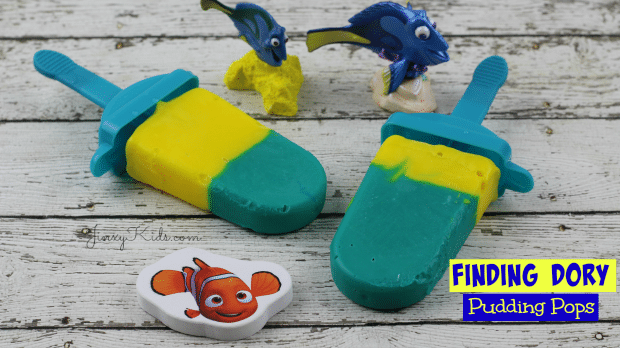 How about food for your party?? You can opt for some Halloween-themed recipes, but I personally think these Finding Dory Pudding Pops are the perfect option.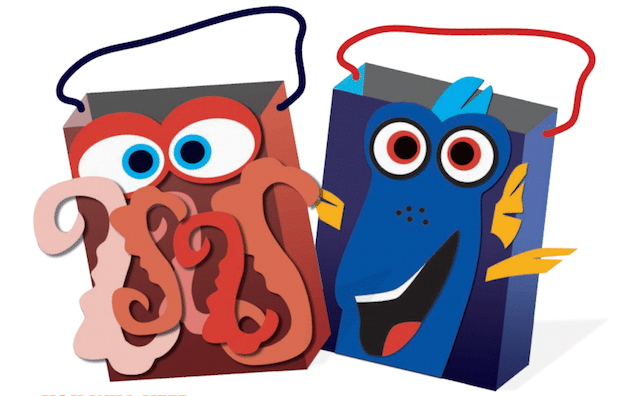 Dory Bath Squirt Toys
Finding Dory Pencils
Finding Dory Characters
Finding Dory Mini Bubbles
And of course you'll want to have goodie bags for your guests! The printable set above includes a printable to make cute Dory treat bags starting with a cereal box! Halloween candy is a given for a Halloween party, but you can also fill them with cute Dory bath toys, pencils or mini bubbles!
Now that the party is all set up, it's time to move on to our main activity: carving a Finding Dory pumpkin! I had such a great time learning how to do this from Disney artist and Master Pumpkin Carver Joseph Yakovetic. BUT, with the instructions below and a quick watch of the video, you and your guests should be able to make your own Dory pumpkins too!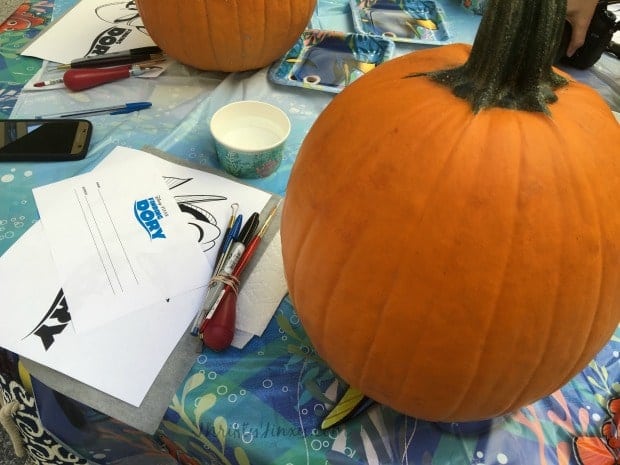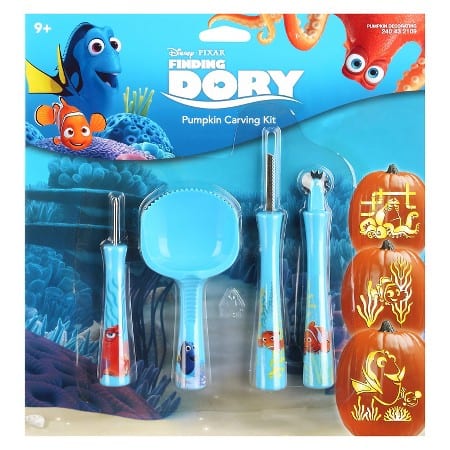 Finding Dory Pumpkin Stencil Carving Instructions
Supplies:
Pumpkin
Table Cover
Printer Paper
Pen or Pencil
Old CD or DVD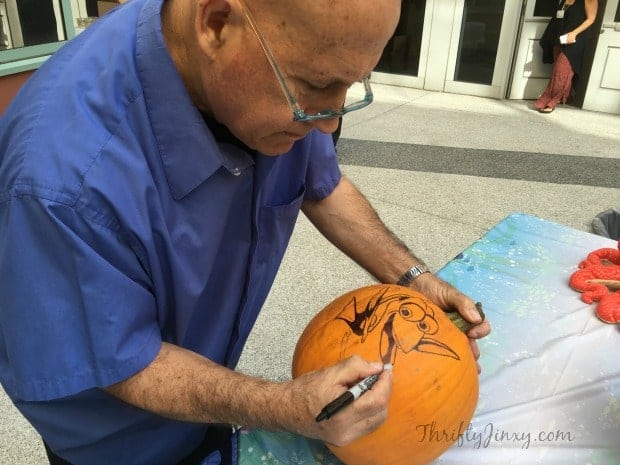 How to Use the Dory Pumpkin Stencil Template:
1. Cut graphite paper to the size of the stencil.
2. Position and pin stencil with graphite paper under it to the pumpkin.
3. Trace over the lines of the stencil with a ballpoint pen or pencil.
4. Remove pins, stencil and graphite paper from pumpkin.
5. Copy over graphite lines with a black marker where black is indicated.
6. Mix paint with water to create a translucent color and brush in the desired colors in appropriate
areas.
7. When dry, use the linocut tool to etch out the white areas of the stencil (I.e. Whites of the eyes, the highlight in the pupil and around the outer edge of the character's outline).
8. Cut a square in the back of the pumpkin large enough to fit a CD and your light source.
9. Use a CD to gut the pumpkin, using the edge of the CD to skin away the debris from inside the pumpkin.
10. Clean up any design areas that are revealed with the light, touch up black lines or colors.
11. Pumpkin is ready for display, be sure to place on a trivet or stand so the underside of the pumpkin can breath.
12. Place an LED light inside your pumpkin, turn out the lights and enjoy!
Use these helpful tips to learn how to make your pumpkin last until Halloween – or longer!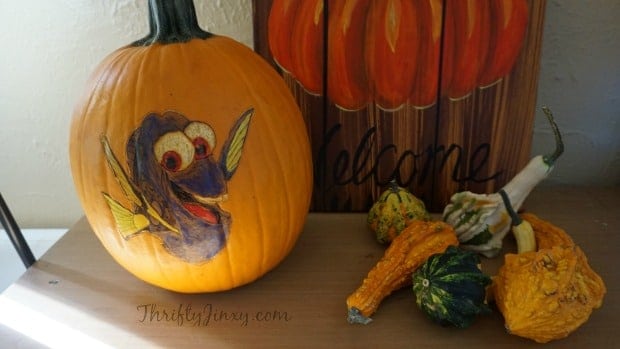 If you prefer visual instructions over reading, check out this cool time lapse video of Disney artist Joseph Yakovetic creating a Dory pumpkin.
Don't forget Finding Dory is available on digital NOW and available for Blu-ray and DVD pre-order!