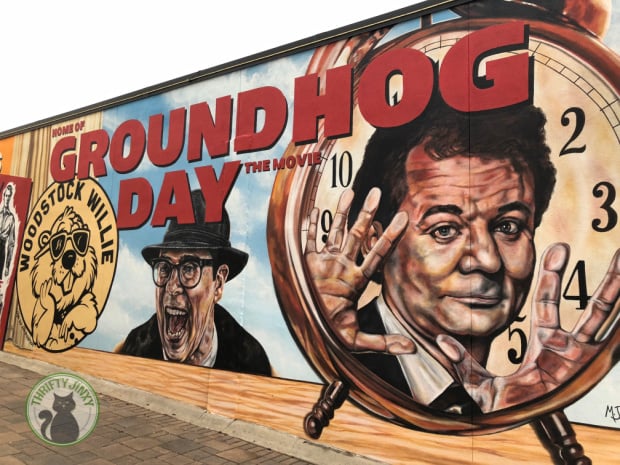 Groundhog Day is an often overlooked holiday. As an example, we have tons of movies about Christmas and more than a handful about Thanksgiving, New Year's, Valentine's Day, even the 4th of July.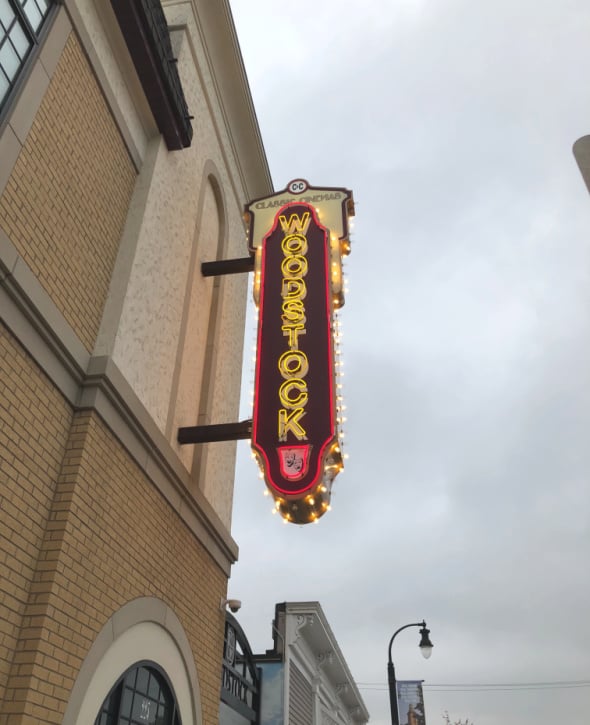 But there's only one Groundhog Day movie, the long-time favorite starring Bill Murray. In a cold, dreary month like February, we need to find any cause for celebration and the town of Woodstock, IL, they do just that on Groundhog Day!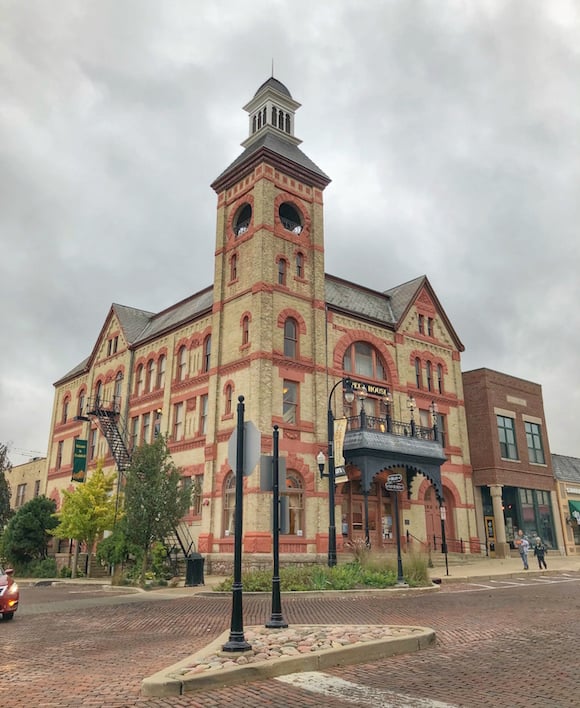 While the setting for the movie Groundhog Day is said to be Punxsutawney, PA, the movie was actually filmed in Woodstock back in 1992. Several years later, Groundhog Days was born! (Even if you can't make it to Woodstock on Groundhog Day itself, keep reading about why it's fun to visit any time of year.)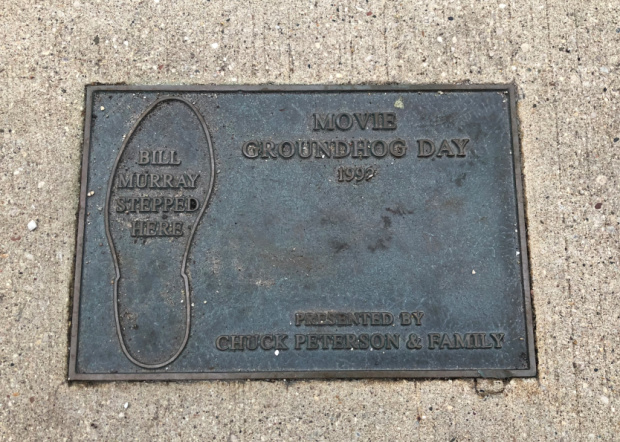 Groundhog Days kicks off several days isn't just a one-day event. The preceding days are filled with activities including a dinner dance, Groundhogology presentation and more. Then, on Groundhog Day itself, the day is chock full with events, just a few of which are walking tours, bingo, celebrity guests, a chili cook-off, a showing of the movie and, of course, the Groundhog Day prognostication itself.
Even if you can't make it to Woodstock on Groundhog Day itself, you can visit any time of year to both see the many locations you'll recognize from the movie and enjoy the delicious food and fun shopping the town has to offer. The Groundhog Days Committee has developed a walking tour that takes you past sites from the movie, many of which have been marked with an engraved metal plaque the refers to the scene from the movie featuring that location.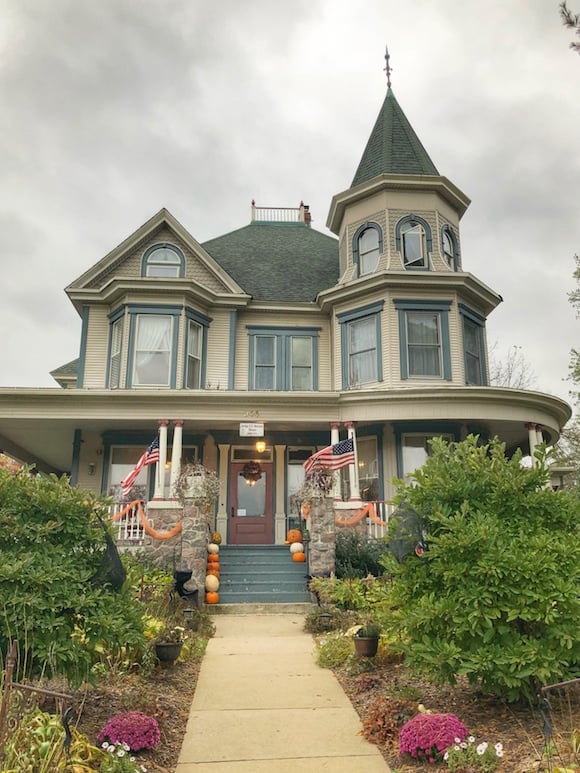 Not only can you tour the locations from the film, you can actually stay in the same bed and breakfast that Phil Connors (Bill Murray) stayed in on his visit – Cherry Tree Inn Bed & Breakfast. It's a beautiful Victorian home with cozy rooms. I also hear that the breakfast is delicious, featuring fresh baked goods and local ingredients.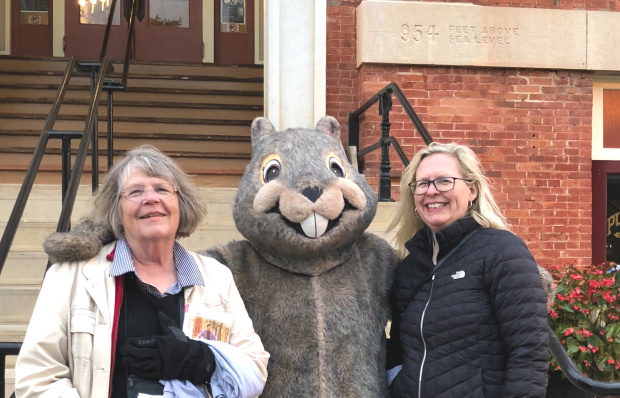 I visited Woodstock with my mom on a chilly October afternoon and we had a great time. I want to thank Mom for sharing her thoughts about her time in Woodstock in her very first post for Thrifty Jinxy:
After watching the movie "Groundhog Day", I was pleased to have the opportunity of touring the town of Woodstock, Illinois, where much of the filming of the movie took place. It is a lovely town, very well maintained, with fun things to do. The Cherry Street Inn from the movie is a privately owned three-story building, 114 years old, now a B & B. It is as impressive inside as it is on the outside.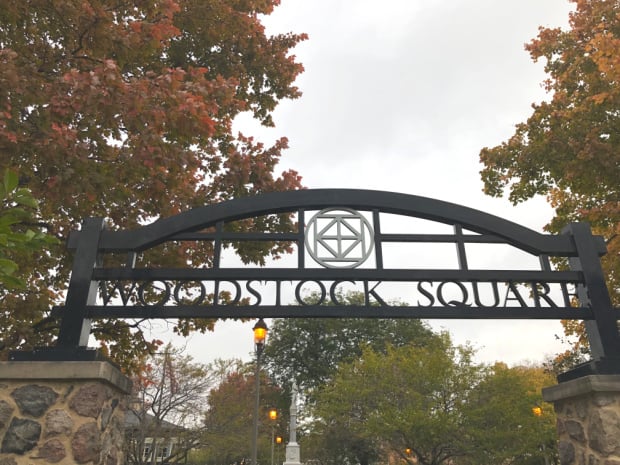 Woodstock has a town square with a band shell, shade trees, flower beds. the kind of town square every small city should have.
We took the walking tour, led by local citizens, that took us to the town square with a band shell, shade trees, flower beds – the kind of town square every small city should have. The tour also includes the Opera House (Pennsylvania Hotel) and the Public House (site of the bar scenes).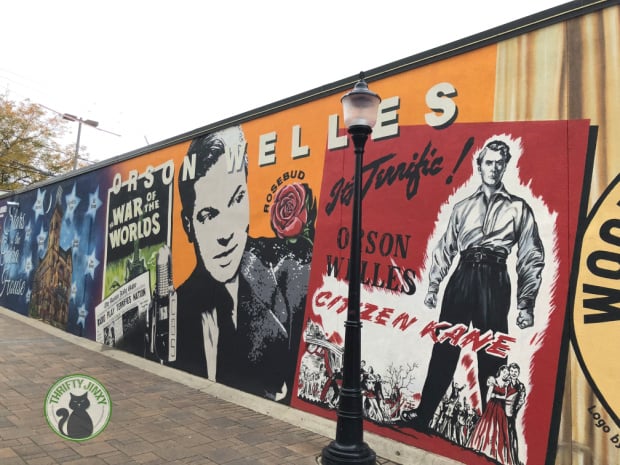 My personal favorite is a mural on the walls of a downtown alley depicting famous people and events from the history of the town, such as the childhood home of Orson Welles, the home of Chester Gould who created the"Dick Tracy" comic strip, many summer-stock actors including Paul Newman, Tom Bosley, Betsy Palmer, among others.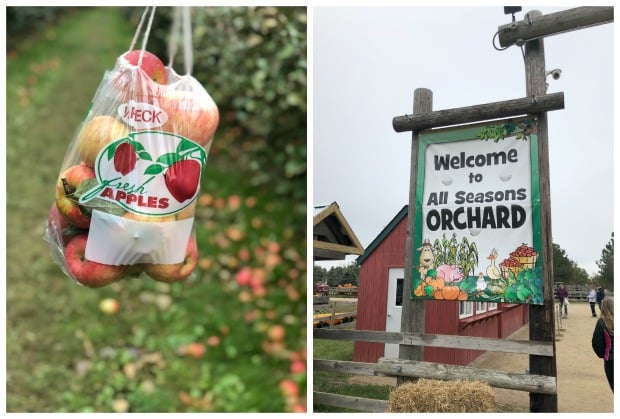 Woodstock has many unique shops – a great book store, a toy store, a great candy store (my favorite), antique shops and the Country Orchard near town. The rural area around Woodstock has some extraordinary orchards and farm markets featuring locally-grown produce, dozens of varieties of apples, and a wide variety of hand-crafted items. I even bought a cute hand-knit cap in the shape and colors of a piece of candy corn.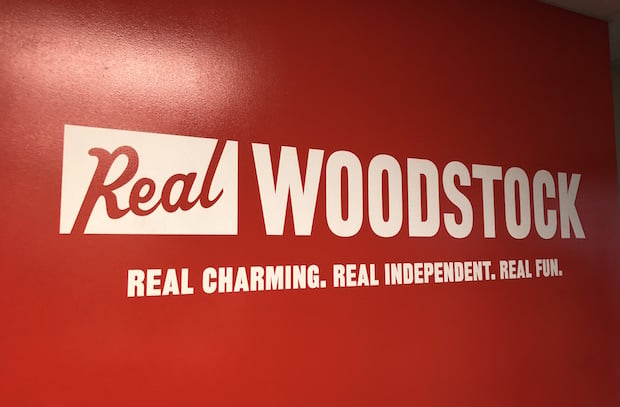 For more information, visit the web sites for Groundhog Days and Real Woodstock. Just 47 miles from Chicago, Woodstock is on the edge of the Chicago metropolitan area.