This Easy Taco Bake Recipe is perfect for weeknight meals when you're short on time. It gives great, homemade taste in a hurry!
Now that the holidays have come and gone, it's time to get down to everyday cooking. Each year I start out with a plan to do more cooking at home and each year I do seem to to get a bit better at it. It's good for the budget and it's also a good feeling to have home-cooked family dinner time.
Coming up with ideas for those regular dinners can get tricky and it's always helpful to get some inspiration for easy, delicious, quick-to-make meals.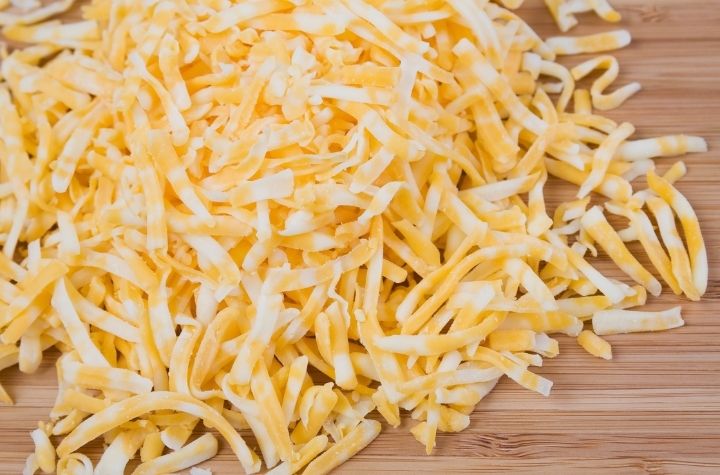 For help I browsed through the selection of recipes at the Walmart Kraft seasonal website. and had a hard time deciding which one I wanted to make first.
I finally decided on this easy Taco Bake recipe. It was a great choice! It was easy-to-make and the result was delicious. I was happy to have leftovers for lunch the next day – they heated up GREAT in the microwave.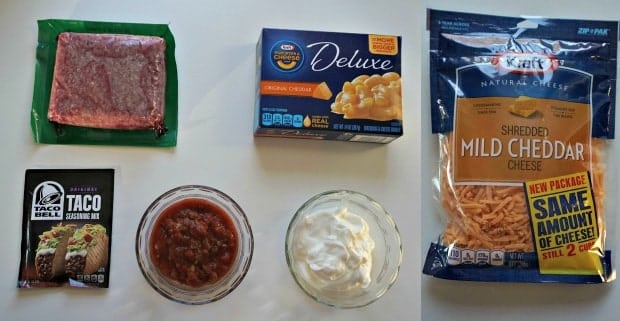 Easy Taco Bake Recipe
INGREDIENTS:
1pkg. (14 oz. each) KRAFT Deluxe Macaroni & Cheese Dinner
1lb. ground beef
1pkg. (1-1/4 oz.) TACO BELL Taco Seasoning Mix
3/4cup BREAKSTONE'S or KNUDSEN Sour Cream
1-1/2cups KRAFT Shredded Cheddar Cheese, divided
3/4cup TACO BELL Thick & Chunky Salsa
How to Make Taco Bake:
HEAT oven to 400°F.
PREPARE Dinner as directed on package. While macaroni is cooking, cook meat with taco seasoning as directed on package.
STIR sour cream into prepared Dinner; spoon half the Dinner mixture into 8-inch square baking dish sprayed with cooking spray. Top with layers of meat mixture, 1 cup shredded cheese and remaining Dinner mixture; cover.
BAKE 15 min.; top with salsa and remaining shredded cheese. Bake, uncovered, 5 min. or until cheese is melted.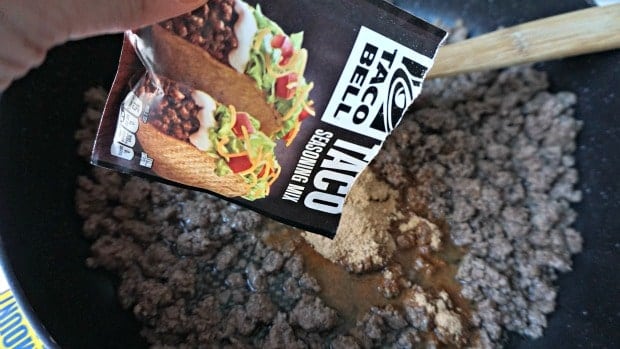 Seasoning the Taco Bake was super easy using Taco Bell Taco Seasoning. The flavor was delicious with that smoky chili powder taste!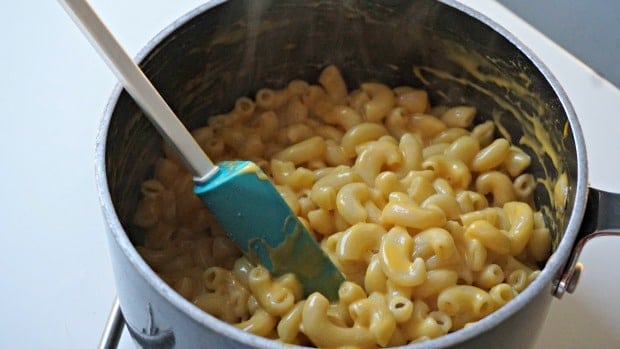 It was really, really hard for me to not just dig right in to the KRAFT Deluxe Macaroni & Cheese Dinner right then, but I was a good girl and made sure I had enough for the Taco Bake!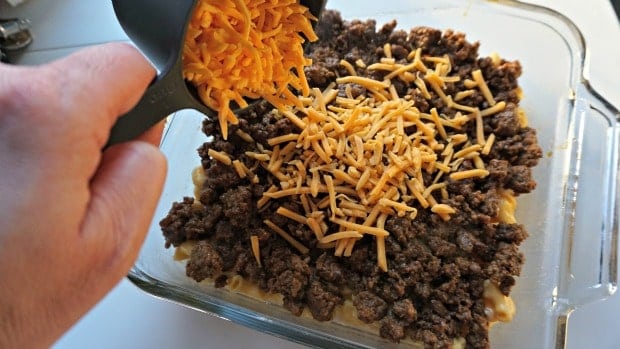 To serve the Taco Bake, I just offered extra salsa and sour cream for topping. To be honest, it really didn't need the extras, but it's always nice to have options!