Fun halloween treats can also be good for you! Learn how to make clementine pumpkins and other easy, healthy Halloween treats.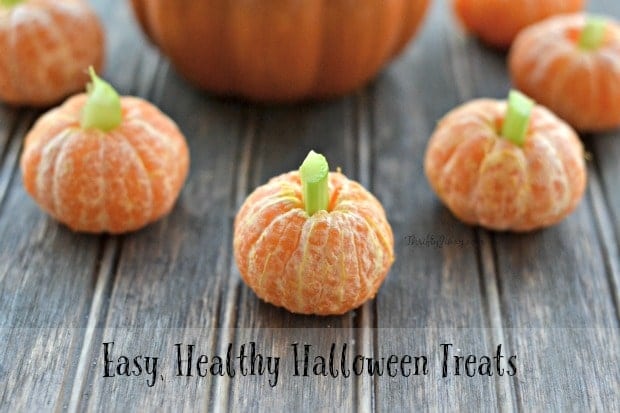 The fun and spooky foods that start popping up in October are one of the most fun parts of Halloween. We have food shaped like all kinds of fun fall items and characters. Most of these treats are usually on the very UNHEALTHY side, but there are some easy, healthy halloween treats that are still super fun!
Last week we shared with you these Orange Fruit Jack O'Lanterns and we also have some fun Witch's Broom snacks that we shared last Halloween season. Now we have one more easy, healthy Halloween treat to share before the big day is actually here! These little oranges are super easy to make and also super cute! They are great to tuck in a lunch box, have as an afterschool snack, or add some extra fun to a Halloween or Harvest Party. And, since pumpkins are related to fall in general and not just Halloween, they could even find a place on your Thanksgiving table.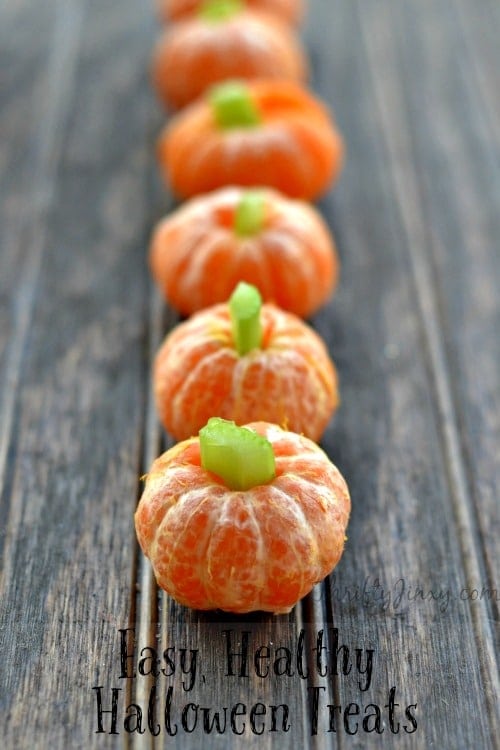 What you need:
1 bag of tangerines or clementines
4 stalks of celery
To assemble your pumpkins:
Peel all of your tangerines/clementines. Cut the celery into 1″ lengths. Place one piece of celery into the top of each clementine.
That's it!! This is so easy to do that even toddlers can get involved. Kids are always more likely to eat food that they help prepare, so between how fun these look and how fun they are to make, you might be able to get your kids to take in a lot more vitamin C this holiday season!
Be sure to check out our other easy, healthy Halloween treats: