This Easy Crockpot Macaroni and Cheese Recipe is actually SUPER easy like the picture says. It's basically just dump everything in the crockpot and end up with oozy, cheesy goodness! I recommend stirring it a couple of times while cooking if possible (but not necessary) and start checking it every 15 minutes or so starting at the 2 hour mark so you can stop cooking when it is to the consistency that you like.
You might want to consider using a slow cooker liner for this dish. We all know how hard it can be to clean up after anything made with cheese! You can find them here. Once you are done cooking and serving, just pull the liner of the pot and throw away. You'll be left with a totally clean slow cooker with nothing to wash!
Easy Crockpot Macaroni and Cheese Recipe

3 cups milk
12 oz can of evaporated milk
3 cups shredded cheddar cheese
8 oz brick of cream cheese
16 oz box of elbow macaroni
1 tsp ground mustard
1 tsp salt
1/2 tsp black pepper
Place all in Crockpot and set heat to low. Cook for 2-4 hours or until noodles are soft and sauce is the consistency you like (slow cookers vary a lot, especially with something like pasta, so you'll have to start checking it at about 2 hours and stop once noodles are soft and sauce is the consistency you like..
NOTE: I didn't have a chance to take a picture before we devoured our mac and cheese, but I promise to get a picture of the finished product the next time I make it!
This is the slow cooker that I use and I LOVE it! It's the Cuisinart Cook Central Slow Cooker – 3-in-1. My favorite feature is that it lets you brown ingredients right in the unit before slow cooking. Seriously awesome!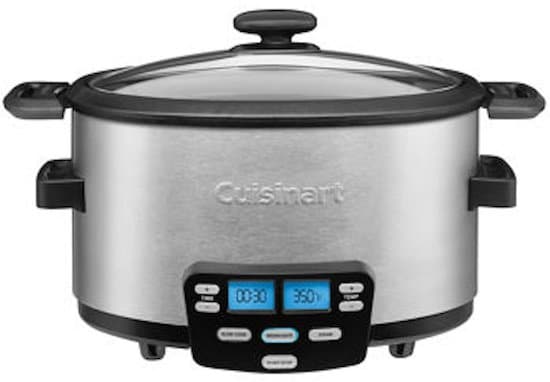 Another great idea for work lunches is this Crock-Pot Lunch Crock Food Warmer. You can leave the warming base at work and use the removable food container to transport your lunch from home. The warming base will keep your food warm or heat your foods over time. It's a good way to avoid standing in line to use the office microwave (which is usually pretty filthy inside anyway!)
Crock-Pot 20-Ounce Lunch Crock Food Warmer
&