Wondering what to do with bread crusts? Use these helpful tips to learn how to store them and how to use them up in yummy recipes.
If your house is anything like ours, no one likes to eat bread crusts. When you figure an average loaf of bread has about 18 slices (give or take a few), that means about 10% of every loaf would be wasted if the crusts were thrown out!
It doesn't take much effort to save those bread crusts and put them to use. You'll end up saving money and keep perfectly good food out of the trash.
How to Store Bread Crusts
So, what I do is keep an empty bread bag or gallon size Ziploc bag in the freezer. Every time we get to the end of a loaf and only have crusts left, I throw them in the bag.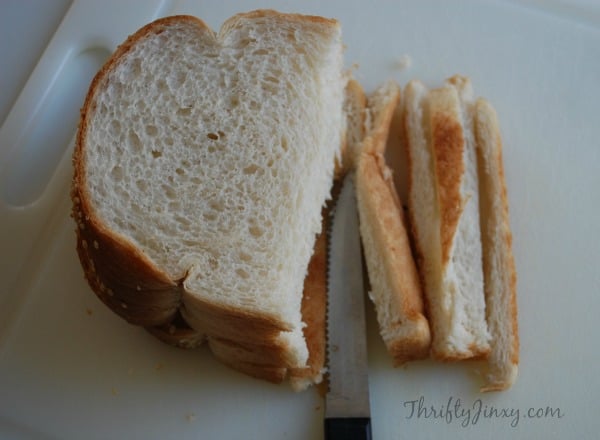 Then, when it comes time to make a that calls for bread crumbs (we have those below), I just take a few crusts out of the freezer, chop them up in the food processor or blender and voila – – I have used up my crusts and have great crumbs for my recipe.
(NOTE: If you don't use your crusts often, be sure to opt for the zip-top bag rather than a bread bag.) The crusts are also great for making bread pudding.
Recipes to Use Up Bread Crusts:
There are lots of ways to use up those bread crusts you'll be saving. For some recipes you can just grab the crusts out of the freezer, defrost and use them as-is. For example, you can tear them up to add bulk to meatloaf or meatballs. I usually like to add a little bit of milk to the bread crust pieces in a bowl and make a "mash" to add in the meatloaf. It keeps it moist!
Another great option is to make bread pudding. Most recipes will call for slices of bread, but it is perfectly fine to make it using crusts only.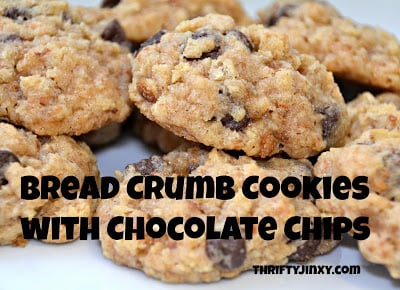 One more thing I like to make with leftover bread crusts are these Bread Crumb Cookies with Chocolate Chips. The recipe calls for slices of bread, but you can just substitute about a cup and a half of crust crumbs instead.
How to Make Bread Crumbs from Crusts:
Another super useful thing to do with the crusts is to make bread crumbs. You can use crumbs in tons of recipes like chicken fingers, to top macaroni and cheese or casseroles, coated baked pork chops, you name it.
To make them, first chop up the crusts in a food processor. (If you don't have one, you can just slice up very finely with a knife.) Then spread them on a baking sheet in a very thin layer. Bake for 10 minutes in a 300 degree oven. Stir and continue to bake until they are dry and lightly toasted.