This DIY Pumpkin Spice Goat Milk Soap is easy to make and is perfect for your own bath or to give as a gift.
We all know that fall is officially the season of Pumpkin Spice!! While pumpkin spice treats taste great, what I really love is the scent!
That warm, spicy smell just oozes autumn. So, there's no need to limit pumpkin spice to just food items. It's perfect for the bath too. This DIY Pumpkin Spice Goat Milk Soap recipe is simple to make using only two ingredients and, of course, smells amazing.
This Pumpkin Spice Goat Milk Soap adds a hint of autumn to your bathroom and is awesome to have on hand when guests come over for Thanksgiving. OR, if you're going to a friend or relative's house for Thanksgiving or other autumn get-together it makes a perfect hostess gift.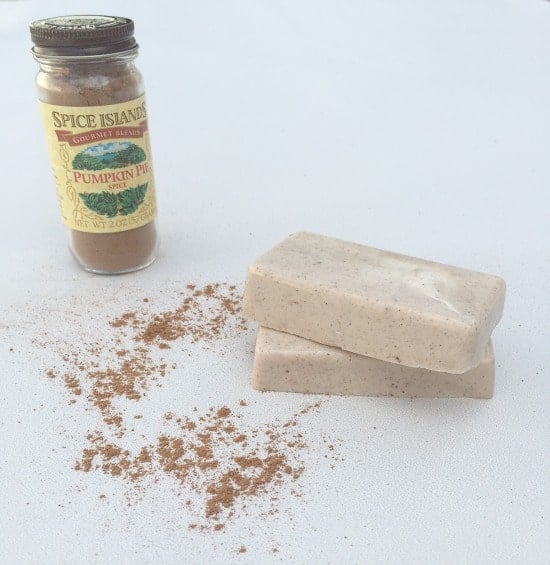 DIY Pumpkin Spice Goat Milk Soap
This recipe makes four 20 ounce bars of soap.
SUPPLIES:
1 lb Goat's Milk Soap Base
2 tbsp Pumpkin Pie Spice
Soap Mold
Plain Basic Rectangle Silicone Mold for Soap Making

Spice Island Pumpkin Pie Spice

Goat Milk Soap Base

How to Make Pumpkin Spice Soap:
Cut the soap base into small chunks (it usually has cut lines on it to make it easy), and melt in a microwave safe bowl. Melt in 20 second increments, stirring in between, until fully melted.
Quickly add in the spice and stir well to combine.
Pour into a mold (I prefer silicone, but the plastic ones at the hobby stores work fine as well).
Wait to cool (about 40 minutes at room temp) and then pop out of mold.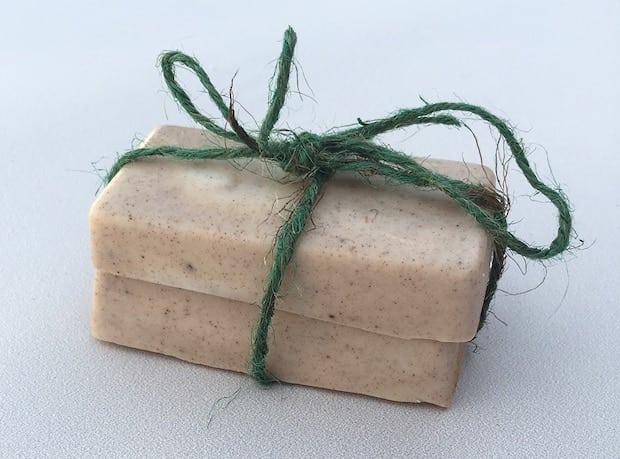 If you plan to present your soap as a gift, simply tie a pair of bars together using jute twine. It provides a pretty, rustic look just right for autumn.
This same recipe can be used with other soap bases such as glycerin, coconut milk or shea butter, but we like the goat's milk!!
And once you have perfected the pumpkin pie version, you can move on to new scents for Christmas by adding a few drops of peppermint oil to one batch and cinnamon to another.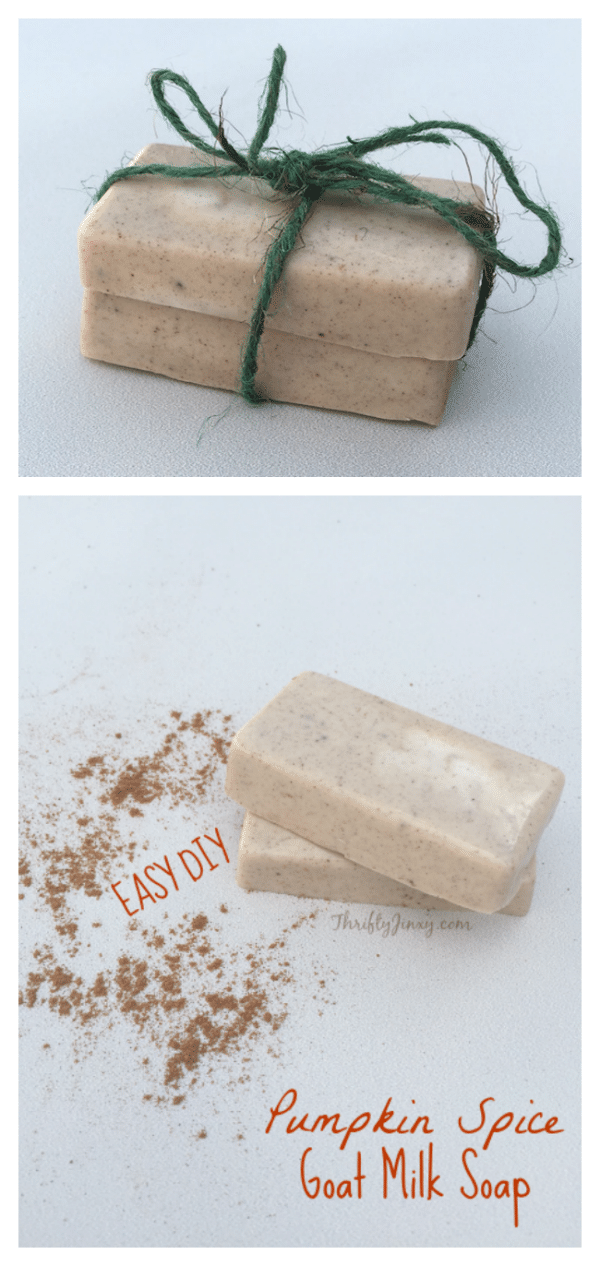 4 tablespoons ground cinnamon
4 teaspoons ground nutmeg
1 teaspoon ground ginger
1 teaspoon ground cloves