This DIY Map Lamp Makeover uses a basic lamp shade and and a map of your favorite place to create a beautiful room accessory.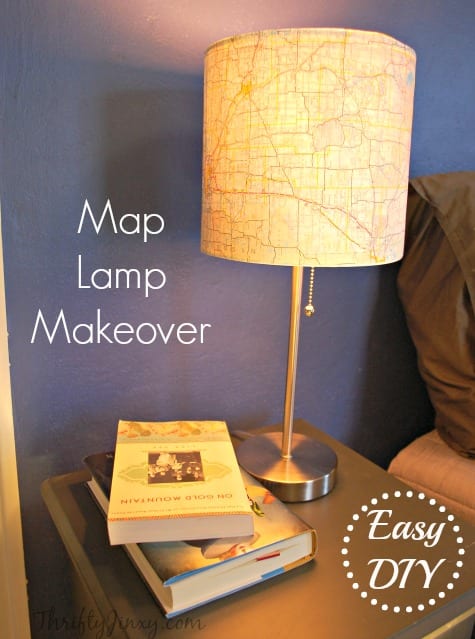 Even though it is the room that is the least seen, our bedroom is the room in our house where I have put the most effort when it comes to decorating. It's where I spend (or at least try to spend) 7-8 hours per day sleeping, plus that all-important winding down time before going to bed. For me, that means spending time reading. It helps me relax and prepare for sleep, although I admit that occasionally, when the book gets too good, it's hard to put it down.
This week I got something new to help prepare me for bed when I ordered a NEW GE Align™ PM LED Light Bulb from Amazon (super easy to order with FAST shipping by the way), which helps promote your body's natural sleep cycle when used for 30 minutes before bedtime. That is just perfectly timed with my before-bed reading.
I decided to use my GE Align™ PM LED Light Bulb in a DIY Map Lamp Makeover project that I have been wanting to tackle ever since I saw a similar project on a flea market makeover TV show last year. It turns out that this was super easy to do! Here's how: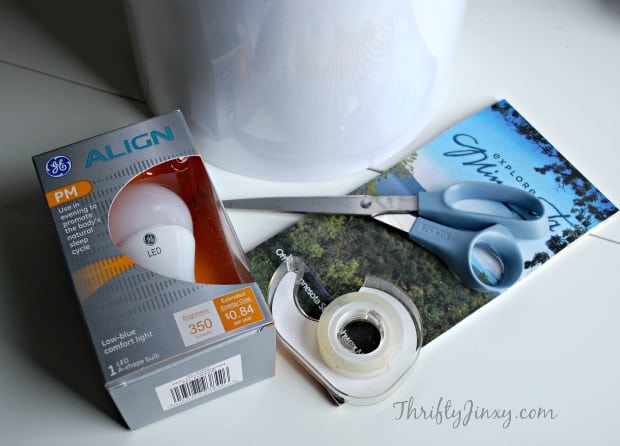 DIY Map Lamp Makeover
Supplies Needed:
Lamp with lamp shade
Large paper map
Iron
Pen
Scissors
Double-sided tape
GE Align™ PM LED Light Bulb

How to Make a Map Lamp:
Using a hot iron, press the creases of your map. It's ok to leave a few creases – that's realistic for a map!
Remove shade from lamp and roll it across the map from one end to the other, using a pen to mark the edges. (If you have an irregular shape, you may want to first draw this on plain paper to later transfer to the map and avoid mistakes.
Cut out the map along your pen lines.
Using double-sided tape, attach map to shade.
Use scissors to trim away any overlap.
Replace shade on your lamp and put the GE Align™ PM LED Light Bulb into the lamp.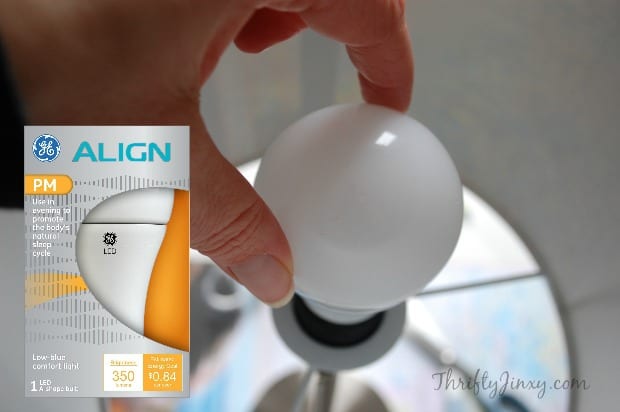 Have extra fun with this project by using maps from places you have been, places you would love to travel, or from your own state. Or create two lamps for each side of the bed: one with the favorite place you have been and the other for the place you most wish to visit next.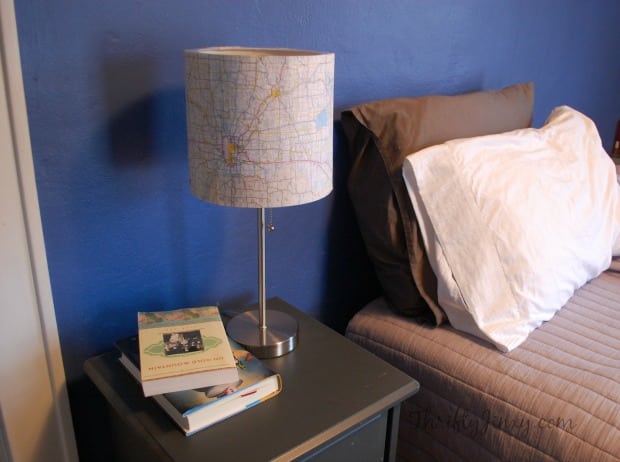 I have to say that since I made my lamp, my hubby has sneaked the GE Align™ PM LED Light Bulb into HIS bedside lamp, so I will have to get another for myself. (Currently only available on Amazon.) This NEW bulb is not your ordinary light bulb! Unlike an ordinary bulb, it's engineered to produce a low amount of blue light which creates a very warm, yellowish orange color to help you rest more easily. The light produces more melatonin in the body. While I'm shopping for my replacement bulb on Amazon, I am also going to check out the GE Align™ AM LED Light Bulbs, which help promote the body's natural wake cycle.
Your Turn: Why would you like to try a new GE Align PM LED Light Bulb? Let us know in a comment and then also be sure to enter below for a chance to be one of two winner who will each receive: $400 Amazon e-gift card, a GE Align PM LED Light Bulb (ARV $30.14), and a GE Align AM LED Light Bulb (ARV $32.08). Good luck!
GE Align #SleepAligned Sweeps – More than $800 In Prizes

Find out more about GE Lighting on Twitter, Facebook, Pinterest, and Instagram.