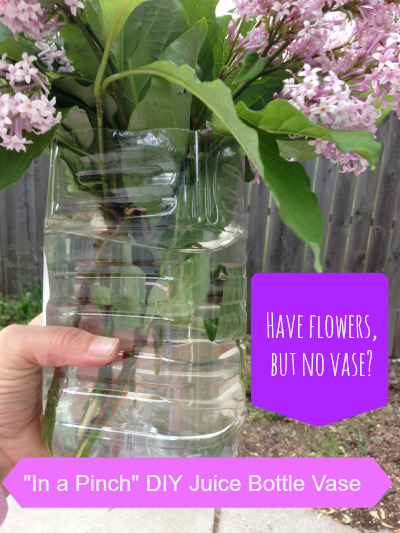 Summer is here and that means that flowers everywhere are in bloom!! I love flowers, but we don't yet have any planted in our yard at the new house, so that means if I want flowers I have to hope that someone sends me some (yeah, right – like that every happens!), I have to buy them at the store, or I have to get them from friends and family who have them in their yard.
Since we had such a late spring and slow start to summer, the lilac bushes are still blooming here in Minnesota. Last week our neighbor offered me some of the blooms from his bush, but I didn't have anything to put them in. He helped me out by grabbing a large plastic bottle out of the recycling bin and making a makeshift vase.

DIY Juice Bottle Vase Instructions:
Choose a bottle with a base portion that is big enough to easily fit all your stems.
Take a kitchen shears or sharp knife (be careful!) and cut off the top "spout" part of the bottle where it starts to slope toward the center.
Peel off the label – not actually necessary, but it looks a lot better!
That's it! If you wanted to turn it into a vase you could continue to use in the future, use colorful Duck tapes to wrap around the outside to both decorate it and make it a bit more sturdy.