While TOMORROWLAND doesn't hit theaters until May 22nd, there is a very special Tomorrowland sneak peek and exhibit at Disney Parks right now – in Tomorrowland at Disneyland Park and in Future World at Epcot. At both parks you can see a 12-minute sneak peek of the film and check out a super cool exhibit featuring the making of the movie with props, concept artwork and photos taken during filming.
I had a chance to visit the Tomorrowland sneak peek and exhibit at Disneyland last week during the TOMORROWLAND press junket. Disney has done a typical Disney-awesome job with this special event.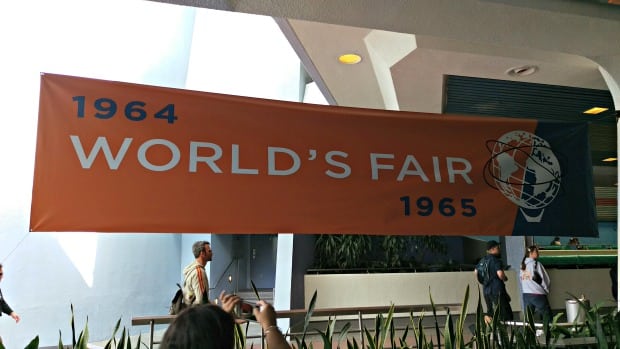 The exhibit starts with lots of memorabilia from and information about the 1964 World's Fair, which was held in New York City and is the setting for the opening scenes of TOMORROWLAND.
It's fascinating to see the facts from that time and then to also see the sketches of how those images and information were incorporated into the film. I love those boldly colored graphics from the 60s!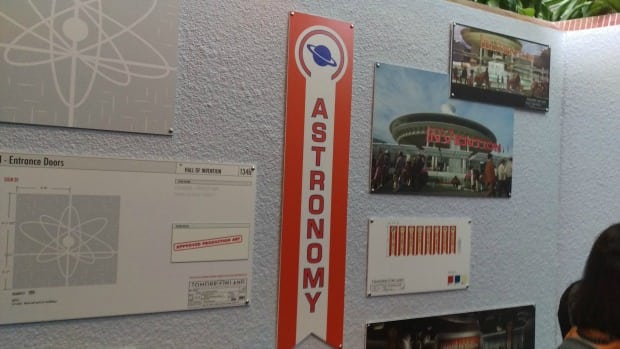 I just had to share this shot of bloggers doing what they do best on a trip…… taking lots of photos and sharing them on social media!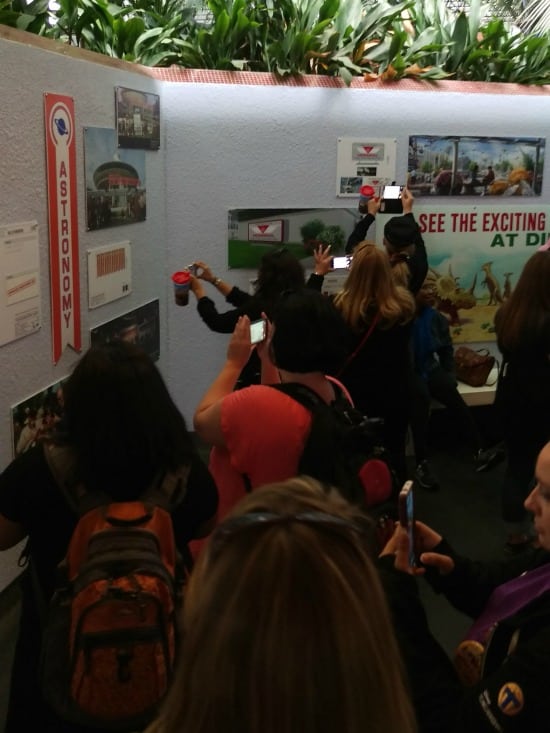 After the initial display, we headed on into the theater to see a clip from Tomorrowland. The experience was made even more exciting with special sound and motion features. You'll have to head to one of the Disney Parks to see the Sneak Peek clip, but we do have the movie trailer to share with you here:
After the movie we checked out the special exhibit of props, costumes, concept artwork and photos from TOMORROWLAND. It is so fun to see some of the items we had just seen on the big screen right there in "real life".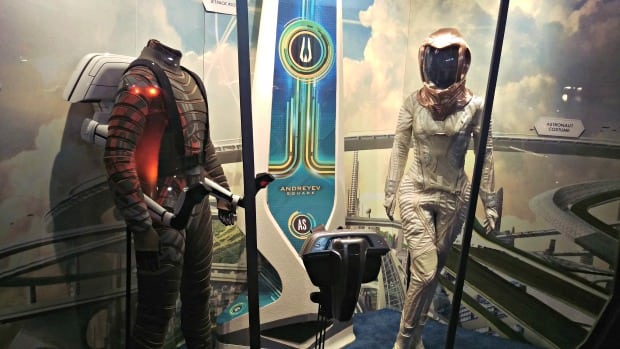 On display is an actual jetpack from the film. How cool would it be to have access to that and see if we really could fly??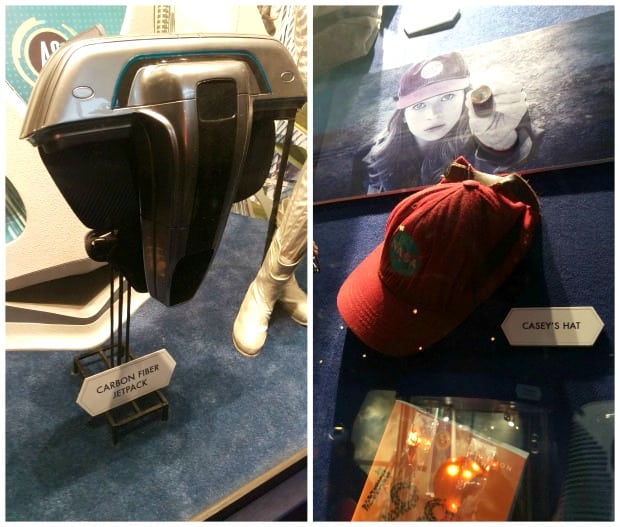 The 1952 Box: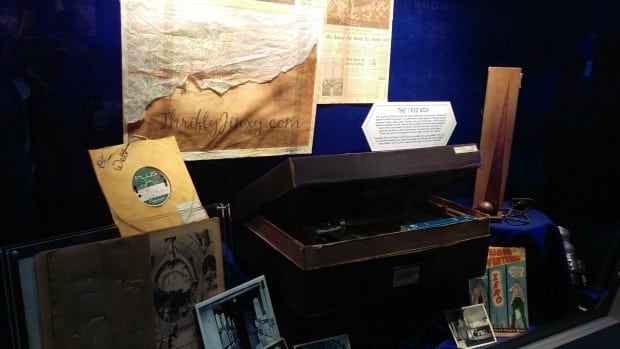 I think the most fascinating thing in the exhibit is The 1952 Box. This box was discovered in the labyrinth beneath The Walt Disney Studios in the summer of 2008. It contained a big jumble of photos, memos, concept art, blueprints and props. These items "bespoke a creative history as odd and unverifiable as fiction. And yet, they expressed the values that were fundamentally true to Walt Disney himself: the dreamy fascination with space, technology and exploration; the drive to create innovative forms of entertainment; and the desire to harness the power of the imagination to build a better future for all of mankind." This box helped inspire director Brad Bird and Writer Damon Lindelof as they created the movie TOMORROWLAND.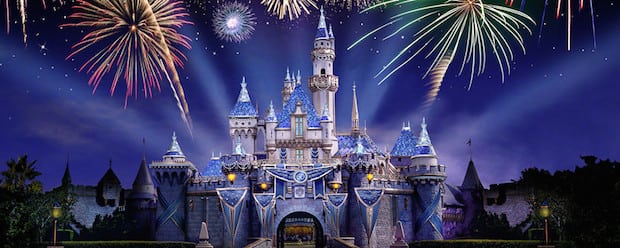 I also have to mention that something very special is coming to Disneyland the same day that TOMORROWLAND opens in theaters – May 22nd. It's the DisneylandResort Diamond Celebration!! yes, Disneyland is turning 60 years old and celebrating all those years of Disney magic with three new nighttime spectaculars and dazzling decor. Lighting up the night will be a new "Paint the Night" parade and "Disneyland Forever" fireworks spectacular at Disneyland Park. Then at Disney California Adventure Park Neil Patrick Harris narrates the the story of Walt Disney and the Happiest Place on Earth in the all-new "World of Color – Celebrate! The Wonderful World of Walt Disney" at Disney California Adventure Park – which combines film, animation, music and spectacular fountains.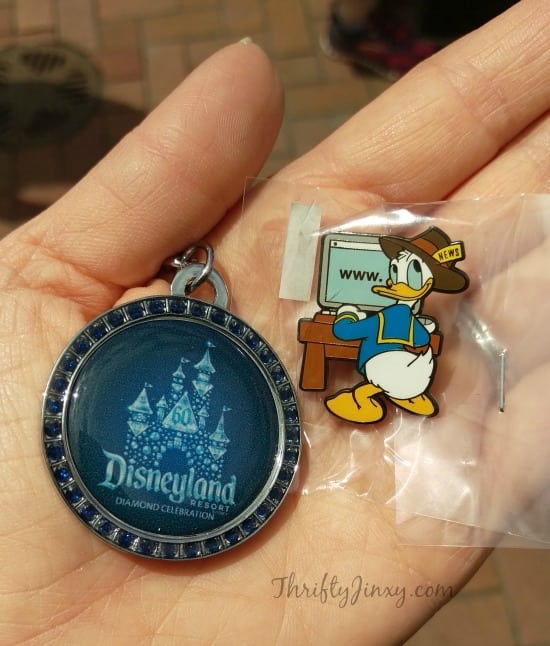 There are also new music and entertainment features for the #Disney60 celebration and you'll also find some awesome special merchandise created exclusively for the Diamond Celebration. I was lucky enough to receive this special keychain ahead of the celebration. They are even having a sweepstakes where some lucky guests will receive authentic diamonds and one-of-a- kind prizes! You can find out more at www.Disneyland.com and www.DisneyParksBlog.com.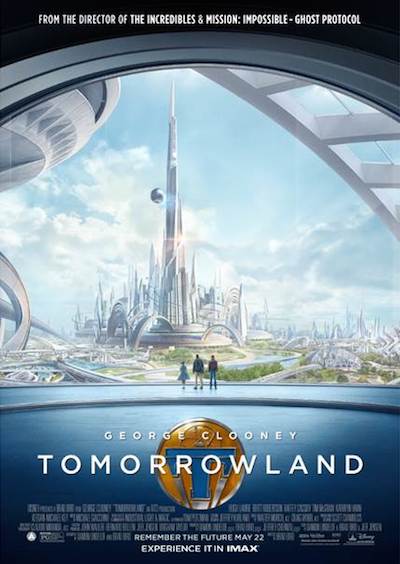 Like TOMORROWLAND on Facebook: https://www.facebook.com/DisneyTomorrowland
Follow Disney Pictures on Twitter: https://twitter.com/DisneyPictures
Visit the official TOMORROWLAND website: www.Disney.com/Tomorrowland
Sign up for TOMORROWLAND fan alerts!
TOMORROWLAND opens in theaters everywhere on May 22nd!