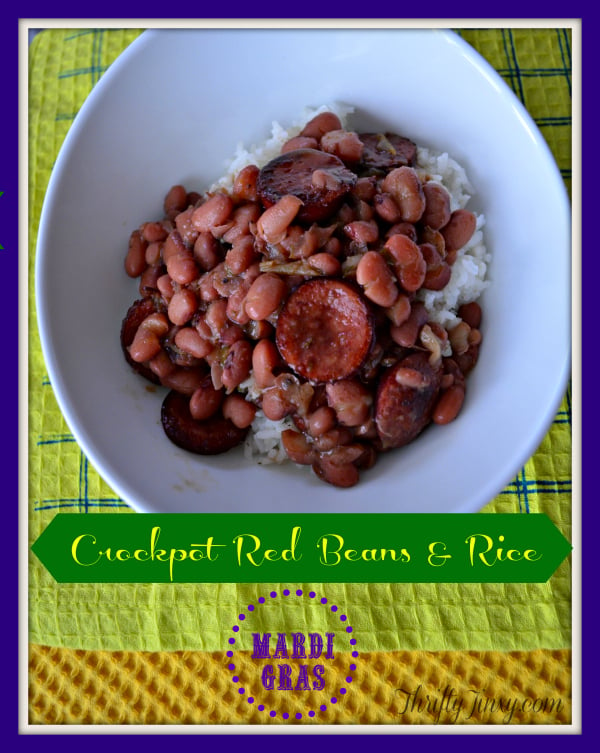 In honor of Mardi Gras, I'm sharing this recipe for Crockpot Red Beans and Rice. This is a hearty, inexpensive meal that feeds a crowd or is great for leftovers!
There are a lot of "optionals" in this recipe. If you don't want to add all of the individual spices I have listed, you can replace them all with 2 Tbsp of cajun or creole seasoning. You can use a packaged seasoning or use our recipe for homemade Cajun seasoning!
Also, you can reduce or omit the cayenne pepper if you don't want it spicy, or add more cayenne along with red pepper flakes if you want it really spicy. Also, sautéing the sausage and veggies before adding them to the Crockpot is totally optional – I just like the browning. Another option is using chicken stock in place of some of the water for a more rich flavor. It's a very versatile recipe!


Crockpot Red Beans and Rice
1 pound dry read beans
2 tsp olive oil
1/2 pound andouille sausage, sliced
1/2 green pepper, diced
1 onion, diced
6 cloves garlic, minced
6 cups hot water
2 bay leaves
1 tsp black pepper
1 tsp garlic powder
1/2 tsp onion powder
1 1/2 tsp paprika
1/2 tsp cayenne pepper
1 tsp dried oregano
1 tsp dried thyme
1 tsp salt
4 cups cooked white rice
Soak beans overnight. In the morning, drain off the water and rinse. Add to crockpot.
In a frying pan, sautee sausage, pepper and onion in olive oil until starting to brown. During the last 30 seconds, add in the garlic.
Move contents of frying pan to Crockpot. Add in all remaining ingredients except for the salt.
Cook for two hours on high, then turn Crockpot to low and continue cooking 4-5 hours or until beans are tender.
Add salt at the end or during the last hour or two of cooking. (Adding at the beginning can make the beans tough.)
To thicken sauce, smash about 1/4 of the beans against the side of the slow cooker. If you want it even thicker, turn Crockpot to high and leave off cover to reduce the liquid. Or mix 1 Tbsp corn starch with 2 Tbsp of hot water and stir into beans before letting it cook another 20 minutes.
Remove bay leaves before serving.