It's only two days away!! The Good Dinosaur will be in theaters everywhere on Wednesday, November 25th. I'm going to head to a screening of the film tonight, so be sure to follow me on Twitter and I'll let you know my final thoughts!
I have told you a lot about my visit to Pixar Animation Studios last month, but I have one last session with the filmmakers to share and I think it was my favorite of them all. We met with Story Supervisor Kelsey Mann and Screenwriter Meg LaFauve to find out how the story gets developed and boarded.
It was really cool to learn about this story process in the actual room where it happens. We sat around the same big table that the team sits around to work on the story an also pitch their ideas. And this is what I was most interested in about how this process was different for The Good Dinosaur than it had been for previous Pixar films.
Kelsey Mann told us that their "primary job is to take Meg's beautifully written words and translate them into the visual medium which is film." As they draw the movie, they can see if the script is working and then, once they are happy with it, they can go shoot the movie.
This process has evolved from the days when all of this was done on paper. Now they use a Wacom Cintiq running a Pixar internal software program called "Pitch Doctor" that they use to board. A character can be quickly drawn on the screen and then edits can be made right on the screen. That's a big difference than working on paper where they would have to use a photocopier to increase and decrease size, cut out images to fit them in, etc. I can imagine lots of wastebaskets filled with crumpled drafts!!
But, over the years they found one big drawback to moving away from paper. When drawing on paper you can draw in your office, outside, in Pixar's Atrium – anywhere. But, with the Cintiq they were limited to working where it was – in their offices. People were tied to their desks and were holed up in their offices like bears in hibernation. Director Pete Sohn wanted to combine what was great with the old days to the great technology of the new days, so they created the room where they now all work together.
All around the room are both Cintiqs and paper. Everyone is working together in the same room. They even bought Meg LaFauve a chair to write in the room with them. Now when someone pitches a scene, rather than pitching to just Pete and a few others, they pitch to the whole team. That way everyone has an idea of what is going on throughout the film and not just in the part of the film they are working on themselves.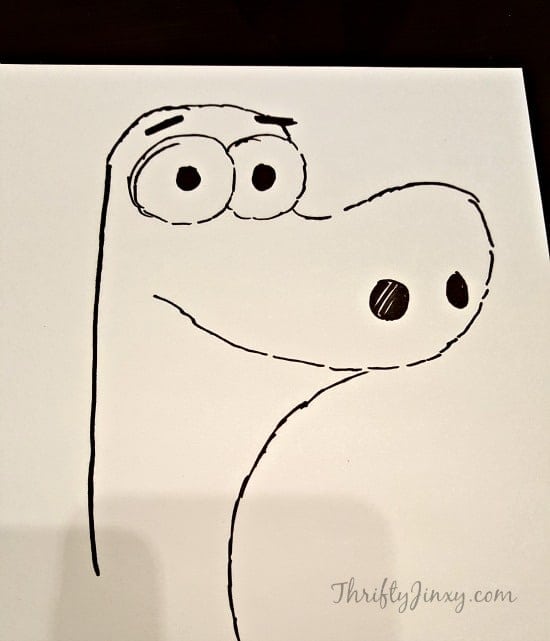 Since we were working around the same table where all those Pixar creative types work, it was only fitting that we tried our own hand at drawing Arlo. With some guidance from Kelsey Mann, it was a lot easier than I thought it would be!

THE GOOD DINOSAUR opens in theatres everywhere on November 25th!
Like THE GOOD DINOSAUR on Facebook: https://www.facebook.com/PixarTheGoodDinosaur 
Follow THE GOOD DINOSAUR on Twitter: https://twitter.com/DisneyPixar
Follow THE GOOD DINOSAUR on Instagram: https://instagram.com/disneypixar/
Follow THE GOOD DINOSAUR on Pinterest: https://www.pinterest.com/disneystudios/
Visit THE GOOD DINOSAUR on Tumblr: https://disneypixar.tumblr.com
Follow Disney/Pixar on YouTube: https://www.youtube.com/user/DisneyPixar