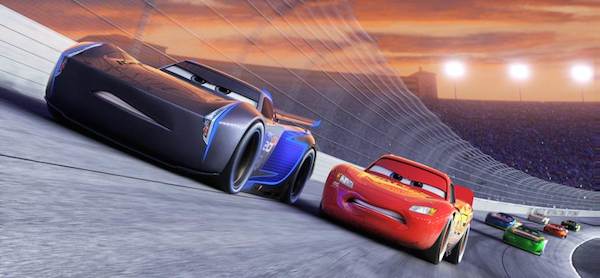 What's a sure sign that an animated movie is a winner for both kids AND adults? The adult (me in this case) seeing it 3 times in 4 days and loving it all 3 times! I admit that I have a soft spot for Disney Pixar's Cars. Like many kids, Little R was a Cars fanatic as a pre-schooler. He had to have cars-themed everything from clothing to toys to books to luggage – you name it. And speaking of names, he knew the names of all the Cars characters long before he knew the names of all our relatives.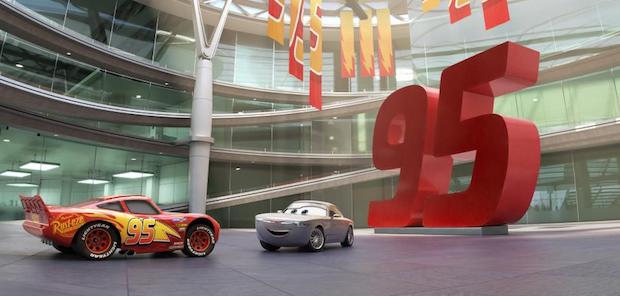 So, we all had high hopes that Cars 3 would live up to our desires for it to be great. It has been 10 years since the first Cars movie roared into the theaters. That means that Lightning McQueen isn't a rookie any more. In Cars 3 we see that the sport of racing that Lightning has dominated for so many years has begun to change and he is being challenged by next-gen racers that are sleek, aerodynamic and FAST!
Lightning McQueen realizes he needs to make a change and begins work with a young hotshot trainer, Cruz Ramirez. Cruz is a tough cookie, super funny and, in many ways, the heart of the film. With the help of Cruz, memories of his old crew chief Doc Hudson and a few other helpful cars, Lightning begins a new journey that changes the way he looks at the sport of racing and his position in it.
There is so much to love about Cars 3. Here are a few more of the things I loved:

Our Favorite Characters are Back
All of our old favorite characters play a part, including ones I thought we wouldn't see again like Doc Hudson voiced by the late Paul Newman and Rusty voiced by the late Tom Magliozzi of NPR's Car Talk fame. With the clever use of archival recordings, these characters were able to be a part of Cars 3, which in itself tugged a bit on my my heartstrings.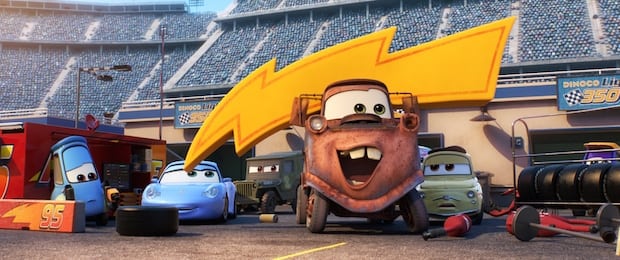 New Characters You'll Love (or Love to Hate)
I am more than a little bit in love with Cruz Ramirez, who is played by Cristela Alonzo. So much of Cristela's own heart and story are included in the character that it is hard NOT to love her. Armie Hammer does an excellent job at making you dislike next-gen racer Jackson Storm. Nathan Fillion cranks up the smarminess as Sterling and Kerry Washington doesn't stray farm from Olivia Pope's personality with Natalie Certain. And there is a whole lot of character in the new character of Miss Fritter(Lea DeLaria).

Cars 3 Looks Amazing
Cars 3 is also visually amazing. Radiator Springs looks better than ever and the race action is amazing! You can really see the advances in animation and technology the last ten years have brought.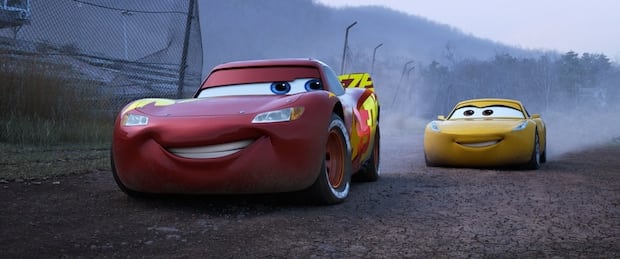 Heartfelt Lessons that Don't Overdo It
No one likes leaving a movie feeling like they just received a lecture. Cars 3 is able to share important life lessons about friendship, mentorship, and keeping an open mind.

The Whole Family Will Enjoy It
It will be hard to find a kid who doesn't enjoy Cars 3 – it's fun, exciting and entertaining. With smart humor and well-developed characters adults will love it too. It also has the feel of a classic sports film, which appealed to my husband, who found it filled with Rocky III and Rocky IV references. He had me looking YouTube clips all the way home from the theater so he could show me the ways Cars 3 related to the Rocky movies.
Like CARS on Facebook
Follow Disney/Pixar on Twitter
Follow Disney/Pixar on Instagram
CARS 3 races into theatres everywhere on June 16th!