This fun craft project using just a few supplies, including a small tire, such as a lawn mower replacement tire or a wheel from a large toy truck – makes cute Disney Cars Tire Track T Shirts!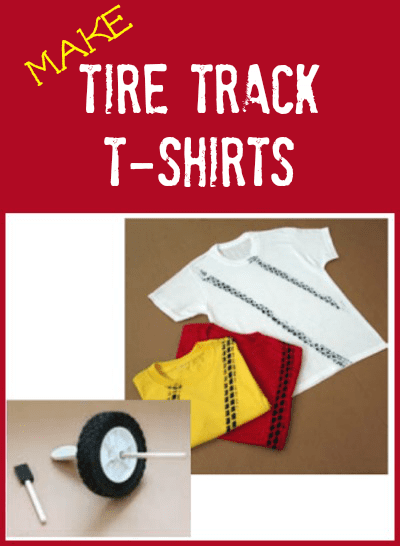 We have more Cars fun today with another Disney craft project. This is a fun way to liven-up a boring plain t-shirt. Your kids could even wear their Cars tire tracks shirts for a Cars movie night! They're also perfect for a Cars Birthday Party!
Using a small tire, such as a lawn mower replacement tire or a wheel from a large toy dump truck, you can leave striking patterns of tracks on your "plain 'ol" T-shirt.
Only a few simple supplies are needed to make these Disney Cars T Shirts. It's easy enough to do that kids can get involved to make their own tire tracks. You'll just want to be sure that once the tracks are made they leave the shirts in place until the paint is dry. Let's get on to the project!
Tulip Dimensional Fabric Paint 4oz Slick Black

Royal Brush Foam Brush, 3-Pack

Kid Nation Kids' 3-Pack Short-Sleeve Crew-Neck Cotton Jersey Tee

Make Tire Track T-Shirts
SUPPLIES:
• Newspaper
• T-shirt
• Cardboard
• Wooden dowel or long handle wooden spoon
• Small replacement tire or large toy truck wheel
• 2 rubber bands
• Black fabric paint
• Paper plate
• Foam brush
INSTRUCTIONS:
1. Cover your work surface with newspaper or a drop cloth to protect it.
2. Place the T-shirt flat and place a piece of cardboard between the front and back layers to prevent the paint from bleeding through.
3. Insert the dowel/spoon handle through the center of the tire. If the handle isn't thick enough to keep the tire from sliding back and forth, wrap a rubber band around the wood on each side of the hub.
4. Pour some fabric paint onto the paper plate. Use the foam brush to apply paint to the tire treads all the way around.
5. Now have your child take a practice run or two by rolling the tire across newspaper to see how the prints look. Once he/she gets the hang of it, apply more paint to the tire, and you're ready to print tracks on the shirt. Print a pair of tracks, like the ones on the shirts shown here, or cover the shirt with a crisscross of prints.
6. Allow the paint to dry thoroughly before removing the cardboard. Then heat set the paint according to the manufacturer's directions.
See all of our other Cars fun here.