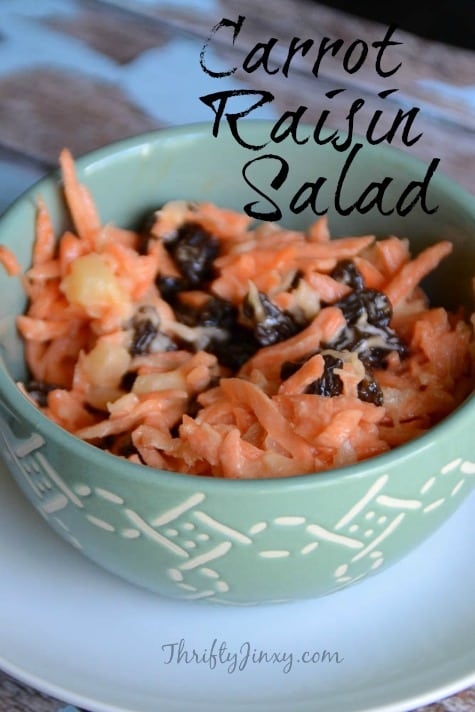 With spring and summer approaching I think of it as the time of year for salads – not just your green leafy salads, but pasta salads, cole slaw, potato salad – all those things that are perfect for a picnic, a BBQ or a family potluck. This Carrot Raisin Salad Recipe is another one to add to the list. It is packed with carrots, raisin and pineapple and using Greek yogurt instead of the traditional mayonnaise or salad dressing means it is healthy too! If you are a mayo lover, you can use that instead of the yogurt – but give the yogurt a chance and you may find that you start using it in all your recipes calling for mayo or sour cream!
Carrot Raisin Salad Recipe
Ingredients
2 cups coarsely grated carrots
⅔ cup raisins
1 cup crushed pineapple drained
⅓ cup Greek yogurt
1 tbsp lemon juice
Pinch of salt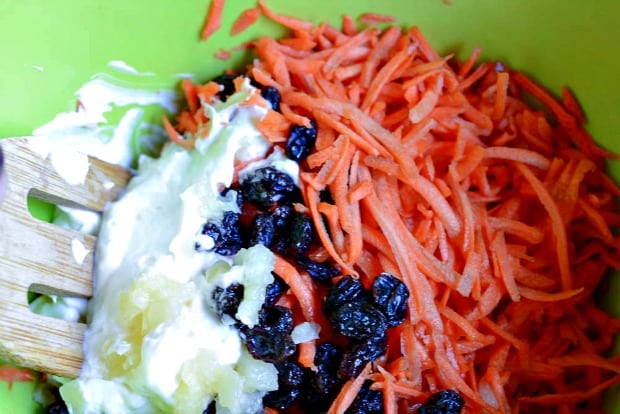 Directions
Toss raisins, carrots, and pineapple together lightly; set aside.
Stir together mayonnaise, lemon juice, and salt and add to the raisin mixture.
Refrigerate until served.
Best if made in advance and refrigerated at least an hour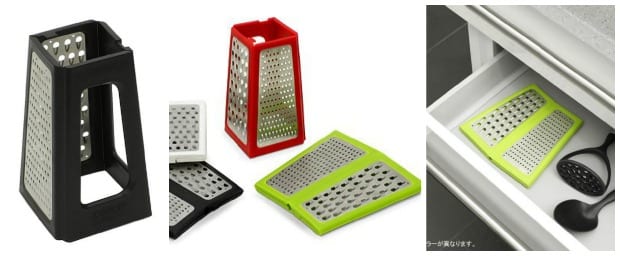 When it comes to grating carrots (or anything else for that matter) I love my Joseph Joseph Fold Flat Space Saving Kitchen Grater. I have the green one. It is a bit on the pricey side for a grater, but it's well worth it because it folds totally flat for storage. In a small kitchen like mine, I need to conserve all the storage space I can!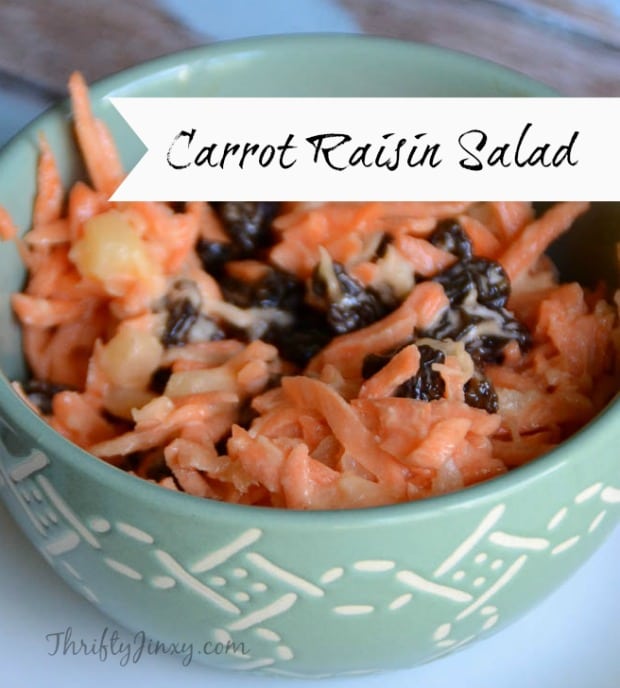 For more delicious recipes featuring raisins for National Raisin Week, visit a few of my favorite blogs:
Carrot Raisin Salad Recipe
Ingredients
2 cups coarsely grated carrots
? cup raisins
1 cup crushed pineapple drained
? cup Greek yogurt
1 tbsp lemon juice
Pinch of salt
Instructions
Toss raisins, carrots, and pineapple together lightly; set aside.
Stir together mayonnaise, lemon juice, and salt and add to the raisin mixture.
Refrigerate until served.
Best if made in advance and refrigerated at least an hour
https://thriftyjinxy.com/carrot-raisin-salad-recipe/