This Buffalo Chex Mix Recipe is great for game time, movie night, picnics or snack time! It's a deliciously crunchy and spicy snack.
We are in the thick of college basketball season. Are you watching the games? Whether you need a game-time party snack or you just want to treat your family, you'll be able to score some extra points with this yummy Buffalo Chex Mix recipe. The spicy flavor of Frank's® RedHot® Buffalo Wings Sauce lends itself to spicing up an assortment of Chex® cereal, parmesan crackers and pretzels.
Buffalo Chex Mix Recipe
Prep Time: 15 Min
Start to Finish: 15 Min
4 cups Rice Chex® cereal
4 cups Wheat Chex® cereal
2 cups Parmesan-flavored crackers
2 cups pretzel twists
6 tablespoons butter
2 1/2 tablespoons Frank's® RedHot® buffalo wings sauce
1 packet ranch dressing mix
2 teaspoons celery seed
1. In large microwavable bowl, mix cereals, crackers and pretzels; set aside. In small microwavable bowl, microwave butter uncovered on High about 40 seconds or until melted. Stir in hot sauce and seasonings. Pour over cereal mixture; stir until evenly coated.
2. Microwave uncovered on High 4 to 5 minutes, thoroughly stirring every 2 minutes. Spread on paper towels to cool. Store in airtight container.
24 servings (1/2 cup each)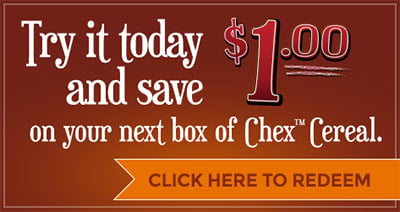 For more Chex® yumminess, check out these Chex Buzzer Beater videos that prove great Chex recipes can be made in 15 minutes or less: https://www.chexpartymix.com/chexbuzzerbeaters/
Once you have checked out the videos, come back and let us know – which Chex recipe looks best to you?