"Some say our destiny is tied to the land, as much a part of us as we are of it. Others say fate is woven together like a cloth, so that one's destiny intertwines with many others. It's the one thing we search for, or fight to change. Some never find it. But there are some who are led." ~ Merida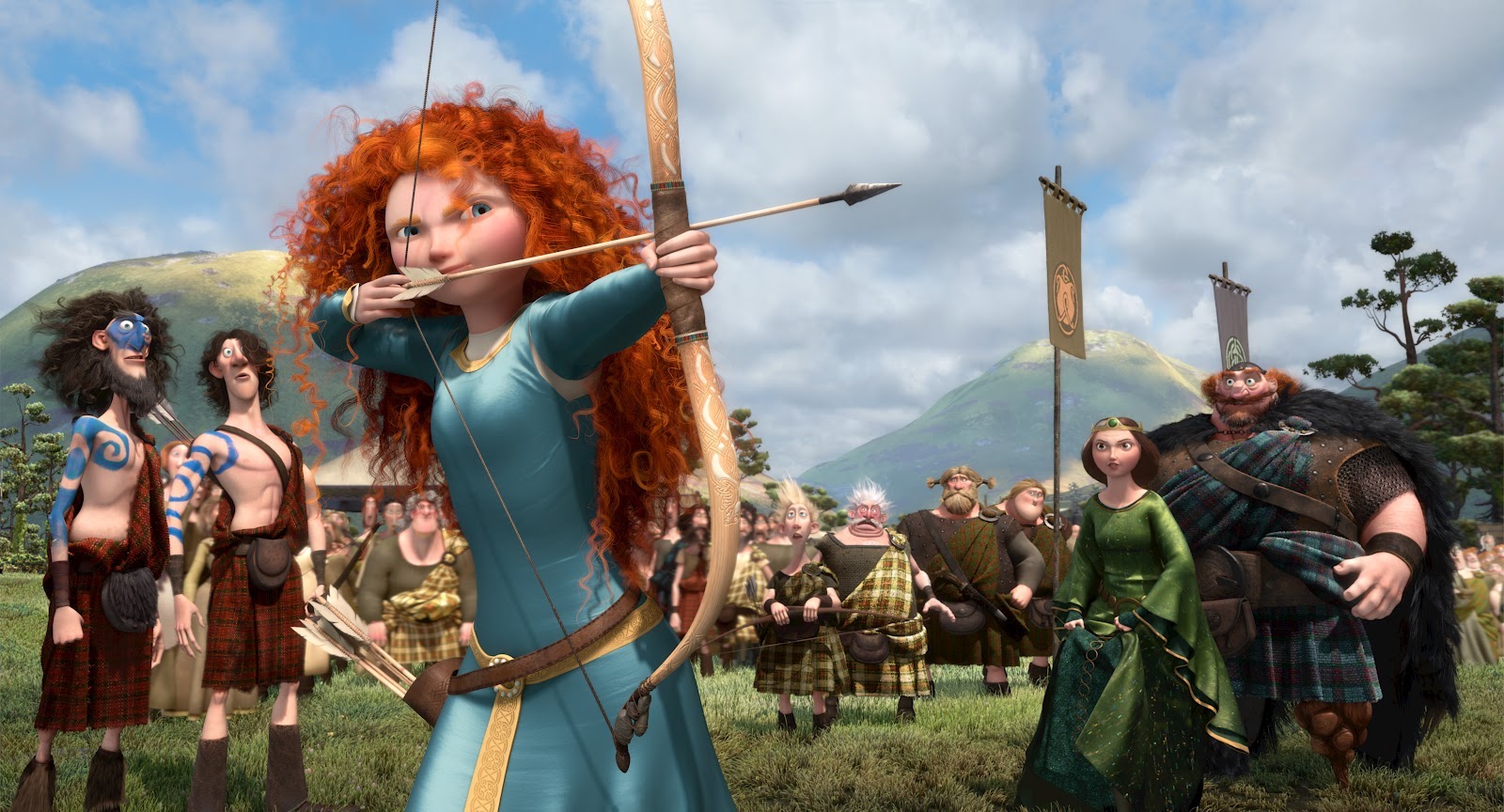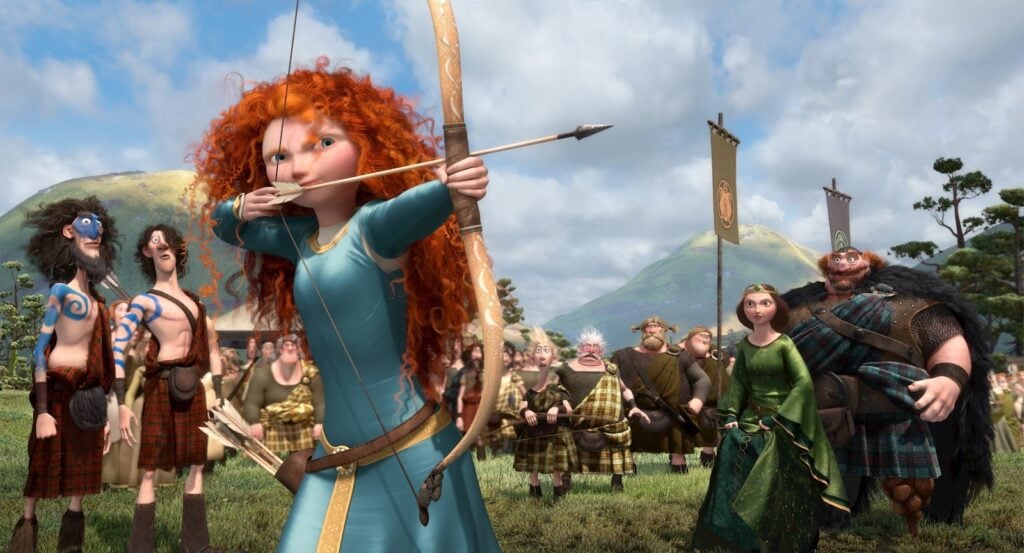 As you regular readers know by now, earlier this week I had the privilege of attending the world premiere of Disney/Pixar's BRAVE in Hollywood. Not only did I see the premiere of Brave that night in the fabulous Dolby Theater, I had also seen a screening of it the night before at Walt Disney Studios.
I am not the type of person who likes to see the same movie over and over again, or even twice in a row. I actually make fun of my husband for being that kind of person. However, I have to say that I enjoyed BRAVE just as much the second time around, even though it had been less than 24 hours since my first viewing.
Just in case you haven't heard the buzz about BRAVE, hear is what the film is all about:
Since ancient times, stories of epic battles and mystical legends have been passed through the generations across the rugged and mysterious Highlands of Scotland. In "Brave," a new tale joins the lore when the courageous Merida (voice of Kelly Macdonald) confronts tradition, destiny and the fiercest of beasts.

Merida is a skilled archer and impetuous daughter of King Fergus (voice of Billy Connolly) and Queen Elinor (voice of Emma Thompson). Determined to carve her own path in life, Merida defies an age-old custom sacred to the uproarious lords of the land: massive Lord MacGuffin (voice of Kevin McKidd), surly Lord Macintosh (voice of Craig Ferguson) and cantankerous Lord Dingwall (voice of Robbie Coltrane). Merida's actions inadvertently unleash chaos and fury in the kingdom, and when she turns to an eccentric old Witch (voice of Julie Walters) for help, she is granted an ill-fated wish. The ensuing peril forces Merida to discover the meaning of true bravery in order to undo a beastly curse before it's too late.
My Review of Disney-Pixar's Brave:
And why did I enjoy BRAVE so much? There are many reasons. The movie combines all the elements to make the story both fun and moving.
Merida is a princess, yes, but more than that she is a REAL girl. Some would like to call her a tom boy, but she is actually content with being a girl – she just rejects the notion that she needs to restrict herself as a princess and abandon things she loves like archery and racing her horse across the countryside.
This rejection puts her into conflict with her mother, the queen, who believes that Merida needs to follow the "proper" path. The relationship between Merida and her mother reflects the common struggles parents and children battle even today.
Beyond Merida and Queen Elinor, the other characters add abundant life to the film. All of the royal family, from the hearty King Fergus to the hilarious triplets, Harris, Hubert and Hamish, along with the heads of the neighboring clans and the little old witch, all are lively and memorable.
In addition to the meaningful story and the fun characters in the film, one of the most striking elements is the beauty. Set in ancient Scotland, there is a richness of green forests and grand castles. It's a magical place and I won't be a bit surprised if there is a big jump in Scottish tourism as a result of this movie.
Pixar also did a fantastic job with the 3D in this film. There is nothing more annoying than a movie that puts in effects ONLY to take advantage of the 3D (i.e. objects flying out at you, etc.) In BRAVE you forget that you are even watching it in 3D as the elements blend in seamlessly.
The 3D just serves to make the forest look more real and the action scenes more lively. The one point where I noticed the 3D, but actually appreciated it, was in the animation of the will o' the wisps – see the clip below. (Wisps are a part of traditional Scottish folklore and are said to lead you to treasure or doom-to change your fate-but in actuality are a phenomenon of swamp and bog gas seeping up through the ground and interacting with natural resources to create blue flames.)
Along the lines of realism enhanced by 3D, there has been much discussion about the scariness factor of BRAVE and you can read more about that in our related post on Jinxy Kids.
And last, but certainly not least, I LOVE Merida's horse, Angus. While only a small part of the film, he is beautiful and has a personality all his own. I'm ready for a new movie: "Angus the Scottish Horse!"
See more BRAVE posts:
Disney/Pixar BRAVE "Green Carpet" Premiere at the Dolby Theater – A Fantastic Evening
I (Barely) Made the Video Footage from the BRAVE Premiere
I Saw Disney/Pixar's BRAVE Tonight (and got some super cool Brave stuff too!)
Is Disney/Pixar's BRAVE Too Scary for Kids? What Ages Are OK?
FREE Disney/Pixar BRAVE Printable Activity Sheets
Disclosure: Disney-Pixar sponsored my travel, accommodations and activities during the #BraveCarsLandEvent. Any opinions expressed are my own.